Cruising can be for anyone. No, not that type of cruising – although that too can be for anyone – but going on a gay cruise ship. Whether you opt for calmer seas on a smaller vessel, or the stormy waters of a bigger party boat, you're guaranteed a good time on a gay cruise. You'll be surrounded by like-minded LGBTQ+ shipmates, and a crew whose jobs are centered around providing the best – and gayest – experience possible. All this sets gay cruises apart from their heterosexual counterparts. 
After making the decision to take the plunges and book a cruise, the tricky part is choosing the perfect one for you. Not only deciding how big you want your ship to be, but the wheres and the hows of your cruise.  Your potential options range from the sunbaked shores of the Mediterranean and Caribbean, to the Baltic Sea, or even the frozen wonderland of Alaska. Then there's the matter of how much onboard entertainment you want? Are you looking for snorkeling and culturally diverse inland trips, or rooftop dance parties and drag bingo? Maybe some combination of the two. Regardless, there's something to suit every type of LGBTQ+ journeyer on a gay cruise..
You can opt for a small ship with a more intimate feel with companies like Source Journeys or Brand g Vacations or take one of the more popular, large ships with companies like Atlantis, VACAYA, or La Demence. For the ladies, Olivia is the major player in the market and many of these companies have been around for 20 years or more.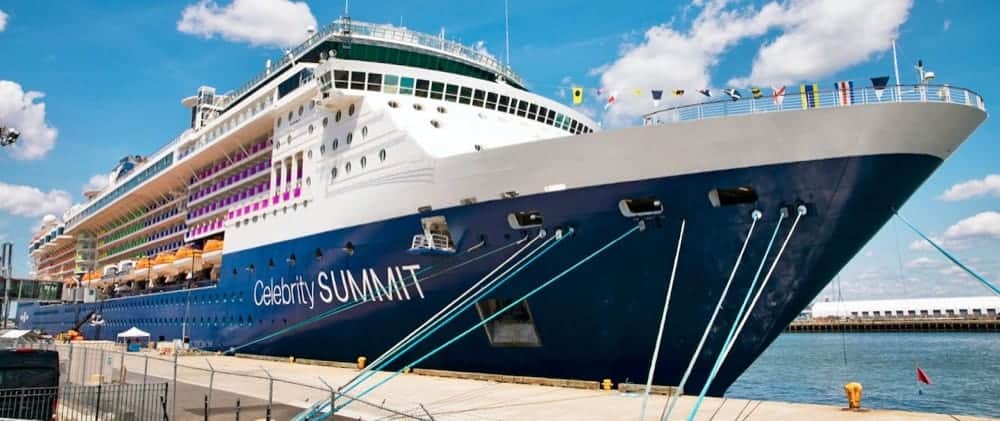 Why Take a Gay Cruise?
Easy to meet new people – one great aspect of taking a gay cruise is that most of the guests are friendly and open to meeting new people. On a straight cruise, guests come with friends or family and already have a social group established. On a gay cruise, there are many activities that help connect guests to give you a better chance at meeting people.
Travel alone – most gay cruise companies offer a cabin match program where they will assign you a roommate, so you don't have to pay for the full price of a two-person room if you're traveling alone.
Awesome parties – If you book a cruise with one of the large ship companies like Atlantis, La Demence or VACAYA, you'll be in for a treat with awesome parties. The over-the-top events are usually themed, often outdoors and guests are encouraged to dress up.
Great entertainment – most of the big gay cruise lines bring on big headliners or "gaylebrity" performers. Into drag queen bingo? How about performances from some of the top gay celebrity comedians, entertainers and famous drag queens from RuPaul's Drag Race?
Be yourself – probably one of the most attractive parts about a gay cruise is the comfort zone. The entire ship is full of LGBT guests and all staff has been extensively trained to provide you with a welcoming and gay-friendly experience. It's a very open environment and one where you can relax and be yourself without fear of harassment.
Social impact – some companies aim to not only offer a unique travel experience but also make a difference through social impact in the communities they visit. Companies like Source Journeys strive to do good in the world by offering volunteering opportunities in certain destinations as well as supporting local nonprofits through volunteering or financial support.
The History of the Gay Cruise Industry
The concept of LGBT-specific travel started in the '70s and was pioneered by Hans Ebensten, who began taking gay men on tours rafting through the Grand Canyon as well as to Carnival in Rio de Janeiro. As LGBT people became more visible and acceptance shifted, several more companies began creating trips for the LGBT community. The concept of a gay cruise was the perfect environment because the ship itself was isolated on the ocean and all the attendees could be completely themselves without fear of judgment or harassment. The first all gay cruises were started by RSVP in 1987, followed by the other pioneers Atlantis Events (1991) and Olivia, who started offering lesbian cruises in 1990. Over the years other companies joined the field like VACAYA, Source Journeys, La Demence, Out Adventures and more.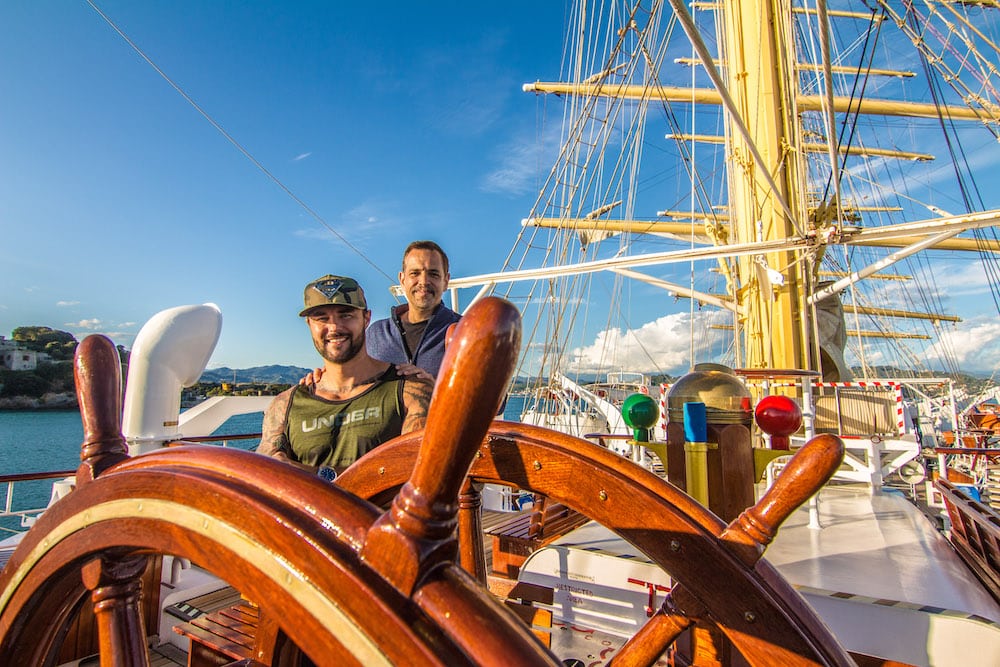 Types of Gay Cruises
Gay cruises generally fall into one of the following categories.
Large full-ship gay cruises – this is the most common and popular gay cruise where you can expect top-of-the-line cruise ships from well-known companies like Royal Caribbean, Virgin Voyages, Celebrity Cruises or Norwegian Cruise Lines. The number of guests typically ranges from 1,000 to 5,000 depending on the company, ship and route. The longtime players (20+ years) like Atlantis, RSVP and Olivia all fall into this category, as well as the other players in the market like VACAYA (5 years) and The Cruise by La Demence (11 years).
Small full-ship gay cruises – smaller companies like Source Journeys, Brand g, Out Adventures and other LGBT tour operators organize smaller cruises. The number of guests could range from 20 to 500 depending on the company and route. Source Journeys and Brand g offer a luxury travel experience compared to the other operators so you can expect a higher-end offer with more luxurious ships and services. Source Journeys even goes as far as to offer elevated experiences that enrich the lives of their guests and empower them to do good in the world.
Gay river cruises – gay river cruises are popular in Europe and typically visit destinations like France, Germany, Austria, The Netherlands or Belgium, just to name a few. They are similar to small full-ship gay cruises, with the exception that they cruise on a river as opposed to the open ocean. The number of guests typically ranges from 50 to 300 depending on the company and route. River cruises are organized by companies like Brand g, VACAYA, Source Journeys and Olivia.
Partial-ship gay cruises – some LGBT tour operators with a smaller audience or client base will organize a small group on a mainstream cruise. These often take place on large cruises ships. Most of the guests onboard are straight, however, a group of perhaps 50-100 LGBT guests might be onboard. Meals and group activities are typically organized to keep the group together throughout the trip.
Gay sailing trips – there are a number of companies that offer gay sailing trips in different destinations around the world. It's important to note that the experience on a small sailing boat of around 10-20 people is quite a different experience than a gay cruise. It's more intimate, relaxing and casual than a gay cruise. However, larger sailing ships holding between 20 to 300 guests might feel a bit more like a small gay cruise. We even offer our own Two Bad Tourists gay sailing trips since 2018, visiting Greece and Croatia with a Europe-based gay sailing company. Other sailing companies include  GaySail and Everything to Sea.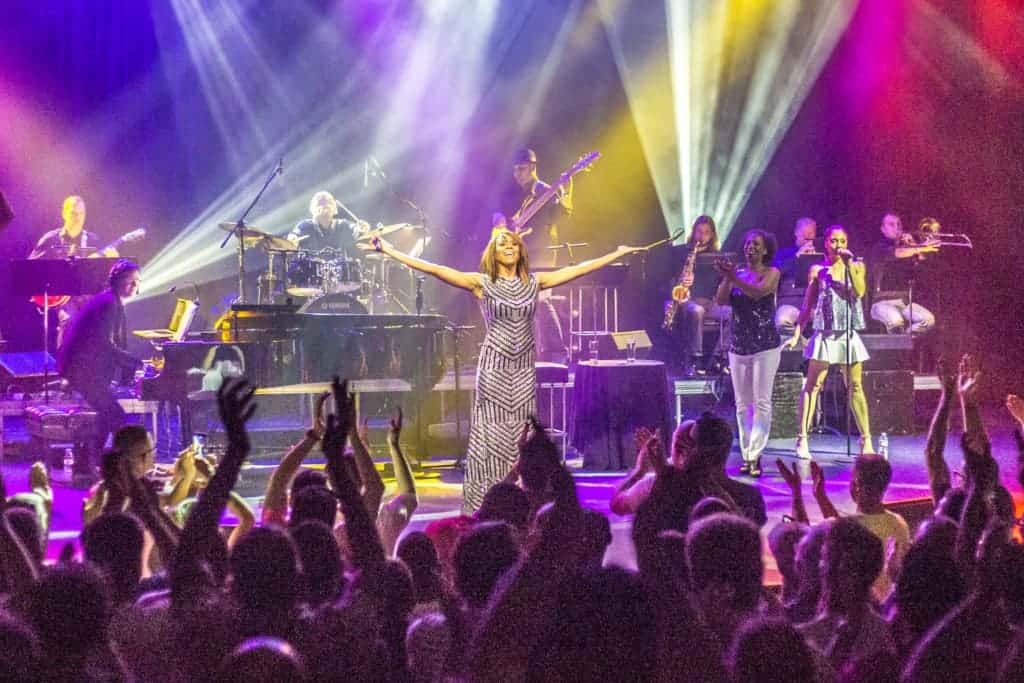 Is a Gay Cruise Right for You?
First, you need to decide whether taking a cruise, in general, is something you want to do. Not everyone likes cruising due to the nature of the experience, but many do. Second, if taking a cruise definitely interests you, next you'll need to decide if you prefer a gay cruise or a mainstream cruise. Here are a few things to consider.
Your cabin, meals and entertainment are included in the price
The ship will be exclusively LGBT guests
Cruises can be crowded and there isn't a lot of privacy
You can visit many new destinations in one trip, but you only have a short time at each port to explore
Gay cruises can be a bit more expensive than mainstream cruises due to the elaborate parties and unique entertainment onboard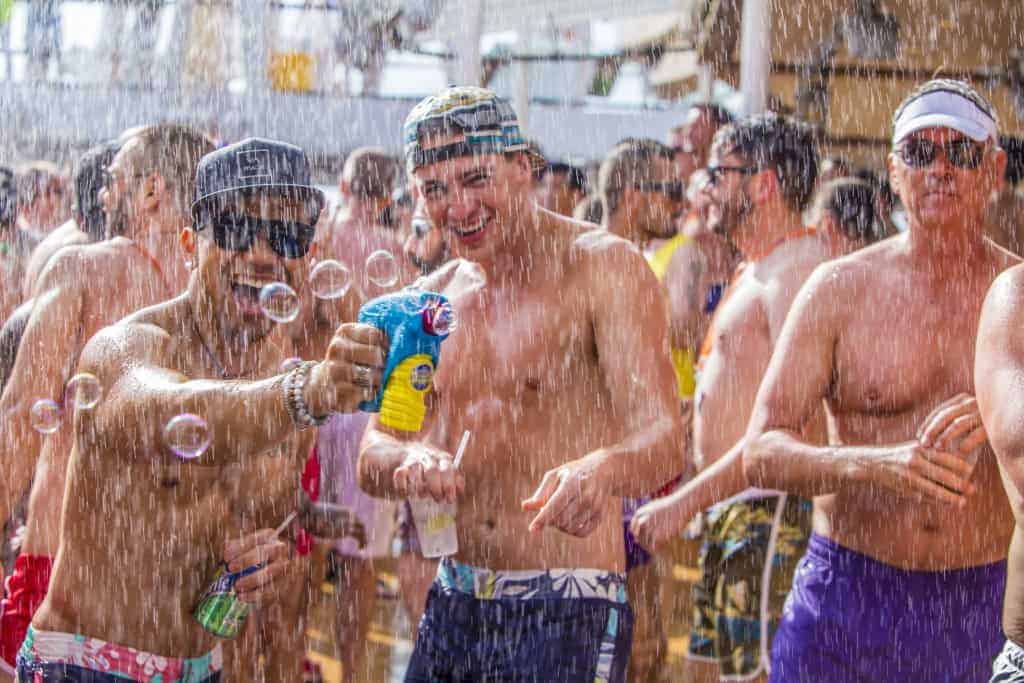 Gay Cruise & Sailing Companies
Below is a list of various companies that operate gay cruises and sailing trips. Some have been around for decades while others are relatively new to the market. We've also listed the types of cruises that the companies generally offer.
Atlantis Cruises – large full-ship
VACAYA – large full-ship, small full-ship, river cruises
RSVP – large full-ship
La Demence – large full-ship
Olivia (lesbian) – large full-ship, river cruises
Brand g Vacations – small full-ship, river cruises
Source Journeys – small full-ship, luxury cruises
Out Adventures (both gay & lesbian) – small full-ship
R Family Vacations – small full-ship, river cruises
HE Travel – small full-ship, sailing
Everything to Sea – sailing
GaySail – sailing
HolidayPride – sailing, small full-ship
Two Bad Tourists – sailing (yes, that's us!)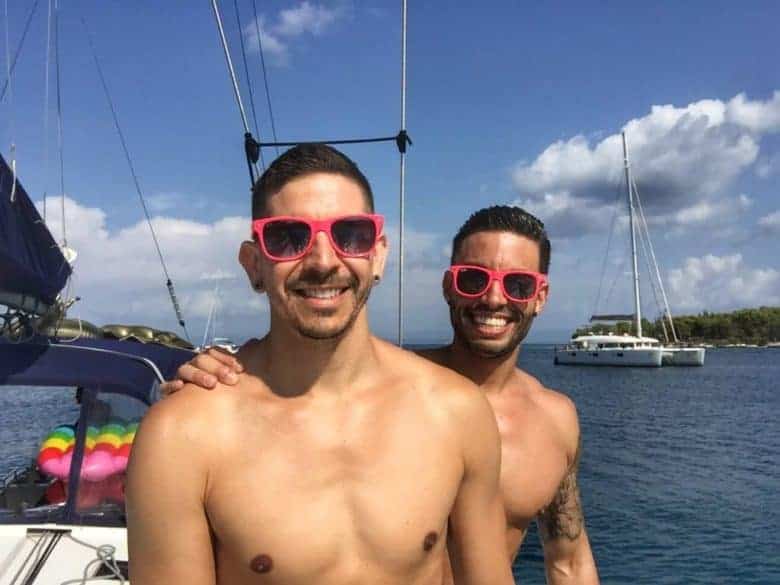 How to Choose the Best Gay Cruise or Company
Determining which gay cruise or trip to take is completely subjective. People have different preferences, budgets or destinations in mind when it comes to booking a trip. All the companies listed here are recommended and have good reviews, but you want to make sure you pick the right trip for your travel style and preferences. Below are a few tips to consider when booking your trip.
Party focus – the large, full-ship takeovers like Atlantis, VACAYA and The Cruise by La Demence tend to be very party-focused and many guests go on these cruises just for the party atmosphere. They might not even get off the ship at the ports. La Demence is the most intense with its parties, with Atlantis as a close second. Both are circuit party style, while VACAYA is more diverse and pop themed, with top 40 music.
Destination – decide if you are going on a gay cruise for the ports of call, for the gay cruise experience in general, or both. Some people might prioritize the destination over the parties so be sure to check out the route and places you'll visit to help you decide. Large ships like Atlantis and VACAYA tend to go to more touristic ports while companies like Source Journeys, Brand g or Out Adventures focus on smaller, more intimate ports which can only be visited by small ships.
Budget – the price of the trip is an obvious factor. You'll need to add the price of flights or transportation into your budget so the location of the departing and arrival port should be part of your planning process. The entry-level price to gay cruise typically starts around $800 per person for a week-long trip.
Size – it's important to decide if you prefer a large group or small. Large groups and full ship takeovers offer great parties and header liner entertainment, but some people may want to avoid the crowds and opt for a more intimate experience on a smaller ship.
What's included? – most gay cruises include the cabin, meals and onboard entertainment in the price. However, unless you book an all-inclusive trip with Brand g, these items are typically not included in the price: pre and post hotel stay, land tours and excursions, specialty drinks/alcohol and airport transfers.
The crowd – the type of people who go on each gay cruise varies and might be a determining factor. Atlantis, RSVP and La Demence are about 99% gay men and Olivia is 99% lesbian women. Out Adventures offer both gay and lesbian small ship cruises. VACAYA has a mission to be more diverse and inclusive for the entire LGBT+ community, though their trips are still probably 80-90% gay men. RSVP and Brand g tend to have an older crowd, with the latter having more luxurious and all-inclusive trips. Finally, Source Journeys is a high-end operator who also tends to attract middle-aged men who seek 'once-in-a-lifetime' experiences but they are consciously working to be more inclusive to the entire LGBT+ community.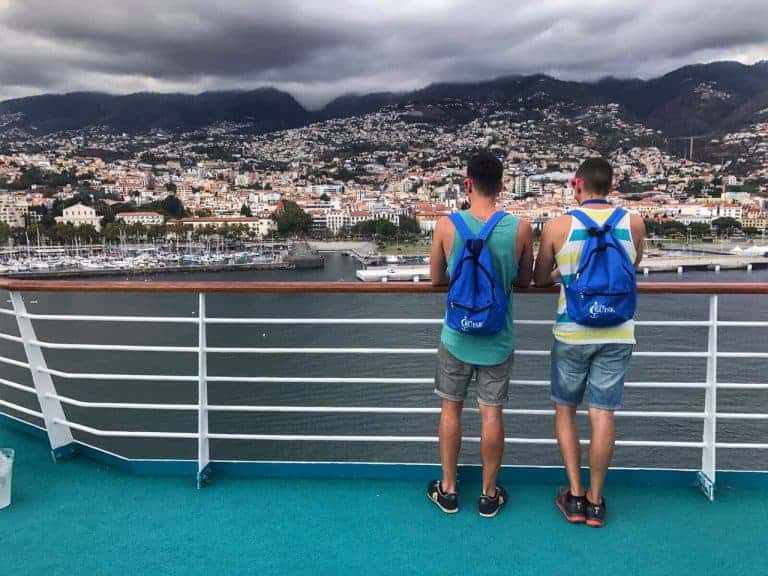 ---