Miami has for decades been a hotspot for the LGBT community both for locals and visitors alike. But as LGBT acceptance improves and the next generation becomes a dominant force in the travel sphere, you might wonder if Miami still has the desire it once had.
The decreased demand for gay-only places has caused a rift and created challenges for many LGBT businesses, gay bars and gay-only hotels. Like many cities, Miami (and Miami Beach in particular) has fallen victim to this trend and now only has a handful of LGBT venues. But even with the decline over the years, there's still a sense of community and it's important to note that Miami's gay scene is still strong. The community is alive with locals, visitors and even foreigners mixing together creating a sense of openness and diversity. Plus, Miami Beach is one of a kind – still a top destination famous for its beaches, architecture and the energy that pulses into the night.
So boys, ladies, gender queer and non-conforming, book your flight, pack your bags and take that trip to Miami that you've always dreamed about. The city awaits you with its stunning beaches, thriving nightlife and amazingly diverse community.
Table of Contents
1. General Tips
2. Transportation & Airport Transfer
3. Gay Hotels in Miami
4. Sightseeing & Activities in Miami
5. Miami Gay Beach
6. Restaurants and Cafes
7. Miami Gay Bars
8. Gay Events in Miami
9. Day Trips from Miami
General Tips
Miami is dreadfully hot and humid from June to August so not surprisingly this is the low season. Still, if you plan on being at the beach and hanging indoors, you'll pay lower rates for flights and accommodation. February through April is high season and this is when you'll find amazing events including Miami Beach Gay Pride (April) and the Winter Party (March). If gay parties and events are your thing then this is the time to come. September through January is mild, and short of just a couple months in the winter, it's almost always beach weather in Miami.
You can download the Gay Miami guide for free. Just provide your email address and we'll email you a PDF.
Transportation & Airport Transfer
From Miami International Airport, you can take the Metrorail to downtown or surrounding neighborhoods. If you're staying in Miami beach, you'll need to take a bus as the train doesn't go to Miami Beach. However, a rideshare like Uber or Lyft is probably the most convenient and isn't too expensive, particularly if you are splitting with friends. If you're traveling alone, both Uber and Lyft offer shared/carpool options in Miami for a reduced price. The public transportation in Miami is quite good, at least in the city center. The metro mover is free, and if you buy an Easy Dade 1 day-pass, you can use the buses, metro and rail as much as you want.
Gay Hotels in Miami
Luxury
Royal Palm South Beach – gay friendly hotel located on the shores of Miami Beach, this hotel features an on-site spa and wellness center. The resort is 5 minutes' walk from Lincoln Road Mall. The Compass Rose Bar onsite has a selection of coffee, tea, and evening cocktails while the Florida Cookery serves breakfast outdoors. Two outdoor pools, accompanied with music, and direct beachfront access are provided to guests. Cabanas are optioned, and the on-site spa offers massages, skin care services and private wellness services.
Mid-Range
Hôtel Gaythering – More than just a hotel, Gaythering is a place where you can meet, socialize and enjoy a laid back Miami vibe. The hotel bar is open to the public every night and the locals come for drinks, trivia and events throughout the week. The hotel offers nice rooms with a modern yet vintage flair and a unique, artsy theme. They even have "crate style" rooms which start at just $99 per night offering an affordable, small but private space with shared bathrooms that's budget friendly for all. The hotel also has a men's only spa available to both guests and locals – and yes, it's 100% clothing optional.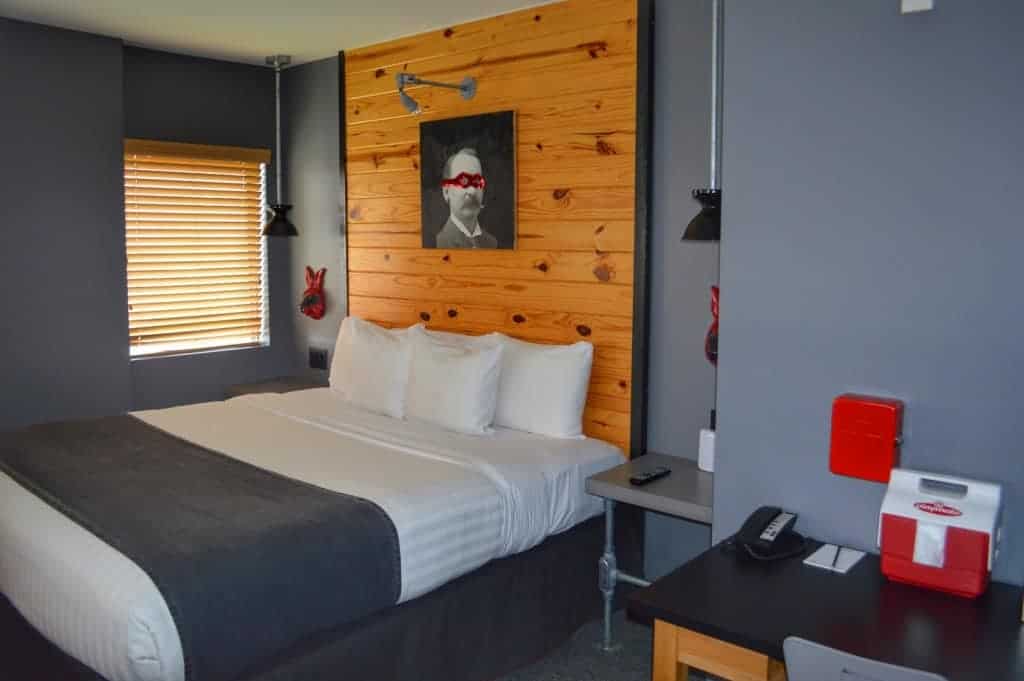 Axelbeach Miami – one of the newest additions to the popular gay hotel chain and the first Axel Hotel in the United States. The hotel offers a garden, a fitness center and a bar, plus large pool and outdoor jacuzzi. A buffet breakfast is available each morning and the hotel offers a private beach space with towels and lounge chairs provided.
Budget
Aloft Miami Brickwell – a gay-friendly option near the Port of Miami, this hotel features an outdoor swimming pool, fitness center plus on-site shop Re:Fuel, offering snacks and beverages. Brickell is a great choice for travelers interested in nightlife, food and restaurants.

Apartments - misterb&b
We've partnered with misterb&b to help curate the most LGBT+ friendly homestays. misterb&b is not a hotel or chain, but rather a booking platform for rooms, apartments and homes and it allows you to book from gay and gay-friendly hosts around the world. They have hosts in more than 200 countries and territories with more than 1 million total listings. Understanding the gay scene is much more easily done with the help of a local and home-sharing is one of the best ways to meet someone living in the city who knows how things work, where and when are the best nights to go out, and what places to eat at and which to avoid. misterb&b is our top choice if your priority is exploring the local gay scene.
Special Offer!
Sign up with misterb&b
and you will receive a free $10 credit to use on your first booking!
---
Sightseeing & Activities in Miami
Gay Day Spa Pass – If you want to get hot and steamy then head over to the men's spa at Hotel Gaythering to enjoy the steam room and Jacuzzi open until 11pm weekdays and 1am on weekends. There's no gay sauna or bathhouse in Miami, but Hotel Gaythering's men-only spa is the closet thing you'll find.
Little Havana – Experience the sights and sounds of Miami's vibrant Little Havana neighborhood and sample the local cuisine, like guava pastries, chicken plantain cups, and flan ice cream, to name just a few. Meet local artists, watch skilled Cuban cigar rollers and listen to traditional Cuban music. Book tour →
Hop-On Hop-Off Bus Tour – Explore the most popular sites in Miami on a scenic hop-on hop-off bus tour. Visit many of the top attractions in South Beach, Wynwood, Coconut Grove, Little Havana and more. Board at any of the more than 40 stops on three separate routes and get to know the city in custom fashion, with live commentary. Book tour →
Miami Beach Food and Art Deco Walking Tour – Experience the vibrant culture and diverse cuisine of the bustling South Beach neighborhood of Miami. Learn about the history and architecture of this trendy, quirky district and find out why it's one of the most popular hot spots in the world. Book tour →
Wynwood Walls – a collection of the world's greatest artists working in the graffiti and street art genre located in the revived Wynwood neighborhood of Miami. The unique, outdoor destination features huge, colorful street murals by artists from around the globe.  
Art Deco District – this famous area of South Beach has fancy bars, where you can go celebrity spotting and find the best drag shows in town. Check out the infamous Versace mansion and snap some pictures in front of different Art Deco buildings made famous from several movies and TV shows.
Miami Gay Beach
During the day you can't miss a trip to Miami's gay beach located at 12th Street and Ocean Drive. All the beaches in Miami Beach are generally gay-friendly but this is where you'll find the gay flags and concentration of gay men and straight friends with a sprinkling of lesbians mixed in.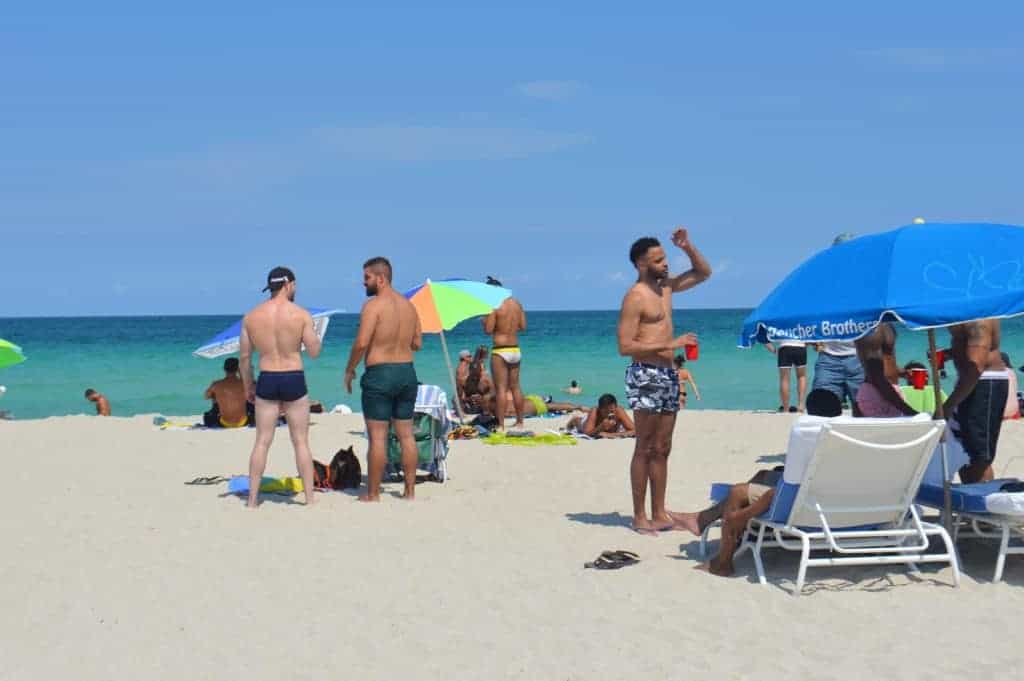 Restaurants and Cafes
Bolivar Restaurant – This restaurant is a fusion of several South American traditions, but mainly Venezuelan and Colombian. Recommended dishes to try: empanadas and patacones. An empanada is a golden corn crust pie and this one is filled with tender meat and potatoes, cumin and served with a spicy habanero sauce of cilantro, chili and oil. The empanadas are crunchy and tasteful, and the habanero sauce is perfectly spicy, not too much nor too little. Patacones are crunchy green plantains patties topped with chicken, parmesan, cilantro, tomato and onion sofrito. Enjoy the meal with a traditional drink called clarita which is half beer and half lemon fanta.
Blocks Pizza Deli – This small pizza deli is run by an Italian family. With lots of options to choose from, you'll be treated with a piece of block; a pizza of sourdough with toppings like fresh spinach, feta cheese, sun dried tomatoes, calamata black olives, extra virgin olive oil and rich pesto. The first bite will remind you of a visit to Italy with the fresh taste of the ingredients. This deli doesn't have a freezer, which means that all the ingredients they serve are fresh and natural. Their secret behind such crunchy and tasty pizzas is the pasta madre or "mother dough," a sour dough passed down from generation to generation for 300 years.
Big Pink – this diner located in South Beach is budget-friendly and very popular. Good option for breakfast or late-night, drunk muchies. Nothing fancy here, but definitely tasty.
News Café – a  quaint sidewalk cafe, restaurant, bar, newsstand and bookstore located at the corner of 8th Street and Ocean Drive in the Art Deco District of Miami Beach. Open 24 hours a day, 365 days of the year. Breakfast is also available 24 hours a day.
Front Porch Café – great breakfast spot all day and night and a tasty and affordable lunch men. Dinner and Happy Hour specials both inside the restaurant and breezeway bar – located at the lobby of the ultra-chic Z Hotel.
R House Wynwood – this gay-owned restaurant is also part art gallery and is a good option for brunch, lunch or dinner. It offers an international/latin menu, signature cocktails, plus drag performances Friday to Sunday. Don't miss their popular drag brunch on Saturdays and Sundays. 
Mercato Della Pescheria – this restaurant can be summed up in two words: Italian seafood. For an authentic Italian seaside experience, it's the perfect place to go. In addition to their daily delivery of fresh seafood, they also have homemade pasta, wood oven pizza, steaks and Italian wines. 
Miami Gay Bars
Gaythering – the bar is a great option on Wednesdays when they host their trivia night. Or stop by on Fridays to start at the weekly "Bears & Hares" night.
Nathan's Bar – this is the main gay bar in Miami Beach where people generally arrive earlier in the night before later going to Twist. They have a daily happy hour from 7-9pm and regular theme nights like Pop Mondays, Karaoke Tuesdays, and Noche Latina on Thursdays with drink specials as well. 
Sky Bar by Axel – this open air bar on the ground floor is a great spot for a cocktail and laying out by the pool while enjoying the music. It's located at the hetero-friendly hotel AxelBeach Miami and opens up to the public on weekends. Enter on Washington Ave and Española Way.
Twist – a great option for any night of the week where you can socialize and get tipsy while sexy go-go boys dance in the background.
Palace Bar – a restaurant and bar located on Ocean Drive in the heart of the Art Deco district. It's a must-visit venue and well known for its daily drag shows. Each evening and on Sundays for brunch, Palace Bar puts on a fun and interactive drag show outside just in front of the terrace. A reservation is strongly recommended for the bottomless mimosa brunch in order to guarantee a table. Also know that although it's a gay bar, there are often many straight women celebrating birthdays and bachelorette parties.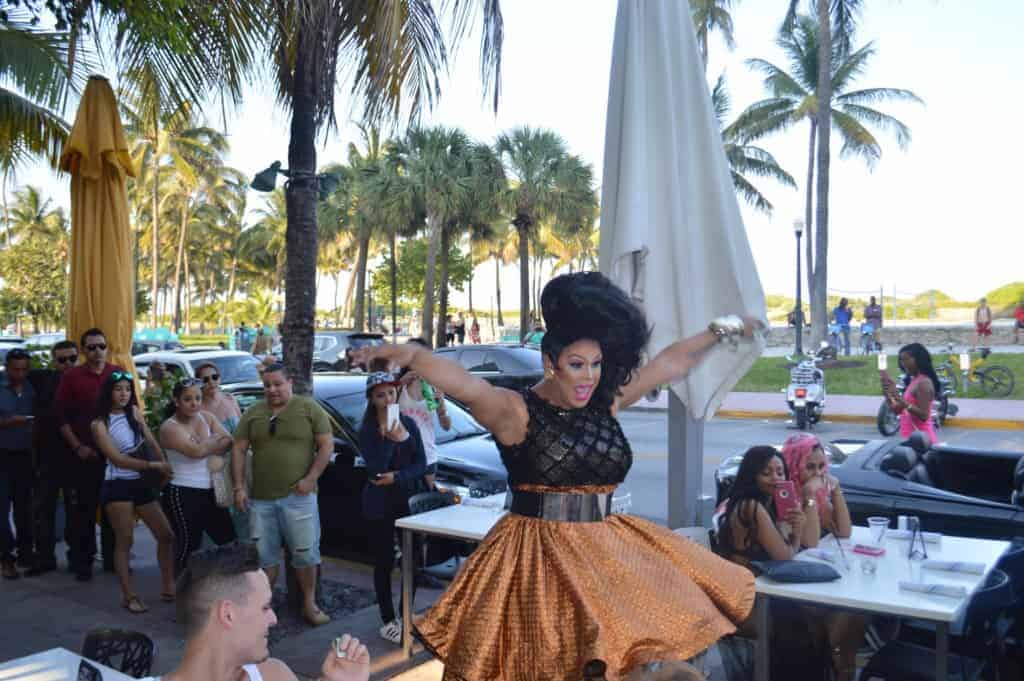 Gay Events in Miami
Gay 8 Festival – a Hispanic themed LGBT street festival and entertainment event that encompasses cultural arts programming, a LGBT focused human rights symposium, entertainment, music, dance and community engagement. Takes place over President's Day Weekend.
Winter Party Festival – an annual, week-long celebration of music, dance, and community, produced to raise critical funds for the LGBT community. This event has been a popular circuit festival for decades. Takes place in late February or early March each year.
Miami Beach Pride – Miami's pride event takes place each year in March. The weather during this time of the year is great and is perfect for the annual celebration. It's a nine-day celebration featuring an incredible two-day festival, Pride Parade, VIP gala special events and dance parties.
Aqua Girl – an iconic, five-day celebration and the largest gay women's charity event in the country. Each year thousands of women from all over the world travel to South Beach to celebrate their lives—laughing, swimming, sharing, dancing and playing together.
OUTshine LGBTQ+ Film Festival –  The Miami Gay & Lesbian Film Festival started in 1998 and the Fort Lauderdale Gay & Lesbian Film Festival in 2008. Both were brought together under one brand: OUTshine LGBTQ+ Film Festival – underscoring the broad appeal and dynamic multi-cultural location. Takes place in spring and fall each year.
Day Trips from Miami 
Fort Lauderdale – Just 30 minutes north of Miami, you'll find one of Florida's top LGBT destinations. Fort Lauderdale offers similar attractions with a more casual feel at lower prices, plus has a much larger nightlife scene compared to Miami. With 23 miles of beaches, at least 50 LGBT popular establishments and the highest concentration of LGBT couples in the US, this city has something far different to offer.
Key West – though it's a bit far, you can actually do Key West as a day trip. Drive across the famous 7 Mile Bridge straddling the Gulf of Mexico and Atlantic Ocean on your ride into the Keys, and then explore the island on your own before your return transfer. Travel from Miami to Key West with ease on this full-day tour. Book tour →
The Everglades – Escape to the wilderness of Florida's Everglades. Join a small-group tour, which includes an airboat ride through Everglades National Park, a drive through Big Cypress National Preserve, a nature walk through a cypress forest and a scenic boat ride through the 10,000 islands of Everglades National Park in search of a variety of wildlife. Book tour →