Palma de Mallorca is a vibrant city located on the sunny Spanish island of Mallorca. The capital of the Balearic Islands, Palma de Mallorca is a captivating blend of ancient history, modern art and architecture, and vibrant nightlife that caters to the LGBTQ+ scene. For the LGBTQ+ traveler, Palma offers not only sun and sand but an inclusive environment where one can truly relax and be oneself.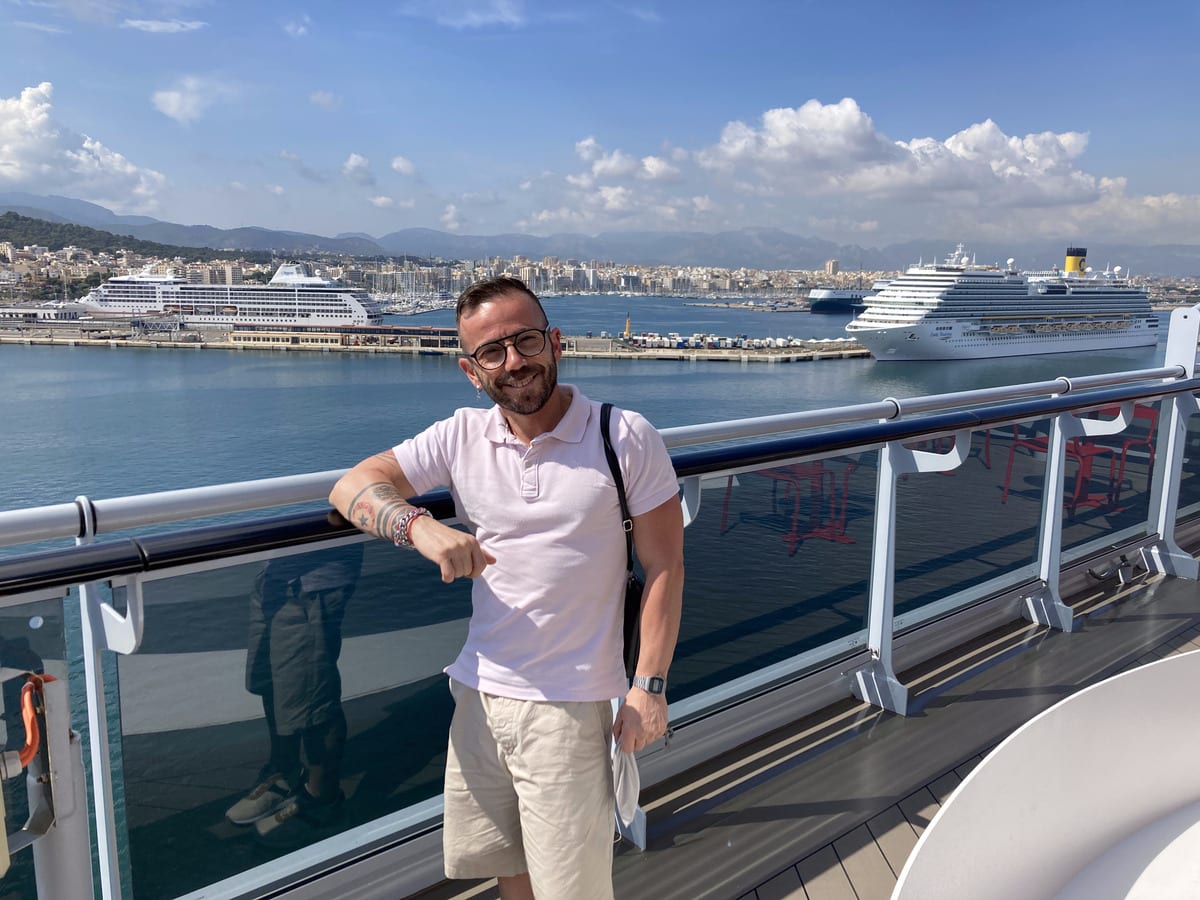 Table of Contents
1. General Tips
2. Transportation & Airport Transfer
3. Gay Hotels in Palma de Mallorca
4. Sightseeing & Activities in Palma de Mallorca
5. Gay Tours in Palma de Mallorca
6. Restaurants and Cafes
7. Palma de Mallorca Gay Bars
8. Palma de Mallorca Gay Clubs and Parties
9. Palma de Mallorca Gay Saunas & Cruising Bars
10. Gay Beaches in Palma de Mallorca
11. Gay Events in Palma de Mallorca
12. Day Trips from Palma de Mallorca
General Tips
Palma is without doubt the best place to stay for LGBTQ+ folk and is also home to all the gay bars and clubs on the island. That said, the whole island is gay-friendly and worth exploring – just be wary of touristy areas like Magaluf. The best beaches are found outside the city, so don't be afraid to take a short walk or hop in a taxi to reach them and escape the crowds. Also, watch out for red flags. Not of the dating variety but literal red flags when entering the ocean – as the tides change quickly around the island. The official language of Ibiza is Catalan (like Barcelona) but everyone speaks Spanish and usually English as well. Although, a little effort in Spanish can go a long way and improve the service you receive.  As with all travel, respect local customs, be wary of tourist traps, and ensure you have adequate travel insurance.
The city's main avenues, such as Jaime III and Passeig des Born, are lined with high-end boutiques and international brands. Meandering into the historic quarters, shoppers discover artisanal stores selling handcrafted jewelry, leather goods, and Mallorcan textiles. Local markets, like Mercat de l'Olivar, offer a sensory overload with stalls brimming with fresh produce, local cheeses, and traditional crafts. From luxury to authenticity, Palma's shopping scene is a testament to its rich cultural tapestry.
Transportation
Navigating around Palma is quite simple. The city offers a range of public transport options, including an extensive bus network. For shorter distances, taxis are abundant, albeit slightly pricier. Car rental services are also available. Adventurous souls can explore the city by renting bicycles, an eco-friendly choice that allows travelers to experience the city at their own pace. Don't forget to check out Palma's charming marina, where you can board ferries to other parts of the island or nearby Menorca and Ibiza.
Gay Hotels in Palma de Mallorca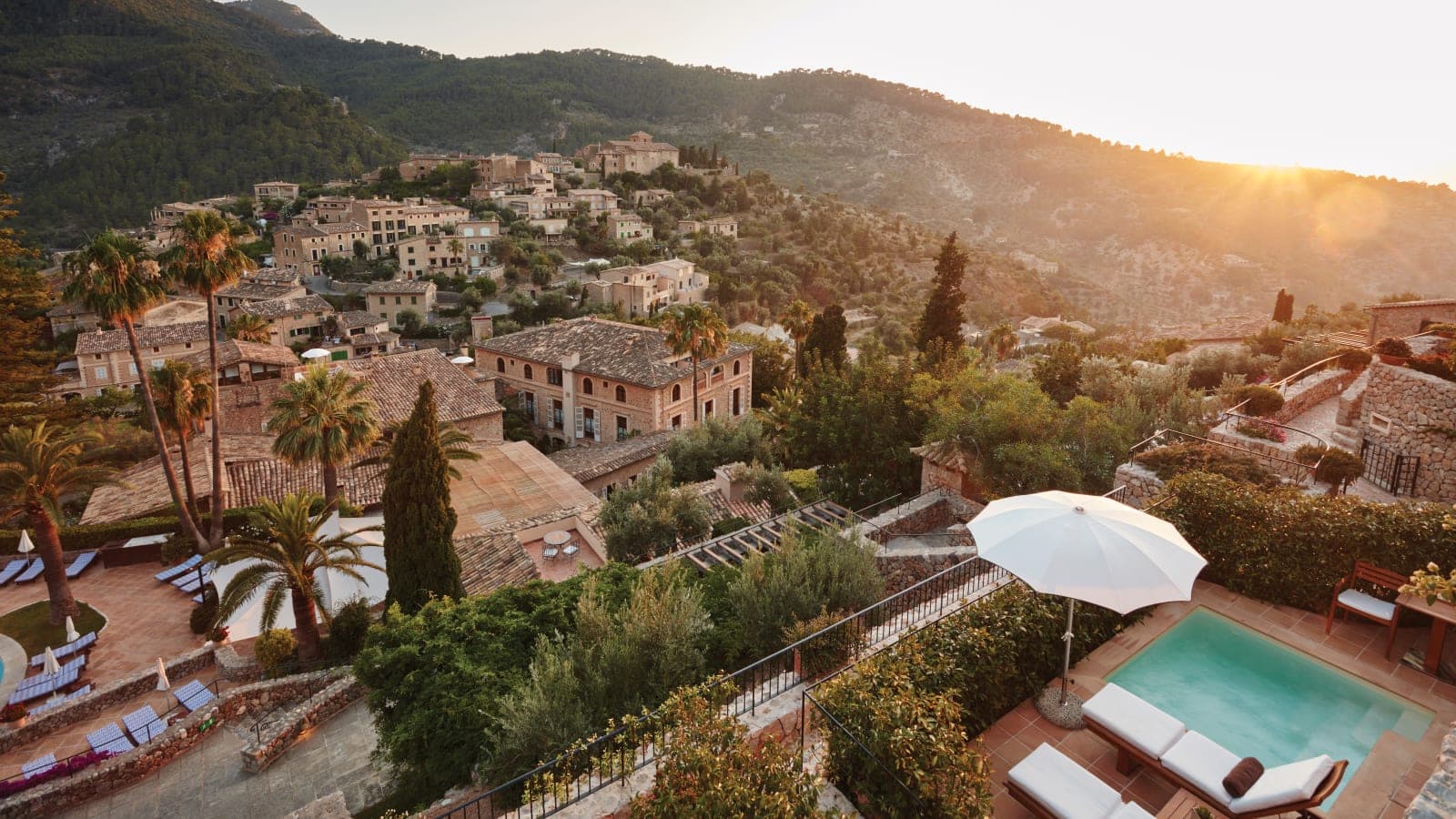 If you're visiting Palma, you'll need to find a place to stay. There aren't any gay-specific gay hotels or properties in Palma, but the city is incredibly gay friendly. Whether you're seeking luxury or a budget-friendly stay, Palma offers a range of accommodations that are inclusive and warm toward guests from all walks of life.
Luxury
La Residencia, A Belmond Hotel, Mallorca – Situated in Deià, La Residencia is nestled amidst the mountains and offers stunning views and unparalleled luxury. Guests can revel in the two outdoor pools, a hot tub, a sauna and spa, two tennis courts, and an award-winning restaurant overlooking the Mediterranean. The hotel features a permanent art exhibition, in addition to a sculpture garden, for those seeking to immerse themselves in the art scene in Deià.
Hotel Victoria Gran Meliá –  Hotel Victoria Gran Meliá is conveniently located in central Palma, providing views of the nearby marina. With its beachfront location, guests can enjoy the plush rooms, in addition to an indoor and an outdoor, rooftop pool that offers panoramic views of Palma Bay–which can also be seen from many of the rooms. Hotel Victoria Gran Meliá offers two restaurants: the Marivent for buffet breakfast and La Terraza del Victoria serving dinner. Guests can also relax at the rooftop cocktail bar while taking in views of the marina and the Cathedral. Bars and clubs are only a short walk from the hotel.
Mid-range
Hotel Astoria Playa – Located in Alcudia and only 150 meters from the beach, this adults-only hotel offers modern amenities, including two swimming pools, three outdoor hot tubs, and a chic outdoor lounge. The modern hotel provides a relaxed ambiance, including a live daytime DJ and live evening music several times a week.
Rainbow Home Mallorca – Located 10 minutes by car from the Palma center, Rainbow Home Mallorca is an exclusively gay bed and breakfast that offers personalized service, ensuring each guest feels right at home. The Villa offers a fitness center and outdoor pool, as well as a shared lounge area and terrace with views to the Serra de Tramuntana. Restaurants near Rainbow Home Mallorca offer authentic Mediterranean cuisine. With prior arrangements, guests can host parties and special events in the bed and breakfast.
AC Hotel Ciutat de Palma – The AC Hotel Ciutat de Palma boasts a minimalist design and is a stone's throw away from the beach and the city's vibrant nightlife. Centrally located in the Santa Catalina neighborhood, the hotel is close to the Esbaluard Museum, the Palacio Real de la Almudaina, the best regarded golf courses in Europe, and only a mere 50 meters from the Palma promenade. AC Hotel Ciutat de Palma also offers an open-air terrace, as well as the AC Lounge that offers breakfast and dinner.
INNSiDE by Meliá Palma Bosque – A blend of urban and resort, guests can indulge in the sauna, Turkish bath, and three swimming pools (indoor, outdoor, and children's). INNSIDE is conveniently located from the sights: a 5-minute walk from the seafront promenade, 10 minutes from the Santa Catalina district and Bellver Castle, and a 20-minute walk from the Palma Cathedral. The hotel also boasts an on-site restaurant with terrace, offering Nikkei-inspired cuisine and cocktails.
Joe's Gomila Boutique Hotel – A fusion of vintage and contemporary, Joe's Gomila Boutique Hotel is located in the center of Plaza Gomila, the home of bohemian Palma and 60s glamor. The adults-only hotel (18+) offers a rooftop terrace with a plunge pool and views all the way to the Palma promenade. Dining options include a bistro bar, where guests receive a 10% discount during their stay. WIth only 10 rooms, each room has a unique theme, and guests can expect a personalized stay with all of the comforts Joe's Gomila Boutique has to offer.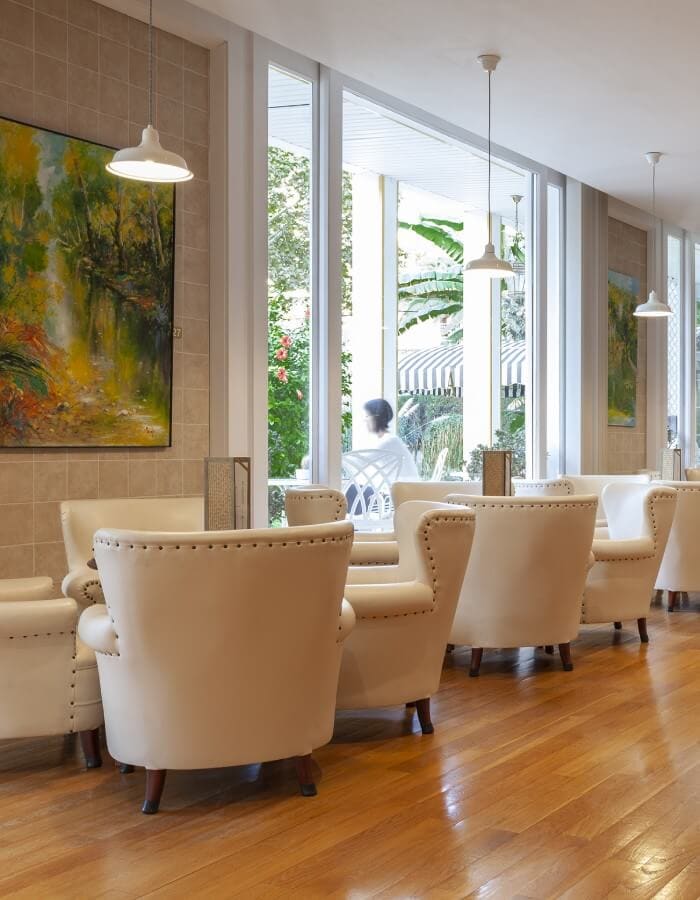 Budget
Hotel Araxa (Adults Only)  – Located in a quiet residential area, it's a peaceful haven complete with a spa and garden, outdoor pool, gym, and spa. Hotel Araxa is only a 10-minute walk from Palma's seafront and Bellver Castle. For those looking to be pampered, Hotel Araxa's spa includes a hot tub, Turkish bath, infrared and steam saunas, in addition to massage treatments. Free private parking is also available.
Sercotel Hotel Zurbarán Palma – Comfort meets affordability at the Sercotel Hotel Zurbarán Palma, located in a tranquil residential area only a short walk from the old quarter of Palma. Guests are able to walk to the city center to enjoy the Cathedral and the well-preserved old quarter. The seafront promenade and the port area are also closeby, in addition to famous bars and clubs that are within walking distance.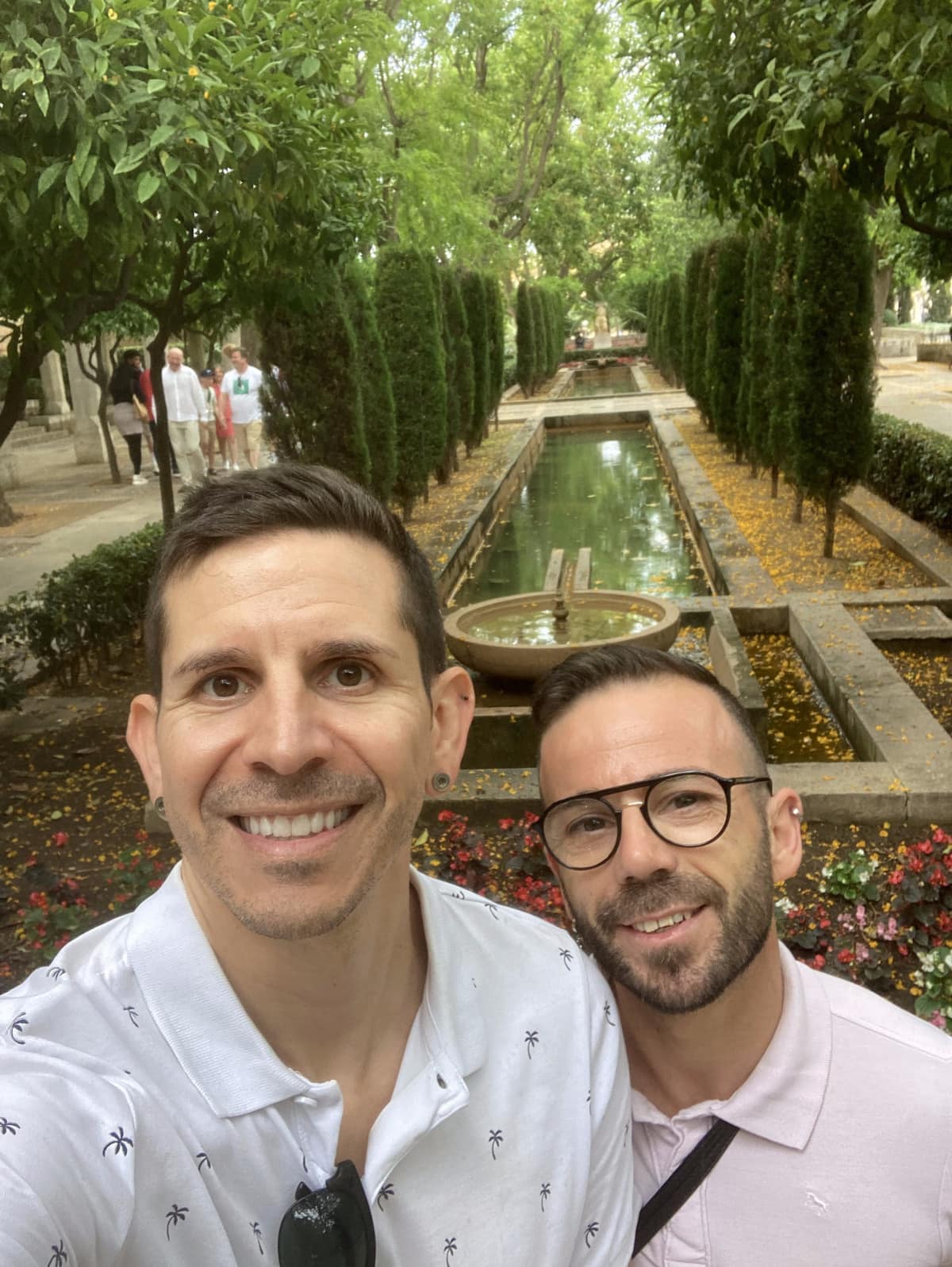 Sightseeing & Activities in Palma de Mallorca
The Gothic Quarter – You could spend a whole day exploring the narrow alleys of the gothic quarter, or old town, because it's teeming with historical wonders. The Romans, Moors and Christians have all contributed to the architecture and there's churches, antique shops, quaint cafes, bars and plazas galore. Passeig del born can be found here with Avenida de Jaime III – heaven for lovers of shopping and luxury brands.  The majority of the main tourist attractions are also here, including the cathedral and palace.
La Sey Cathedral –  In exploring Spain it can seem like you've seen it all when it comes to cathedrals, but Palma de Mallorca's cathedral is truly unique. The Gaudi-designed Gothic splendor of the 13th-century cathedral dominates the city's skyline. Inside is a work of art – with one of the largest rose windows in Europe – and it's especially worth exploring its upper terraces with their flying buttresses and bell tower. The view over Palma and the ocean is naturally the best in the city!
Royal Palace of Almudaina – The second principal landmark in Palma, this 14th century palace is where the king and queen make their abode when visiting the island. Its epic corridors and halls are open to the public to explore with free entrance on Wednesdays and Sundays from 3 p.m. to 6 p.m.
Beliver Castle – Just 3km away from Palma perched upon a hill overlooking this city is one of Europe's only circular castles. Its four towers offer beautiful views over both Palma's port and the surrounding countryside.
Banos Arabes – These roman baths sadly have neither Romans nor water in them anymore. Nonetheless, for just 3 euros you can take a walk through history at the only remaining ruins of the Arab city of Medina Mayurqa and let your imagination do the work.
Es Baluard Contemporary Art Museum – Art enthusiasts can visit a museum of modern and contemporary art containing over 100 works with a rotating array of exhibitions. The three-story museum is the largest on the Balearic Islands.
Gay Tours in Palma de Mallorca
Gaily Tour in MALLORCA – Tailored for the LGBTQ+ community, Gaily Tour in MALLORCA offers a wide variety of tours of various lengths to fit any itinerary. Take a 3-hour walking tour that covers major landmarks, including the Gothic and Jewish quarters filled with palaces and courtyards, the art nouveau district, and the Palma Cathedral where Gaudi's works can be admired. Gaily Tour also offers a night walking tour–with a drink included (non-alcoholic options available!)–as well as a wine tasting tour and even a train tour on the oldest wooden train in Europe. No matter your interests, Gaily Tour has a tour to help you explore renowned sights and hidden gay gems with an expert LGBTQ+-friendly guide.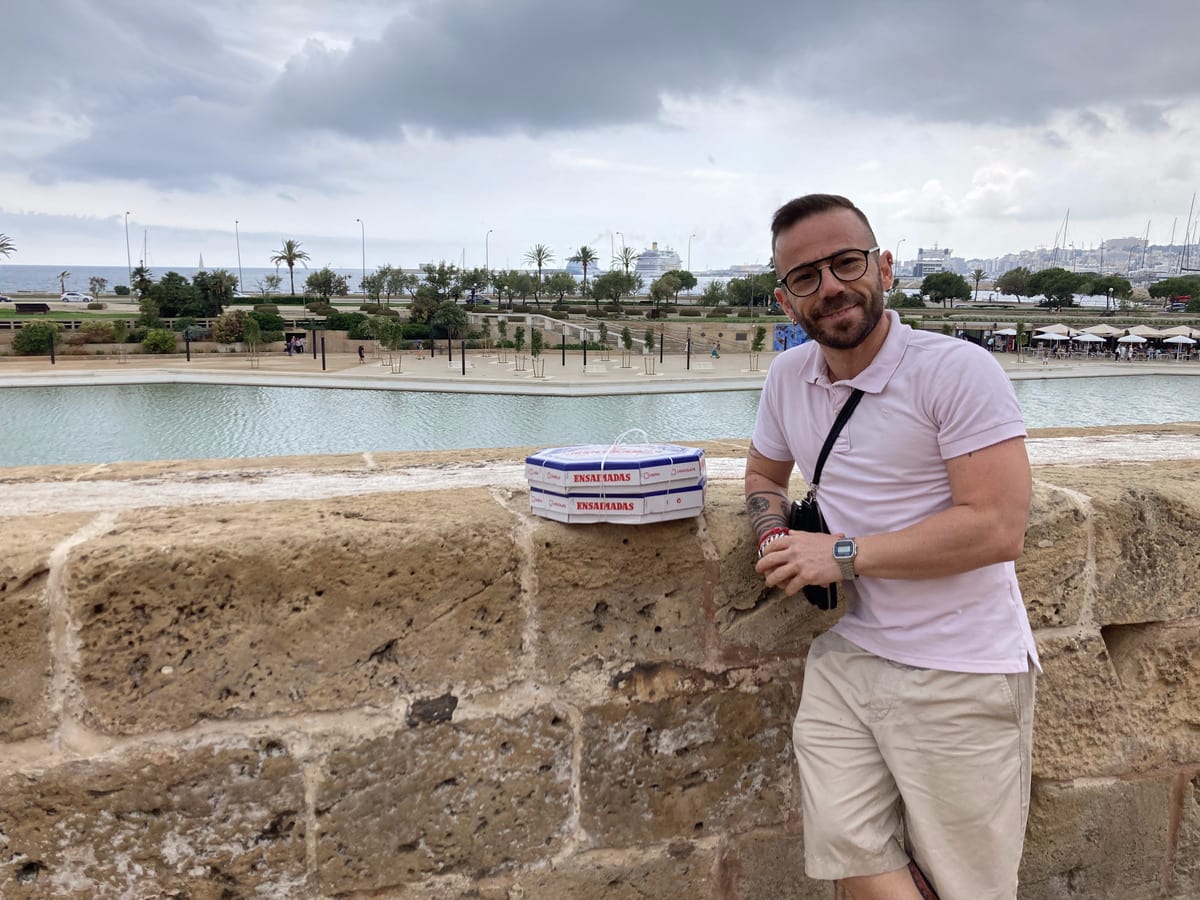 Restaurants and Cafes
Bar Coto – Right in the heart of Palma, Bar Coto offers a classic dining experience with a touch of Mallorcan authenticity. Renowned for its Spanish tapas, this establishment gives diners the chance to sample a variety of dishes in one sitting. From the zesty albondigas (meatballs) to the delicate gambas al ajillo (garlic prawns), each dish is crafted to perfection. Paired with their curated list of local wines, a meal here is a flavorful embrace of Mallorcan traditions.
La Dama de Ella – This LGBTQ+-friendly establishment sets itself apart with a diverse menu that seamlessly blends Spanish classics with international delicacies. The open-plan setting, adorned with contemporary art, offers a chic dining experience. Whether you're indulging in the paella mariscos or the truffle-infused pasta, each bite is a symphony of flavors. Their weekend brunch, featuring avocado toasts and mimosas, has become a city favorite.
Bar Michel – Overlooking Palma's marina, Bar Michel is the epitome of relaxation. As the sun sets, casting a golden hue over the waters, this spot becomes a favorite for evening cocktails. Their drinks menu is extensive, featuring everything from classic mojitos to inventive concoctions infused with local herbs. Complementing their drinks is a selection of light bites, perfect for those evening cravings.
Cannibal Cantina Bistro – Drawing inspiration from global flavors, Cannibal Cantina Bistro offers a culinary journey from Mexico's spicy tacos to Japan's delicate sushi. The ambiance, with its eclectic artwork and neon signs, exudes a modern vibe. This spot, buzzing with energy, becomes especially lively during their themed nights, which celebrate global cuisines.
Brunchit Palma de Mallorca – As the name suggests, Brunchit is a haven for those who believe breakfast is not just a meal but an experience. With a bright and airy setting, adorned with potted plants, the place feels like a cozy greenhouse. Their menu features everything from buttery croissants to hearty breakfast bowls. Their artisanal coffees, brewed to perfection, are the ideal wake-me-up, making Brunchit a must-visit for morning enthusiasts.
Ca n'Ela – Delve deep into Mallorcan traditions at Ca n'Ela. This quaint restaurant, with its stone walls and wooden tables, offers a rustic dining experience. The menu features local delicacies, with each dish telling a story of Mallorcan heritage. From the rich seafood stews to the delicate ensaimadas (pastries), dining here is like taking a step back in time.
El Rincon de Cai – A tribute to Spanish gastronomy, El Rincon de Cai offers an array of dishes that capture the essence of the country's diverse regions. The ambiance, with its vibrant tiles and traditional decor, complements the menu. Diners can savor dishes like the Andalusian gazpacho or the Basque pintxos, each dish meticulously crafted and bursting with flavors.
OH Mallork – OH Mallork represents a contemporary twist on Mediterranean dining in the heart of Palma. Traditional Mallorcan ingredients are innovatively used to craft dishes that resonate with modern palates. Their curated menu, which seamlessly blends local produce with international culinary techniques, offers diners an unexpected gastronomic journey. Whether you opt for their reinterpretation of classic tapas or indulge in one of their signature mains, OH Mallork promises an experience that's as memorable as it is delectable.
Es Baret – Tucked away in Palma's historic quarters, Es Baret is a hidden gem. This traditional eatery, with its vine-covered facade and courtyard seating, offers a romantic dining experience. The menu focuses on Mallorcan classics, using fresh, locally-sourced ingredients. Each dish, be it the grilled octopus or the Mallorcan tumbet (vegetable layer dish), resonates with authenticity.
Bar Flexas – More than just a cafe, Bar Flexas is a cultural hub. Located in a renovated old building, with its vintage furniture and ambient lighting, it's a space that encourages conversations. Their menu features light bites and a selection of coffees and teas. But what sets Bar Flexas apart is its events — from poetry readings to art exhibitions, it's a celebration of Palma's vibrant arts scene.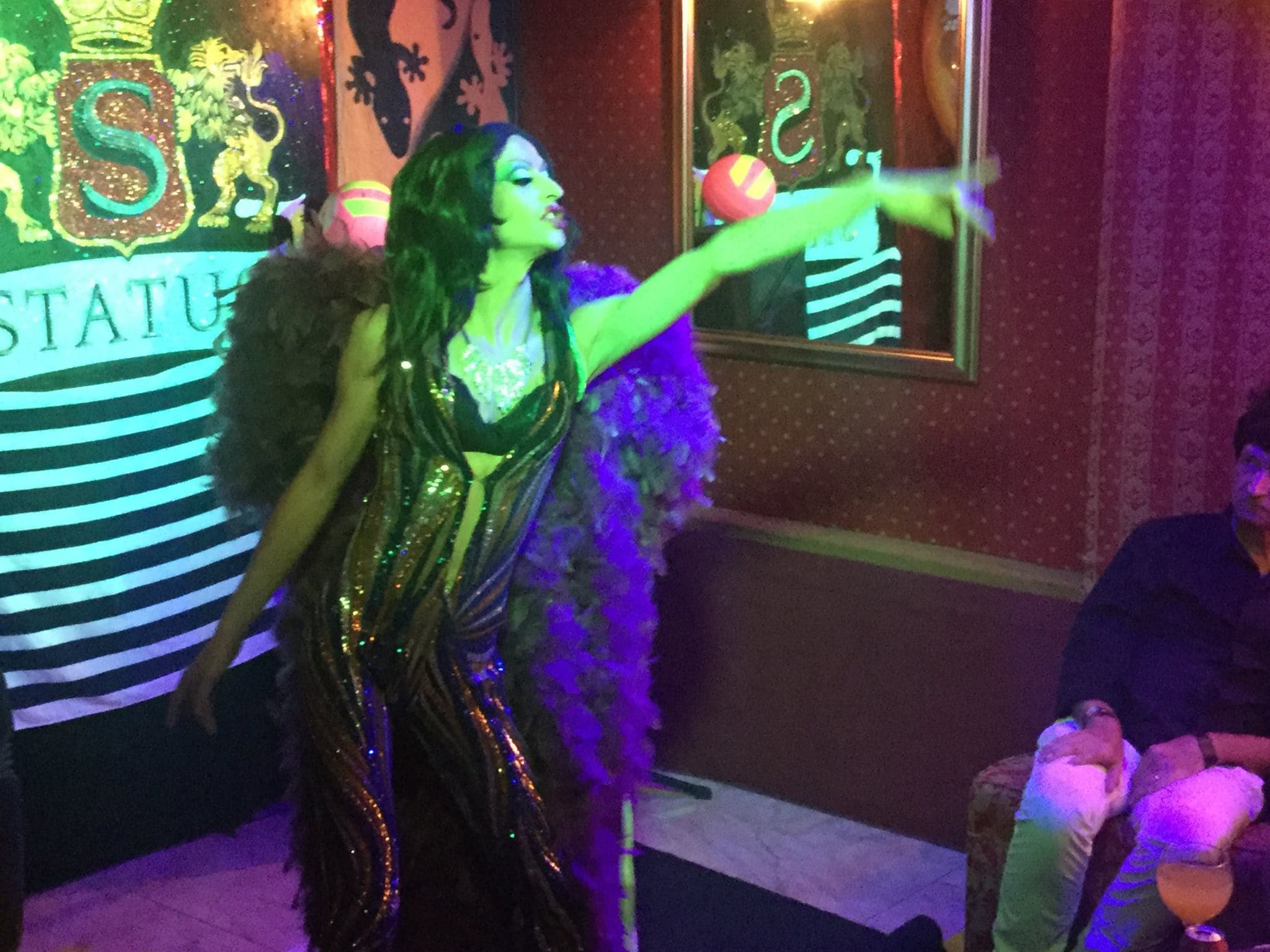 Palma de Mallorca Gay Bars
The2 Palma – Up in the bustling streets of Palma, The2 Palma stands out as a sleek, modern bar for contemporary gay culture. The decor is a mix of chic furnishings and mood lighting, setting a tone that's both intimate and energetic. The highlight of The2 Palma, however, is its array of cocktails. Each drink is a piece of art, both in taste and presentation. Regular events, ranging from drag shows to LGBTQ+ themed quiz nights, make it a hub of entertainment.
Status Cabaret – If glitz and glamor are what you seek, Status Cabaret is the place to be. Situated in the heart of Palma, this bar is a delightful fusion of traditional cabaret and modern gay culture. The stage sees a rotating cast of performers, from sultry singers to dazzling drag queens, ensuring that no two nights are the same. Of course, the bar is stocked with an array of drinks to keep the spirits high. Status Cabaret is not just a bar; it's an experience, promising a night of laughter, entertainment, and perhaps a touch of drama.
 Palma de Mallorca Gay Clubs and Parties
Guest Lab Party Palma De Mallorca – Guest Lab Party Palma De Mallorca is the place to be for the best DJ sets and an energetic crowd. The club, with its spacious dance floor and state-of-the-art sound system, is designed for nights of uninhibited fun. Renowned DJs from around the world grace the decks, and themed nights, from retro evenings with 80s classics to futuristic parties with electronica, ensure that there's something for everyone.
Palma de Mallorca Gay Saunas & Cruising Bars
Dark Cruising Bar – A popular spot known for its themed nights, Dark Cruising Bar is a meeting point for gay men with a kinky streak looking for some no-strings attached fun. Themed parties like Only T-Shirt, Leather, Rubber, Harnesses (to name a few) take place on Wednesdays, Thursdays, and Sundays. Dark Cruising Bar also offers parties and events throughout the year for folks of all sexual orientations and genders. Whether you're looking to simply enjoy drinks with like-minded people or partake in the diversity of sexual expression, Dark Cruising Bar should be included in your night out in Palma.
Fucktory Palma –  Located in Palma's center, Fucktory is a club exclusively for men. Fucktory offers drinks and frequent themed parties, including Only Shirt, Underpants/Jockstrap, Neon, and Toga. A cruising area is also available, in addition to a locker room with lockers.
Spartacus Sauna – Palma's only sauna is in the old town of Palma and open 365 days a year, Spartacus Sauna has been a fixture of the Palma LGBTQ+ community for over 30 years and offers a recently renovated, modern atmosphere to enjoy its services. In addition to bar service, there are lockers, a heated pool, Finnish sauna, steam sauna, XXX video room, chiropractic services, a dark room, and much more. Public parking is only a few meters away.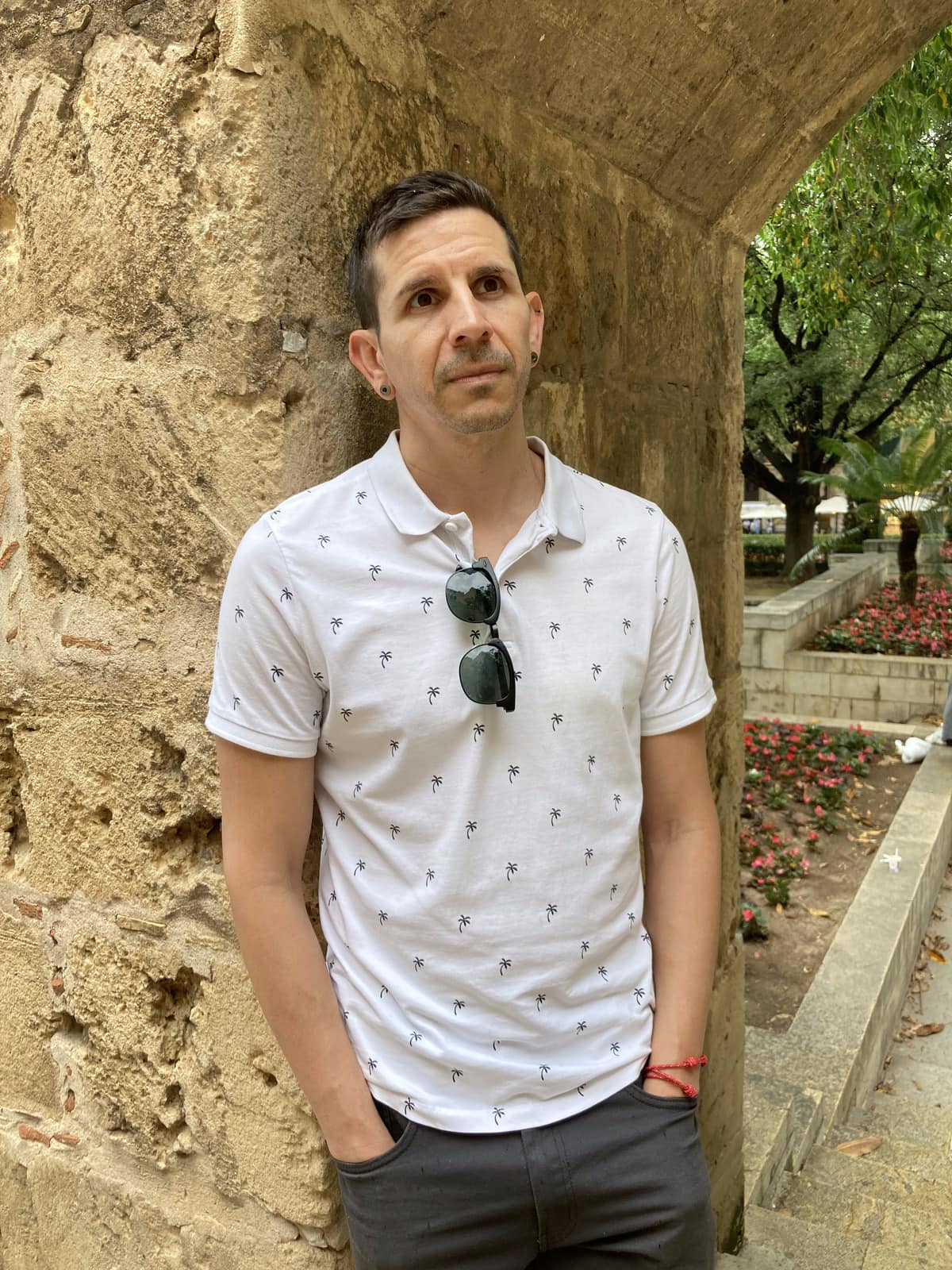 Gay Events in Palma de Mallorca
Mallorca Fetish Week – Undress to impress and put on your best harness, leathers, pup mask or any other fetish gear for a week-long celebration of the kink community. Mallorca Fetish Week provides a safe, inclusive, and respectful environment for attendees to explore their fetishes and fantasies. From themed parties, workshops, and even educational sessions, it's all about embracing one's sexuality without judgment.
Mallorca Gay Pride – Mallorca Gay Pride is a flamboyant, colorful celebration of love, acceptance, and, of course, pride. The streets of Palma de Mallorca come alive with rainbow flags, glitter, and smiles as far as the eye can see. Music blares, people dance, and the entire city seems to vibrate with positive energy. Attendees include not just members of the LGBTQ+ community, but also allies and supporters, all coming together to champion love in all its forms.
Mallorca Carnival -While not exclusively a gay event, the Mallorca Carnival has grown to become a significant part of the LGBTQ+ calendar in Palma. Rooted in tradition, this carnival is a fascinating blend of old-world charm and contemporary celebrations. The carnival is an explosion of colors, with costumes, masks, and performances that are both traditional and infused with a unique LGBTQ+ flair. It's a testament to how the community has seamlessly woven itself into the fabric of Mallorca's rich cultural tapestry.
Ella International Lesbian Festival Mallorca – The Ella International Lesbian Festival is a celebration of women in the LGBTQ+ community. Unlike the other events on this list, this one is geared specifically towards lesbian and queer women. This festival is a harmonious blend of parties, workshops, discussions, and networking events. It provides a safe space for women to connect, share their experiences, and celebrate their identities. With internationally renowned DJs, beach parties, and thought-provoking panel discussions, the festival is a melting pot of ideas, fun, and sisterhood.
Gay Beaches in Palma de Mallorca
Es Trenc – Located south of Palma, Es Trenc spans nearly 3 kilometers and is famous for its crystal-clear waters and pristine sands. In addition to the stunning ocean views, Es Trenc offers nature-filled dunes, which have been designated a protected area filled with winding trails and lush greenery. In front of the dunes is a gay nudist beach, and behind the dunes are many popular cruising areas within the forests and trails.
Whether you're seeking relaxation or vibrant nightlife, Palma de Mallorca offers an inclusive experience for every gay traveler with its welcoming locals and vibrant gay scene, promising an unforgettable journey. Whether it's the allure of ancient history, the charm of contemporary art, or the thrill of the night, Palma awaits.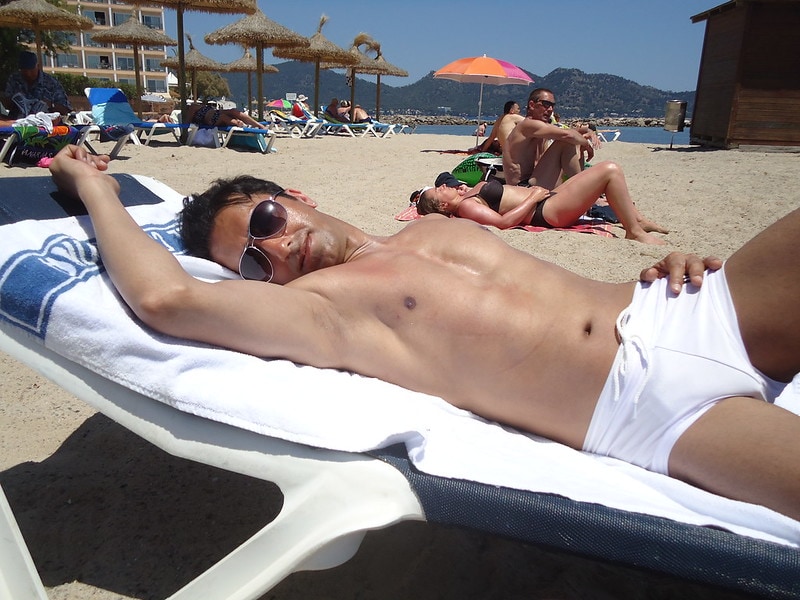 Day Trips from Palma de Mallorca
Palma de Mallorca is a great base for day trip adventures around the rest of the island. 
Valldemossa –  This quaintly beautiful village with its ancient monastery and cobblestone charm, provides a glimpse into Mallorca's rich history and rural Spanish life not found in the city. 
Cala Figuera – The azure waters of this charming fishing village paint a picturesque seaside escape, ideal for relaxation and yes, maybe a spot of fishing. The village is easily reachable on a boat trip from Palma. 
Serra de Tramuntana – For those seeking the allure of rugged landscapes, these mountains promise breathtaking hikes and panoramic vistas. 
The Drach Caves –  The intrepid should head to in Porto Cristo and enter these caves for a subterranean spectacle. They boast stunning stalactites and an underground lake.