There´s a lot to see in this precious world we call home and to see it all in just one lifetime seems an almost inconceivable task. Gay tours are a great way to break it all down into memorable experiences and meet potential lifelong friends – or even a special someone – along the way. Be it hiking across the glaciers in Iceland or a naked cruise in Indonesia, we thought we'd highlight some of the best gay tours around the world you should consider joining. And in 2024, we've even decided to offer 6 of our own trips to Spain, France, Italy, Malta, Greece and Croatia, which you're welcome to join.
A gay group tour is a great option for an amazing travel experience that's already pre-planned and purchased as a package. It's particularly useful if you're too busy to plan your own trip or if you're a gay solo traveler because you'll quickly make new friends in your group as you travel together. Of course, you can also travel with a friend, significant other or even a family member on one of these awesome adventures. We recommend a few different tour operators that do gay group trips and they all offer great itineraries and experiences that you'll surely love and won't forget.
Europe is without a doubt one of the most amazing, dynamic and gay-friendly places in the world to visit. You could spend years or decades traveling across Europe and still not see it all. From the beaches in Barcelona to the history and art of Rome, there's so much to see, yet so little time. Latin America also has some amazing destinations to visit and you can find plenty of gay group tours to that region as well. Asia is slowly starting to open up as well post-pandemic but some countries still remain closed or may have restrictions in place.
Table of Contents
1. Gay Barcelona Tour
2. Gay Madrid Tour
3. Gay Spain & France Cruise
4. Gay Greece Sailing Tour
5. Gay Croatia Sailing Tour
6. Gay French River Cruise
7. Gay South Africa Tour
8. Gay Greece & Croatia Cruise
9. Gay Italy Tour
10. Gay Iceland Tour
11. Gay Israel Tour
12. Gay Naked Thai Villa
13. Gay Thailand Tour
14. Gay Costa Rica Tour
15. Gay Morocco Tour
16. Gay Mexico Tour
17. Gay Peru Tour (Machu Picchu)
18. Gay Japan Tour
19. Gay Egypt Tour
20. Gay Venice and Dalmatian Coast Cruise
Gay Barcelona Tour
Hosted by: Two Bad Tourists, yep that's us!
Spain is an amazing destination and it's one of the most progressive places in the world for the LGBTQ+ community. We've partnered with The Queer Travel who helped assemble the itinerary and will manage the reservations as well as all the on-the-ground logistics. This will be an awesome gay group trip so you can come with a friend, that special someone or even come alone. In fact, many guests on our hosted trips are solo travelers so you won't be alone and you can make new friends while we explore together. Spain is famous around the world for its cultural traditions, great beaches, history and welcoming atmosphere. As the third country in the world to legalize same-sex marriage back in 2005, it's no surprise that Spain is welcoming to the LGBTQ+ community. For the 2nd year in a row, we'll be your hosts on this incredible trip to Barcelona and Sitges where you can tickle your imagination with images of flamenco dancers in the night, sounds of wine glasses clashing amongst Spanish banter, infinite tapas landing on your table and the sea breeze lightly brushing your skin as the water crashes onto the coast. We'll even be staying at Axel Hotel Barcelona, the original property of the largest gay hotel chain in the world. The Spaniards live with passion and a thirst for life. Open your heart, mind and drink it in. Let us show you the magic of this amazing destination. View Spain Tour →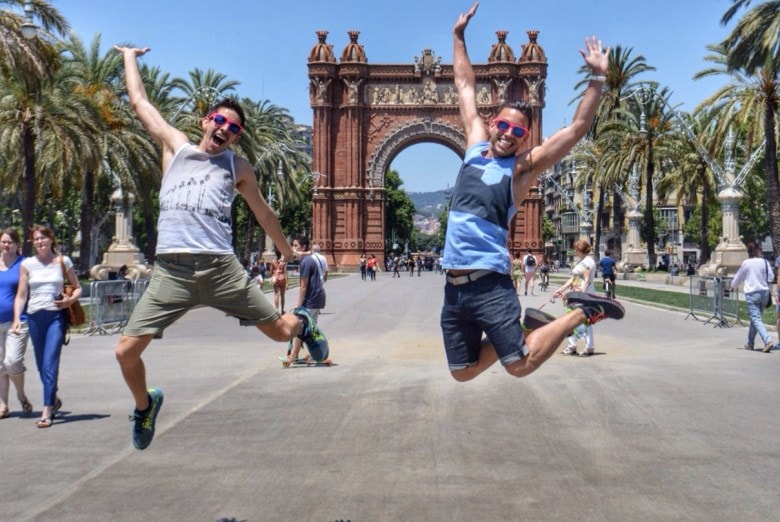 Gay Madrid Tour
Hosted by: Two Bad Tourists, yep that's us!
Madrid is perhaps not as well known of a gay destination as its Catalan sister in the northeast, Barcelona. But the truth is that Madrid is a bigger city with more offerings from a nightlife perspective and many LGBTQ+ oriented events throughout the year. There are very few cities in the world that offer the same kind of welcome to LGBTQ+ residents and visitors. Madrid is a fantastic destination especially if you enjoy local neighborhoods, art, the gay scene, nightlife and beautiful weather. After exploring the capital city for several days, we'll later head out on day trips to both Toledo and Segovia, which are both just an hour's drive from Madrid. Toledo is a medieval town that was once the capital of Spain before the Royal family moved the capital to Madrid in the 1500's. Segovia is another famous town nearby known for its Roman aqueduct as well as the fairytale-style castle. We'll spend the days exploring these medieval towns through their curving alleyways, cultural museums and historic monuments. Let us be your hosts as we explore our home city and surrounding towns! View Tour →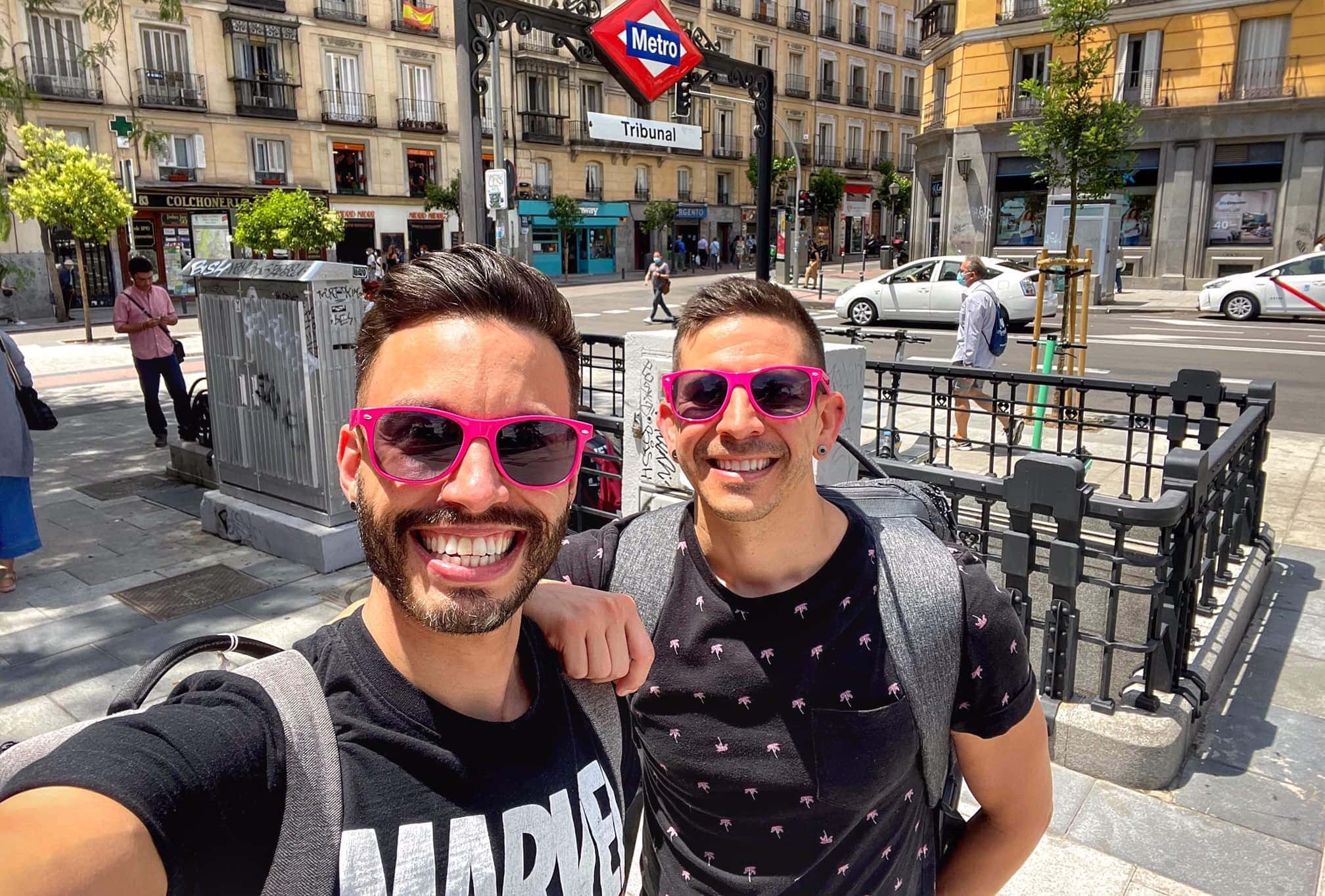 Gay Spain & France Cruise
Hosted by: Two Bad Tourists, yep that's us!
Join us as we host a gay group trip on Virgin Voyages! The 7-night cruise is a round-trip departure from Barcelona and we will visit some amazing ports of call. Virgin Voyages is a brand new, adults-only cruise line that just started sailing in 2021. Although we will be joining a large ship with other guests, our small gay group trip will offer daily group dinners together, group shore excursions, private cocktail parties, group activities and more! Virgin Voyages is one of the most LGBTQ+ friendly travel brands on the market and their new concept also changes everything you know about cruising….no more buffets or large dining halls, free WiFi, and there are no hidden fees since gratuity/tips are already included. These are just a few of the cool benefits you can expect, plus drag queen bingo, nighttime parties and many extra surprises. As usual on our gay group trip, friends, couples and solo travelers are welcome. In fact, nearly 2/3 of our bookings on this cruise are solo travelers so far! View Cruise →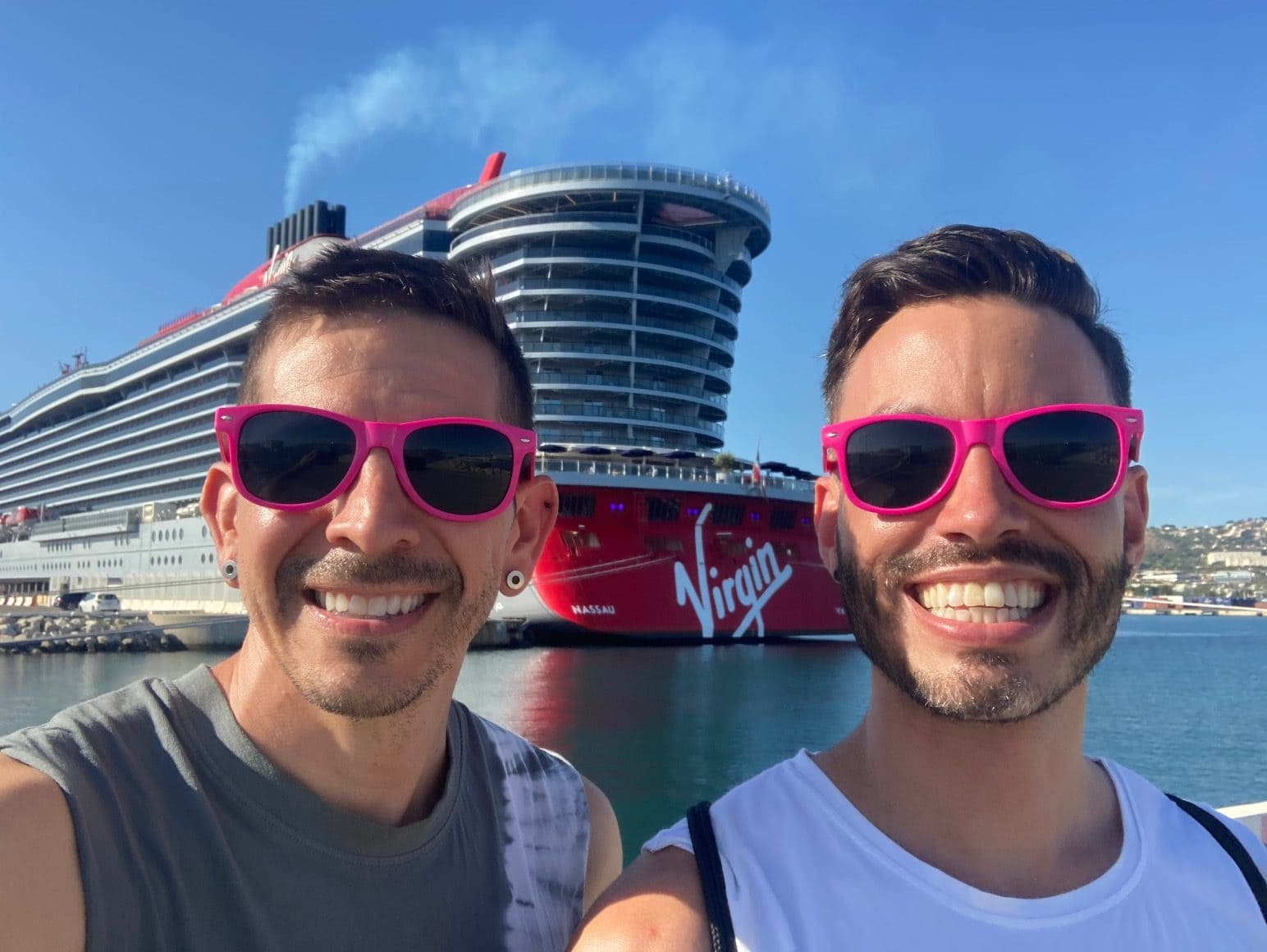 Gay Greece Sailing Tour
There are no amount of photos, videos or stories that can prepare a person for the incredibly captivating country that is Greece. Whether it's the jaw-dropping scenery, the hospitable people, the fascinating history, the laid-back lifestyle or the endless exploring opportunities, Greece leaves travelers in awe. Spend seven days sailing through the Ionian islands – what most think of when they think of "sailing the Greek Islands". Highlights including reclining on the world famous Myrtos Beach, swimming in the blue caves of Lefkada, fine dining in the Greek restaurants of Fiskardo and snorkelling the pristine waters of Ormos Vrako.  This group of islands offers picturesque and energetic stops where you can discover local culture, classical architecture and the best of Greek cuisine, all while enjoying breathtaking islands, ports and local hospitality. . View Greece Tour→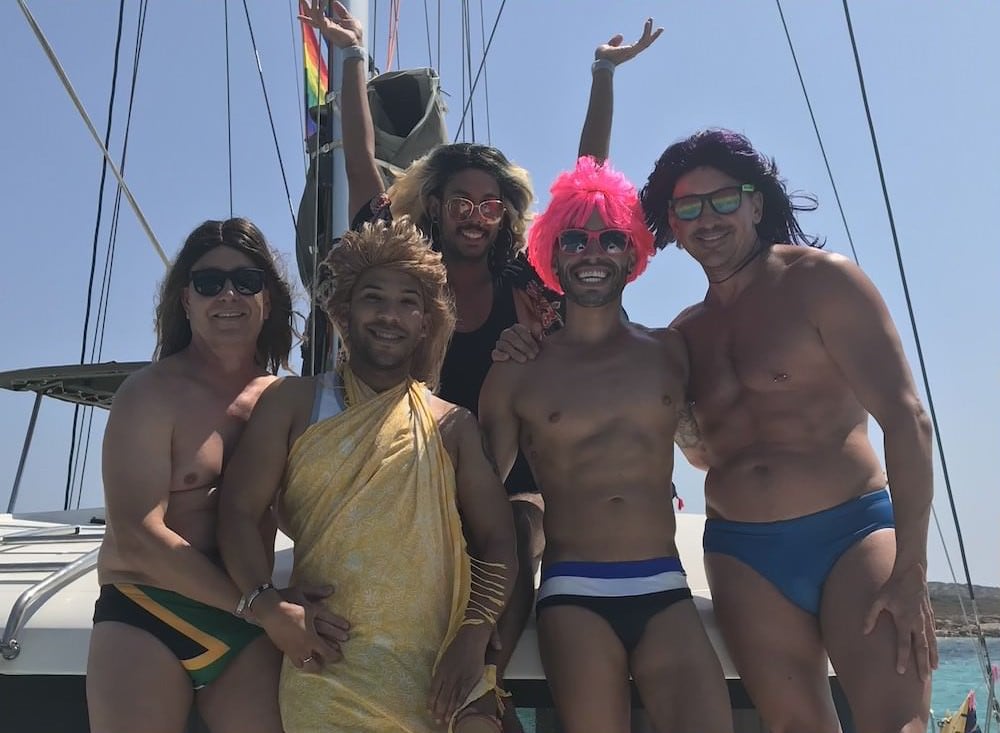 Gay Croatia Sailing Tour
Enjoy a seven day island-hopping vacation with around the beautiful Croatian coastline with gay guests from around the world. You'll stop at the best gay-friendly locations in the area for you to explore, as well as great beaches for an afternoon dip. You will arrive in port – either at Split or Dubrovnik –  with enough time to explore the island, relax on your private yacht or find a nice cocktail sunset bar. The amazing destinations include gorgeous Dubrovnik, the famous island of Vis, Hvar with its buzzing nightlife and fine dining, plus you'll get the opportunity to party in Split's bars and clubs. We've done this trip ourselves and it's one of our favorite weeks of the year. Croatia is the ideal place for sailing with smooth seas, beautiful coastline and fun ports with lots of activities and well-equipped facilities. View Sailing Trip →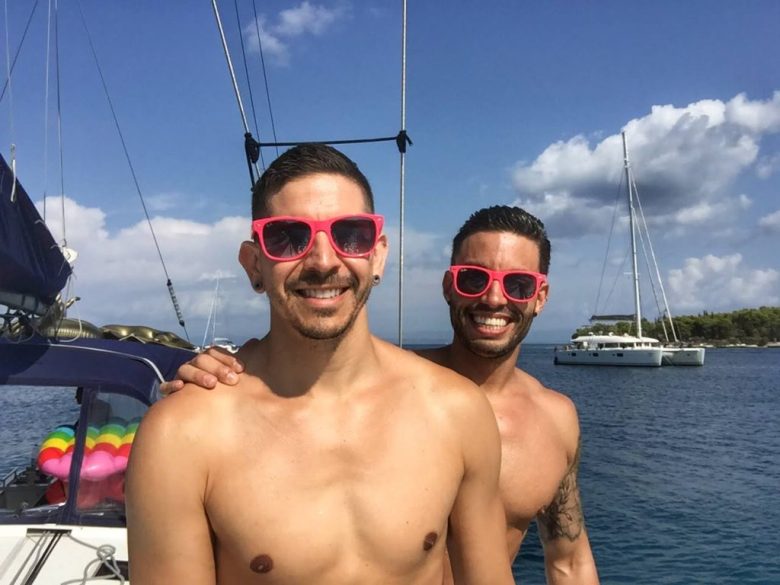 French River Cruise
Hosted by Source Journeys
France is elegance incarnate and there's no better way to take in a large swarth of it then a river cruise down the Saône and Rhône Rivers of the Burgundy province. Source Journeys offer private LGBTQ+ cruises that don't shirk from providing pure luxury. You'll board the Avalon Poetry II – which is just as lavish as it sounds – and port at French towns, visiting elegant chateaux and grand palaces. They'll be hiking excursions, culinary delights – especially in Lyon (the culinary capital of France), on board entertainment and a lot of wine. View Gay Burgendy Province River Cruise →
Gay South Africa Tour
Hosted by Detours Travel
South Africa is a country unlike any other in the world. The long colonial history followed by its recent turbulent past of apartheid has shaped the country in many ways yet has created an opportunity for carving a new future. When looking at the facts, South Africa is really the only country on the African continent that would be considered gay-friendly. While there are still struggles with equality in some parts like any country, they were globally ahead of the pack officially legalizing same-sex marriage in 2006. Cape Town is perhaps the most open-minded city and the vibrant metropolis of Johannesburg has plenty of LGBT+ specific venues as well. A gay African safari is also a must during your visit to South Africa and Detours Travel has packaged all this and more into their popular 12-day trip. . View South Africa Tour →
Gay Greece & Croatia Cruise
Hosted by: Two Bad Tourists, yep that's us!
Once more we partner with Virgin Voyages to host a 7-night round-trip cruise, only this time  launching from the birthplace of democracy itself, Athens. After setting sail upon Greece's crystal clean waters, we'll head up to Dubrovnik in Croatia and sail down the coast to port at Split, Kotor and the lively Greek island of Corfu. Just as on our other tours with Virgin Voyages we will be part of a larger ship with other guests but our small gay group trip will offer daily group dinners together, group shore excursions, private cocktail parties, group activities and more – all complimented by Virgin's usual vivacious nightlife entertainment. Virgin Voyages offer adult-only cruise that are dedicated to going that extra step for their LGBTQ+ guests and we'll be your hosts as we explore one of the most beautiful coastlines in the world.   View Greece & Croatia Cruise →
Gay Italy Tour
Hosted by Italy Gay Travels
Italy is, without doubt, one of the must-see destinations for gay travel in Europe. Tourists flock to the home of 'La Dolce Vita' (the sweet life) every year, drawn to it by sun, sea, fashion, design, history, art, architecture and don't forget great food! But there is another element that makes this country so unique: the Italians themselves. Over the years the Italians have developed a high level of tolerance: they have a welcoming attitude by nature and their hospitality is unique and generous. Italians are friendly, open-minded and caring towards the needs of their guests. On this gay tour of Europe you'll discover gay beaches, amazing food and awesome Italian hospitality. Our friends from Italy Gay Travels organizes all gay tours, events and custom-made trips in Italy. Join one of their small group tours exploring the most beautiful Italian places off the beaten track, a visit to Rome or enjoy the beach and great music at the Italy Gay Summer Party in Gallipoli. View all Italy Tours →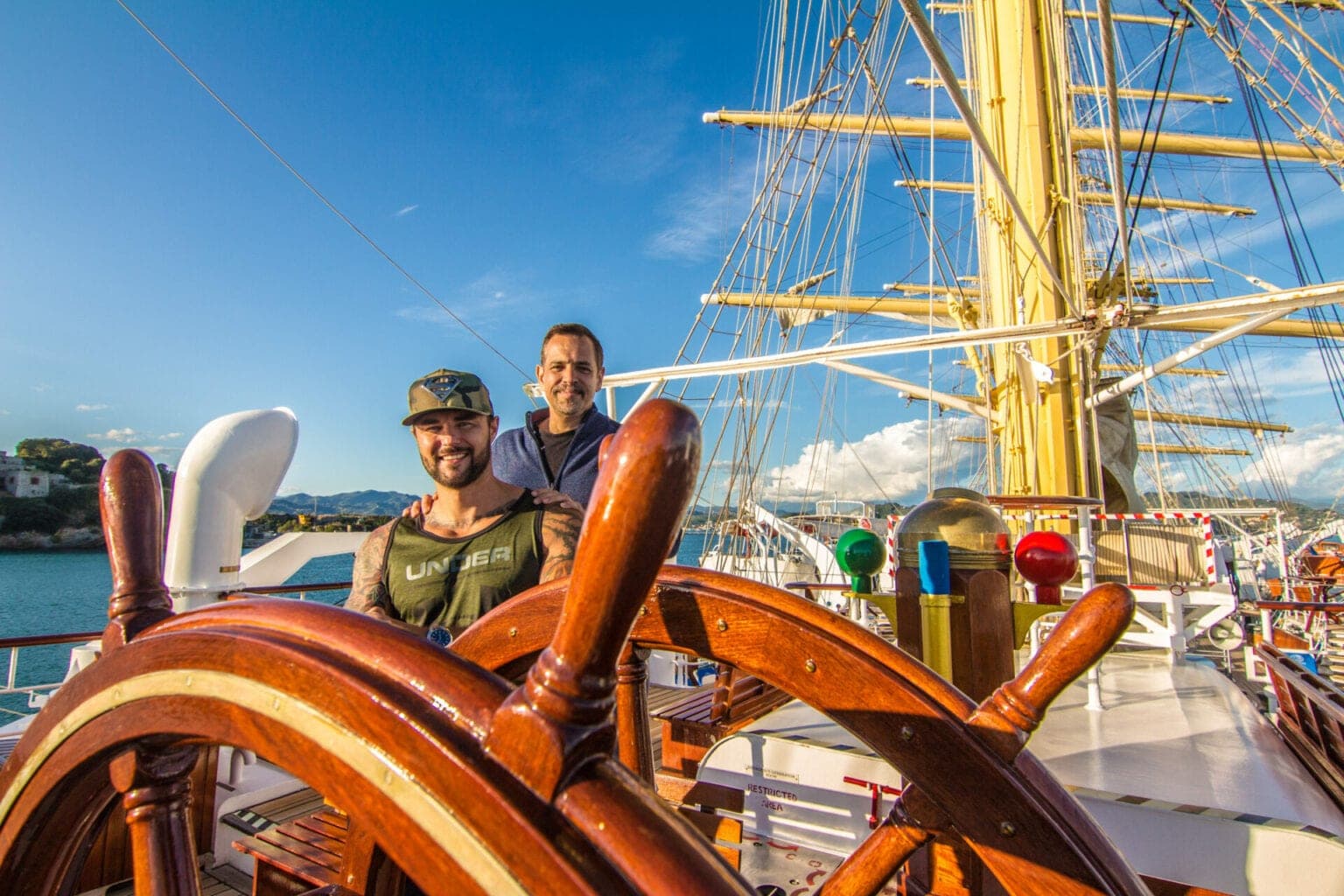 Gay Iceland Tour
Hosted by Out Adventures
There's no more magical place on earth than Iceland. From the geothermal pools of The Blue Lagoon to the thunderous Gullfoss Waterfall, you'll be blown away. This is the ultimate voyage of discovery of Iceland – a truly exotic summer adventure on the trail of the Vikings. For 8 days, Out Adventures will take you to extreme lands and breathtaking scenery. Their two main tours include an opportunity to witness the legendary Northern Lights or conclude your expedition at Reykjavik Pride. Glaciers, lava fields, geysers, and steam baths await those with a passion for travel and a love for the finer things in life.  View Iceland Tour →
Gay Israel Tour
Hosted by Detours Travel
Cosmopolitan cafes lining beautiful white sand beaches, the giant golden dome of a local shrine rising over homes clad in Jerusalem stone, an oasis in the middle of a vast desert of sand. Detours Travel invites you to spend 8 days in Israel bringing you into the middle of a region of fascinating contradictions. You may find yourself reading a newspaper while you float weightlessly in the Dead Sea, sprawled out under the sun at the gay beach, exploring one of countless world-class museums or taking in the unique culture and traditions on display. As gay travelers, this trip gives you the ability to take in the Middle East while enjoying the comfort of a relatively gay welcoming community. You'll immerse yourself into the thriving LGBT scene, hike around the cliff top fortress of Masada, cover yourself in the nutrient-rich mud of the Dead Sea and explore the winding alleys of one of the most historically significant cities in the world. View Israel Tour →
Gay Naked Thai Villa 
Hosted by Everything to Sea
Thailand is Heaven on Earth, only improvable – like everything in life – with the addition of naked men. Everything To Sea are naked holiday specialists that have you covered – or uncovered – in that respect. Their luxurious clothing-optional villa for naked men in Thailand is open to all men, from the experienced nudist to the bashful nudism newbie. Spend seven days in a stunningly beautiful three-floored luxury villa with sea and bay views, gorgeous guest rooms, lavish Thai gardens and an infinity pool boasting a bottom-filled bottomless bar. Sounds great, but where's the tour you ask? Well ,when not letting it all hang out in the villa you can get to know surrounding Thailand by taking a Thai cooking class, hiking past pristine beaches and waterfalls, exploring the temples of nearby Phuket, seeing ladyboy drag shows or watching men sweat it out in a Muay Thai kickboxing match – and much more.  Visit the villa.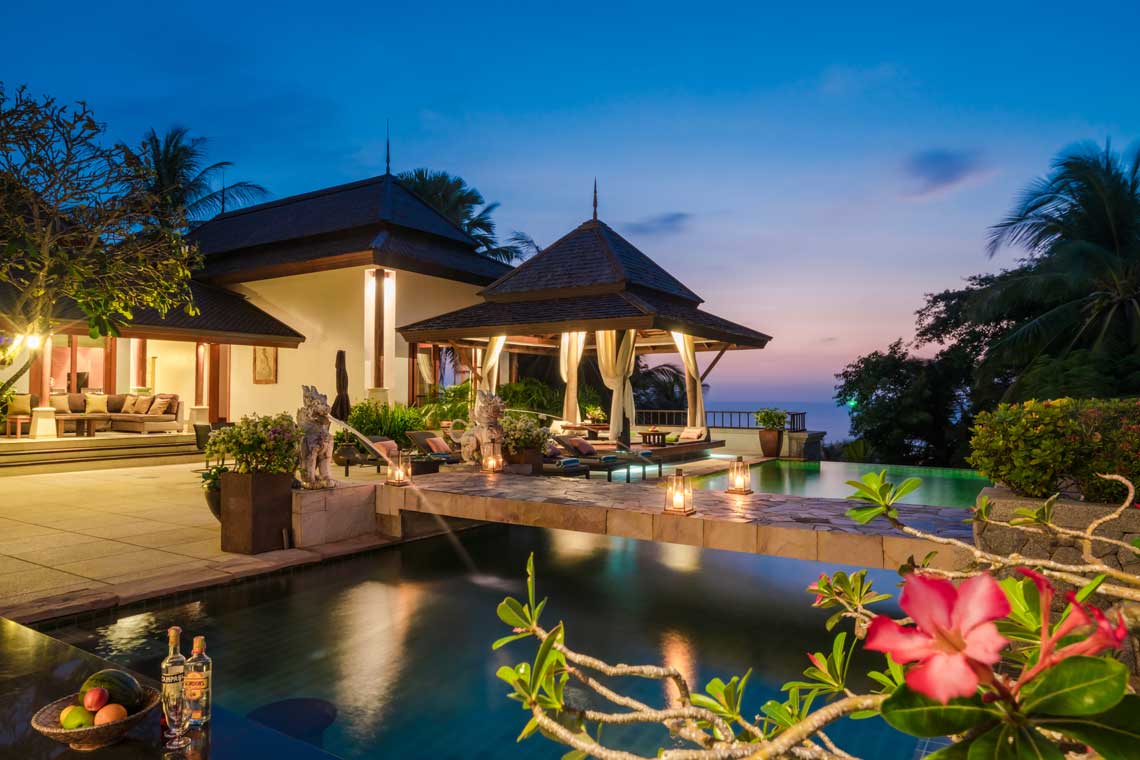 Gay Thailand Tour
Hosted by Out Adventures
The second Thai option on the list! Thailand is one of the most popular destinations in Asia for LGBT+ travelers and The Land of Smiles awaits on this exquisite gay tour. The tour begins in Bangkok, wandering the Grand Palace and devouring the street food, which is delicious, fresh and costs under $4 for a full meal including a local beer. In the evenings you'll indulge in the raucous revelry and gay nightlife of Silom. Next you'll explore the famous temples of Northern Thailand and spend time with Chiang Mai's Asian elephants. To wrap up the adventure, you can explore the remote beaches of Krabi before hitting the tropical island of Phuket. Plus if you join one of their April departures, it coincides with Songkran – Thailand's famous New Year Festival. View Thailand Tours →
Gay Costa Rica Tour
Hosted by Detours Travel
Costa Rica is one of the most biologically diverse places in the world with dense jungles full of monkeys, sloths, reptiles and other tropical life, reaching out onto stunning white sand beaches. Nature is perfectly paired with adventure in this tiny Central American country and it gives its visitors an unlimited number of opportunities to get as active or as relaxed as you like. Spend an afternoon in a hidden hot springs waterfall oasis, zipline through the thick jungle on one of the world's longest ziplines, take a surfing lesson from a local Tico, hike onto the hardened lava flow of an active volcano or surround yourself with wild spider monkeys. The once-in-a-lifetime opportunities are endless! View Costa Rica Tour →
Gay Morocco Tour
Hosted by Out Adventures
Journey from Casablanca to Marrakech through moody desert landscapes, kasbahs and villages on Out Adventures' signature gay Morocco tour. Picnic in mountain gorges, learn to cook the perfect couscous and immerse yourself in labyrinthine souks. You'll also discover the ruins of a Sultan's city that was built to mimic Versailles, stay in a hotel made of Saharan sand and find tranquility in a traditional riad surrounded by the frenzy of a medina. All-in-all, the sounds, smells and flavours of North Africa will infuse your memories for years to come on this magical gay adventure through Morocco. View Morocco Tour →
Gay Mexico Tour
Hosted by Out Adventures
This short and sweet gay Mexico tour is packed with plenty of optional activities, giving you more control of your trip. Things kick off in the country's colonial capital where you'll be guided through a labyrinth of colorful alleys and cobblestone plazas. In the evening, the tour will get hotter than a habanero as you explore the Zona Rosa—the city's gay district. Finally, the latter half of this adventure focuses on Mexican history where you'll have the opportunity to get a glimpse of the wealth and power of pre-Columbian empires at sites like Teotihuacan and Cholula. So grab your sunscreen, crack open a beer and let Mexico unfold before you. View Mexico Tour →
Gay Peru Tour (Machu Picchu)
Hosted by Out Adventures
Transport yourself from Peru's bustling colonial capital, through the charm and history of Cuzco, into the stunning Sacred Valley and along the epic Inca Trail before arriving at the infamous Machu Picchu. There may be hiking involved, but you certainly won't rough it. This all-gay adventure features 3- and 4-star properties en route, with a few nights of 'glamping' thrown in (it's sort of like camping, only with guides, porters and cooks pampering our tender souls). Inca Trail Permits typically sell out 3-6 months in advance so it's best to book your trip early. View all Peru Tours →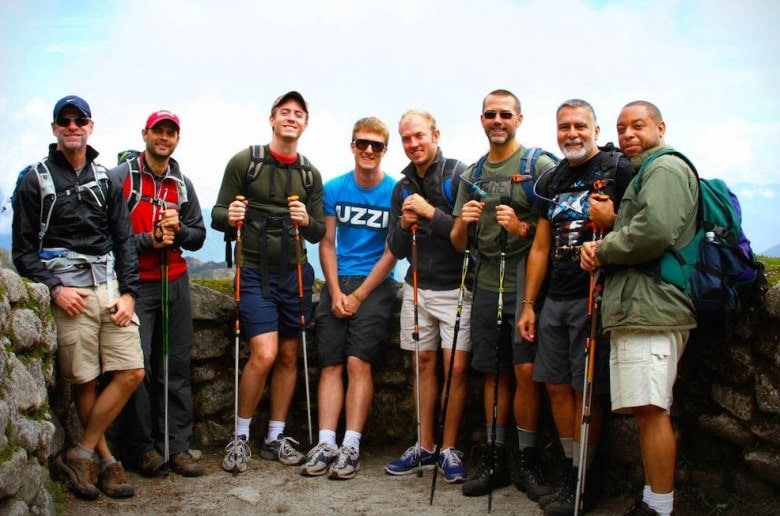 Gay Japan Tour
Hosted by Out Adventures
Japan is a universe unto itself—a tiny country that combines ancient history with unprecedented innovation. The tour begins in Osaka then takes you to Kyoto (which is now technically part of Osaka, to give you a sense of the island's density). After bowing to the friendly deer in Nara Park, you'll continue to Tokyo—the biggest megacity of them all. So grab your Hello Kitty backpack, choose your Pikachu and loosen those stretchy pants…between the street food, cooking class, public markets and gourmet restaurants, you'll eat so much Japanese food it will be anything but kawaii. View Japan Tour →
Gay Egypt Tour
Hosted by Detours Travel
Experience a once-in-a-lifetime journey to Egypt. The Great Pyramids of Giza and other treasures of Egypt have beckoned travelers for more than two millennia. On this small group journey, visit venerable tombs and temples to piece together the life and times of one of the world's greatest ancient civilizations. Visit bustling Cairo, the Great Pyramids, the Sphinx, and the new Grand Egypt Museum, home to the world's largest collection of antiquities, including artifacts recovered from the great Tutankhamen's tomb. Cruise the fabled Nile in style — like the pharaohs once did — on the luxurious Nile Adventurer, disembarking at iconic sites as well as little-known temples. With sand-covered tombs, austere pyramids and towering Pharaonic temples, Egypt brings out the explorer in all of us. Join Detours Travel for this gay tour you'll never forget. View Egypt Tour →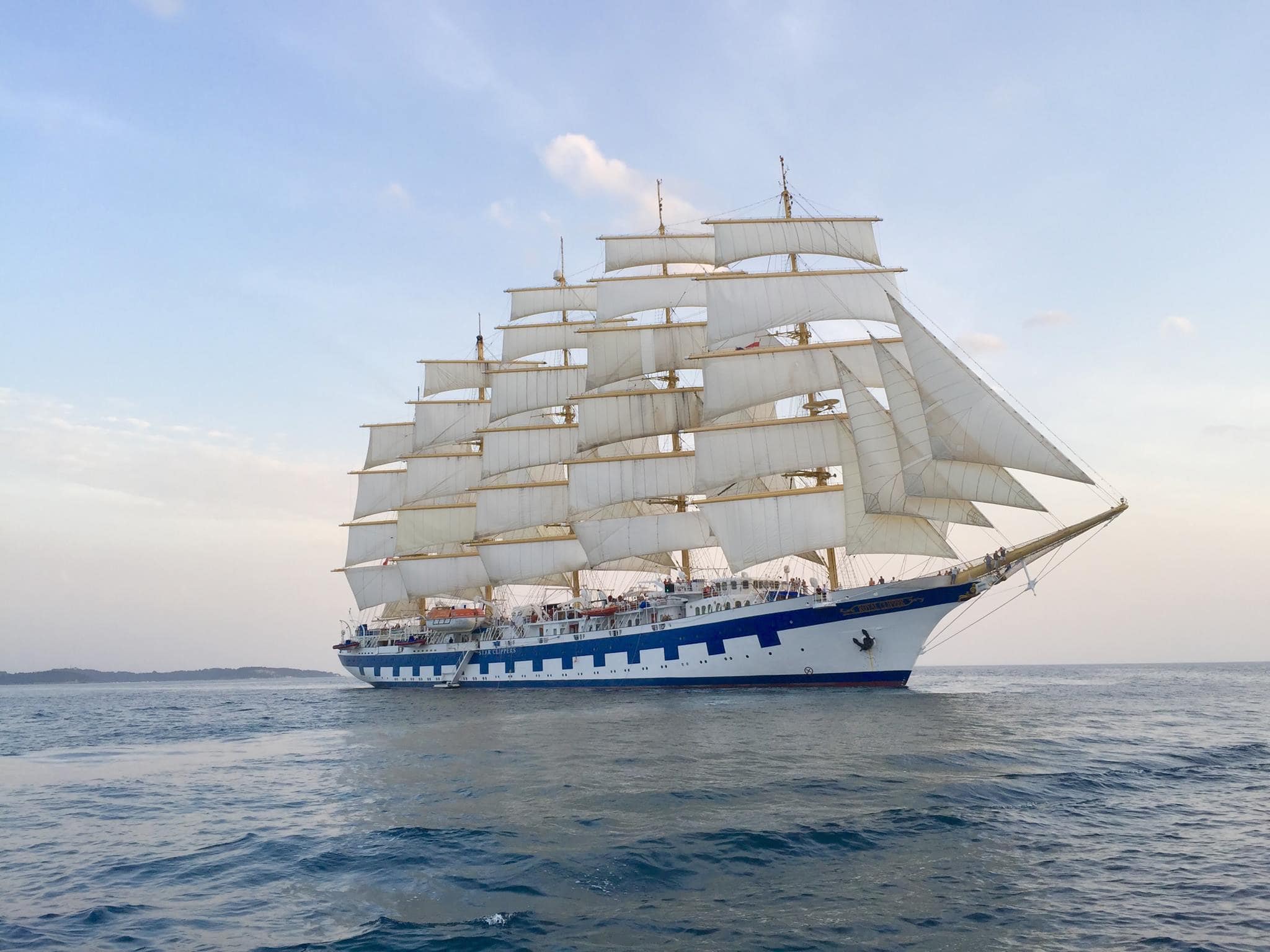 Gay Venice & Dalmatian Coast Cruise
Hosted by Source Journeys
There's few places in the world more magical than Venice….well maybe the coast of Croatia gives it a run for its money. Source Journeys give you both in one 7 nights/8 days cruise. Hop aboard The Royal Skipper – the world's tallest sailing ship – and take in the screen-saver worthy beauty of the Dalmatian Coast. You'll port at Kotor, Dubrovnik, Zadar, Hvar, the Pakleni Islands and Rovinj before looping back up to Venice. The eclectic itinerary offers everything from nudist beaches and lavender fields to wild island nightlife and culturally diverse old towns. Source Journeys provide luxury infused intimate LGBTQ+ experiences that help forge both lasting memories and lifelong friendships. View Gay Venice  & Dalmatian Coast Cruise →