Gay circuit parties have been an institution and an important part of the LGBT+ community since the early 90's. Many of these parties started as fundraising and charity events to benefit the fight against HIV/AIDS. The success of these events in both raising money as well as creating incredible music and dance experience has given rise to the creation of popular events in North America, South America, Europe and Asia. This list of gay parties includes the most popular and large-scale international parties. Many of these are world-renowned and people travel from around the globe to attend the event and visit the destination city. We personally love traveling and visiting a city during major events so it's worth considering attending one of these and planning a trip around your visit.
Purple Party (Dallas, Texas)
The Dallas Purple Party is aptly known as the "heart of circuit". It's an excellent way to party for a good cause since the annual event is completely non-profit – the staff are voluntary – with the principal mission of raising money for those affected by HIV/Aids in the Dallas area. Having just celebrated its 20th anniversary, the party runs through a weekend in early summer but also hosts smaller events throughout the year – all full of the hottest guys in Texas getting down to the best DJs. The main weekend includes club parties at some of the best venues in Dallas, drag shows, GoGo dancers as well as daytime pool parties and late-night afterhours. Not to mention its internationally renowned Tea Dance event! View website → 
Pines Party (Fire Island, New York)
The Fire Island Pines Party is truly legendary and a must add to any yearly circuit calendar. Come July thousands of men come to dance freely on the beaches of Fire Island, where just as one party stops another starts. It's a party with an important history: it used to be known as The Morning Party and it has roots going back to the eighties – being created as a fundraiser in 1983 for Gay Men´s Health Crisis. To this day the event still raises money for Stonewall Community Foundation and other local charities. The highlights include the opening sunset party and a pool party in The Pines Club. They also tend to get inventive with their themes and previous years have included Peter Pan and Circus themes.  Fire island is reached by ferry from Sayville, New York and accommodation can either be found on the island or back in New York where you can bet they´ll be afterparties. View website → 
Arena (Riviera Maya, Mexico)
Arena is Mexico's biggest gay dance music festival. It typically takes place annually at the beginning of February in the beachside city of Playa del Carmen, which is known for being quite gay-friendly. The event features daily parties at fantastic locations along the Riviera Maya, such as in a cenote or in the middle of the jungle. The festival attracts a very international gay crowd from Mexico, the US and beyond. Much of the Riveria Maya is known for partying until dawn, going to one of the multiple beachside after parties and keeping it going until sunset – at which point most people rinse and repeat. Cities like Cancun and Playa del Carmen in particular follow in these footsteps with lots of drinking, dancing, and social mingling activities. Arena is a must-attend event that mixes white sand, turquoise ocean, blue skies, warm sun and great house music. View website →
Circuit Festival (Barcelona, Spain)
Circuit Festival is the largest and probably the most well-known gay festival in the world. Started in Barcelona, the original festival attracts 70,000+ gays from different countries to the 12-day event. The event in August is mostly centered on the parties that vary in location be it a pool party, beach party, club party, or water park. The main event of Circuit Festival Barcelona is the waterpark party which typically takes place on Tuesday starting in the early afternoon and going until 6am. This festival has a lot to offer some of the best DJs in the word and it's a great summer event and reason to plan a trip to Barcelona. View website →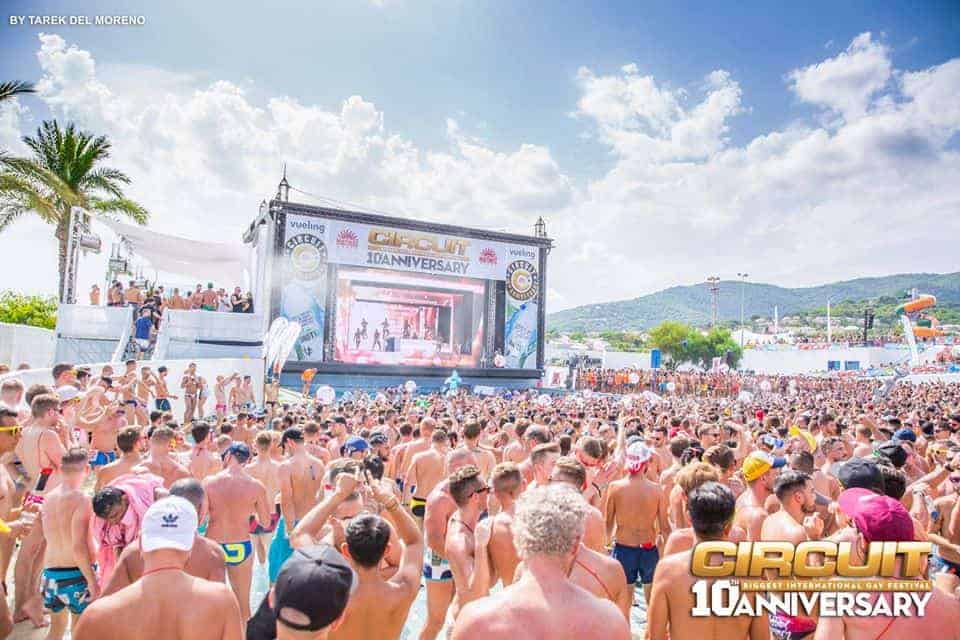 Winter Party Festival (Miami, USA)
Winter Party Festival is an annual, week-long celebration of music and dance, produced to raise critical funds for the LGBT+ community. The event is hosted in Miami Beach each year in late February or early March. The Winter Party always designates a host hotel to act as the central gathering point for visitors to travel to the event, but you can stay at any hotel you wish in the area and attend just one or even all of the parties. The most famous and popular party is the beach festival, which is hosted on Sunday afternoon on the white sand of Miami Beach.
Back in 1994 the founders of Winter Party Festival decided to invite the LGBT+ community to a party on the sands of South Beach. Now 20+ years later that one night has turned into a six-day celebration that attracts people from all over the world. While many people might think the Winter Party Festival is just a series of parties, that's not the whole picture. The event has a real and serious purpose, and the event raises critical funds for the LGBT+ community each year. Proceeds go to South Florida organizations and the National LGBTQ Task Force. View website →
La Demence (Brussels, Belgium)
La Demence had been producing gay parties in Brussels for over 30 years. Their reputation in Europe can be compared to the White Party in the US, which originally started out of Palm Springs. It's the longest-running gay circuit party in Europe and one of the oldest and well-known in the world. La Demence hosts monthly parties in Brussels at Fuse nightclub along with two, weekend festivals during Easter and in October, which is their anniversary party weekend.
La Demence is an international event and in true European style is friendly, welcoming, and multi-cultural. La Demence does not have a dress code or specific type of attendee, so you will see everything and every type of person. Bears, muscle-queens, fetish, latex leather, fashion victims, young and not so young, all are welcome. You'll find a dark room at La Demence parties and they conveniently distribute condoms and lube to their attendees who wish to partake. La Demence also hosts an annual European gay cruise called The Cruise, with several thousand guests onboard. View website →
Revolver XXL (Berlin, Germany)
Revolver holds monthly nights in Berlin but one of its biggest events, Revolver XXL, pulls in an international crowd three times a year. These occur over Easter, through Berlin Pride and during Folsom Europe. The event is three days of fetish orientated parties to the backdrop of world-class international and local techno DJs – with music ranging from progressive and melodic techno to more modern house classics typical of a circuit party. Most of the nights happen within Berlin´s (in)famous Kit Kat Club with the cruising and play areas you would expect from a fetish event. Despite there being no official dress code, you´ll still find most of the crowd dress in their best harnesses and kink gear regardless. Revolver XXL more than lives up to Berlin´s sleazy reputation. As well as Germany´s for hosting the best kinky circuit parties in the world. View website → 
Xcape (Stockholm, Sweden)
Xcape is a monthly gay party in Stockholm that is kept fresh and exciting by a revolving selection of themed nights. As such, you can expect to see the likes of hot viking GoGo dancers up on their stages. This high-quality event is not just the biggest circuit party in Sweden, but in all of Scandinavia, it plays electronic beats throughout the best clubs in Sweden but is most commonly held in Fallan, a huge space with both outdoor and indoor areas – suitably placed in Stockholm´s meatpacking district. Xcape also occasionally plays host to some of the other biggest circuit parties in the world, including Revolver and Forever Tel Aviv, so be sure to check their website and see what is on offer each month. View website → 
WE Party Festival (Madrid, Spain)
The WE Party brand is the most well-known producer of gay parties in Madrid. The massive and over-the-top parties attract thousands of people to their monthly events. Each July during pride and December/January for New Year, the WE Party Festival takes place with a week-long of different themed parties in various locations and venues. Madrid is well known for its party scene year-round and it has some of the best gay, straight, and mixed clubs of any metropolitan city. One of the big draws of the WE Festival is the nightly shows during the parties. The performances are very professionally done with some of the sexiest dancers around. The lighting, music and dance come together several times each night with a show that wows and pumps up the crowd. Without a doubt, our favorite party of the year is the WE Pool Party which takes place on Friday afternoon just before Madrid Gay Pride. View website →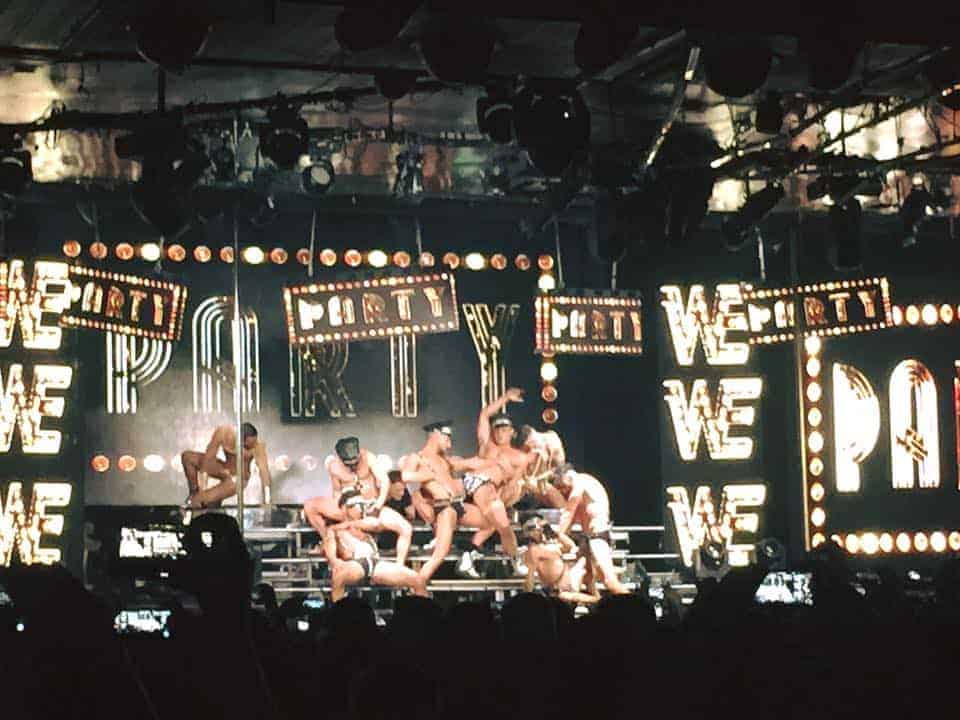 White Party (Palm Springs, USA)
The White Party in Palm Springs originally started with only a few hundred people in the desert in 1989 and has evolved to become one of the world's largest gay dance music festivals. This is a four-day event of different festivities that range from pool parties, live DJs, underwear parties, and much more. Superstar entertainment is the hallmark of the White Party and Jennifer Lopez, Lady Gaga and Ariana Grande have all made their mark. The epic event was created by Jeffery Sanker and the original White Party Palm Springs, has evolved into the largest gay dance music festival in the United States, attracting more than 30,000 attendees from every corner of the globe. The White Party also hosts events in Puerto Vallarta and they even opened up the largest gay dance club in the city in 2019 called Industry. View website →
One Magical Weekend (Orlando, USA)
One Magical Weekend at Walt Disney World includes three magical days at Disney plus great events like daytime pool parties and after-hours. The event takes place each June where gays from around the US spend the weekend at Disney World in Orlando. There are multiple parties and events that take place in the evenings at the host hotel as well as other venues.
The event kicks off on Friday with the first Therapy Pool Party, where hundreds of men converge on the host hotel where great DJs will spin at the pool deck into the evening. The Friday night party is held at Disney Springs House of Blues with international DJs and great performances.  The weekend's signature event is called Riptide, which is located at Disney's entire 52-acre fantasy water park, where more than 6,000 party animals clad in little more than a bathing suit to dance, enjoy the amazing water rides or chill out inside this sprawling theme park. Every night of the event the party doesn't stop until 8am in the morning. That's right – for those who want to go into the early hours, you can switch venues after the main event and head to Cadabra After-hours. View website →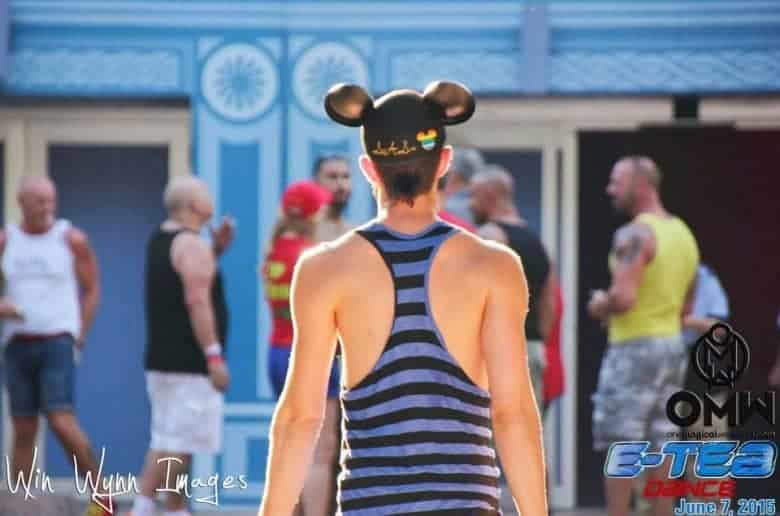 Forever Tel Aviv (Tel Aviv, Israel)
Tel Aviv has become one of the hottest gay destinations on the planet and their gay circuit party Forever Tel Aviv doesn't disappoint. Israel has many popular LGBT+ DJ's who perform on the gay circuit scene, with Offer Nissim being the most famous. Forever Tel Aviv hosts regular parties in the city as well as a big festival during Tel Aviv Pride. The locations of the parties can change but they are often held at Ha-oman, Tel Aviv's mega-club located south of Florentine neighborhood, a 15-minute drive from the city center. Though Israel is a religious country at heart, Tel Aviv has a mix of foreigners and locals with a strange secular and liberal vibe. Naturally, the gay pride festival in Tel Aviv is one of the top events to attend and it's become famous in recent years. Now with more than 180,000 attendees, gay pride has become an important part of Tel Aviv's annual events reaching beyond just the LGBT+ community. View website →
Matrix Sun Festival (Torremolinos, Spain)
 This gay dance festival is located in Torremolinos, Spain features awesome parties and activities in one of the best gay beach cities in Europe. Located just a short train ride from Malaga, Torremolinos is a gay traveler's dream come true. With warm weather, great beaches and an energetic gay nightlife scene that rivals major cities 100 times its size – Torremolinos is the perfect place to party. The program takes place in August and is all about creating a social atmosphere where you can spend days relaxing out in the sun, flirting with boys at pool parties and dancing the night away in some of Torremolinos' best gay dance clubs. But be warned – if you want to come to Torremolinos to sleep, then stay away because these attendees are coming to party. Matrix Sun Festival has put together a great program full of fun events and parties including unforgettable stage shows, awesome pool parties in hotels with beach views and more. View website →
Cherry Pop (Washington DC, USA)
In recent years, all of Washington DC's gay clubs have closed. While there are still a few gay bars to be found, dance clubs in the nation's capital haven't been able to stick around. Given the lack of dance venues, there are a number of weekly-themed gay parties that happen either weekly or monthly in different venues, including the popular Cherry Pop weekend, which has been going on for 25 years. Even though DC is best known as the home of the federal government, and the capital city of the United States, it has much more to offer visitors, particularly if you visit during Cherry Pop weekend. Cherry hosts daily parties at a variety of different dance venues during the weekend and the organization is primarily a fundraiser for HIV/AIDS services and prevention. The event typically takes place in the springtime, when the cherry blossoms of Washington DC so famously and beautifully bloom. Expect great DJs, drag performances and more at this event that has been going on now for more than a quarter-century. View website →
H&H (Brazil)
Hell & Heaven (H&H) is an annual gay circuit party that combines different day and nighttime parties in a luxury resort on the beautiful coast of Brazil. The first edition occurred in 2009 and it has been hosted at various beach resorts throughout the country. The audience is primarily Brazilian, so it has less of an international feel than other circuit parties on this list. However, the event itself is just as elaborately produced as any of these top events. Since the festival is not located in a major urban center, all attendees must travel to the location and book a hotel for the long weekend. H&H invites international DJs to perform and it's become one of Brazil's most popular gay circuit parties. View website →
XLSIOR (Mykonos, Greece)
Started in 2009, XLSIOR was created to combine fun, luxury and a friendly atmosphere that knows no boundaries. It takes place on the Greek island of Mykonos, now with over 30,000 people from all over the world. They host some of the best artists in the gay circuit scene marking an unforgettable experience with the careful selection of its open-air and outdoor, breathtaking venues. The team works hard to make sure that XLSIOR is not just about its astonishing music, nor its breathtaking venues, neither its hottest crowd. They also work hard to make sure that XLSIOR Festival is a complete holiday experience that will blow your mind. View website →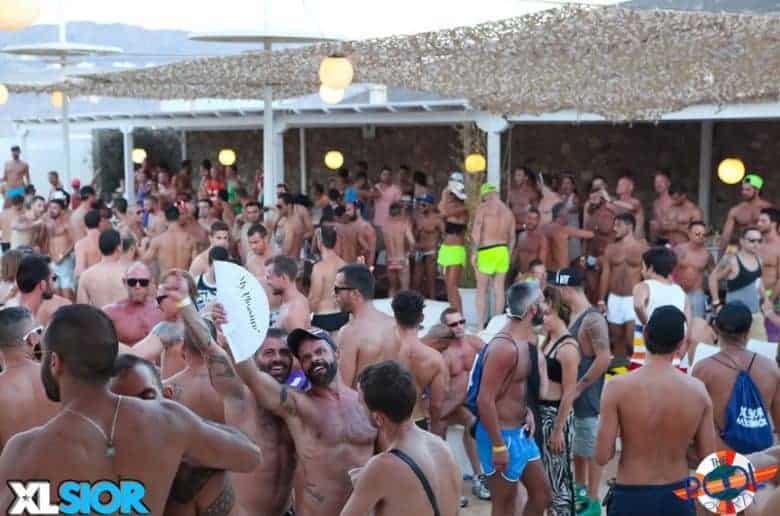 G Circuit Songkran (Bangkok, Thailand)
G Circuit has organized this gay circuit party since 2007 and it has become Asia's largest gay dance festival. G Circuit is without a doubt the most well-known gay circuit party in Thailand and all of Asia. Thailand is known for being one of the most liberal countries in Asia and consequently, they have one of the most well-developed gay scenes in the region. Songkran is Thailand's most famous festival, which is an important event on the Buddhist calendar. This water festival marks the beginning of the traditional Thai New Year and it takes place in April every year. G Circuit is scheduled to coincide with Songkran, and they host a variety of day and night parties throughout the popular event. View website →
Papa Party World Tour (Global)
The Papa Party World Tour was created by Eliad Cohen, the famous Israeli gay icon and model. The parties are held regularly around the world in Europe, North America, South America and ever-expanding. Cohen himself travels to all the events and often coordinates the parties in conjunction with other festivals and LGBT+ events in the destination city. Papa Party has become one of the most well-known circuit party brands in the world. World-class DJs, exceptional performances, surprises throughout the night and incredible energy have made the event famous globally. In previous years they have hosted parties in more than 33 countries. View website →
Utopia (Isla Mujeres, Cancum)
Utopia takes place in…well Utopia. Turning a popular tropical island just off the coast of Cancun into a wild 5-day music fuelled experience for the LGBT+ community. Utopia boasts the best international DJs playing at humongous beach parties, yacht parties and various themed parties – among your more traditional club nights. Uniquely, there are also fitness and well-being events and classes between the big events including Ab Blast workouts, tug of war competitions and topless Yoga. Utopia happens around late March but sells out quickly often with a waiting list, so be sure to book early. The island has four of its own host hotels to choose from for full immersion, or why not go the extra mile and get some friends together to rent out a villa for the weekend? View website → 
Atlantis Harmony of the Seas (Caribbean) 
The biggest gay cruise in the world gets better each year now hosted on the spectacular Harmony of the Seas with sensational new features to host 5,400 guests from all over the world. The epic festival at sea sails the Caribbean from gay-friendly south Florida and takes you on a non-stop journey filled with stellar entertainment, exotic islands, thrilling activities, and of course, Atlantis' legendary parties starring the world's top DJs. Far from a traditional venue on land, these events are always themed and attendees dress up differently for each party based on predetermined themes. Parties take place in the afternoon (tea dance) but the biggest events take place at night and go on until the sun comes out. These over-the-top events take place on the main deck outdoors, under the open sky (weather permitting of course). Once the main party ends, you can make your way to the after-party, which usually takes place in the ship's dance club. Joining an Atlantis cruise is much more expensive than attending a traditional circuit party, but you also get a week-long vacation visiting different ports of call at rates starting from $899 per person. View website →