Nothing beats a nice, relaxing day at the beach soaking up the sun and taking a dip in the cool waters. Even better is finding a gay-friendly beach where you can truly be yourself without fear of judgment or harassment due to your sexual orientation. Over the past 11 years, we've traveled the world in search of some of the best gay beaches. From North and South America, the Caribbean and Europe, to Oceania and even Africa, these are the best gay beaches in the world. We've actually been to almost all of these beaches and highly recommend you add them to your travel itinerary.
Some beaches are secluded and difficult to reach, while others are found right in the heart of popular gay-friendly destinations. Some lean towards clothing-optional, others have cruising areas and a handful of these top gay beaches are mixed among the hetero-friendly ones. All, however, are great spots to enjoy the summer sun along with other friendly, like-minded LGBT beachgoers.
Table of Contents
1. Playa De la Bassa Rodona – Sitges, Spain
2. Platja de la Mar Bella – Barcelona, Spain
3. Playa Es Cavallet – Ibiza, Spain
4. Racó de Conill – Benidorm, Spain
5. Elia Beach – Mykonos, Greece
6. El Gato/Eden Beach – Torremolinos, Spain
7. Sebastian Street Beach, Fort Lauderdale (Florida), USA
8. Higgs Beach, Key West (Florida), USA
9. Ginger Rogers Beach – Los Angeles (California), USA
10. 12th Street Beach – Miami (Florida), USA
11. St. Laurent d'Eze Beach – Eze (Nice), France
12. Atlantic Beach – San Juan, Puerto Rico
13. Queens' Riis Park Beach – New York, USA
14. Herring Cove/Race Point – Provincetown (Massachusetts), USA
15. Beach 19 – Lisbon, Portugal
16. Baker Beach – San Francisco (California), USA
17. Hilton Beach – Tel Aviv, Israel
18. Third Beach – Cape Town, South Africa
19. Playa de los Muertos – Puerto Vallarta, Mexico
20. Kiosk Number 7 – Maspalomas, Spain
21. Bondi Beach – Sydney, Australia
22. Black's Beach – San Diego, USA
23. Ipanema Farme de Amoedo Beach – Rio de Janeiro, Brazil
24. Poodle Beach – Rehoboth Beach, USA
25. Playitas Beach – Manuel Antonio, Costa Rica
Playa De la Bassa Rodona – Sitges, Spain
A beautiful, small, gay-friendly town 45 minutes south of Barcelona, Sitges is a perfect spot for long stretches of white sandy beaches. Since the town as a whole is incredibly gay-friendly, you'll find LGBT beachgoers at most of the 17 beaches. However, Playa De la Bassa Rodona is the official gay beach and preferred by most speedo-wearing, six-pack-flaunting, bronzed gay men. Also located in Sitges is Platja dela Balmins, the primary nude beach. It's probably the 2nd most popular gay beach. You'll find a mix of both nude and non-nude sunbathers here, so anything goes. This beach is located within a cove so it's not as visible from the main road. After walking down several flights of stairs, you'll arrive at a wide stretch of sand, complete with a beach bar offering drinks and sunbeds for rent.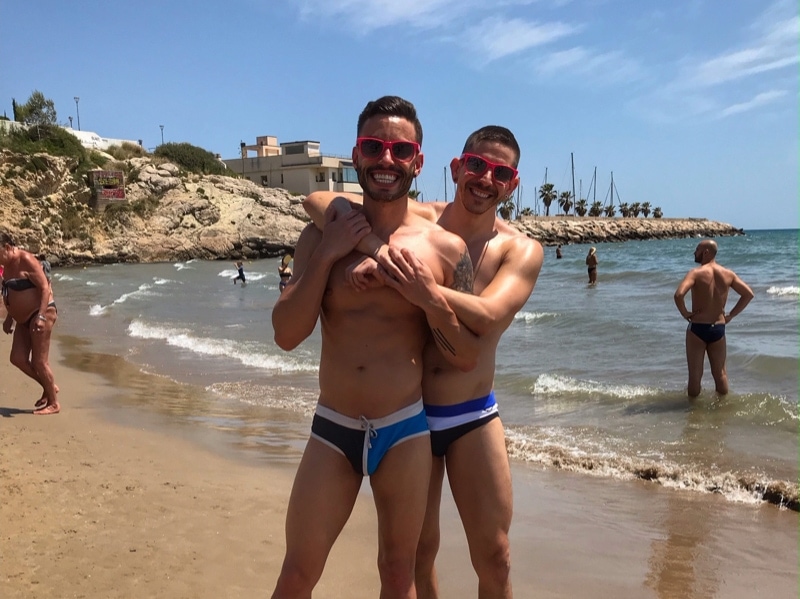 Platja de la Mar Bella – Barcelona, Spain
Barcelona is one of Spain's top gay destinations in part due to its unique blend of big city life and relaxing beach vibe. Overall, the city's beaches aren't the best the country has to offer. However, with the great weather, slews of tourist sites and can't miss annual events, the beaches really are a great addition to the city offering an ideal spot to relax and enjoy a cocktail or afternoon meal. Barcelona's largest and most popular gay beach is Platja de la Mar Bella located at the far left of the beaches (facing the sea) closest to metro stop Poblenou (line 4). Here you'll find plenty of foreigners and local cuties taking in the sun or enjoying one of the many beachside bars and restaurants, Chiringuito BeGay being the most notable.
Playa Es Cavallet – Ibiza, Spain
Es Cavallet is the official gay beach in Ibiza and is about 15 minutes from Ibiza Town. As with most gay beaches, clothing is optional here. Also located here is a great restaurant and bar (really the only restaurant and bar) called Chiringay where you can enjoy an incredible cava sangria while taking in the gorgeous views of all the guys tanning on the beach. You may also notice plenty of near-naked guys in matching speedos passing out flyers. These party promoters are a good way to find out what's happening that night while admiring the messenger.
Racó de Conill – Benidorm, Spain
Of course, you can always just enjoy one of the two main beaches in Benidorm, Poniente is the relaxing beach to the south and Levante is the more touristy party beach in the north. Both are separated by the Mirador de Castillo, which is a beautiful lookout point where the former castle used to be. Nowadays when the gays want a full body tan in Benidorm, they can head to Ti Ximo cove at the far end of Levante beach and up the hill. For a cruisier spot, there's Racó de Conill which is a gay/mixed nudist beach a few kilometers outside the city. Racó de Conill is not a sandy beach but it does offer one of the most incredible views of any beach in the area.
Elia Beach – Mykonos, Greece
Although most beaches on the island of Mykonos attract a gay crowd, the most popular gay beach is by far Elia Beach located on the southern side of the island. It's a mostly gay beach with sunbeds and umbrellas for rent. You'll find the gay and nude area more to the right-hand side. Elia beach is quite small and narrow so during peak season (July and August) you might not be able to find space. The rocks can make a nice spot, but go beyond them and check out Agrari beach just on the other side. It is less crowded and a bit cruisy, especially in the evening, with coarser sand but the same clear blue waters. Popular with gay couples, Panormos is another beach on the northern side of the island and although it's a bit off the beaten path, there's a bus service from Mykonos Town.
El Gato/Eden Beach – Torremolinos, Spain
Torremolinos is a popular gay beach town in southern Spain dating back to the 60s. In the summer months, the gays go rushing to this seaside town just outside of Málaga to layout and soak up the sun, especially during their annual events like Torremolinos Pride, Mad Bear Beach Weekend, Delice Dream and Wonder Beach Festival. There are three gay beaches to pick from, the most popular being El Gato/Eden Beach where you'll find beautiful views of all the beautiful men. It's easy to get to from the center of town and popular for visitors and locals.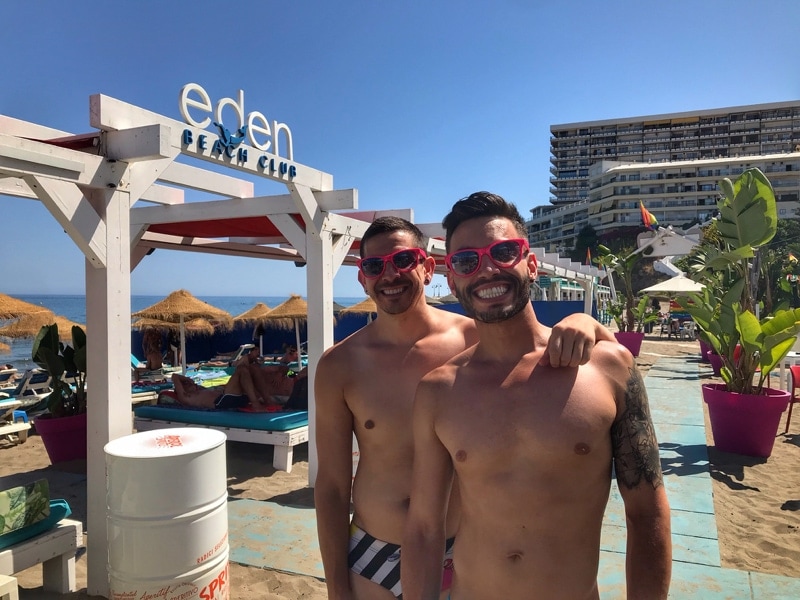 Sebastian Street Beach, Fort Lauderdale (Florida), USA
Sebastian Street Beach is the main and most popular gay beach in Fort Lauderdale. The beach attracts a large crowd of LGBT visitors and is located off Sebastian street near the Ritz Carlton stretching between Sunrise Blvd and Las Olas Blvd. It's near many of the gay hotels and resorts that are primed for happy hour drinks and light bites after a long day of soaking in the sun and meeting cuties in the sand. It's also just a 10-minute drive to the gay bars, nightclubs and restaurants of Wilton Manors, Fort Lauderdale's gay neighborhood. Nearby, you'll also find Northeast 18th Street Beach, another gay beach smaller than Sabastian Street Beach and more typically visited by locals.
Higgs Beach, Key West (Florida), USA
Higg's Beach is the gay beach in Key West and popular among locals as well as visitors. Located at the end of Reynolds Street, you'll find a wide sandy beach, calm shallow water and a long wooden pier as well as bathrooms and water fountains. To the west side is Higgs Beach Dog Park. You can layout, snorkel and admire the sunset from this quaint little beach. For the best sunset views, make your way to nearby White Street Pier that extends out into the Atlantic Ocean. Don't miss the nearby Key West AIDS Memorial and the African Cemetery, a site where an African slave ship was captured off the coast in 1860.
Ginger Rogers Beach – Los Angeles (California), USA
Santa Monica State Beach is an inspired, albeit safe, choice for a day out by the ocean. Down the shore, at Lifeguard tower 18, Ginger Rogers Beach is recognized as LA's only (unofficial) gay beach. It's not the best water for swimming, but who cares? This is a place to schmooze, layout and hopefully run into your speedo-wearing crush.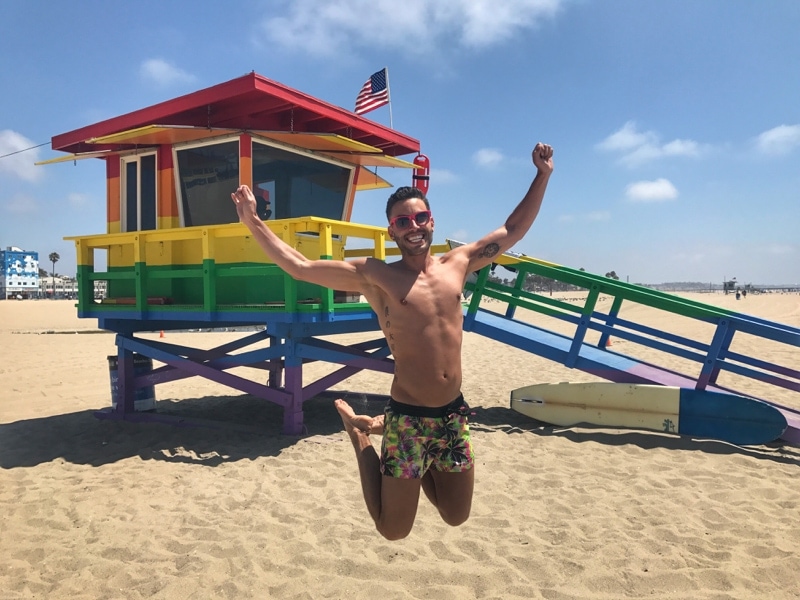 12th Street Beach – Miami (Florida), USA
12th Street Beach is loudly and proudly gay decked out in rainbow flags waving under the golden Floridian sun. In the heart of South Beach, you can't miss Miami's official gay beach located at 12th Street and Ocean Drive surrounded by iconic Art Deco hotels and resorts. All the beaches in Miami Beach are generally gay-friendly, but this is where you'll find the concentration of gay men and straight friends with a sprinkling of lesbians mixed in. It's a large beach where the sand is well-groomed and water is clear. There are even public bathrooms and outdoor showers to rinse off before heading across the street for drinks, dining and divas at the famous drag bar and restaurant, Palace. Fittingly named, since every queen needs a palace. Saturday and Sunday afternoons are the busiest and best times to admire the South Florida sun-worshipers.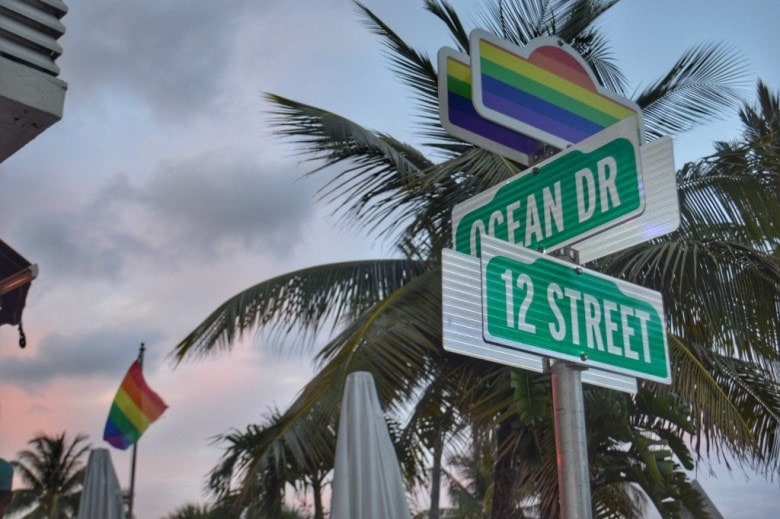 St. Laurent d'Eze Beach – Eze (Nice), France
The beach at St. Laurent d'Eze is one of the most popular gay beaches in the Cote d'Azur. Eze is a small town just 20 minutes outside of Nice and the beach is easily reachable by bus. Take bus No. 100 from Nice towards Monaco and get off at the St. Laurent-Eze bus stop. This is a 100% gay beach and mostly nude. Be sure to bring your own drinks and snacks since there are no services in this area. Check these sites for more info and directions to the gay beach in Eze: Travel Gay Europe and PJP's Guide.
Atlantic Beach – San Juan, Puerto Rico
There are a number of great beaches in San Juan, but you'll find that Atlantic Beach is where the gays gather – mostly in front of Oceano, a gay-owned restaurant and beach hang out. Ocean Park nearby is also gay-friendly, but it tends to be full of younger crowds and college students. You probably want to keep any public displays of affection to a moderate level. During the daytime in the gay-friendly areas you shouldn't have any problems with your partner, but like anywhere, just use your best judgment and be cautious of who's around you.
Queens' Riis Park Beach – New York, USA
New York is not exactly a beach destination, but there are some places popular with LGBT locals to enjoy the sun and warmth, when the weather is nice. Queens' Riis Park has been a gay destination for decades. People of all colors, backgrounds and ages come here, creating a lively gathering at the eastern end of this expansive public beach.
Herring Cove/Race Point – Provincetown (Massachusetts), USA
Provincetown has a handful of different beaches to check out during your visit. Right off the town center, you'll find a small beach, which is the most convenient but not the most popular. It's great for a quick stop if you don't want to make a long trek, but if you're looking for a bit more adventure, you'll find better quality and perhaps a more enjoyable experience a bit farther out from town. Herring Cove and Race Point are both popular beaches and both have a gay section if you walk far enough along the sand past the crowds.
Beach 19 – Lisbon, Portugal
Beach 19 is a large, clothing-optional gay beach just outside of Lisbon. It's 30 km south of Lisbon so you'll need to drive, take a bus or take a tour, which coincidently by its name, is offered by Lisbon Beach Tours. If you don't have a car, taking the bus is long and you need to transfer to the small beach train to get there. It will easily take you almost two hours, so for the price and experience, it's worthwhile going with Lisbon Beach for convenience.
Baker Beach – San Francisco (California), USA
The north end of Baker Beach is the gay, clothing-optional beach in San Francisco. It's known for great views of the Golden Gate Bridge (weather permitting, of course). To get there take the #38 Geary Outbound Bus and transfer to the #29 Sunset Bus. Near Baker Beach is Marshall's Beach, which is also popular with gay and nude sunbathers. Again, it has excellent views of the bridge as well, but it's a bit of a trek to get there. Take bus #30 North and get off at Golden Gate Bridge Toll Plaza. From there it's about a 15-minute walk.
Hilton Beach – Tel Aviv, Israel
Though Tel Aviv is gay-friendly all around, the beach just in front of the Hilton Hotel is considered Israel's unofficial "gay beach" and is appropriately named Hilton Beach. You'll know you're in the right place when you see the rainbow painted huts and Pride flags as well as some of Tel Aviv's most fit and tanned specimens on display. It's the perfect place to meet locals and learn about the gay scene, but be prepared to cruise and be cruised in this fun and lively atmosphere. Hilton Beach is divided up into three areas with local surfers to the south, the main gay beach in the middle and the dog beach to the north. The most popular gay area is just north of the Hilton Hotel, right off Independence Park and opposite the eagle state on the top of the cliff. At the end of your beach day, enjoy a spectacular sunset.
Third Beach – Cape Town, South Africa
Clifton is a trendy and expensive suburb of Cape Town, and this is where you'll find some of the best beaches. To arrive, take Victoria Road south of Bantry Bay or drive over winding Kloof Road from Gardens. Ironically, the water is warmer in winter than summer, so it's more of a hangout and sunbathing place than a beach where people swim. There are four beaches along the Clifton stretch and Third Beach is the designated gay beach, although not exclusively gay. Due to the natural landscape, it's completely protected from the wind and, in addition to the glistening surf and sand, views include athletic beach bodies basking in the African sun. Since the beach faces west, you can experience some of the most beautiful sunsets. Be cautious with your afternoon cocktail as drinking in public is prohibited and strictly monitored.
Playa de los Muertos – Puerto Vallarta, Mexico
This is the main gay beach in Puerto Vallarta. The most popular place to relax or party during the day is definitely Mantamar Beach Club. With an infinity pool and DJ's throughout the day, it's the go-to day drinking place. If you want to skip paying the entrance, you can simply bring your towel and hang out on the beach nearby. There are a few gay hotels and cafes (Almar, Blue Chairs, Ritmos) located near Playa de los Muertos, so the crowd is mostly gay.
Kiosk Number 7 – Maspalomas, Spain
Maspalomas is located in the Canary Islands and is a very popular gay destination year-round due to its mild, beach-friendly climate. The gay beach here is located at kiosk number 7, which can be found between the Faro de Maspalomas (the lighthouse) and Playa del Ingles. It's a short 15 to 20-minute stroll to get to the beach either walking from the lighthouse along the shore or from the Riu Hotel. Feel free to take in the sun au naturel at this clothing-optional beach. Loungers are also available at quite an affordable price of about €3. If you're feeling frisky, you can head to the dunes behind the beach for some cruising.
Bondi Beach – Sydney, Australia
The north side of this popular beach in Sydney is where you'll find the queer sunbathers, while locals and visitors tend to occupy the rest. At Bondi Beach you'll encounter lots of eye candy showing off their hard-earned physiques. Alcohol is not permitted on the beach but fear not, there are several bars and restaurants nearby to enjoy an afternoon cocktail or three. Take the 380 or 333 bus from Circular Quay toward North Bondi, Dover Heights, Watsons Bay or Bondi Beach.
Black's Beach – San Diego, USA
Though this beach requires a bit of effort to reach, its beauty and the beautiful guys are worth it. It's south of Torrey Pines State Beach and north of La Jolla Shores. You can park at the "Torrey Pines Glider Port". Upon arriving, you'll have to make your way down a small cliff in order to reach the sand. Don't worry, it's totally doable. On the north side of this long flat beach is where you'll find the gays, some tanning in the nude and others in speedos or boardshorts. Black's Beach is a good place to enjoy boogie boarding, surfing or simply enjoying the views.
Ipanema Farme de Amoedo Beach – Rio de Janeiro, Brazil
This gay beach in Rio de Janeiro is easily spotted by the numerous rainbow flags marking the area (between Posto 8 & 9) and the gorgeous speedo-wearing men lounging about. You'll find it right near the gay-friendly Ipanema Plaza Hotel. Ipanema Farme de Amoedo Beach is also referred to as "Barbie Land" because in Brazilan Portuguese 'Barbie' is slang for a 'gym rat', or a 'muscle queen' and there's plenty of those on show there. If you're looking to go out later, you'll also find party promoters with flyers to let you know what's going on.
Poodle Beach – Rehoboth Beach, USA
Rehoboth Beach is a charming beach town in Delaware, which attracts visitors from all around the east coast looking to relax away from big city life. There's a busy boardwalk and at the southern end is where you'll find Poodle Beach, where the gays flock to. Here you'll be surrounded by good-looking sunbathers, house party flyers and lots of beach volleyball. On Labor Day weekend, there's even the annual Rehoboth Beach Drag Volleyball at Poodle Beach.
Playitas Beach – Manuel Antonio, Costa Rica
Manuel Antonio is a popular gay-friendly beach town in Costa Rica. In fact, it's one of the few LGBT-friendly small towns in Central America with plenty of gay establishments as well as beautiful beaches. One of those is Playa Playitas, a gay beach which you can reach by crossing over some rocks (at low tide) at the north end of the main beach, Playa Espadilla. This more secluded area is where many LGBT tourists tend to gather.
Have you enjoyed any of these gay beaches? Are we missing any good ones you've visited? Let us know in the comments below.