The sun-kissed coastlines, glamorous film festivals, and opulent charm make Cannes an appealing travel destination. If you're looking to dive into the city through the LGBTQ+ lens, you're in for a treat. While it may not rival the expansive gay scenes of metropolitan cities, the gay scene in the French Riviera's gem city is alive, vibrant, and intimately charming. Here's your essential LGBTQ+ guide to Cannes.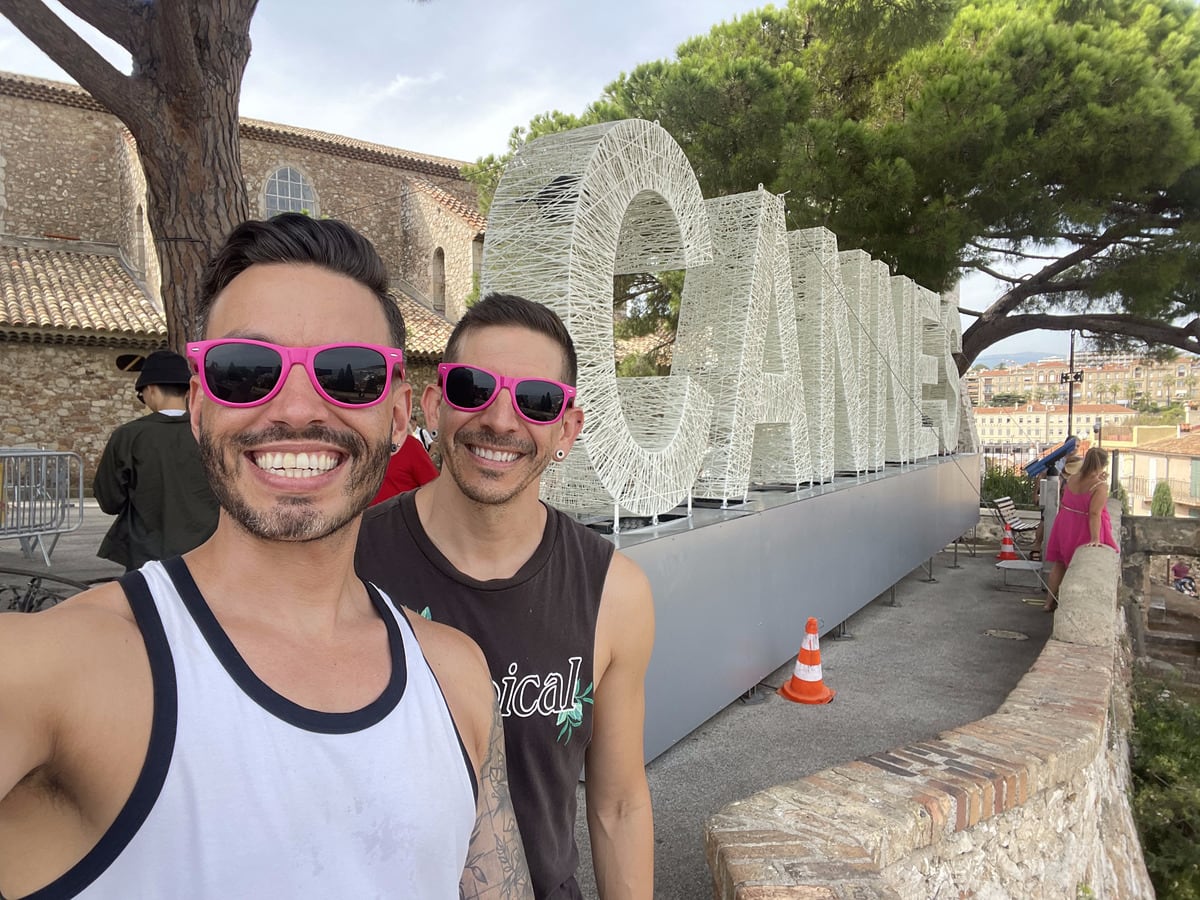 Table of Contents
1. General Tips
2. Transportation & Airport Transfer
3. Gay Hotels in Cannes
4. Sightseeing & Activities in Cannes
5. Gay Tours in Cannes
6. Restaurants and Cafes
7. Cannes Gay Bars
8. Cannes Gay Clubs and Parties
9. Cannes Gay Saunas & Cruising Bars
10. Gay Beaches in Cannes
11. Gay Events in Cannes
12. Day Trips from Cannes
General Tips
Before we dive into the specifics, it's essential to grasp the general atmosphere of Cannes. It's a stylish town, but it's also very welcoming. While Cannes does not have a gay district per se, the spirit of acceptance resonates through its alleys and avenues. LGBTQ+ visitors can comfortably explore and engage, assured of a receptive environment. Like the rest of France, respect and courtesy are always appreciated. Don't forget to greet people with a warm "Bonjour!" to set the tone for friendly interactions.
Cannes is a shopping paradise, reflecting the city's haute culture and eclectic soul. The boulevard of La Croisette is Cannes's crowning glory, featuring not only scenic beauty but also a haven of opulent establishments and flagship stores. Nearby is Rue d'Antibes, hosting international retail chains alongside family-owned boutiques that have been in business for generations. Marché Forville is a market serving local Cannes flavor, displaying fresh produce and herbs, locally produced cheese and wines, as well as antiques and homemade crafts. The historic heart of Cannes, Le Suquet, brims with boutiques, often family owned, filled with art and antiques no matter which narrow alleyway you wander along.
Transportation
Cannes is easily accessible by plane, train, or car. Upon arriving, public buses, taxis, and even boats can transport you around this well-connected city. Most places in Cannes are pedestrian-friendly, especially to truly immerse yourself in the Cannes experience. Walking, therefore, is also an option, especially during the evening when the streets come alive for the night.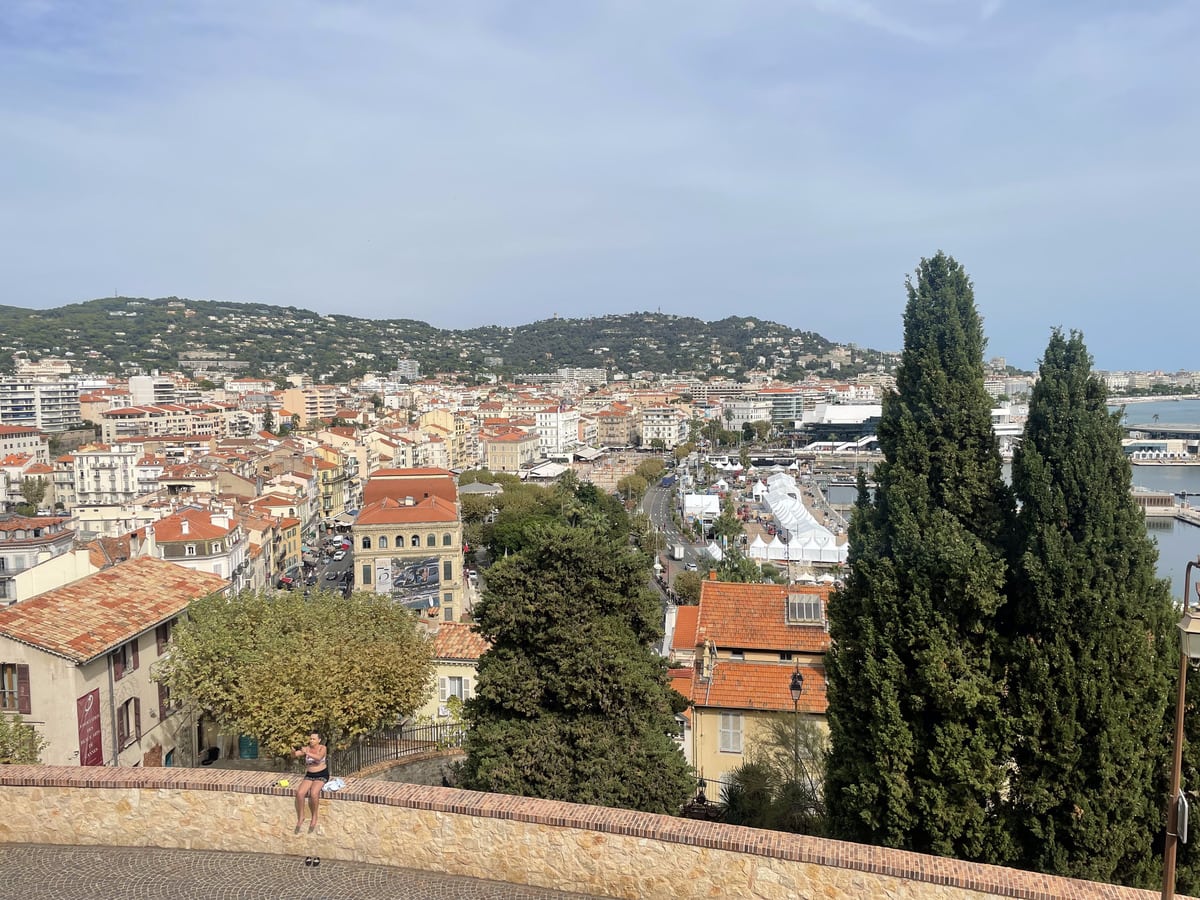 Gay Hotels in Cannes
If you're visiting Cannes, you'll need to find a place to stay. There aren't any gay-specific gay hotels or properties in Cannes, but the city is incredibly gay friendly. Whether you're seeking luxury or a budget-friendly stay, Cannes offers a range of accommodations that are inclusive and warm toward guests from all walks of life.
Luxury
Hotel Barriere Le Majestic Cannes – Situated in the heart of Canneson on the famous Boulevard La Croisette in Cannes, this hotel is the epitome of luxury that offers a gay-friendly vibe and a history of hosting numerous celebrities. Hotel Barriere Le Majestic Cannes is 110 meters from the Palais des Festivals and the old port and 400 meters from Cannes train station. Overlooking the Mediterranean Sea, the hotel has a heated outdoor swimming pool, a spa and a private beach. Guests have free access to the wellness area, Spa Diane Barrière (using Biologique Recherche products), and a 24-hour gym. The hotel has 3 restaurants: Fouquet's, a traditional French brasserie; Paradiso Nicole & Pierre, serving Italian cuisine influenced by the Mediterranean; and The BFire by Mauro Colagreco, located on the private beach. The hotel also offers a children's club, Le Studio by Petit VIP, free for children from 4 to 12 years old.
Carlton Cannes – A historic icon built in 1911 displaying a Belle Epoque façade, Carlton Cannes can be found in the "real" heart of Cannes overlooking the bay on the Boulevard Croisette. This hotel offers luxury via its own private beach and pier . Rooms provide guests with city views of central Cannes or of the bay, with certain rooms and suites including their own balcony. The Carlton beach restaurant is open during summer, and Rüya cooks up a sophisticated and contemporary range of Anatolian classics. Carlton Cannes is 5 minutes from the Cannes train station, and 25-minutes by car from Nice Côte d'Azur Airport.
Okko Cannes – OKKO Hotels Cannes Centre is another choice for a centrally located stay. It's only 100 meters from the Cannes train station, 350 meters from the Croisette, and only a bit further to Palais des Festivals de Cannes. Only a 2-minute walk to the shops and restaurants  along Rue d'Antibe, a variety of culinary delights surrounds the hotel. OKKO Hotels Cannes Centre includes a sun terrace, a sauna, a fitness room, and a gift shop. Pets are also welcome upon request with no extra charge.
Mid-range
BW Premier Collection Mondial – A modern establishment in an Art Deco-style building, this hotel is on the famous shopping street of Rue d'Antibes, only 250 meters from Boulevard de la Croisette beaches and 450 meters from the Cannes train station. The Palais des Festivals is also just a 5-minute walk away. Certain rooms include a balcony with views of Rue d'Antibes or the Mediterranean Sea.
Hotel Univers – Hotel Cannes Centre Univers lives up to its name, located only two streets from the Croisette where the Cannes Film Festival is held. It is also a mere 200 meters from the beaches, the Palais des Festivals, and Congrès de Cannes. The hotel includes a fitness room, a dry sauna, access to a private beach, and a bar-lounge dedicated to relaxation. There is also a shaded terrace with a wonderful view of the bay of Cannes.
Budget
Ibis budget Cannes Centre Ville – This hotel is right in the heart of Cannes, 400 meters from the Cannes train station and 700 meters from the beach and from Palais des Festivals et des Congrès. Restaurants also pepper the area surrounding the hotel within walking distance.
Hôtel Amirauté – Hôtel Amirauté boasts a central location on a budget. It's only 150 meters from the shops and sandy beaches along La Croisette and a mere 50 meters from the Cannes train station. Palais des Festivals is also only a 5-minute walk away. Nearby public parking is available with negotiated rates for guests, and an express shuttle service to the airport is even closer to the hotel. Staff members are fluent in French, Italian, and English.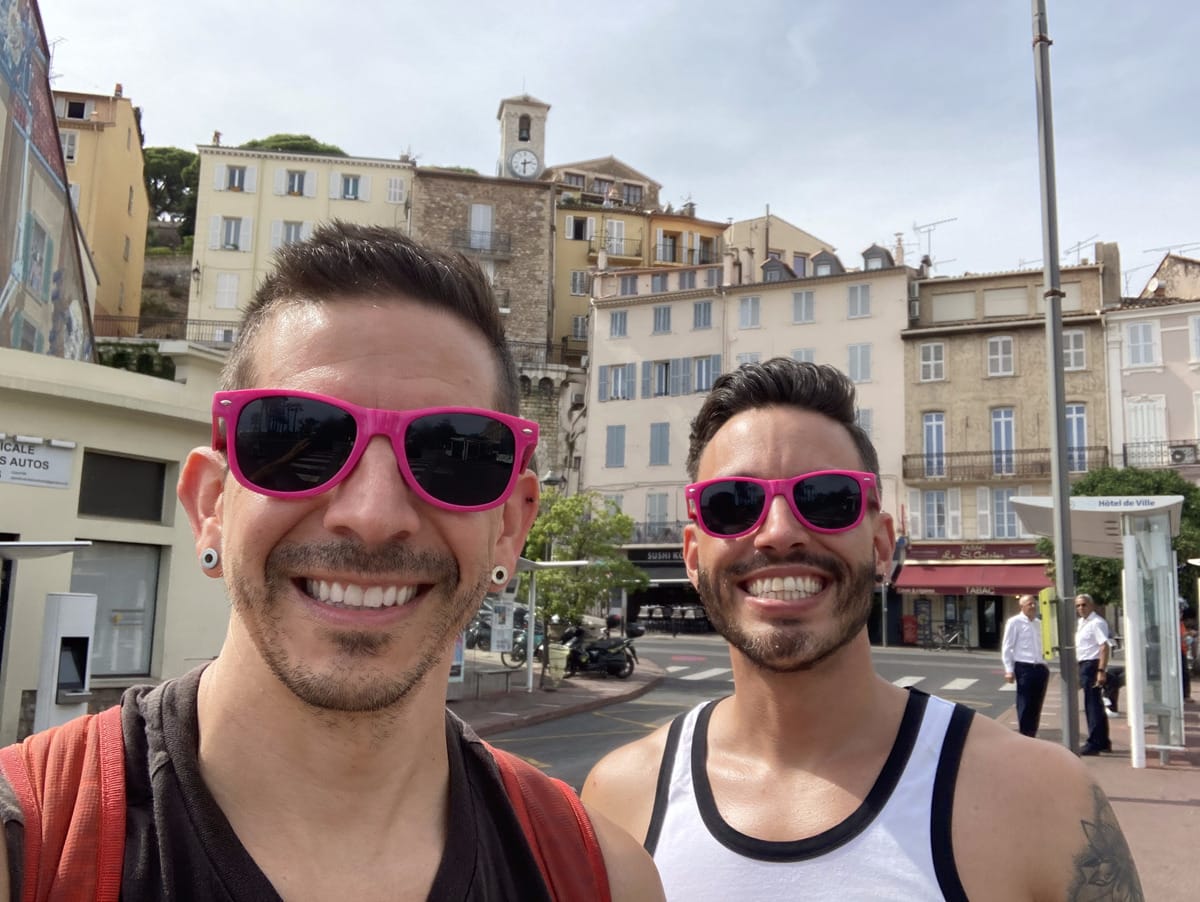 Sightseeing & Activities in Cannes
Le Suquet – Cannes's old town was once a fishing village until the glitz and glamour of Cannes swallowed it, but it still remains as a testament to those times – being filled with 400 year old cobblestone lanes that meander uphill and are lined with old fishermen's houses. Highlights inside include traditionally French restaurants, a clocktower and picturesque church. 
The Castre Museum – up on the hill of Le Suquet sits this trove of Mediterranean artifacts, surrounded by lush green gardens and pine trees. Furthermore, the museum's tower offers panoramic views of Cannes, best enjoyed during sunset. 
Palais des Festivals et des Congrès –  the congregation spot for the who's who during the Cannes Film Festival. The Allée des Étoiles – Cannes' version of the Hollywood Walk of Fame – sits outside the Palais, letting you trace the handprints of international film legends.
La Croisette –  this palm-fringed walkway stretches for miles along the coastline, filled with luxury boutiques and cafes – as well as morning joggers and evening performers, couples, and families. The Malmaison gallery  was once a grand hotel along La Croisette, but now hosts contemporary art exhibitions. Théâtre Croisette and Théâtre Alexandre III are also found here and offer a myriad of performances all year-round.
Gay Tours in Cannes
Nice – History tour – There are no gay specific tours in Cannes, but this tour is feasible from Nice, Cannes and Monaco. Nice is a popular day trip destination and this tour will follow the steps of Marc Chagall to discover the area, the art heritage, as well as the jewish heritage of the French Riviera. It includes a visit of the National museum dedicated to Marc Chagall as well as the location of the ancient fortress of Nice. Enjoy the gorgeous Provencal village St Paul de Vence where the painter is buried and which has become the Mekka for artists around the whole world.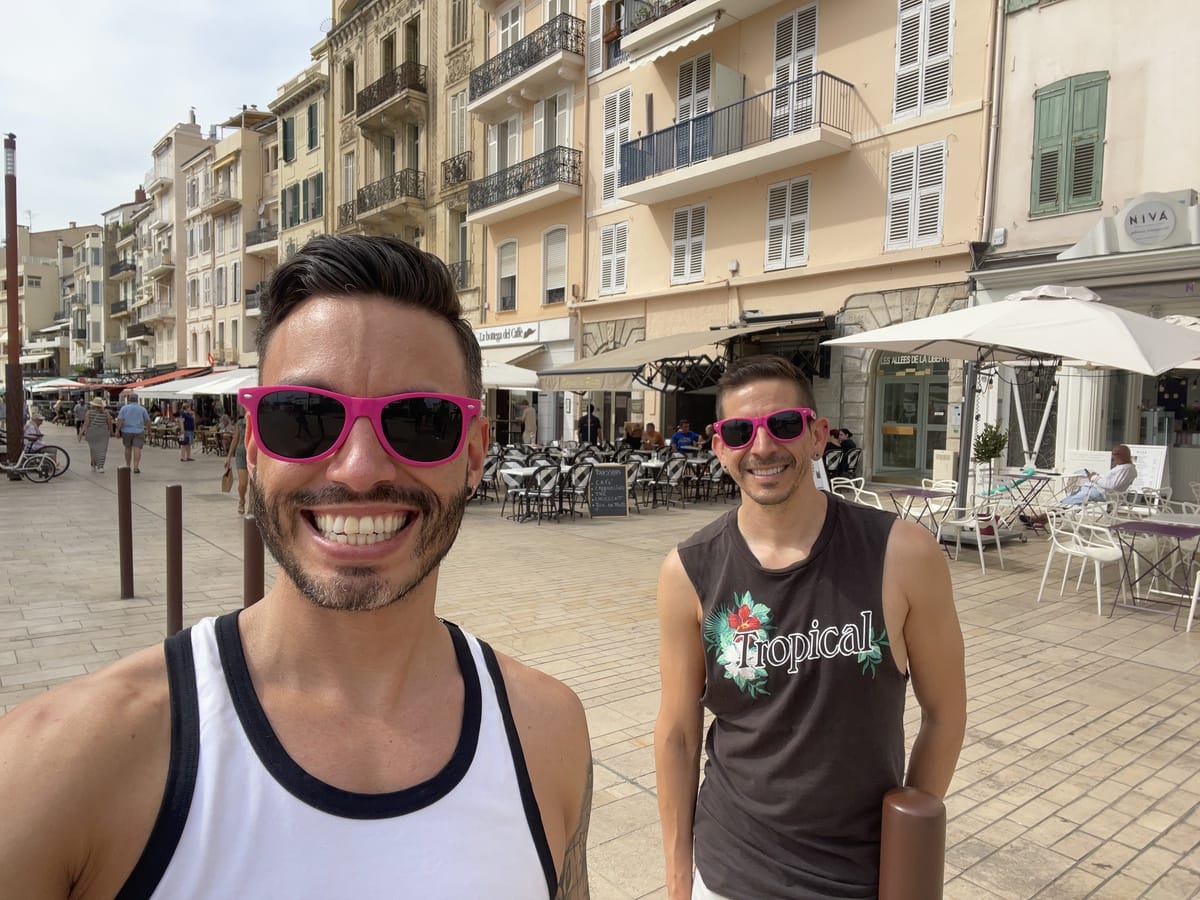 Restaurants and Cafes
Le Speakeasy – Located in the heart of Cannes, Le Speakeasy offers an atmosphere that harks back to the days of prohibition-era America. As its name suggests, the restaurant oozes a clandestine charm, with dimly lit interiors, vintage decors, and soft jazz. The menu showcases a fusion of traditional French cuisine with modern twists, with a variety of seafood dishes showcasing the freshest catches of the day. Indoor and outdoor seating is available.
Marea – Perched high above the bustling streets, Marea offers breathtaking panoramic views of Cannes. This contemporary establishment is known for its innovative menu that blends Mediterranean flavors with international influences. The open-air terrace is a prime spot, especially during breakfast hours, to watch the city come alive.
Mademoiselle Gray Plage Barriere – Situated on the pristine shores of Cannes, Mademoiselle Gray Plage Barriere offers the quintessential beachfront dining experience. As waves lap the shoreline, diners are treated to a menu that celebrates the bounty of the sea. The restaurant also boasts an extensive wine list, a perfect way to complement the marine flavors.
Le Bistrot Gourmand – For that authentic French feel, you'll find this restaurant hiding from the tourists down a quaint side alley, Le Bistrot Gourmand is a tribute to traditional French bistro dining. With rustic wooden tables, chalkboard menus, and an intimate ambiance, this eatery is a favorite among locals and tourists alike. The menu features timeless classics and is committed to using locally sourced ingredients resonating with authentic Provencal flavors.
Le Pompon – A chic cafe located near the bustling Rue d'Antibes, Le Pompon is the perfect pit stop for a mid-shopping meal, boasting an expansive outdoor seating area. The menu is eclectic, ranging from gourmet sandwiches to pasta and salads. Le Pompon also serves up a selection of artisanal coffee and sweet desserts.
La Meissounière – La Meissounière's menu is a blend of Mediterranean and French cuisines, with a good mix of seafood and meat dishes, as well as pastas and salads. Their extensive wine list provides the perfect accompaniment to the meals.
Uva – Situated close to the Palais des Festivals, Uva is an urban wine bar with a twist. While it has an impressive selection of wines from around the world, its food menu is equally compelling and made to be shared, displaying a variety of vegetables, meat, and seafood dishes.
La Table du Chef – As the name suggests, dining at La Table du Chef is like being personally hosted by a chef. This intimate eatery, with limited seating, offers a daily changing menu based on the chef's inspirations. Located right in the city's center, La Table du Chef has garnered acclaim for its innovative approach to French cuisine.
L'Angle des Saveur – Sequestered in a quiet corner of Cannes and a few steps from La Croisette, L'Angle des Saveurs celebrates the fusion of flavors, modernizing traditional French techniques with an emphasis on fresh, regional produce to produce an authentic, Mediterranean taste. The restaurant recommends making reservations in advance of your dining experience.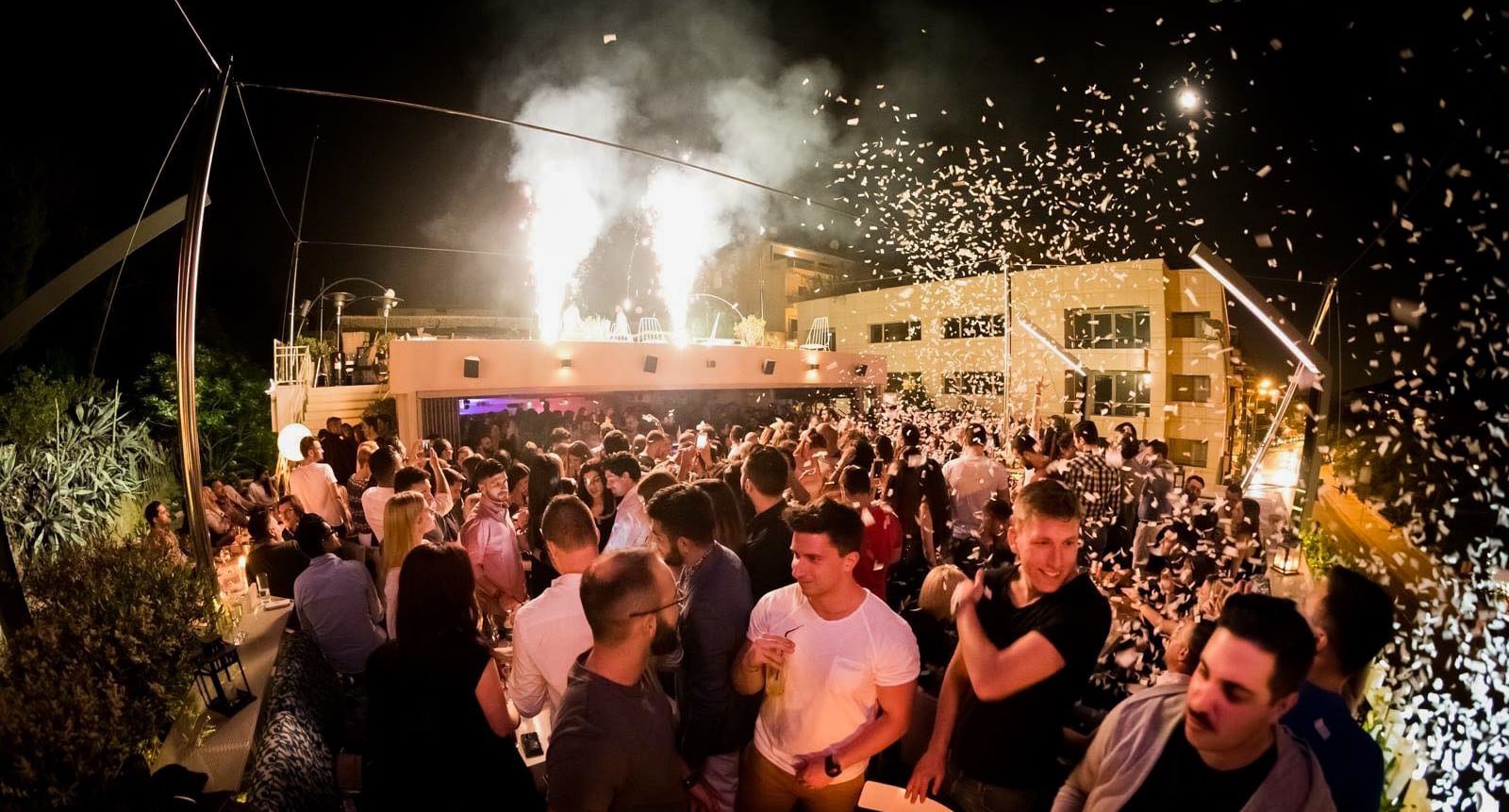 Cannes Gay Bars
Skyfall – This upscale cocktail lounge and club exemplifies world-class mixology in a glitzy backdrop fitting for a city like Cannes. Skyfall is a 5-minutes walk from La Croisette and offers patrons panoramic views of the French Riviera. Skyfall is open Thursday to Monday.
Coco Lounge – This "bar club" has the bold claim to fame as the only 100% Latino club on the French Riviera. Despite being in the center its a little hidden away but well worth seeking out for those wishing to get some hip exercise in until the early morn. 
Charlys Wine Bar – Well-placed in a picturesque part of Cannes, Charlys Wine Bar is open every day and offers both locals and visitors daily live DJ music to be enjoyed together with its selection of wines, cocktails, and tapas.
Cannes Gay Clubs and Parties
Club 7 – Club 7 is a discotheque entertaining locals and tourists in Cannes for over 40 years with deep house, house, and electro music, and even guest DJs. It's known for its live entertainment, great music, and drinks. It's also very close to Le Divan, which is also on our list.
Le BeFirst – Adding to the evening entertainment in Cannes, Le BeFirst is a nightclub that offers tapas with its drink selection, as well as themed evenings. Music is offered daily, with a DJ from Thursday to Saturday. It's a popular spot for the LGBTQ+ community, especially during weekends.
Le Divan – Le Divan is a bar club, known for its eclectic music and crowd. There's plenty of space for anyone looking for a good drink and to dance. Visitors describe it as a very busy, "buzzy" bar in the old town of Cannes and just a 3-minute walk from La Croisette. 
Cannes Gay Saunas & Cruising Bars
ParadX – ParadX is a gay sex shop and cruise club for men, featuring a play room in the back with cinema, private cabins, sling, glory holes, and fetish areas. Being the only gay sex shop along the French Riviera, the shop offers a range of adult sex toys, lubricants, DVDs, men's underwear, and other accessories. It's open 7 days a week.
Le Neuf Sauna – Le Neuf Sauna/Sauna Le 9 is a popular gay/mixed sauna situated 10-minutes by car from the center of Cannes in Le Cannet. It offers cruising services and sauna facilities for men, including a steam bath, jacuzzi, dry sauna, and bar to socialize with other men. Patrons can also enjoy their time in the dark room, the sling, the movie theater, or one of the private cabins. There's also an outside sitting area with a terrace and smoking zone. 100% men from Monday to Wednesday, and theme nights on Friday and Saturday.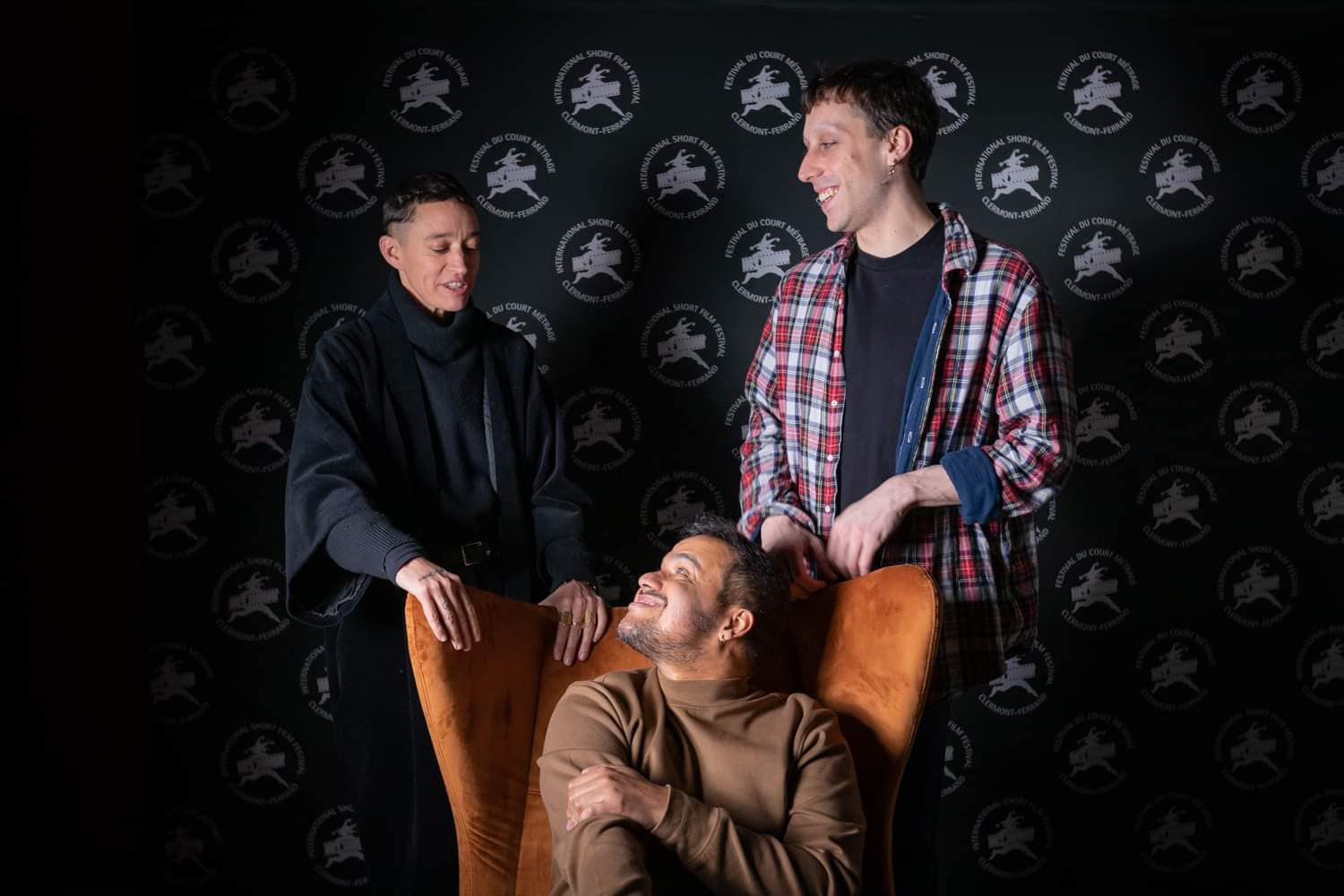 Gay Events in Cannes
Queer Palm – Queer Palm is a prestigious award that began in 2010 at the Cannes Film Festival celebrating LGBTQ+ cinema. The jury-selected award recognizes a short movie or a feature film dealing with the LGBTQ+ and feminist characters and topics or challenging gender norms, selected from among the Cannes festival's official selection and its parallel sections. 2023's awardees include Kore-Eda Hirokazu's "Monster" and Nans Laborde-Jourdáa's "Bolero."
Queer Night – An annual LGBTQ+, one-night-only dance party event that began in 2006, taking place on the first Sunday of the Cannes Film Festival at the American Pavilion (also known as AmPav). Queer Night celebrates the LGBTQ+ community in a setting of the American Pavilion, which is the center of activity at the Cannes International Film Festival for the American film community.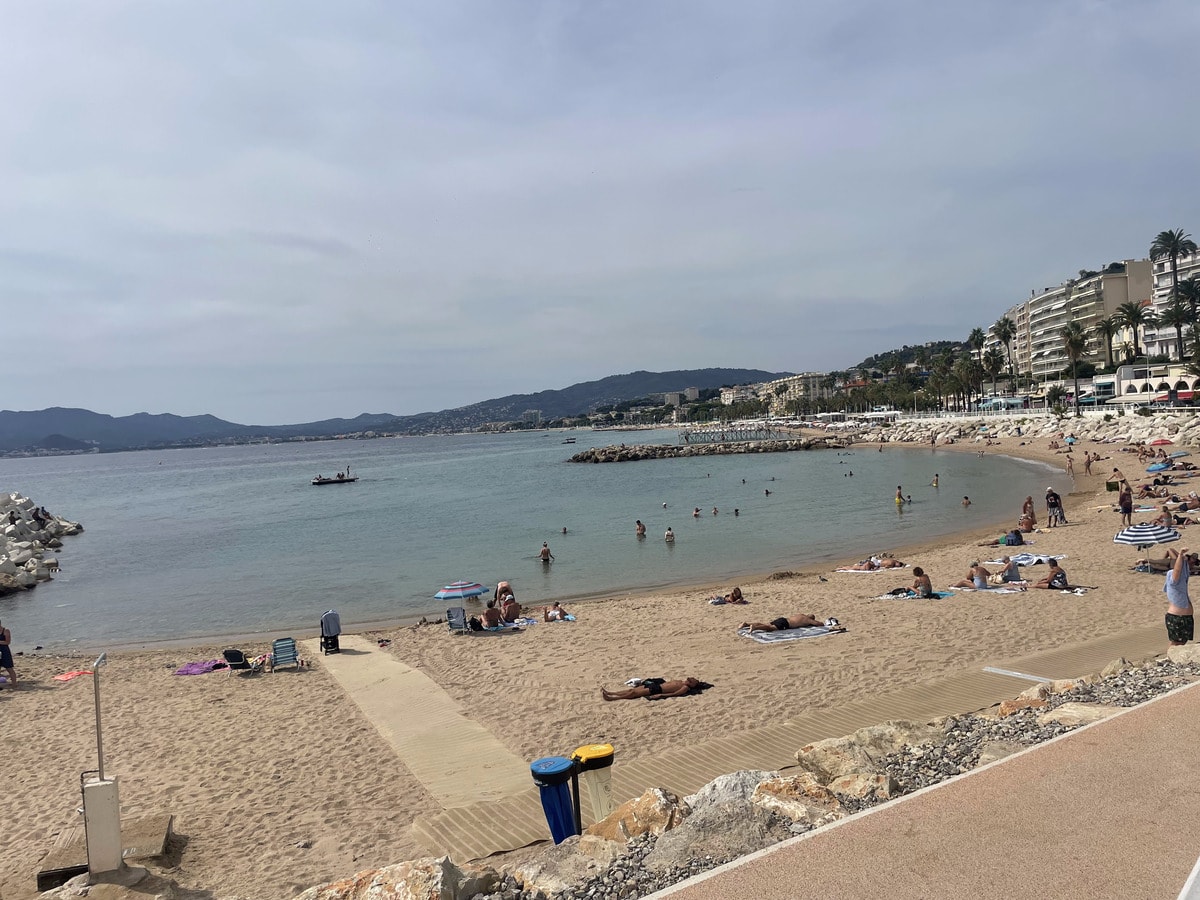 Gay Beaches in Cannes
Plage de la Paloma – A beautiful beach known for its gay-friendly environment. It's a semi-public beach located near the lighthouse tip of the peninsula. Access to the beach is via a hiking trail with steep steps that overlooks the beach and beachgoers. Once on the beachy cove, enjoy the breathtaking views of the cliffs of Beaulieu-sur-Mer and Eze. Showers and toilets, as well as street parking above the beach, are available.
Plage de la Batterie – Nudity is banned on the beaches of Cannes. However, one naturist bastion remains in this small yet stunning beach just outside of Cannes. Naturally  where there's nudity there's often gay men and the beach is popular both as a gay hangout spot and cruising area – especially on its western side. 
Cannes, with its pristine beaches, cinematic heritage, and vibrant nightlife, offers something for every LGBTQ+ traveler. Whether you're here for the glitz, the sun, or the culture, Cannes is sure to charm you with its elegance and warmth. Safe travels and enjoy your Cannes adventure!
Day Trips from Cannes
Cannes's fantastic location offers plenty of day trip options, no matter your interests.
French Riviera (Nice, Monaco, Monte Carlo, Eze, 7H from Cannes port) – The French Riviera has a lot to offer beside Cannes and this tour gives you a best of in just 7 hours. Designed for those coming off cruise ships with limited time, it is nonetheless great for anyone visiting Cannes and wanting to see the surrounding region. Hop aboard a min-van for a road trip through classy Monaco, the seaside commune of Eze and the capital of the region. Nice. From the Monte-Carlo Casino to the cathedral of Nice, see the French Riviera in a round trip from Cannes with time to hit the bars after to reflect on your experience.
Monaco – this day trip is the ideal option for those wanting a little opulence. This city-state includes sights like the iconic Monte Carlo Casino, Prince's Palace, and the Oceanographic Museum.
Îles de Lérins – these two islands are a short boat ride from Cannes' bustling shores.  Sainte-Marguerite and Saint-Honorat, both offer a respite from the urban frenzy. Beyond their natural beauty and serene beaches, Sainte-Marguerite offers the Fort Royal, which once housed the infamous Man in the Iron Mask. Saint-Honorat's popular stops include Lérins Abbey, a medieval, fortified monastery for Cistercian monks. Explore (and taste!) the monastery's history of winemaking while you're there!
St Tropez – another aquatic option is the round-trip ferry tour (about 75 minutes each way) from Cannes to St Tropez, another glittering gem of the French Riviera south along the coast. Popular spots to visit include the renowned Pampelonne Beach, the historic fishing quarter of La Ponche with its narrow alleys and pastel-colored houses, and the 17th-century Citadel offering panoramic views of the town. Art enthusiasts can explore the Musée de l'Annonciade, which houses masterpieces by Matisse and Signac. The Place des Lices market is perfect for picking up local produce and artisan crafts. The vibrant Vieux Port comes alive in the evening, while plenty of waterfront restaurants, bars, and clubs.
Parc Naturel Forestier de la Croix-des-Gardes – If you're seeking an incredible hiking experience, take a short trip to the Parc Naturel Forestier de la Croix-des-Gardes in Alpes-Maritimes. The nature park offers excellent views and endless hand-crafted hiking trails, allowing you to ultimately stretch your legs and see the wild of Southern France. The La Croix des Gardes Loop is a famous, short walk through the forest with views of Cannes and the Mediterranean Sea. The La Croix des Gardes – Belvédère du Maquis trail offers a more challenging hike, taking you to a higher elevation overseeing the Cannes cityscape.