This post is also available in:

Español (Spanish)
Madrid is perhaps not as well known of a gay destination as its Catalan sister in the northeast, Barcelona. But the truth is that Madrid is a bigger city with more offerings from a nightlife perspective and many LGBT oriented events throughout the year. Madrid is still a great destination for tourists, though it admittedly doesn't have quite as many attractions as the architectural wonder Barcelona. Still Madrid is a fantastic destination especially if you enjoy local neighborhoods, art, the gay scene, nightlife and beautiful weather.
You can download the Gay Madrid guide for free. Just provide your email address and we'll email you a PDF.
Table of Contents
1. General Tips
2. Transportation
3. Airport transfer
4. Gay Hotels in Madrid
5. Sightseeing and Activities in Madrid
6. Gay Tours and Activities in Madrid
7. Shopping
8. Restaurants and Cafes
9. Madrid Gay Bars
10. Madrid Gay Clubs and Parties
12. Madrid Gay Saunas & Cruising Bars
13. Drunk Munchies
14. Hangover Food
15. Gay Hangouts
16. Gay Events in Madrid
17. Day Trips from Madrid
General Tips
Madrid is a vibrant city that doesn't sleep and it's not uncommon to see last nights' partiers walking home at 8am in the morning while grandma is going for her morning walk. We'd argue it's perhaps the gayest capital city in Europe, or at least contending with Berlin and London. Chueca is the center of the LGBT community in Madrid where you'll find the highest concentration of gay bars and night clubs.
Transportation
Madrid is easy to navigate and the city offers great public transport with the metro, regional trains and buses. But it's important to note that even given its size, Madrid is a very compact city. Most sites of interest are located in a small area of the city center. If you stay central, it's possible to walk to some or even all of your destinations.
Airport transfer
The airport is located just 15 kilometers (9 miles) from the city center and takes about 45 minutes via public transport. The most economical route is to take the metro or Airport Express Bus. A taxi should cost 30€ flat fare from the airport to the city center.
Gay Hotels in Madrid
If you are traveling to Madrid during high season (May to August), on the weekends or during major gay events, you'll need to book these rooms in advance to ensure availability. Many of these LGBT+ specific properties are small and book quickly when in high demand.
Axel Hotel Madrid – this is Madrid's most popular gay hotel and is part of the well-known Axel Hotels chain with properties in cities across Europe and North America. It's located on Atocha Street number 49, in the famous "Barrio de las Letras", and it is surrounded by the most emblematic streets of the city, in a bohemian atmosphere that combines shopping, good gastronomy and fun. The hotel has 88 rooms and you will find a meeting point in the capital, with its innovative spaces designed so you can treat yourself and have fun, always loyal to Axel's concept of style, design, comfort and cosmopolitan environment.
TWO BAD TOURISTS FAVORITE

👍

Oscar Hotel – there are countless places to stay in Madrid, but one of the most famous gay places is the Oscar Hotel. It's not a "gay hotel" per se, but it attracts a lot of gay clientele and it's located in Chueca, the heart of the gay neighborhood. The decor here is chic and modern but rooms book quickly during major gay events.
The Westin – it's not a gay hotel by any means but they are a member of IGLTA and it is one of the more gay-friendly luxury properties located in the city. The décor is classical and it's located in the southern end of the city near Retiro Park, the main Atocha Railway station and all the famous art museums.
You can also find budget friendly options at gay hostals in Madrid. Hostals are not to be confused with youth hostels. In Spain, a hostal is a small, privately owned 1 to 3 star hotel with private rooms and basic amenities. Rates are often as low as 30€ per night for a private room with a shared bathroom.
Hostal Puerta del Sol – this used to be a gay-owned and operated hostal that specifically marked to gay travelers. It's either changed management or they stopped the direct marketing. In either case, Madrid is super gay-friendly so this is still a great option and price, very centrally located in the area of Madrid called Puerta del Sol, which is just 10 minutes walking south from Chueca. This location is still close enough to the gay nightlife but is also a bit closer to many of the famous museums and popular attractions in Madrid.
Hostal La Zona Madrid – also a formally gay-owned hostal just beside the popular street Fuencarral, which is one of the most popular shopping areas in the city and right in Chueca. It's likely changed management and isn't gay-specific, but you can't beat the location in the gayborhood. Single rooms are reasonably priced and generally include breakfast until noon.
---

Apartments - misterb&b
We've partnered with misterb&b to help curate the most LGBT+ friendly homestays. misterb&b is not a hotel or chain, but rather a booking platform for rooms, apartments and homes and it allows you to book from gay and gay-friendly hosts around the world. They have hosts in more than 200 countries and territories with more than 1 million total listings. Understanding the gay scene is much more easily done with the help of a local and home-sharing is one of the best ways to meet someone living in the city who knows how things work, where and when are the best nights to go out, and what places to eat at and which to avoid. misterb&b is our top choice if your priority is exploring the local gay scene.
Special Offer!
Sign up with misterb&b
and you will receive a free $10 credit to use on your first booking!
---
Sightseeing and Activities in Madrid
Like many cities, there are plenty of tourist attractions in Madrid – a city of more than 3 million residents. Though in our opinion, Madrid's best attributes are found in the local plazas and small neighborhoods in the city center.
Palacio Real – The former residence of the Spanish Royal family and the largest functioning palace in Europe. Tickets are regularly 10€ but they do offer free entrance in the evenings without a guide to select groups. You can also buy enhanced tickets to skip the line or even book a guided tour. Book tour →
Art Museums – Madrid is famous for its world class art museums with masterpieces from artists like Picasso, Dali and Goya. You could spend days visiting Madrid's top 3 museums The Prado, The Reina Sofia and The Thyssen-Bornemisza. If you enjoy art you should pick at least one to visit depending on your tastes. Book tour →
Retiro Park – One of the most famous sites in Madrid and our favorite spot to take friends and family during a visit. Retiro, a massive park built in the 18th century, was originally reserved for royalty until the late 19th century. Book tour →
Calle Cava Baja – located a bit south in the La Latina neighborhood, this is probably the best place to go during the late evening to go bar hoping for tapas. You'll find more than 40 places here serving some of the best the city offers.
Mercado San Miguel – If you have time for only one market then it should be Mercado San Miguel. It's located right in the center and has a rather posh offering of meats, produce, sweets, drinks of all sorts and of course tapas. Book tour →
Hotel Riu Rooftop – this hotel is a new addition to Madrid since 2019 and it has one of the best views of Madrid you'll find. The rooftop terrace is located on the 26th floor and it has 360 degree, panoramic views of the city. The entrance is 5-10€ depending on the time and day.
Gay Tours and Activities in Madrid
There are a number of gay tours and activities to choose from when visiting Madrid so it's best to decide what you'd like to see and what level of service you want. Some of our favorites are listed below.
Tapas, Taverns & History Tour – If you really want to experience the food culture of Madrid along with a touch of history from a knowledgeable guide, we highly recommend this experience offered by Devour Tours. You'll have a fantastic time sampling the cuisine at some of the best places you'd never know to explore. They are constantly ranked at the top on Tripadvisor reviews. And even better, we actually work with Detour ourselves and guide some of their food tours. If you're lucky, you may even have David as your local guide.
TWO BAD TOURISTS FAVORITE

👍

LGBTQ Chueca Tour – Learn about the transformation of the marginal neighbourhood of Chueca, which today is one of the most cosmopolitan and avant-garde neighbourhoods of the capital. Visit places and monuments that are part of the history and origin of the district and which normally go unnoticed by many visitors. This tour is perfect for an introduction to Madrid life and to get all the info about the best places to eat, drink, party and "misbehave". Book tour →

Gaily Tours in Madrid – Get ready for special tours in this amazing city! Meet gay/lesbian tour guides for a private walking tour of Madrid and experience one of the most fascinating cities in the world. There are multiple tour options including Madrid Royal Tour, Madrid Gay Tour & Chueca's Secrets, and Madrid by Night. Book tour →

Chueca Neighbourhood Tour – The tour includes fine alcoholic drinks and will reveal to you all the city's underground stories while visiting places that have become local legends as they have given the courage to millions to be who they are. As part of the tour, you will visit the mythological bars of the LGBT+ community, drink fine alcohol, and see where Madrid's Pride protest movement began. You will also get tips on where to spend the rest of your night. Book tour →

local gay guide – find various tours offered by local gay guides in the city. Their guides create an authentic experience for you and make you feel like a local as well. Check out neighborhoods outside of the tourist areas, see the LGBTQ+ scene, get recommendations only locals know and of course, visit the iconic places too. Some tours offered in Madrid include: LGBT tour, Highlight tour, Bourbon Madrid tour and Tapas tour. Book tour →

Drag Queen Brunch & Bingo – Join this fun and hilariously awesome drag brunch on select Saturday afternoons. The exclusive ticket gives you priority access to Madrid´s only Drag Queen Bingo Brunch. Enjoy a welcome drink, various drag performances, bingo and of course, a delicious brunch at Lola 09, one of the coolest venues in Chueca. The show and bingo games are bilingual in both Spanish and English. The booking page is only in Spanish but you can use Google Translate if necessary to secure your booking.
TWO BAD TOURISTS FAVORITE

👍

LGBTQ District Tapas & Drinks Trail Madrid – Currently, the only LGBTQ+ tapas tour in Madrid. Explore Chueca – Madrid's gay zone – while sampling the best tapas in town over a drink, or six, in four uniquely different bars. All served up with insights on the local customs and interesting titbits of the LGBTQ+ history of the area.


Two Bad Tourists Madrid Gay Nightlife Tour – the best gay nightlife tour in Madrid! Ok, we're a little biased but we're hard to beat, having lived in one of the most LGBT+ friendly cities in the world for years now. Let us be your guides through the renowned gay neighborhood of Chueca, the beating heart of the LGBT+ community in Madrid. We'll visit 3 of the best gay bars in this 2-hour, private tour. The price is €60 per person with 3 drinks included and recommendations for where to go on afterwards if you're feeling adventurous.
Shopping
Calle Fuencarral – The pedestrian street stretches from Gran Via north up for 500m with stores and shops of all kinds, not to mention plenty of cafes, restaurants and bars to take a load off during your busy shopping day.
Gran Via – can find shops all along the route, but apparel stores are concentrated between Plaza España and the Gran Via metro stop. This is where you will find the higher end fashions along with your typical mid range big names stores like H&M or Zara.
Restaurants and Cafes
Depending on the time of day, there are several restaurants in and around Chueca worth a visit.
Carmencita Bar – This is a good option for brunch if you sleep through the breakfast at your hotel (you will eventually!). It's one of the few places in the neighborhood that actually offers brunch.
Mercado San Anton – sample freshly prepared tapas each from different vendors. After you get your fill, head upstairs to the rooftop terrace for a drink, some people watching and nice city views.  Book tour →
Restaurante Vivares – a gay favorite for years. They are known for their set menus which include a first and second course, dessert, plus bread and a drink. Options include a basic menu starting around 10€. They also offer a gourmet and vegetarian menu.
Diurno – opens early so you can eat dinner at 7pm if you're not yet accustomed to late-night Spanish dinner time. Mixed cuisine with a modern flare.
Café Oliver – good option for brunch or sit-down in Chueca starting after 9pm.  Cuisine is a mix of mostly Spanish, Italian and Mediterranean food.
El Buo – this restaurant located in Chueca has one of the best Spanish tortillas you'll find in Madrid. Try the traditional one with a glass of wine or order something a bit more elaborate like goat cheese or mix vegetables.
Taberna La Española – this casual restaurant in Chueca has traditional Spanish food at reasonable prices while maintaining the quality. The portion sizes are quite good too. Be sure to try their homemade croquettes and tortilla (Spanish omelette) or their huevos rotos. 
Madrid Gay Bars
You won't be disappointed with the nightlife in Madrid. Many of these places are packed on weekends and some even offer a great time during the week, depending on when you're coming to visit. Keep in mind that nightlife in Madrid starts extremely late, so don't be surprised if you arrive at 11pm to a bar (1am at a club) and still don't see a crowd. Just wait another hour and the place will get packed.
D'Mystic – This is a nice lounge in the heart of Chueca. You'll find sitting room here and it's a great place to go on a weeknight to have a chat with friends. This place starts to fill up on the weekends, especially after midnight as locals are starting to go out, waiting those last couple hours before heading to the dance club.
La Kama – This is a great place to go before heading out to the gay club. The music is loud and the people are energetic. It's small and there's no proper dance floor but that doesn't stop people from dancing right next to the bar. The crowd is friendly here and it's one of the better places to meet people.
LL Bar – The drag show here is the main attraction. It starts each night between 11:30 and midnight. Arrive early for the drink special but don't be surprised if it's empty that early. This place gets a nice crowd for the show but starts to empty out afterwards. It's a fun place to start your night for an hour or so, especially if you like being heckled by the Spanish drag queens.
Cazador – This is a bar where you'll find the gay hipsters. It's a small place in Malasaña and people tend to crowd onto the street when it's warm out. It's a good place for a couple drinks during the week or before heading out to dance.
Black and White – This is one of the oldest gay bars in Madrid and it's a classic. Just be sure to watch for the rent boys. You'll find a lot of twinks here looking to charge you to take them home.
For the girls
Fulanita de Tal – this is a small bar located in Chueca with a nice vibe and good dancing by night on the weekends. It doubles as a café during the day and you can find live music shows on the weeknights or earlier in the evenings on weekends.
Madrid Gay Clubs and Parties
Clubs
DLRO – This is a medium sized gay dance club open every night of the week. There are two separate levels with different dance floors and music. If you're lucky, you might find promoters on the streets of Chueca passing out free entrance wristbands earlier in the night. Don't arrive before 2am unless you like dancing alone.
Boite – Open layout and decent sized dance floor. This place draws a range of ages from mid 20's to mid 40's. The crowd is relaxed here but the guys tend to keep their shirts on. You'll sometimes find special events here with performances on stage.
Baila, Cariño – open Saturday nights. There's a huge dance floor in the center with multi level bars surrounding it.  Great first place to go to if you're visiting and like pop music.
Kluster – this is a regular Saturday night party in Madrid with house and electronic dance music. A bit of a mixed crowd with circuit type boys, bears and daddy's. Crowd tends to be a bit older. No drags queens, virtually no girls, but a pretty friendly crowd.  Entrance is around 15€. Music type: house, electronic 
El 12 – is it a bar? Is it a club? It's a delightful mix of both! El 12 is the one of the most popular bars Iin Chueca, especially as a pre-club option. It plays with having a bit of everything from drag shows to iconic local DJs to a dark room sequestered behind the downstairs bathroom. El 12 often has a queue during the weekends, but Thursday nights it is THE place to be on Thursdays.
Parties
WE Party – monthly and usually held at La Riveria. Additional WE Parties take place during Madrid Gay Pride and New Years with parties happening every day during the week.
Chocolate con Churros / Tanga – both are monthly gay party on Sunday nights. Usually starts early around 8pm since most people have to work Mondays. Parties will occasionally start later if Monday is a holiday. Location changes regularly. Check online for dates and venues.
Madrid Gay Saunas & Cruising Bars
BoyBerry – The bar staff is cute, the drinks are cheap and you'll find special events throughout the week. You'll find a darkroom, free wi-fi and many other surprises downstairs. Address: Calle Valverde, 3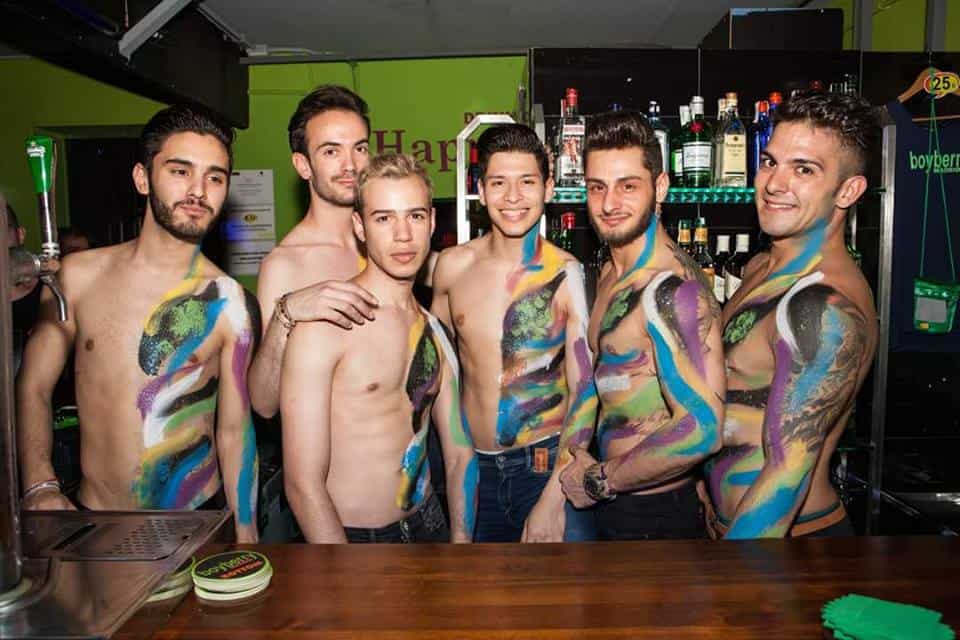 Strong – a large gay dance club and cruising space in the center of Madrid, just 5 min south of Chueca. It opens late and draws a crowd most nights, especially on weekends.
Paraiso – without a doubt, the nicest and most popular gay sauna in Madrid. The Entrance is 18€ but it's clean and worth the price. You'll find a Jacuzzi, several dark rooms, a large swimming pool and a dungeon which are the perfect match to bricks' walls and faint lights. The place is superb, but the guys are even better with a mix of young, middle age, muscled, locals and tourists. Very close to Chueca and opens 24 hours on weekends.
Octopus – this gay sauna in Madrid caters to the bear community. You'll find a dry sauna, steam room, two dark rooms, a cinema, and even an area for fetish and bondage lovers, including a dungeon. It is the perfect place if you like bears, chubby and mature men.
Drunk Munchies
If you're like us you'll probably be stumbling from the club to your hotel around 5am and will be in desperate need for something fat and greasy to eat. The go-to drunk munchie food in Madrid definitely is pizza. You can find places open late in most of the central neighborhoods so keep an eye out on your stumble back.
Hangover Food
Our best recommendation is to find any place that serves "huevos rotos" – fried potatoes with a fried egg and ham served on top. Several places around Chueca that do actually serve brunch are Carmencita Bar, La Bicicleta and Café Oliver. Brunch is not customary in Spain, in fact Spanish people generally eat a light breakfast, or as David says…coffee and a cigarette. Either way, you can still find what you need.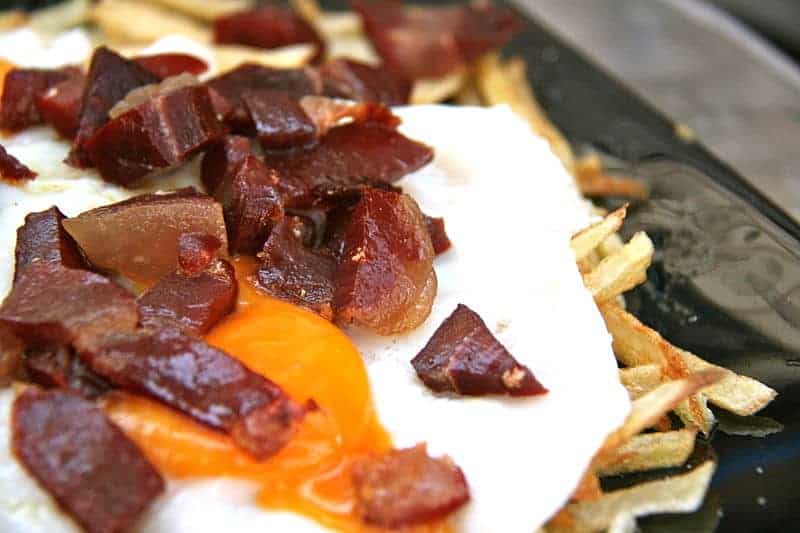 Gay Hangouts
Besides hitting up the bars and clubs, you can find plenty of gays hanging around Chueca (the official gay neighborhood) as well as Malasaña, which is more of the unofficial hipster gay neighborhood. In the summer time, the gays head to the local public pool to sunbathe and drink sangria, located at metro stop Lago. Entrance to the pool costs 6€ and you can buy food and drink onsite.
Gay Events in Madrid
Each July, Madrid holds the largest gay pride in Europe with 1.5 to 2 million people in attendance. This is without question one of the most fun gay events of the year. Other events include the WE Party New Year's Festival, MadBear, Sleazy Madrid and the LesGaiCineMad GLBT Film Festival.
Day Trips from Madrid
Toledo – Toledo is an easy day trip from Madrid just 45 minutes away. Toledo was once the capital of Spain until the 16th century when it changed to Madrid. It's a perfect representation of the many religions (catholic, Muslim and Jewish) that have influenced Spanish history among the years of power shifting between cultures. Book tour → 
Segovia – Segovia is a medieval walled town 1 hour north of Madrid. Originally a Roman town, it's famous for its aqueduct (a UNESCO World Heritage Site) that spans from one side of the city to the other. Segovia sits on the top of a hill and its Cinderella-style castle hangs right off the edge of the cliff. Book tour →
El Escorial – Just 45 minutes from Madrid to the northwest is the famous city of San Lorenzo del Escorial. The city is known for its massive monastery and palace complex built in the 1600's. To this date, it's the burial grounds for 4 centuries of Spanish Royalty. Book tour →
Barcelona – Believe or not, you can actually do a day trip from Madrid to Barcelona. Thanks to the AVE, OUIGO and Avlo, Spain's high-speed trains, you can travel between the two cities in just over two hours one way. If you don't have time for a full visit to Barcelona, but you don't want to miss the highlights, check out this tour which gives you the opportunity to make Barcelona a day trip from Madrid.
What interests you most about Madrid? Would you consider visiting? Let us know in the comments below!
Note: Some of these links are affiliates which means using them won't cost you any extra but we do receive a small commission for each referral. You're not obligated to use them but we appreciate it if you do. Thanks in advance for supporting this site if you choose to use our link!