San Francisco is an iconic city for the queer community as a pioneer and battleground for LGBT rights. Filled with queer history, free-spirited vibes and currently one of the top tech hotspots in the country, it welcomes a mix of travelers and dwellers that help create its diverse, come-as-you-are, laidback attitude. Nowadays, its gay population per capita is one of the highest in the world. Though it may be the most expensive city to live in in the US, it's certainly at least worth a visit – though surely, you'll want to stay!
San Francisco has long been synonymous with the gay community and the LGBT movement at large. It's fair to say that while San Francisco was becoming a beacon of hope for gay men and women around the world – the policy of the United States government and its treatment of LGBT citizens (particularly the stigma surrounding the HIV/AIDS crisis) was everything but supportive and welcoming to the community. Its openness and inclusiveness are thought to date back to the 19th Century and the period of the Gold Rush.
The emergence of the Castro district is much more modern than most people assume it to be. In fact, until the 1960s the area was predominantly populated with white, working-class, Irish immigrants. The Stonewall Riots of 1969, while geographically distant, invoked a surge in organizations for the gay community. In the subsequent years – bars, galleries, cultural establishments and social and cultural bonds were cemented to make San Franciso one of the homosexual epicenters of the world. San Francisco is also synonymous with the life of politician Harvey Milk. As the first openly gay man to be elected to public office in the state of California – his robust, hands-on campaigning lead to him being, despite an initially frosty reception, widely accepted by the public.
Liberal attitudes prevail in San Francisco today and it is widely considered to be one of the most vibrant, accepting and diverse cities in the world. The gay history of San Francisco is embedded into its history still present both physically and atmospherically and enjoyed by its LGBT residents and all those who choose to visit.
Table of Contents
1. General Tips
2. Transportation & Airport Transfer
3. Gay Hotels in San Francisco
4. Sightseeing & Activities in San Francisco
5. Gay Tours in San Francisco
6. Restaurants and Cafes
7. San Francisco Gay Bars
8. San Francisco Gay Clubs and Parties
9. San Francisco Saunas & Cruising Bars
10. Gay Beaches in San Francisco
11. Gay Events in San Francisco
12. Day Trips from San Francisco
General Tips
Surprisingly, San Francisco isn't even in the top 10 of the most populous US cities (it's ranked 13th), but its reputation and personality make it feel much larger. Still, the compact city only covers 47 square miles and has great public transit expelling the need for a car. Many San Franciscans walk, bike, car share and use public transit to get where they need to go. Download one of the many transit apps to help you navigate the Muni system (San Francisco Municipal Railway). San Francisco is a city of microclimates making predicting the weather nearly impossible. Still, the warmest months to visit tend to be September and October while the coldest are December and January. If you're looking to get spectacular views of the city skyline or the Golden Gate Bridge, be sure to note that June, July and August are the foggiest months. In fact, August is known locally as "Fogust".
You can download the Gay San Francisco guide for free. Just provide your email address and we'll email you a PDF.
Transportation & Airport Transfer
Though renting a car when visiting San Francisco might be convenient to get everywhere you want to be quick, it is by no means necessary. The iconic cable cars dating back to 1873 are a national historic landmark and still in use today after restoration. The public transit system, known as Muni, is the best way to get around. Visitors can buy a San Francisco all-Inclusive pass which includes the Muni Bus Passport offering unlimited rides on cable cars, MUNI buses, vintage trolleys and Muni rail for three consecutive days. This pass also provides admission to the California Academy of Sciences, a Blue & Gold Fleet Bay Cruise, the Aquarium of the Bay and entrance to either the Exploratorium or the de Young Museum and Legion of Honor Museum. A CityPASS ticket booklet costs $89 for adults. Buy Pass →
San Francisco is serviced by two main airports, San Francisco International Airport (SFO) and Oakland International Airport (OAK). Both can be reached via BART, the Bay Area Rapid Transit system, which is the most cost-effective way to get from the airport to downtown and vice versa. It's about $9 from downtown to SFO and about $8 to OAK, one way. Direct airport transfers to your hotel are also available for under $20 when purchased in advance. Book Transfer →
Gay Hotels in San Francisco
Luxury
Parc 55 – a fantastic downtown location with stunning city views and very accessible to the best destinations and attractions in San Francisco. Ths is a Hilton Hotel offering everything you'd expect in terms of style and service. It has a 24-hour fitness center, two restaurants and a coffee shop onsite. (rates start at $350 – $500)
Cova Hotel – an LGBT-owned boutique hotel in the heart of downtown. It offers an on-site restaurant, fitness center and complimentary shuttle service. Floor-to-ceiling windows give spectacular views of the city skyline from the room or views can be enjoyed from the rooftop terrace. (rates start at $200 – $250)
Hotel Emblem – a boutique hotel around the corner from San Francisco's Union Square. This 1930s-style San Francisco hotel is filled with contemporary art and located in the Theater District. It features the Library Bar where you can enjoy books, cocktails, a bar and restaurant plus live jazz on Friday nights. Within walking distance are great restaurants, nightclubs, boutiques and galleries. (rates start from $220 – $350)
Mid Range
Willows Inn – a gay owned bed and breakfast in the Castro neighborhood of San Francisco. It has small and cozy rooms as well as two-bedroom suites. It has a European-style shared bath and a vanity sink in each room. In the morning, enjoy a continental breakfast and in the evening meet friends and relax with a complimentary cocktail in the sitting room. The Innkeepers will happily help guests decide on restaurants, nightclubs and entertainment. (rates start from $130 – $215)
Parker Guest House – this LGBT-owned guest house features newly renovated rooms, private baths in most rooms, continental breakfast, complimentary wine social and free wifi. Guests can enjoy several common areas including the front parlor, library with fireplace, sunroom and the outdoor decks and gardens. Located near the Castro District, restaurants, pubs, parks and the Muni Metro are all nearby. (rates start from $190 – $290)
Budget
Adelaide Hostel – this hostel is two blocks from the center of Union Square in downtown San Francisco and about 20 minutes from the Castro by public transit. Guests enjoy free breakfast, dorm beds with privacy curtains or private rooms, free wifi and a large kitchen. (rates start from $35 – $140)
European Hostel – located in SoMa (South of Market) just 15 minutes from the Castro by public transit, this hostel features free wifi, a fully equipped kitchen plus a rooftop balcony and bar with views of downtown. Dorm rooms and private rooms are available. (rates start from $30 – $70)

Apartments - misterb&b
We've partnered with misterb&b to help curate the most LGBT+ friendly homestays. misterb&b is not a hotel or chain, but rather a booking platform for rooms, apartments and homes and it allows you to book from gay and gay-friendly hosts around the world. They have hosts in more than 200 countries and territories with more than 1 million total listings. Understanding the gay scene is much more easily done with the help of a local and home-sharing is one of the best ways to meet someone living in the city who knows how things work, where and when are the best nights to go out, and what places to eat at and which to avoid. misterb&b is our top choice if your priority is exploring the local gay scene.
Special Offer!
Sign up with misterb&b
and you will receive a free $10 credit to use on your first booking!
---
Sightseeing & Activities in San Francisco
San Francisco has numerous activities and sights to keep visitors entertained depending on what sort of holiday you're looking to have. Some obvious ones are Alcatraz, the Golden Gate Bridge, Golden Gate Park, views of the city from Twin Peaks and Fisherman's Wharf where sea lions can be seen at Pier 39. However, here are some of the other top highlights to consider when visiting the city. Book tour →
Neighborhoods – San Francisco is really just a collection of diverse, hip neighborhoods. Check out Mission District for an artsy, trendy neighborhood with Latino flare. This is where the beautiful public graffiti art of the Clarion Alley Mural Project is located. Head to Haight-Ashbury for cafes, vintage shops and colorful architecture in this hipster scene. Find the gayborhood, Victorian homes, trendy shops and restaurants in the Castro. Lastly, in Chinatown you'll find Portsmouth Square which is the original public square dating back to the 1800s when the city was just a small Mexican town known as Yerba Buena.
Cliff's Variety – variety is the spice of life and this iconic hardware store is indeed spicy! They sell everything from hardware tools and garden supplies to wigs and caulking guns – it's somewhat of a running joke that drag queens and lesbians can find whatever they need within. The legendary establishment opened in 1936 and has always had predominantly gay staff – making it somewhat of a trailblazer of the LGBTQ+ community. You can also have a wide range of services done from lock repairs to cable crimping, but most of all you are free to wander and take in the spectacle.
Painted Ladies & Alamos Square – one of the most iconic views of San Francisco is this row of colorful Victorian homes at Hayes and Steiner Streets. You can admire the views of the downtown skyline behind these homes from Alamo Square Park which sits at the top of a hill.
City Hall – the original building from 1899 was destroyed in the 1906 earthquake and this replacement was re-opened in 1915. This is the site of several movie scenes such as Raiders of the Lost Ark as well as historical moments including the 1978 assassinations of Mayor George Moscone and Supervisor Harvey Milk.
Mission Dolores Park – located at 19th & Dolores Street, this park offers beautiful views of the city skyline and plenty of green space to enjoy a picnic and people watch. Park-goers will enjoy the fact that this park tends to be in one of the sunnier microclimates of San Francisco.
Union Square and other shopping streets – the main event for shoppers with nearly every major designer label including Levi's, Macy's, Neiman Marcus, Saks, Barneys and Banana Republic on sale. It's not to be confused with Union Street – which is also a worthy visit for the avid shopper due to its jewelry stores, goldsmiths, trendy boutiques and small shops with Victorian architecture. Other good shopping streets include Chestnut Street for sophisticated shops and brand names, Fillmore Street for beauty outlets and perfumeries, Mission Street for vintage clothing and Chinatown for exotic gifts and souvenirs.
Big Bus Tours – bus tours aren't always our favorite but admittedly, they are sometimes a good way to get a good overview of the city if you only have a single day for sightseeing. You can easily get to know the city quickly and jump on and off throughout the day to visit various sites of interest. Plus, the San Francisco Big Bus Tour will take you over the Golden Gate Bridge. You can buy tickets online for $45. Book tour →
Smart Destinations Explorer Pass – If you plan to see a lot of sites and attractions while visiting San Francisco, consider this pass to save 50% on access to up to 5 out of 24 attractions. You can use it instantly with the free Go City Card app for 30 days. Book tour →
Gay Tours in San Francisco
Cruisin' the Castro – This tour of San Francisco's famous Castro neighborhood has been around since 1989. You'll explore the historical, diverse and colorful sites of the Castro neighborhood, which is one of the largest LGBT communities in the world. They even offer food and wine tours, plus an easy pace with no large hills to climb! Book tour →
Restaurants and Cafes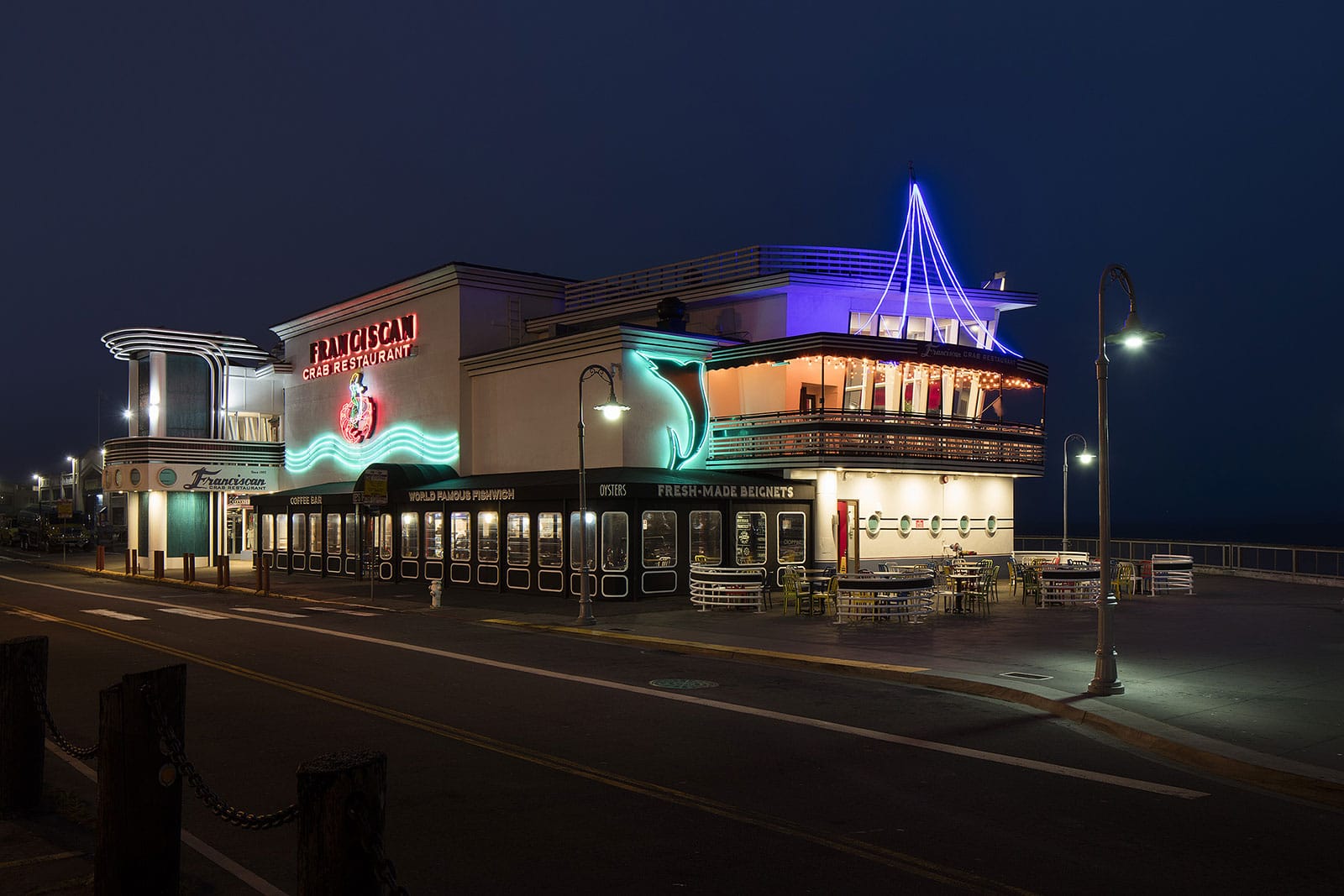 Hot Johnnie's – the Castro has quite the assorted foodie scene, with a wide variety of eateries on offer. However, if well-priced gourmet pastrami is your bag, Hot Johnnie's have it down to an art form. Found near 18/Castro the diner has a contemporary meets retro feel to it, with a sign boldly claiming "the best meat in the Castro" – a boast it lives up to. There's plenty of seating and a wind-protected patio out back – which was once a sex club in the 70's – with picnic tables surrounded by heat lamps for the winter months.
Souvla -actually a collection of Greek restaurants found in the Hayes Valley, Mission and Dogpatch neighborhoods. Their motto is "make it nice and be nice" and they live up to that ideal with great service and even greater food. Souvla offers deliciously fresh Lamb, Chicken or Beef pita bread wraps with a range of salads and Greek yogurt sauces alongside. Then there's a mouthwatering selection of frozen Greek yogurts and a healthy mixture of Greek wines to enjoy.
Mister Jiu's – located in the historic Chinatown neighborhood, Mister Jiu's is a Chinese American restaurant with its own family-style dining style. Winners of a Michelin and James Beard award, the food is classic Cantonese dishes with a Bay Area twist. Expect the best dumplings in town, as well as succulent noodles, rice, meat and tofu dishes.
Hawker Fare – a trendy Lao Issan restaurant serving scrumptious Laotian street food, including curries, noodles and grilled meat. The vibe is hip with ingenious on-theme cocktails to go with your meal. Tucked away upstairs is an intimate hidden bar aptly called Holy Mountain, where you can commune with the spirits with a ramped up list of cocktail choices.
Octavia -an exquisite dining experience named after the area it´s found in, the restaurant´s main claim to fame is award-winning chef, Melissa Perello who prepares such seasonal culinary delights as grilled swordfish, homemade sourdough levain and seaweed tagliatelle. The 19th century building and open kitchen facing the dining room creates a homely atmosphere that makes you feel you could almost curl up for a good kip after your meal. Big groups who feel like pushing the boat out for an evening have the option of sitting at the "chef's table", with its own prime menu.
Franciscan Crab Restaurant -part of a building that looks like a rather jazzy luxury ship that´s washed ashore, this restaurant is up on the vessel's second deck with huge windows showing off a spectacular view over Bay Bridge and the rest of San Francisco. Obviously you have to try their legendary – two pounds heavy – native delicacy that is the Dungeness crab, but they also offer crispy crab cakes, steamed mussels and an ocean´s choice of seafood dishes.
Fog Harbor Fish House – sits right out on the pier itself, has a great sea view and is ranked on Yelp within the top five restaurants in San Francisco. The award winning, family-owned restaurant has an intimate feel and serves any seafood you could possibly imagine. What's more, all their seafood is sustainable – completely hook and line – with fish bought from small town fishermen along the coast.
Anchor Oyster Bar – San Francisco sure has a lot of good seafood restaurants and Oyster Bar is the best that's actually in the Castro. There's outdoor seating and all the seafood is mouth-wateringly fresh . A particular must try is their signature Cioppino – a delicious fish stew.
Great Eastern Restaurant – so good that Obama himself ordered take-out from them, this Chinese restaurant makes Dim Sum into an artform – with sixteen different delectable choices to pick between. Between the dazzling decor and substantial menu, the Great Eastern Restaurant offers an authentic Chinese experience that stands out from other Chinese restaurants in the same area.
Tony's Pizza Napoletana – who's Tony, you might ask? Well, Tony Gemignai is the 13-time World Pizza Champion and on the corner of San Francisco's "Little Italy " you can find his – equally award winning- restaurant. Here you can order a richness of pizza styles, with ingredients imported directly from Napoli, the pizza capital of the world. Besides pizza there are appetizing pastas, antipasti and other Italian food to choose from, the experience being topped off with a bar selling fine wines and even finer cocktails!
Original Joe's – this classic restaurant has seen its fair share of adversity with a fire destroying the original building in 2007 and then closing due to COVID restrictions. But like a phoenix from the flames the iconic landmark American-Italian restaurant is back in North Beach District – with a great view of Washington Square Park. Original Joe's is a restaurant with a traditional Italian feel. Its menu boasts both Italian classics and mainstream American food. Not to mention its own signature dishes such as Joe´s Special – a tasty mix of eggs, spinach and ground beef – and Joe's Famous Hamburger Sandwich.
El Toro Taquería – open since the 80's on Valencia Street, El Toro Taqueria is one of the best traditional Mexican restaurants in all of San Francisco. They certainly have the most innovative food, serving more than just your average tacos, burritos and quesadillas. Their menu is expansive and contains their own creations not found anywhere else – most notably a yummy selection of burritos, such as the Super Burrito and Chile Relleno Burrito. El Toro Taqueria even has the option to customize your own dish from a range of Mexican ingredients.
San Francisco Gay Bars
San Francisco is considered an American gay mecca and at its heart beats the Castro District, one of the first gay neighborhoods. This gay neighborhood is located along Castro St. from Market St. to 19th St. and occupied by queer dance clubs and bars featuring numerous happy hours as well as quality restaurants and trendy shops.
440 Castro – a leather bar scene of mostly 30 and 40-somethings enjoying drink specials and cruising to a mix of house, electronica and pop music. Popular nights include Underwear Night on Mondays, $2 Tuesdays for beer, and Wooden Nickel Wednesday for 2 for 1 cocktails.
SF Eagle – the San Francisco location of the popular leather dive bar. It has a great outdoor patio popular with muscle daddies, bears, pups, otters and the like on weekend afternoons. Regular events include Beer Bust Sundays and ROR:SHOK, a dark drag party on Fridays.
Hi Tops – this gay sports bar in the Castro is a great spot to throwback drinks while supporting your team. The bar menu has top-notch food served by a friendly staff to an attractive crowd. Wear your jocks, tube socks and gym shorts on Thursdays for Gym Class when bartenders serve $2 whiskey shots in their own jocks and gym shorts.
Lookout Bar – a hip venue with a great balcony that overlooks Market Street in the Castro. A good spot to catch up with friends over happy hour and on Sunday afternoons when it's quite popular.
Oasis – this venue by Drag legends D'Arcy Drollinger and Heklina presents drag shows, cabaret and theater productions to a mixed gay/lesbian crowd in SoMa.
The Stud – a cornerstone in the San Francisco gay bar scene, this dive-ish bar in SoMa has been around the block. Tuesdays are "Sing til it Hurts" karaoke and Fridays belong to Red Hots Burlesque, a queer burlesque show. The night here ends late with a special late-night license allowing doors stay open an hour later than other bars on Thursdays and Fridays. Currently closed, but will hopefully reopen in the near future.
San Francisco Gay Clubs and Parties
Clubs
Beaux Bar and Dance Club – attracts a young crowd including twinks and twink admirers to meet up in a swanky club scene. It's open every day and features a 2 for 1 happy hour and themed parties, such as Andrew Christian's Manimal Fridays and BIG TOP Sundays. The cool design, sound and lighting come together to create memorable, nighttime dance experience.
The Cafe – 20 and 30-somethings go to this club to dance at this spacious venue in the Castro. Weekly events include karaoke on Wednesdays, Picante (Latin night) on Thursdays and RuPaul's Drag Race on Fridays.
Q Bar – this hip, clubby bar brings in younger party-goers for dancing and cruising. A good spot for gogo dancers and happy hour any night of the week in the Castro. Currently closed, but will hopefully reopen in the near future.
Parties
Daytime Realness – a monthly Sunday afternoon patio party with drag and dancing at El Rio in the Mission. This crowd is mostly men of all ages and styles. Open in season from May to October.
JUNK – every Thursday night at Powerhouse is underwear & gear night. Enter the "JUNK in your TRUNK" contest for a chance to win various prizes.
Swagger Like Us – for an underground queer club vibe, check this event out that gives new queer hip-hop artists, DJs and dancers a place to show off their skills. Their events are all over the city and described as "fashion-forward, sleek, cool".
For the Ladies
El Rio – this lesbian-owned neighborhood bar brings in a mostly mixed crowd in the Mission District. It also hosts popular monthly girls T-dance every fourth Saturday called Mango.
UHAUL – a dance party for the girls with sexy gogo gals happening twice a month. Every second Friday at Oasis and every third Friday at F8.
San Francisco Saunas & Cruising Bars
Eros – once a sauna, this queer sex club has moved to a brand new location outside of the Castro on Turk Street in the Historic Transgender District. They've replaced wet and dry saunas with playrooms, glory holes, slings and video viewing areas. As well as having non-sexual lounge areas to socialize in. Eros remains popular and gets busy at the standard times, right after work and when the bars and clubs close. Members pay less to enter and receive special benefits.
Powerhouse – a cruise bar in SoMa with a dark room, sexy videos and patio attracting a diverse crowd of friendly men looking for fun.
Gay Beaches in San Francisco
Baker Beach – the north end of Baker Beach is the gay, clothing-optional beach. It's known for great views of the Golden Gate Bridge (weather permitting of course). To get there take the #38 Geary Outbound and transfer to the #29 Sunset Bus.
Marshall's Beach – near Baker Beach is another popular for gay and nude sunbathers. Again, it has excellent views of the bridge as well, but with a bit of a trek to get there. Take bus #30 North and get off at Golden Gate Bridge Toll Plaza. From there it's about a 15-minute walk.
Gay Events in San Francisco
Folsom Street Fair – this annual event held every September calls itself the world's biggest leather event and draws in 400,000 fetish enthusiasts covering 13 city blocks. Attendees enjoy live music, dance areas playing EDM, 200 exhibitor booths with fetish gear and toys and public play stations. Just about anything goes here so if it's not your scene, be warned, but if it is, enjoy!
San Francisco Pride – this gay pride event started back in 1970 and today it is the largest gathering of the queer community and its allies nationwide. The event, held annually during the last full weekend of June, has more than 200 parade contingents and exhibitors and over twenty community-run stages and venues like Homo Hip Hop to Gray Pride. Things get started on Saturday at the Civic Center Plaza downtown and the Parade occurs on Sunday morning.
Up Your Alley – dubbed its "dirty little brother", Up Your Alley is like the opening act to Folsom Street Fair's main event. Located in the South of Market district, nearly 15,000 fetish enthusiasts and fans of BDSM come to enjoy the all-day event in July featuring more than 50 adult vendors. Those into rubber, sportswear, biker gear, skinheads, punks, and built, hairy men will love this event.
Day Trips from San Francisco
Sausalito – a popular day trip sits across the bay in the beautiful, seaside town known as Sausalito. In addition to amazing views of San Francisco, you'll also find unique boutiques and art galleries and numerous restaurants and cafes along Bridgeway, Sausalito's main street. To get there you can drive, bike or take public transportation across the Golden Gate Bridge. The Big Bus Tours will also take you to Sausalito. The small town hosts the Sausalito Art Festival each year over Labor Day Weekend in September. Book tour →
Tiburon – this cute, small-town got its name from the local leopard sharks (tiburón meaning "shark" in Spanish). It can be reached via a quick ferry ride from San Francisco. Enjoy a meal at a nice cafe, ride a bike around the town or visit the Railroad and Ferry Depot Museum for a history of Tiburon as a railroad post. For fantastic views of the Golden Gate Bridge and Angel Island, go to Shoreline Park. Tiburon makes for a great getaway from San Francisco.
Have you ever visited San Francisco? Why would you like to visit this popular destination in northern California? Let us know in the comments!
Note: Some of these links are also affiliates which means using them won't cost you any extra but we do receive a small commission for each referral. You're not obligated to use them but we appreciate it if you do. Thanks in advance for supporting this site if you choose to use our link!