Choosing where to stay is one of the most important decisions you make when planning your trip. The options are limitless, and your choice ranges from large resorts and hotel chains to small, boutique hotels or apartment rentals. You can also find gay-owned hotels in some places or even hotels designed for the LGBT community like gay-themed hotels or gay resorts. While the concept of a gay hotel varies a bit depending on the destination and property owner, the one thing they all have in common is a vision of creating a safe space where LGBT people can be themselves in the company of other LGBT guests.
On just about any trip you take, you'll most likely spend more time at your hotel than any other tour, activity or experience. Plus, the fact that you sleep at the property makes the time spent even more intimate than other elements of your trip. While staying at a gay hotel might not be the preference for everyone, some travelers enjoy the open environment where you can relax and be yourself. It's true there are many gay-friendly hotels that are not necessarily gay-themed or designed for the LGBT community, but those properties simply can't provide the same type of unique experience offered by a gay hotel.
Why Book a Gay Hotel?
Easy to meet new people – many hotels and resorts offer social activities where you can meet other travelers. This is common in many of the resorts in places Palm Springs, Fort Lauderdale, Key West, Maspalomas, Provincetown and Puerto Vallarta.
Location – nearly all gay hotels and resorts are well located within or near the city's gay neighborhood if they have one. And even if the city doesn't have a 'gayborhood,' the properties are typically located in prime locations where you can easily visit the destination's most popular attractions and gay nightlife.
Parties and events – some gay hotels host events or other parties and social gatherings at their properties. These activities might be offered to just guests or in some cases even to the local LGBT community in the destination.
Be yourself – probably one of the most attractive parts about a gay hotel is the comfort zone. The entire hotel is full of LGBT guests and all staff has been extensively trained to provide you with a welcoming and gay-friendly experience. It's a very open environment and one where you can relax and be yourself.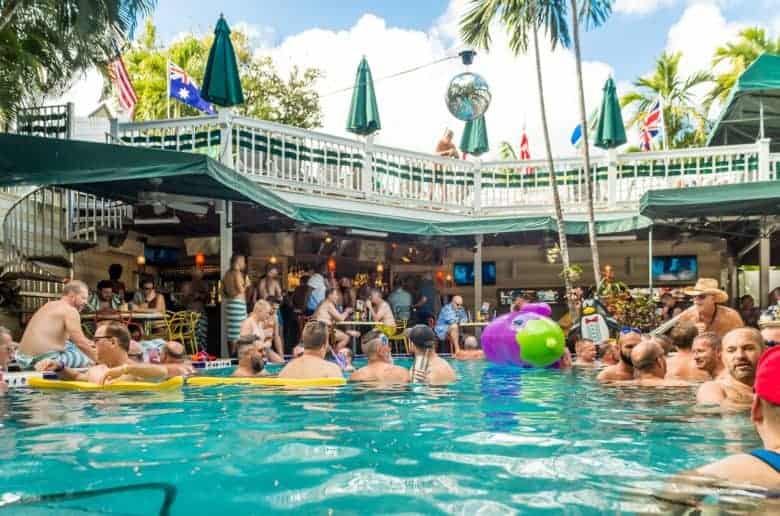 The History of the Gay Hotel Industry
The concept of LGBT-specific travel started in the '70s and was pioneered by Hans Ebensten, who began taking gay men on tours rafting through the Grand Canyon as well as to Carnival in Rio de Janeiro. As LGBT people became more visible and acceptance shifted, several more companies began creating trips specifically for the LGBT community. The concept of a gay hotel or men's gay resort was also created around the same in Key West, Florida. Small gay resort towns also became popular in the '80s and '90s in places like Palm Springs, Fort Lauderdale and Provincetown. During those times, the acceptance of LGBT people wasn't what it is today so many gay travelers really needed a safe space if they wanted to travel with their same-sex partner and not fear judgment or harassment.
In many places like North America or Western Europe, the concept of a gay hotel might not serve the same need as it did before since LGBT acceptance is now more widespread. However, even with the abundance of gay-friendly, mainstream properties, many people still seek out those safe spaces and enjoy the experience of a gay-only environment. Even today, gay hotels and gay resorts are still popular in cities like Palm Springs, Fort Lauderdale, Key West, Miami, Provincetown, Barcelona, Madrid, Maspalomas, Ibiza, Berlin, Lisbon and Bangkok.
Types of Gay Hotels
Gay hotels generally fall into one of the following categories.
Clothing optional resorts – many of the gay resort towns like Palm Springs, Fort Lauderdale, Key West and Maspalomas are known for having clothing optional resorts. Travelers who enjoy relaxing in the buff by the pool or in a jacuzzi can take it all off in the company of other gay men. In most of these places, the atmosphere during the day is not sexually charged, but instead more of an open and natural environment. Some properties do have sauna facilities or other spaces that might get a bit kinkier as day turns to night. Good examples of popular clothing optional gay resorts including Island House (Key West), InnDulge (Palm Springs) or The Grand (Fort Lauderdale).
Gay-themed hotels – the concept of the clothing optional or gay resort became popular in the '80s and '90s, but hotels opened after this period don't usually follow this trend. Instead, a gay-themed hotel is one in which any guest, gay or straight is welcome to stay, but with the concept of offering a space designed for the LGBT community. Axel Hotels is a good example of a gay-themed hotel. You could bring a straight friend or even your grandma to one of these properties and you wouldn't feel awkward. The concept is simply to create a welcoming environment for LGBT guests.
Gay-owned hotels – gay-themed and clothing optional gay hotels are almost always gay-owned, but on occasion, you will find a mainstream property that happens to be LGBT-owned. These properties tend to feel like any other hotel you might stay at, but when a hotel is owned by an LGBT person, they typically instill values of diversity and respect in their employees. Properties of this type don't have a gay-theme and most of the guests are likely straight but staying at one of these properties is perhaps of interest to some travelers who might not be interested in the concept of a gay hotel. It's not always obvious or easy to know if properties are gay-owned, but here are a few examples that serve a mainstream audience: Cova Hotel (San Francisco), The Brown Hotel (Tel Aviv) or Oscar Hotel (Madrid).
Gay friendly hotels – a gay-friendly hotel is one that is not necessarily LGBT-owned nor a gay hotel concept at all but still makes an effort to be welcoming to LGBT guests by respecting diversity, having non-discrimination policies and/or offering sensitivity training for staff. This could be something like a gay friendly/family resort in Mexico or maybe an adults only hotel in the Caribbean. There are thousands of properties around the world that might be considered gay friendly. Most hotels in progressive urban centers are gay friendly and you'll certainly find most hotels in gay-popular destinations to be welcoming as well.
Gay apartment rentals – while these are not hotels in the traditional sense, popular booking websites like misterbnb allow you to book a room or entire space from a gay host. Having a host from the LGBT community is one way to ensure you are treated with respect and to also get unique insight into the local gay scene in the destination you're visiting.
Is a Gay Hotel Right for You?
Here are a few things to consider if staying at a gay hotel interests you.
The hotel will be exclusively LGBT guests
There are gay hotels offered at a variety of budgets
A gay hotel may not be available in the city you're visiting
You won't earn points from loyalty programs like would from staying at a large chain like Marriott or Hilton
If you visit a city during gay pride, a popular gay event or before or after a gay cruise, most gay hotels get booked well in advance, so you'll need to plan ahead
Gay hotels are great options if you're traveling with your same-sex partner and you won't have any issues with public displays of affection
Popular Gay Hotel Brands
There are two companies that dominate the market when it comes to gay hotels and accommodation. Besides these two brands, all other hotels are generally single properties and are not as widespread.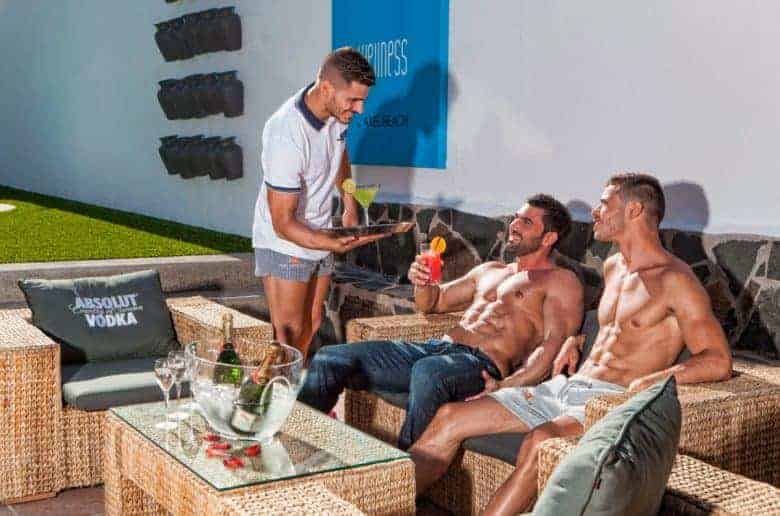 Axel Hotels
Axel Hotels was founded in 2003 and is really the only major gay hotel chain in the world. Their hotels are mostly located in Europe, but they recently expanded to the US and Italy, and will soon expand to Portugal, Cuba and beyond. They currently have properties in Barcelona, Madrid, Berlin, Maspalomas, Ibiza, San Sebastian, Venice and Miami.
The Axel Hotel vision is to offer a hotel aimed at the LGBT+ community. The spaces are cosmopolitan with a tolerant environment where diversity and respect are valued. The philosophy is a hotel chain for the entire LGBT+ community where two men, two women, a man and a woman or any type of customers are equally welcome, without prejudice to their sexual orientation. Axel Hotels is designed for the LGBT+ audience but is opened to everyone. In fact, Axel Hotels doesn't define itself exactly as a gay hotel per se, but rather heterofriendly.

misterb&b
Next to Axel Hotels, misterb&b is definitely the other major player in the market. Founded in 2014, misterb&b is not a hotel or chain, but rather a booking site for rooms, apartments and homes. Similar to AirBnB, misterb&b is an online service that allows you to rent short- or long-term spaces from gay and gay-friendly hosts around the world. They have hosts in more than 135 countries with more than 200,000 total listings. They recently even started offering listings of gay and gay-friendly hotels on their site for a one-stop-shop. You can even list your own room or apartment to earn cash from gay travelers in your city. Understanding a city's gay scene is much more easily done with the help of a local and apartment sharing is one of the best ways to meet someone living in the city who knows the best insider advice.
Special Offer! Sign up with misterb&b  and you will receive a free $10 credit to use on your first booking!
How to Choose the Best Gay Hotel
Determining which gay hotel to book is completely subjective. People have different preferences, budgets or destinations in mind when it comes to booking a trip. There are many hotels listed on our website which are recommended and have good reviews, but you want to make sure you pick the right hotel for your travel style and preferences. Below are a few tips to consider when booking your gay hotel.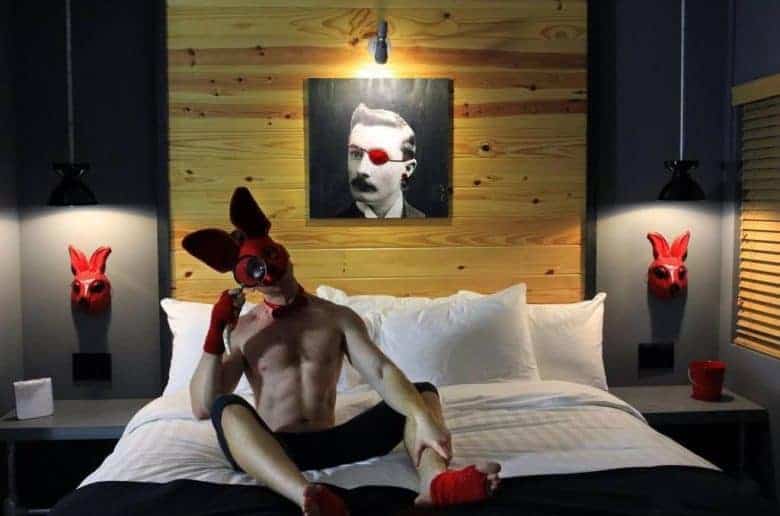 Destination – most people first decide what city they want to visit and then look for a hotel. However, it might be worth planning a trip around a specific destination you hadn't considered if you know there is a gay hotel located there. This might be of particular interest if there is a special event offered at the hotel. If you can't find a gay hotel in the city you're visiting, consider booking an apartment with misterb&b.
Budget – the price of the hotel is an obvious factor and you'll need to consider the additional cost of flights or transport into your budget. Most gay hotels are mid-range properties between 2-star and 4-star, however, there are a few gay hotels and hostels which offer shared rooms and facilities at lower prices.
Size – it's important to decide if you prefer a large or small property. A large hotel might offer great events and entertainment, but some people may want to avoid the crowds and opt for a more intimate experience with a smaller hotel or gay resort.
Amenities – looking to relax by the pool or perhaps sip cocktails at an onsite bar? Maybe a gym is important in your booking decision. A few gay hotels even offer a men-only sauna onsite. Some hotels offer an elaborate breakfast buffet and have restaurants, while others may not even offer food. Be sure to have a look at the amenities to see what's most important to you.
Location – it goes without saying that location is important when booking your stay. Most gay hotels tend to be well located within the most popular areas of the city. They are often in or near the gay neighborhoods, which offer quick access to dining and gay nightlife options.
Feature image credit: Axel Hotels