Just 90 minutes away from Boston is a tiny seaside town on the tip of Cape Cod that has as much history as it does gay culture. While many remember from history class that Plymouth Rock was where the Pilgrims settled in 1620, it was in fact Provincetown where the Pilgrims first landed before passing onto Plymouth and settling what would soon become the US. But American history aside, P-Town, like many popular, small gay getaways, has been completely taken over by the LGBT community. With a population of about 3,000, the small New England getaway boasts 40+ gay guesthouses, 10+ gay bars and clubs, 2 gay beaches while also hosting a dozen or more LGBT events throughout the year.
Table of Contents
1. General Tips
2. Transportation & Airport Transfer
3. Gay Hotels & Resorts in Provincetown
4. Sightseeing & Activities in Provincetown
5. Gay Tours in Provincetown
6. Restaurants and Cafes
7. Provincetown Gay Bars
8. Provincetown Gay Clubs and Parties
9. Provincetown Gay Saunas & Cruising Bars
10. Gay Beaches in Provincetown
11. Gay Events in Provincetown
12. Day Trips from Provincetown
General Tips
P-Town is a summer resort destination and its peak season lasts from the middle of June through September. The shoulder season would be considered starting in May and lasting until October but it's the three summer months where you'll find the streets packed with visitors from all over the east coast, the country and even a sprinkling of international visitors.
You can download the Gay Provincetown guide for free. Just provide your email address and we'll email you a PDF.
Transportation & Airport Transfer
Given the geography of Cape Cod with P-Town at the tip, your options of getting in are limited. There is one highway leading into and out of the city along with a ferry terminal and small airport. Flights are expensive, and driving can be long and stressful, particularly in the summer months during peak traffic. As most people will come in and out of Boston, the most enjoyable and practical route is to take the 90-minute fast ferry for around $60 roundtrip. The Bay State Cruise Company offers several daily trips to and from P-Town along with spacious seating and a bar. Because why wouldn't you want to start your trip outright, with a few drinks to enjoy the ride in route to this charming and incredibly gay New England town. Book Ferry →
Like many gay resort destinations, P-Town is a compact and mostly walkable city so if you stay in the center of town, you won't need a car and probably won't want one either. If you're staying out of the center, you should consider renting a bike as the town is very bike-friendly and there are great bike paths just outside of the city that lead to the local beaches and hiking trails.
Gay Hotels in Provincetown
When booking your trip to P-Town, you'll find no shortage of gay and gay-friendly accommodation options ranging from hotels, guesthouses, apartments and campgrounds. There's a big variety of beach accommodations in Cape Cod and you'll quickly realize that it is the gay guest house or B&B that P-Town is known for and you'll find more than 40 different places to choose from.  Here's a quick highlight of several different property types you'll find in town.
The Brass Key – located in the center of town, The Brass Key feels more like a large gay guest houses than a hotel, with a large interior courtyard, heated pool and hot tub making for great evenings sipping drinks with friends either before or after heading out for the night. If you're looking for a luxurious stay and a fun social environment, The Brass Key should be at the top of your list. With 43 rooms, you'll easily make new friends at this gay hotspot, particularly during the afternoon wine and cheese gatherings that take place daily.
Boatslip Resort – an internationally renowned destination for LGBTQ travelers, boasting a premier West End location, stunning waterfront views, and home to world famous Tea Dance. They're are located on Commercial Street just steps away from shops, cafes, art galleries and historic Provincetown Harbor. The Boatslip Resort's high energy atmosphere welcomes everyone who wants to escape. Come and experience the freedom, camaraderie and uninhibited fun a stay at the Boatslip Resort offers.
The Harbor Hotel – the Harbor hotel is one of the larger properties you'll find in P-Town and it is just outside the town center. If you have a bike, the ride into town is a quick 10 minutes or you can take the town shuttle, which runs every 30 minutes or just catch an Uber for about $8. The property is a mid-century hotel that has been renovated with modern and sleek décor. It's located right on the water, so you can literally cross the street and be at the small stretch of beach in about 30 seconds. This is a good option if you don't necessarily want a gay-only property or if you enjoy a bit more peace and quiet rather than being in the busy and sometimes noisy town center.
Secret Garden Inn – located right off Commercial Street, the main commercial strip of P-Town, is one of many gay-owned guesthouses in town. This B&B appropriately has a quaint garden in front of the house and is tucked away behind several buildings, giving it a hidden feeling, while still being in the middle of all the action. The couple who own the property are incredibly friendly and hospitable. Besides a nice breakfast each morning, you can enjoy freshly prepared baked goods in the mornings and afternoons along with a casual conversation with other guests. The house has just seven rooms, so you'll have a more intimate and cozy stay compared to a larger property or a more traditional hotel.

Apartments - misterb&b
We've partnered with misterb&b to help curate the most LGBT+ friendly homestays. misterb&b is not a hotel or chain, but rather a booking platform for rooms, apartments and homes and it allows you to book from gay and gay-friendly hosts around the world. They have hosts in more than 200 countries and territories with more than 1 million total listings. Understanding the gay scene is much more easily done with the help of a local and home-sharing is one of the best ways to meet someone living in the city who knows how things work, where and when are the best nights to go out, and what places to eat at and which to avoid. misterb&b is our top choice if your priority is exploring the local gay scene.
Special Offer!
Sign up with misterb&b
and you will receive a free $10 credit to use on your first booking!
---
For a complete list of LGBT owned hotels, B&B's and guesthouses visit the Provincetown Business Guild website here.
Sightseeing & Activities in Provincetown
The Dunes – If you don't venture outside of the town center, you'd never realize that this tip of Cape Cod has a huge landmass of sand dunes lining the coast. The result of centuries of logging has left the land partially barren and it's only been in the past half century that the former forest and now dunes area has started to recover thanks to federal protection. One of the best options is to take a sunset tour which includes an hour-long drive through the dunes followed by dinner on the beach during the sunset. For tour bookings, check out Art's Dune Tours which run daily from May through October.
Pilgrim Monument and Provincetown History Museum – The history of Provincetown dates back 400 years from the first landing of the Pilgrims and the Mayflower compact, which was the document the Pilgrims signed setting the stage for self-governance in the new world. From just about anywhere in town, you can look up and see the Pilgrim Monument which was finished in 1910 and commemorates the history and significance of the town. Included with your entrance to the monument, which has amazing views towering over P-Town, is the Provincetown History Museum, which is well worth an hour's visit to add a bit of history and culture to your trip.
Biking Trails – The surrounding area of P-Town has a great system of biking trails that make their way through the nearby forest and dunes. There are a few different bike paths with one main loop that covers 8 miles and takes roughly 2 hours to complete. Head out from the trail and lock up your bike to enjoy great views, find interesting hiking trails and make your way to one of the nearby beaches. Visit P-Town Bikes for a rental and keep the bike for a day or your entire trip. Bikes come with a lock, helmet and optional basket.
Gay Tours in Provincetown
The Anne Hutchinson Tour of Provincetown – See Provincetown from a viewpoint that most visitors never experience: through the eyes of the infamous 17th-century Anne Hutchinson on this walking tour. With a costumed guide who plays Hutchinson with a gender twist, see the town's landmarks as you hear both traditional and irreverent "heretical" accounts of its history—the latter inspired by Hutchinson's challenging of the Puritanical mores of her time. Book Tour →
Restaurants and Cafes 
The Canteen – Gay-owned The Canteen is as much a trendy daytime Provincetown hang out spot as a restaurant and you´ll find tourists, locals and fisherman alike here tucking into the shack´s delicious menus of classic seafood blended with Modern American cuisine. The 200-year old New-American style blue and white building expands from the streets of downtown Provincetown up to Cape Cod Bay and the homely atmosphere inside and on its back porch is palatable. Everything is locally sourced and/or freshly made, be it lobster rolls, clam chowder, raw shellfish or oysters – there's no better place to eat seafood in all Provincetown.
Ross' Grill – This bistro and wine bar is an exquisite dining experience found just off Commercial Street and is definitely not a place to eat and dash. Quality is assured, with every order made from scratch. Rated as one of the best restaurants in the Cape, it boasts an extensive menu of lush salads, fresh – and juicy – steaks, a variety of seafood, stews and soups that varies from lunch to dinner. Not to mention it has over 65 wines to match your meal and a plethora of cocktails to enjoy whilst talking in the stunning view of the harbor below.
Relish – This quaint little no-nonsense cafe serves the best sandwiches in the city – as well as an array of naughty cakes, muffins and tarts for the sweet of tooth. All of which go perfectly with a relaxing cup of coffee, iced tea or even a watermelon smoothie or gazpacho. Tucked away in the historical district of Provincetown, Relish is nonetheless a worthy detour and respite from the often busy city center and beaches.
Front Street –  at its essence this is an Italian restaurant with a completely continental menu. This inviting restaurant is unique in Provincetown in that the principal chef is also the owner, who does 90 percent of the cooking himself. This makes for an intimate experience, where creative culinary delights – such as braised beef and short rib ravioli and chicken and shrimp Leonardo – are served up to satisfy even the pickiest of eaters.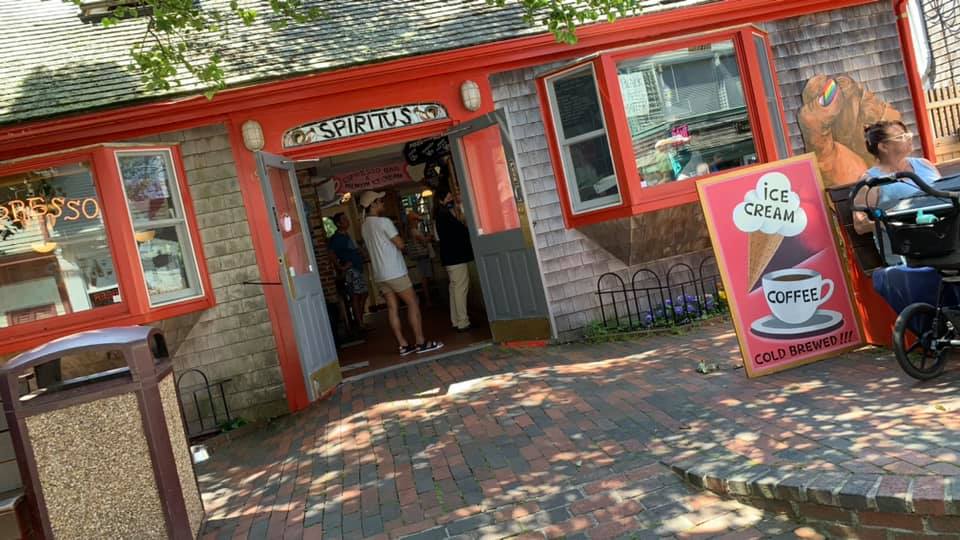 Spiritus Pizza -Art, coffee, espresso milkshakes, pizza and homemade ice cream. If these five things appeal to you, then Spiritus Pizza might be your bag. This is no regular pizza shop, lovingly run by the same family for over forty years, it has become a part of Provincetown´s history. The walls proudly display art shows – often from local artists – to offer visual stimulation as your taste buds are stimulated by their personalized pizzas made with the very best of ingredients and organic flour. Not to mention the delicious homemade ice cream and shakes. If you're on the hunt for a bite to eat after leaving the club, Spiritus Pizza is sure to be open. In fact, grabbing a slice of pizza to end the night is almost a ritual in P-Town. In the height of the season the place with be packed both inside and out with loads of people getting their drunk munchie fix before heading in for the night.
Saki -Sushi and pizza might seem a weird combination, but somehow it works. Saki's sushi is award winning and the wood fire pizzas are freshly baked for your enjoyment. There's also an oyster bar and a range of other seafood options and burgers, making for a truly eclectic menu. The restaurant is family friendly and – having expanded out onto the Town Hall Lawn – is also a popular spot to relax and watch Provincetown go by in the evenings.
The Red Inn -Both a hotel and restaurant, Red Inn is a beautiful red-brick building found right up on Provincetown Harbor. It dates back to 1915, when it was opened "as the roses began to bloom" and has since become a legendary destination in Provincetown – famously visited by President Theodore and Mrs. Roosevelt. The cuisine is award winning and includes local seafood and fresh meat dishes complimented by a lengthy wine list. The view from the dining room is unrivaled, looking out across Cape Cod Bay and the cliffs and lighthouse beyond.
Provincetown Gay Bars 
P-Town is your quintessential gay getaway resort town full of gay bars, drag performances and themed parties. During the peak of summer season, most bars and clubs will be busy throughout the week. During the months of May and October, busy periods occur during the weekends. Nightlife in P-Town starts and ends early, which is not necessarily a bad thing, allowing you to get plenty of sleep to enjoy the following day. Bars and clubs will start to get busy around 10pm and close at 1am.
Harbor Lounge – A cocktail up on the seafront is sometimes exactly what the doctor ordered to kick start a night or jazz up a lazy afternoon. The interior of this LGBTQ+ friendly bar is cozy with leather couches and wraparound windows giving an amazing view of the bay. The connected pier is used as a socializing area and gets busy during the weekends. 
Shipwreck Lounge – Part of the Brass Key Guesthouse, this beloved bar feels like being in someone's living room and garden – if that person was a skilled cocktail mixologist. Its homely vibe makes it ideal for those looking to make new friends in the area. Open seven days a week till 1am.
The Crown & Anchor –  This institution is considered by many to be the beating heart of the LGBTQ+ scene in Provincetown. It has six bars within it as well as a small hotel, restaurant, beach club, gallery and performance spaces. Amongst the bars Wave Bar is a highlight for a chilled out drink and, conversely, The Vault for some sleazy action.
The Boat Slip -This seafront hotel bar is another staple must-go location in Provincetown. Enjoy the outdoors and make new friends in a welcoming environment. During the day there's a beach club with a sundeck and pool, whereas during the evening the (in)famous Provincetown Tea Dance is held there.  It's also worth pointing out that at nighttime, under the Boat Slip is called the "Dick Dock." This area has historically been an active nighttime cruising ground during the summer, though the popularity of this attraction has decreased over the years with the presence of dating apps. Still, if this is your type of activity, you might still find what you're looking for late at night during the warmest months.
Provincetown Gay Clubs and Parties 
Tea Dance – No trip to P-Town is complete without enjoying an afternoon tea dance at the Boat Slip, which is far less "civilised" than it sounds. From 4-7pm, crowds pack the beachside hotel and outdoor space to start the evening off among friends with this iconic events that involves music, dancing and a lot of drinking. The tea dance is somewhat of a ritual in P-Town and a fabulous way to start any night out.
Atlantic House – Lovingly referred to sometimes as the A-House, this nightclub has been running for over 40 years and its fair to say popular in the region – especially in the summer when the patio fills with hot guys swaying in the sea breeze to house DJs. The club somehow manages to blend big club vibes with a nautical village town feel, which culminates in great fun. There's also the town's oldest bar connected to it – the Little Bar – and a leather bar upstairs called Macho Bar. 
Provincetown Saunas & Cruising Bars 
There's no gay sauna or bathhouse in Provincetown, however, there are a few options and special nights besides the cruising area under The Boat Slip.
The Vault at The Crown & Anchor –  Hidden away in The Crown & Anchor is this unapologetic cruising bar – with porn playing in the background and the bar name proudly displayed within a drawing of a man's pride on the bar. The Vault is popular with an older kinky crowd and there's plenty of dark corners to have some fun within.
Macho Bar at Atlantic House – This small but spicy leather and Levi bar is located upstairs in the A-House. Despite being small it fills up thanks to it being the only true leather bar in Provincetown and being ideal for cruising any night of the week. There's also a good DJ and a cage for exhibitionists.
Gay Beaches in Provincetown
Provincetown has a handful of different beaches to check out during your visit. Right off the town center, you'll find a small beach, which is the most convenient but is not the most popular. It's great for a quick stop if you don't want to make a long trek, but if you're looking for a bit more adventure, you'll find better quality and perhaps a more enjoyable experience a bit farther out from town.
Herring Cove – Despite being a bit of a walk up the sands this is Provincetown's biggest and most popular beach. If you don't fancy the walk there's a Herring Cove Beach Shuttle Bus. There's a snack bar and the sunsets here are phenomenal thanks to the fact the beach faces towards the west. There's also a gay nudist part of the beach – aptly named "Boy Beach" . for those willing to walk a little bit further through the marshes.
Race Point –  The second biggest beach in Provincetown is located right next to the airport, but this doesn't affect its beauty. The beach is scenic and the endurant can use it as the starting point for a hike up to Race Point Lighthouse on the end of Cape Cod. Like Herring Cove there's a gay part of the beach but not as pronounced.
Gay Events in Provincetown
Cabaret Fest – Lizza Minnelli once famously sang, "life is a cabaret old chum, so come to the Cabaret". Provincetown – not being one to disagree with an idol like Lizza – holds a weeklong Cabaret Fest every June. Bringing together performers from Broadway to Provincetown itself, artists perform cabaret shows in venues across the city.
Bear Week – Every July, men of the hirsute variety – that is bears, wolves, cubs, otters – and their admirers emerge from the woods and descend upon Provincetown for a week of bearly fun. Expect parties and light-hearted events, such as pool parties and drag shows.
Provincetown Pride – Pride is hardwired into Provincetown and, – having a thriving LGBTQ+ community – it is a fabulous place to celebrate being gay and proud. Provincetown Pride is three days of action in early June, bringing together every color under the rainbow flag with parades and parties galore spilling down onto the beach.
Fourth of July – What better way to celebrate American independence than with your top off surrounded by hot men!? Provincetown's famous 4th of July Circuit Party has all the trappings of Circuit, with cream of the crop DJS playing the best tunes at banging pool parties.
Family Week – Queer families are the future…and the present. Late July every year Provincetown hosts the biggest yearly family orientated LGBTQ+ event in the world. The week includes a busy schedule filled with family friendly workshops, sports, drag shows, dance parties, movie screenings and yoga classes on the beach to name a few.
Carnival – Provincetown needs little excuse for a party, but Carnival in August is a good one. Carnival Provincetown is a summertime celebration of creativity with a different theme every year – previous years including Monsters, Myths and Legends and Toys. The whole city fills the streets, dressed up in extravagant costumes to attend parades, parties, events and costume competitions.
Day Trips from Provincetown 
Plymouth – A coastal town with a lot of history, Plymouth is where the Mayflower – a ship filled with English pilgrims – disembarked over 400 years ago.  Plymouth can be reached via ferry from Provincetown. The trip is well worthwhile to see the iconic Plymouth Rock, the replica of The Mayflower and the Plimoth Patuxet Museum, which is a living museum bringing to life the original pilgrim settlement once found there.
Nantucket – One more reachable by ferry, this small remote island has a big personality and a lot of its own history packed into its 50-square miles. Enjoy wistfully gazing out to sea whilst strolling along windy beaches, climbing the island's many lighthouses and embracing the calm pace found within its cottage filled villages. Once the world's top whaling port, the Whaling Museum is one of Nantucket's big attractions. Also, consider taking the Nutty Nantucket Scavenger Tour to see the island in a fun unique fashion in just two hours.
Martha's Vineyard – The bigger of the two popular islands to visit from Provincetown and the closest to reach by ferry. Here you'll find yet more stunning sand dunes and beaches, as well as several harbor towns boasting some of the best seafood restaurants in New England.
Provincetown offers the perfect balance for a gaycation resort town in the United States. Great restaurants and nightlife, awesome shops and art galleries, amazing nature and beaches, plus a diverse mix of LGBT culture and American history, all packed into one tiny, seaside town. Be sure to take advantage of all P-Town has to offer – explore a bit of everything, enjoy the party, experience the art galleries and shops and most of all, just have fun and be yourself. For more info on Provincetown, visit the LGBT section on the P-Town tourism website.