There are quite a few circuit parties that happen throughout the year in the US that you should definitely check out and the White Party in Palm Springs is one of them. Other favorites like Winter Party in Miami, Purple Party in Dallas or One Magical Weekend in Orlando, are great events if you enjoy dancing, great music and never-ending parties. These events have all been going strong for decades and have a loyal following. In fact, the White Party is the longest running circuit party in the US and people from all around the country come together to celebrate. Plus, if you've never been to Palm Springs, it's a great excuse to visit the small desert Oasis, located just a couple hours away from Los Angeles by car.
Where and When?
The White Party typically takes place in Palm Springs in April. The venues can change from year to year but typically the large nighttime parties are held at the Palm Springs Convention Center. Each night is a separate party with a different theme with some of the most well-known DJ's in the circuit scene. Even Ariana Grande and Lady Gaga have made appearances in the past and performed at the White Party.
Note: for 2020 the White Party has been rescheduled for October 30th – November 2nd.
[ct_button url="https://twobadtourists.com/2020/03/27/gay-palm-springs-a-gay-travel-guide-to-the-california-desert-resort/" style="orange" size="large" type="round" target="_blank"] View our gay travel guide to Palm Springs[/ct_button]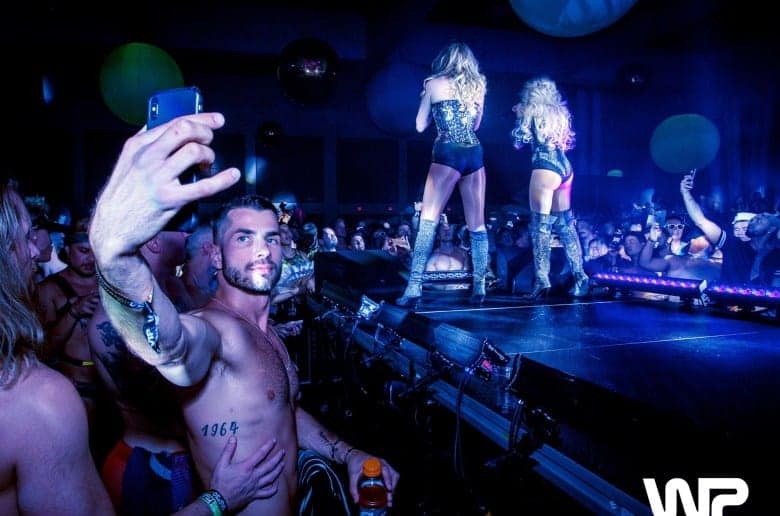 What to Expect at the White Party?
The White Party is the longest running circuit party in the US and it started in 1989 in Palm Springs at the Marquis Villas Resort (now the Hard Rock Hotel). For more than 30 years, the event has grown a loyal following and they've perfected the musical and dance performances. They also host daytime pool parties, underwear parties and of course the classic white party where attendees dress up in only white, albeit with a little clothing as possible.
The White Party is a nonstop party for four days giving you a break from the day-to-day grind back home. The long weekend now attracts 30,000 attendees to Palm Springs, which is huge considering how small Palm Springs actually is. Most people attend White Party with a group of friends or significant other. While not as common, some solo travelers even attend the event. Whether you go alone or with friends, it's easy to meet people, particularly with the plethora of gay dating apps and sites available, from Grindr to Scuff or Gaytryst to Hornet.
Ticket prices depend on the event and typically range from $50 to $150. Rates are reduced if you buy your tickets in advance. You can also buy an all access pass to attend all the events starting around $400. View website →
What's the Schedule?
The schedule can vary a bit from year to year, but one not-to-miss attraction is the daytime pool parties. The weather is warm in Palm Springs in April so there's nothing better than enjoying some sun, great music and DJ's while dancing on the decks of a great pool venue. White Party typically hosts a pool party on Friday, so you can cool down and settle in. From there, you can head over to the Palm Springs Convention Center for the Friday night opening party. Saturday starts off with another pool party and then the main Saturday party kicks off at night. On Sunday they host a daytime tea dance which takes place outdoors in the afternoon, followed by the closing party starting that night. Are you exhausted yet?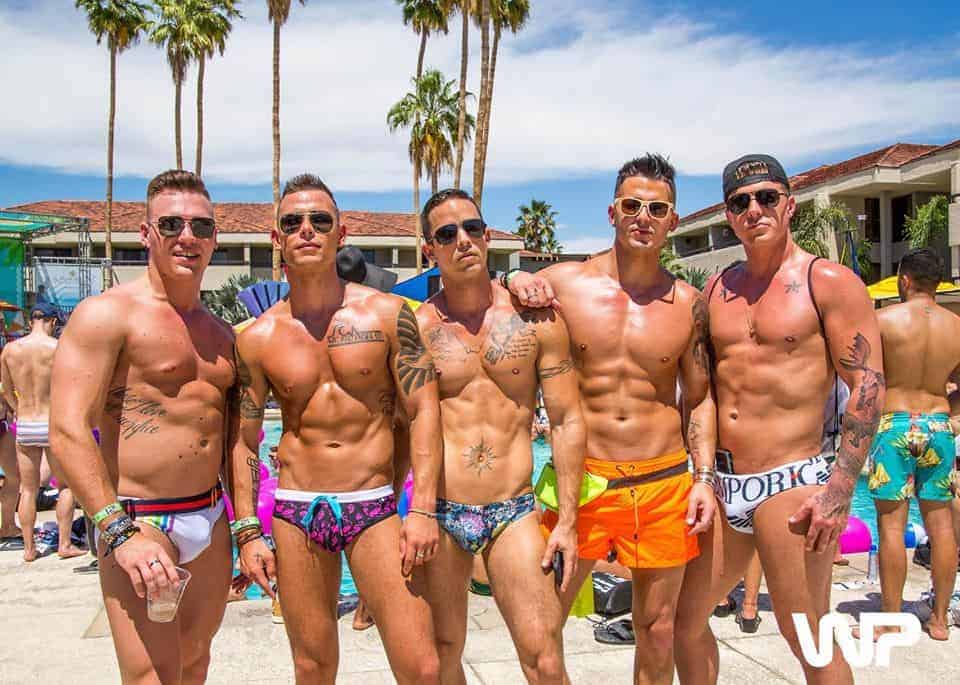 Where to Stay?
Finding a place to stay in Palm Springs during White Party can be a challenge if you wait till the last minute. With 30,000 attendees the city fills up quickly. Palm Springs is considered one of the most gay-friendly places in the US so any place you go will be welcoming. Palm Springs is also famous for its clothing optional resorts, but they tend to be small, so you'll need to book them well in advance if you want to get a spot. For mainstream places, check out Riviera Palm Springs or Ace Hotel and Swim Club. Popular clothing option, gay hotels in Palm Springs include InnDulge, Santiago Resort, All Worlds Resorts, Canyon Club Hotel and La Dolce Vida Resort & Spa. As for restaurants, there are lots of great places that we recommend in Palm Springs. For a complete list of restaurants, hotels, sightseeing and more, check out our gay guide to Palm Springs.
You can also try the booking site misterb&b with listings from gay hosts where you can either rent a whole apartment or a private room in a shared apartment. Understanding Palm Springs' gay scene is much more easily done with the help of a local and apartment sharing is one of the best ways to meet someone living in the city who knows how things work, where and when are the best nights to go out, and what places to eat at and which to avoid. View our Palm Springs gay travel guide →
Photo credits: White Party Palm Springs