From Miami, Key West is a scenic 3.5-hour drive down Florida's Overseas Highway (US 1). Upon arriving in the Conch Republic, you'll find a laid-back, eclectic and alternative community that has been a safe haven for LGBT travelers, artists and free thinkers since the early 1970's. One of the first global gay travel destinations, this small island is a place were gay locals and visitors feel at home among the majestic palm trees, turquoise waters, breathtaking sunsets and rainbow flags.
After the nightly Sunset Celebration at Mallory Square, make way to the parties on Duval Street at gay hangouts like 801 Bourbon Street for drag shows or Bourbon Street Pub for dancing. Besides a few other destinations in the US like Palm Springs, Provincetown and Fort Lauderdale, Key West is among these top cities with the most gay and clothing options resorts in the country.
With its tropical climate, you can expect year-round warm weather making it an ideal destination for sun, sea, sand and sex any time of year. However, the high season is from December to March when many escape the cold, winter weather up north. Join the flocks of gays for annual celebrations and events like New Year's Eve, Key West Pride in June, Tropical Heat in August and Women Fest over Labor Day Weekend.
No matter when you visit, you'll want to stay close to the action and there are plenty of hotels, resorts and cute beach houses to choose from. But for those who specifically want a gay property and perhaps even a clothing optional resort, we narrowed down the list to our top 5 gay hotels and resorts in Key West.
Why Stay at a Gay Resort in Key West?
The concept of LGBT-specific travel started in the '70s and was pioneered by Hans Ebensten, who began taking gay men on tours rafting through the Grand Canyon as well as to Carnival in Rio de Janeiro. As LGBT people became more visible and acceptance shifted, several more companies began creating trips specifically for the LGBT community. The concept of a gay hotel or men's gay resort was also created around the same time in Key West, Florida. Small gay resort towns also became popular in the '80s and '90s in places like Palm Springs, Fort Lauderdale and Provincetown.
If you've never stayed at a gay resort but you're thinking about booking one, you should definitely consider some of these benefits below.
Easy to meet new people – most gay resorts offer social activities where you can meet other travelers. This is common in many of the gay resorts in Key West. Most properties host a complimentary evening happy hour offering beer, cocktails and snacks. You can spend the afternoon meeting other guests and easily connect with other guys during your visit.
Location – you'll find that most all gay guest houses in Key West are well located within or near the gay area of Duval Street between Angela and Petronia Streets. This where you'll spot rainbow crosswalks and can easily visit the most popular gay bars and nightlife.
Parties and events – some gay resorts in Key West host events or other parties and social gatherings at their properties. These activities might be offered to just guests or in some cases even to the local LGBT+ community.
Be yourself – probably one of the most attractive parts about a gay guest house is the comfort zone. The entire place is full of LGBT+ guests and the staff has been extensively trained to provide you with a welcoming and gay-friendly experience. It's a very open environment and one where you can relax and be yourself.
Clothing Optional – nearly all the gay resorts in Key West are clothing optional. This means that many of the guests will swim and sunbathe nude. Many gay men enjoy the freedom and exhibitionism that comes with nudism and gay resorts are the perfect place to enjoy it in a private setting.
Clothing Optional Gay Hotels and Resorts in Key West
Island House Key West – Luxury Playground in Paradise
A gay guest house since 1974, the current owners purchased the property in 1999 and completely renovated the complex. Now it's an award-winning clothing-optional resort for gay men and one of the most popular in Key West. There is a wide variety of well-appointed guest rooms, suites and apartments that are perfect whether you are traveling solo or with a group. All rooms are private and have a clothes-hanging rack, luggage storage, small bureau, USB alarm clock, electronic safe, ice bucket and small refrigerator. Some rooms have a shared bath while others are private. The property is a 4-star resort and offers great amenities and services like a large poolside café and bar and they regularly host social events onsite. The hotel offers a 24-hour gym with sauna, steam room and multiple Jacuzzis. Island House has won a variety of awards from BOYZ and Out Traveler magazines, as well as top recognition from TripAdvisor.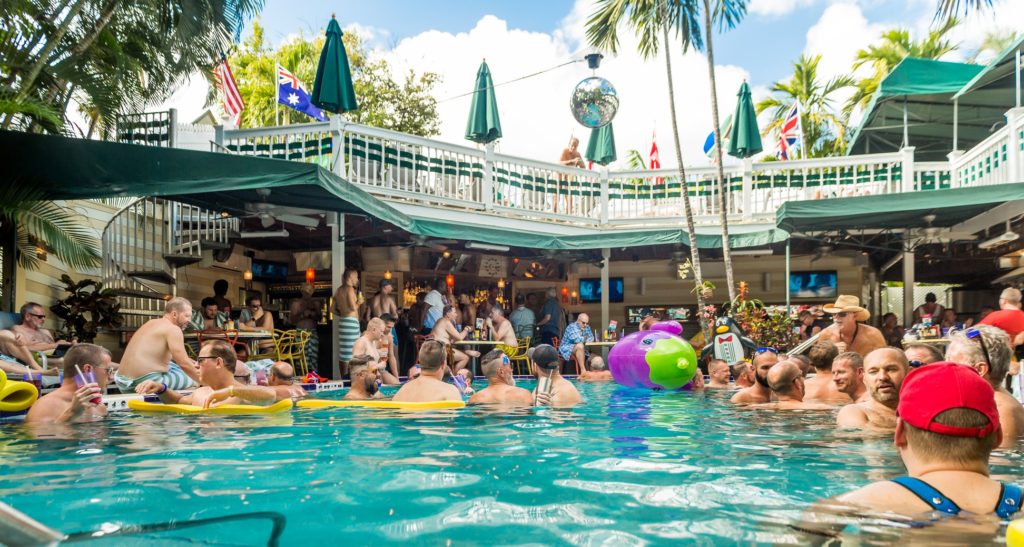 Alexander's Guest House – Island Oasis Boasting Tropical Elegance
Located on a quiet neighborhood street in the heart of Key West's Old Town, this beautifully and thoughtfully restored Key West Conch house was built in 1902 and is proudly gay-owned and operated. The elegant yet modern and comfortable suites and guest rooms feel like a home away from home and feature a private bath, air conditioning, flat screen TV, mini-fridge and modern amenities. The grounds are a stunning oasis of tranquility featuring a pool and jacuzzi, sun loungers, clothing-optional sun decks, delicious breakfast and a friendly happy hour with complimentary cocktails. When it's time to head out for dinner and a night out on the town, you're just a minute from Duval Street and all the action.
New Orleans House – No-frills Guest House on Duval Street
This is the only gay, all-male guesthouse on Duval Street. You literally couldn't be any closer to the Old Town party scene. In fact, it's in the same complex as the popular Bourbon Street Pub, Key West's original and only video bar featuring the Men of Bourbon nightly, live DJs and shows, 5 bars and male-only clothing-optional garden bar with pool and jacuzzi. Guests are granted complimentary access to the Bourbon Street Pub and the drag shows at the 801 Bourbon every night as well as the grand balcony overlooking Duval Street – a prime spot to enjoy a coffee, cocktail, or people watch. Accommodations include a dog-friendly cottage, one-bedroom apartment, and a variety of simple and comfortable guest rooms some of which have small kitchens and balcony access. All rooms have free Wi-Fi, cable TV, air conditioning, a ceiling fan, a refrigerator, a coffee maker and a microwave oven. Amenities include a clothing-optional sundeck, pool, 15-person Jacuzzi, gym, complimentary happy hour every evening and a continental breakfast every morning. Two on-site restaurants, Red Shoe Island Bistro and Pizza Joe's, offer an array of tasty Key West eats and drinks.
Equator Resort – Spa-like Caribbean Getaway
This male-only clothing-optional Key West resort is gay-owned and just 3 blocks from Duval Street. The guest house offers a large, lush and open private setting with two heated pools, two hot tubs, complimentary happy hour, coffee and teas and continental breakfast every day. Five historic properties have been converted to create 34 guest rooms, each with their own unique charm. All rooms are non-smoking (smoking is permitted in any outdoor area or balcony) and include a private bath, flat screen TV with complimentary adult male channels, robes, refrigerator, microwave and iron and ironing board. Some have special features like wet bars, skylights, and whirlpool tubs as well as pool-side rooms, balconies and island views.
misterb&b – A Home Away From Home
If you're looking to live like a gay local when you visit Key West, then you should check out the hundreds of accommodations available on Misterb&b. Founded in 2014, misterb&b is not a hotel chain, but rather an LGBT-oriented booking site with listings from gay hosts for gay guests where you can rent a whole home or apartment or a private room in a shared apartment. They have hosts in more than 200 countries and territories with more than 1 million total listings.
Understanding Key West's gay scene is much more easily done with the help of a local and apartment sharing is one of the best ways to meet someone living in the city who knows how things work, where and when are the best nights to go out, and what places to eat at and which to avoid. Also, an entire home or apartment rental offers additional privacy and convenience providing a relaxing escape from the gay party scene and nightlife.
Special Offer! Sign up with misterb&b  and you will receive a free $10 credit to use on your first booking!

There are many other sites for apartment rentals including Airbnb, Vrbo and Booking.com. All three companies have inclusive policies and support the LGBT+ community. Prices are generally comparable to budget hotels, especially if you're willing to get a room in a shared apartment. Book VRBO →
Featured Image credit: Island House Key West