When travelers-to-be think about their upcoming vacation to Spain, they almost always think of Barcelona – and of course the running of the bulls in Pamplona. Before we began our round the world travels, I was inundated with stories of the allures of Barcelona. For some reason, I never really associated it with Spain though. Perhaps because it's in Catalonia which is a culture of its own apart from Spain. Or perhaps it was because my geographically challenged mind had always thought Barcelona was in Italy. Why? I have no idea. But I always pictured myself traveling from Rome to Venice to Barcelona in a sort of Italian golden triangle route that doesn't exist.
No matter, I had eventually deduced Barcelona's location and was very excited to experience all the glory that I had been informed it would provide. Glory, however, I did not receive. Instead, in it's place I was gifted plenty of disappointment. Was this the Catalan capital's fault or the result of my own unattainably high expectations? Expectations, I'll remind you, that were gathered from the acclaimed reputation that preceded this city.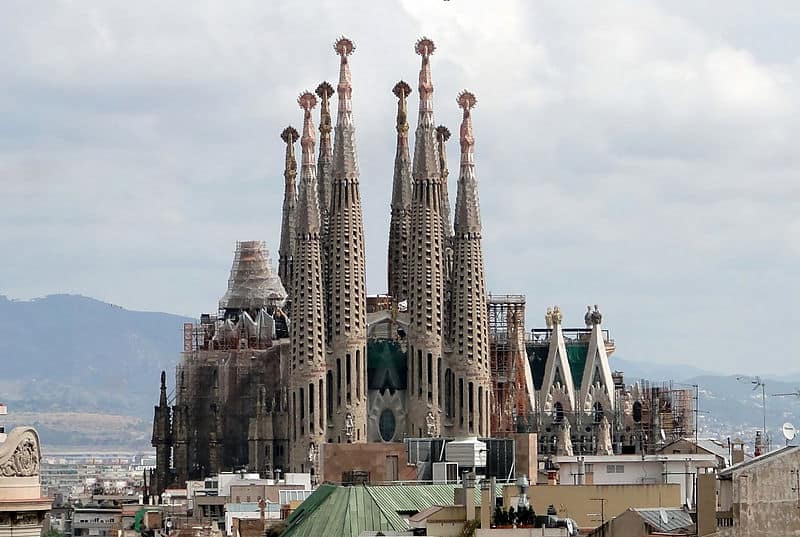 The Crowds
We arrived in Barcelona after a weekend spent in Marrakech, Morocco in July of last summer and the height of the tourism season. This of course was probably our first mistake. Often times traveling during peak season (usually July and August) can be the best time of year because of the longer days, multitude of summer events, and the opportunity to meet people from all over the world. I can assure you, however, that the next time we visit Barcelona in high season, we will be planning ahead and using vouchers for hotel bookings in advance. Why? Well as I mentioned in a previous and brief post about our trip to Barcelona, we had stayed three nights in three different hostels. This was because we had not booked in advance and though we could have stayed at just one hostel or hotel all three nights, the price would have been outrageously out of our budget. So we contented ourselves to checking out and checking in each day to new place. It' blew. Hard.
Astounded by the crowds, at each check in I would ask the receptionist, "What special event is going on in Barcelona this week?" They would look at me with an expression that said, "What isn't going on in Barcelona this time of year?" There really wasn't anything special going on. It was just that the city was alive with attractions and swelling at the fringes with tourists. We really couldn't walk a straight path of more than a couple meters outside our hostel near the Gothic Quarter in Barcelona. Ok, so maybe space wasn't on our side, but we could still enjoy the sights right?
The Architecture
La Sagrada Familia is probably the top most visited sight in the city. It was designed by famed Spanish architect, Antoni Gaudí whose work can be seen throughout pockets of Barcelona. As I stood in front of the still incomplete church with my camera in hand to prepare to snap a typical photo of Auston in front of it, I thought, "What is that monstrosity protruding from the ground like a demon trying to break free from hell?" Ok, that may be an exaggeration, but it gets the point across. I wasn't a fan. Giving the architect a second shot, we also took a look at another one of his buildings, Casa Batlló. This one also appeared to be a rough, unorganized design resembling what I can only describe as a person's bony, fleshless frame. Do note, I have absolutely no background of architecture or art of any kind so clearly I must have been missing something with Gaudí's work. Moving on, we were happy to at least enjoy another attraction of the city, the beaches.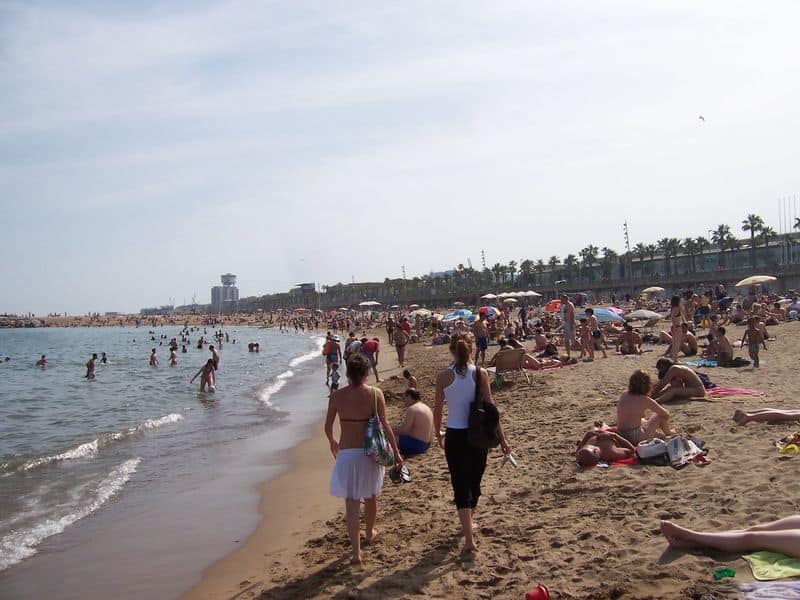 The Beaches
This too proved to be a letdown. They were over crowded which was no surprise really – after all, we were changing hostels daily and were quite aware of the crowds. Though it certainly didn't help that the beaches were narrow and surprisingly steep. At one point along the shore I was certain I could just sit my butt down and slide right into the ocean as if I were at the top of a water slide of a theme park in the summertime. After that the only thing that could save this trip was a cocktail.
The Nightlife
It was time to check out Barcelona's gay nightlife so we did some research online to find bars and then set out, prepared for a late night in Eixample, the gay district. Let me tell you, by the end of the night we were so… bored. We were just terribly bored. Most of the places we set out to were apparently closed and the few that remained open were skeezy at best. To be fair, it was a week night and earlier so than we learned later on that the Spaniards go out. Still, it was summer in Barcelona, shouldn't there have been one spot that could be worth overpaying for our martinis? Apparently not because that night was a bust and so was our visit.
The Do-Over
Well by now you must be wondering if Barcelona is as terrible a place as I've spent seven paragraphs ranting about? I can assure you, absolutely not. But how can I possibly turn this article around from it's brazen anti-Barcelona angle? I guess by wholly admitting that we must return to the city once again! This time with a fresh perspective; one that hasn't been tainted by the repercussions of our under-planning or by our Madrid-snobbish mentality we developed after an incredible first visit to captial during Gay Pride (but really, it was incredible!) Our experiences in travel have taught us that by not over-planning and keeping your itinerary flexible, you can really open yourself up to unexpected and unforgettable experiences – sometimes. When those moments happen, you're glad you didn't plan more than a visit to park nearby. On the other hand, those moments aren't guarantees and when you under-plan, well… you can really screw yourself. I genuinely do look forward to experiencing Barcelona again while we're living in Spain. It's a re-experience that Auston and I both need. This time, it will involve advanced bookings, city guide books, and anything else that will probably amount to over-planning!
[divider_10px]Have you been to Barcelona? What did you think? What can you recommend us to turn our Barcelona frowns upside down? Share with us in the comments![divider_10px]