The WE Party brand is the most well-known producer of gay parties in Madrid. The massive and over-the-top parties attract thousands of people to their monthly events. Each July during pride and December/January for New Years, the WE Party Festival takes place with a week-long of different themed parties in various locations and venues. Madrid is well known for its party scene year-round and it has some of the best gay, straight, and mixed clubs of any metropolitan city.
About WE Party
WE Party started in Madrid in 2009 and ever since has grown steadily to become one of the most popular and well-known circuit parties in the world. They hold more than 70 annual parties around the globe. In addition to the monthly parties in Madrid, and two festivals (pride and New Year's), they do an international tour in more than 30 cities each year. WE Party collaborates with some of the biggest and most well-known circuit parties during the festivals. Each party is themed, and many are hosted by big names like XLSIOR, Forever Tel Aviv, Beyond, Macho, Masterbeat, The Week, PAPA Party and more.
Why Attend WE Party Festival?
The music – the organizers of the WE Pride and New Year's Festival bring in some of the best DJ's around including famous names like DJ Aron, DJ Suri, Ana Paula, Bionomio, DJ Luiggi, Micky Friedmann and more.
The shows – one of the big draws of the WE Festival are the nightly shows during the parties. The performances are very professionally done with some of the sexiest dancers around. The lighting, music and dance come together several times each night with a show that wows and pumps up the crowd.
The city – Madrid is a vibrant city that doesn't sleep and it's not uncommon to see last nights' partiers walking home at 8am in the morning. We'd argue it's perhaps the gayest capital city in Europe, or at least contending with Berlin and London. Chueca is the center of the LGBT+ community in Madrid where you'll find the highest concentration of gay bars and night clubs. Besides the nightlife, there is so much to see and do in Madrid. It's relatively inexpensive compared to other cities in Europe and it has a great foodie scene. After a night of partying, you can sleep in and later go on an afternoon food tour before the next party. Devour Madrid is our favorite. Book tour →
The venues – Madrid is well-known for its party scene year-round. Clubs like Fabrik, Joy, Sala Cool, Sala Bash, Sala But and La Riviera have regular parties throughout the year. Fabrik hosts several parties during both WE New Year's and Pride Festival. It has a capacity of 4,000 people and is Spain's largest dance venue. Though it's located on the outskirts of Madrid, it features large-scale lighting rigs, ice machines, laser shows and six video projection screens. In addition to the huge indoor space, Fabrik also features an outdoor terrace with its own river, where they host the Sandia pool party during Madrid Pride.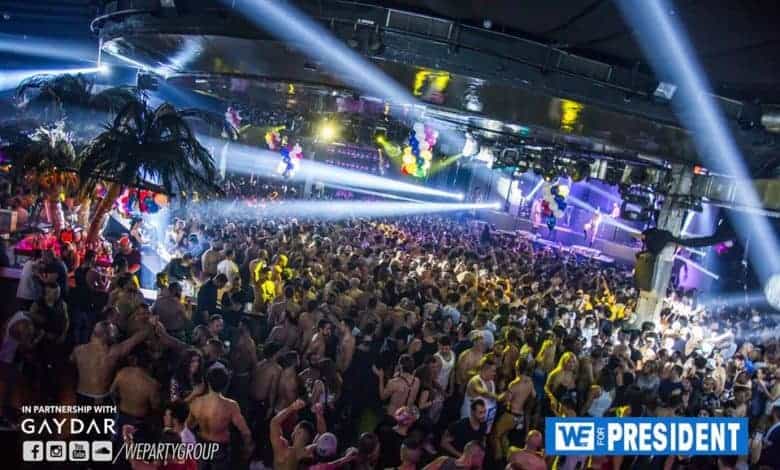 What to Expect from WE Party Festival?
WE Pride Festival
WE Pride Festival is held each summer during Madrid Gay Pride and it's an unforgettable experience with thousands of WE Party fans who came to Madrid from all over the world to celebrate pride, the events and parties. Without a doubt, our favorite party of the year is the WE Sandia pool party which takes place on Friday afternoon of pride weekend. After the pride parade on Saturday afternoon, the main party is hosted at either Fabrik or another large venue outside the city. The parties during WE Pride Festival generally start on Wednesday night and go through Sunday night. View website →
WE New Year's Festival
The WE New Year's Festival generally starts on December 28th or 29th. They typically have two to three parties leading up to New Year, the main party on January 1st and then one or two parties afterward depending on when the weekend falls. View website →
Monthly Parties
WE Party also hosts monthly parties in Madrid typically hosted at La Riveria, a huge club located near the center and next to the Madrid river. Entrance to the parties is usually around 25€, which includes a drink. The party typically gets busy sometime after 2am. These parties usually attract a local crowd. View website →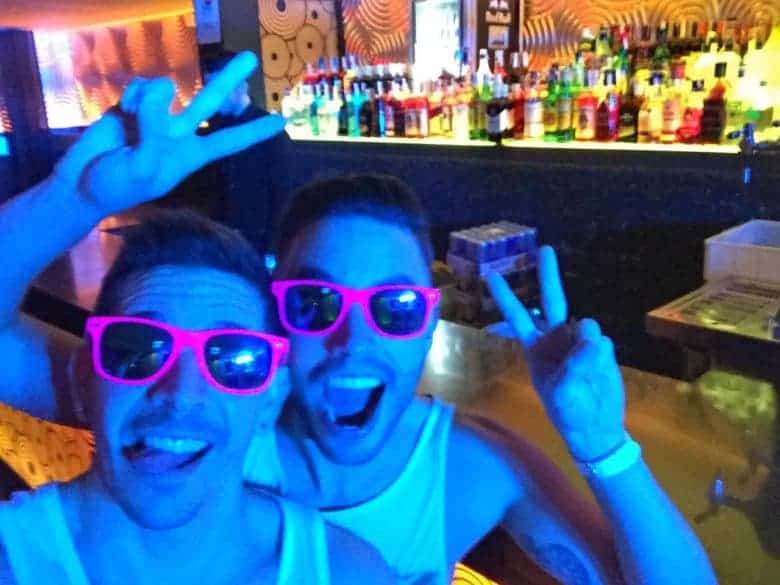 Price – entrance generally starts at 20-25€ for monthly parties and the less popular events during WE Pride and New Year's Festival. Ticket prices for popular events like Sandia pool party range from 35-45€ depending on when and where you buy your ticket. The most expensive parties are the main parties for pride and New Year's which will cost a min of 50-60€. For the Festivals, you can also buy an all-access bracelet, which allows entry into all the parties. They usually cost 160€ or more. WE Party events are about half the price of big circuit festivals in North America, so it's a nice draw if you're visiting from a more expensive country.
Size – monthly parties and less popular events during the festivals might draw a crowd of 1,000 people. The most popular events during pride and New Year's will see up to 3,000 to 4,000 people.
The crowd – for pride and New Year's, the parties will attract both foreigners and locals alike. People come from all over the world including Europe, North America, South America and Asia. Monthly parties generally attract a local crowd only.
Location – most parties are held in the center of Madrid, however, the most popular parties during the WE Pride and New Year's Festival are often held in Fabrik or another venue located far from the center. Getting to these venues from central Madrid is definitely inconvenient, but it's typically necessary because Madrid does not have large enough venues in the city center. For parties located out of the center, WE Party typically organizes buses from Plaza España, which can be purchased for about 10€ round trip. The best place to get information on buses is their Facebook page.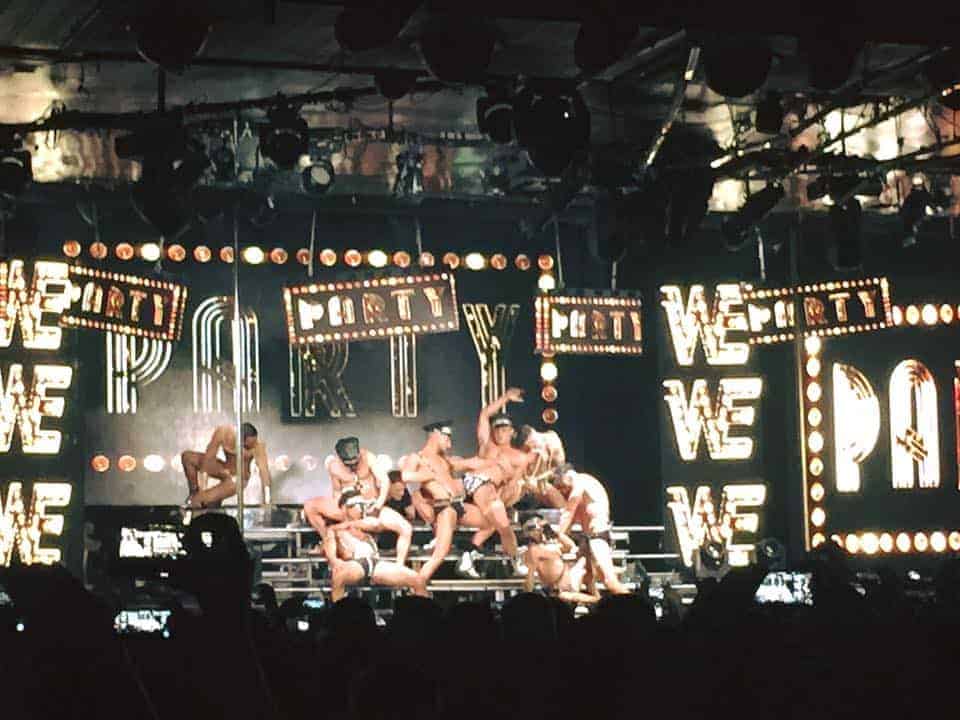 WE Party Review and Video
We happen to live in Madrid, so we've attended just about every event during Madrid Gay Pride and New Year's at some point. We always have a great time at the parties, though some events can get so popular that the crowd can be bothersome, but this is true for any large circuit party.
Madrid Gay Pride is our favorite event of the year and we wouldn't miss attending the annual WE Pride Festival with a lineup of great events to celebrate Europe's largest pride. Our top recommendation is attending the daytime Sandia pool party on Friday afternoon during Madrid Pride. The outdoor venue at Fabrik is great and the atmosphere is amazing. The daytime party ends around 11pm, but you can stay for the night party which goes until 6am. We don't typically stay for the night party so we can be well-rested for the pride parade the next day.
For New Year's, the main party on January 1st is always the most popular and expensive. However, there's not much difference between that one and any of the other parties during the week.
Popular Gay Hotels in Madrid
If you're visiting Madrid, you'll need to find a place to stay. The main gay hotel in Madrid is Axel Hotel and rooms go quickly. If you are visiting Madrid for New Year's or pride, you'll need to book your room way in advance to ensure availability. Other popular gay favorites in or near Chueca are Oscar Hotel, Only You, Hostal Puerta del Sol, Hostal Pizarro and Hotel Indigo. Many of these properties are small and book quickly when in high demand.
You can also try the booking site misterb&b with listings from gay hosts where you can either rent a whole apartment or a private room in a shared apartment. Understanding Madrid's gay scene is much more easily done with the help of a local and apartment sharing is one of the best ways to meet someone living in the city who knows how things work, where and when are the best nights to go out, and what places to eat at and which to avoid. View our Madrid gay travel guide →
Interested in attending another circuit party?
Check out our list of the top 10 gay circuit parties in the world. This list of gay parties includes the most popular and large-scale international parties. Many of these are world-renowned and people travel from around the globe to attend the event and visit the destination city. We personally love traveling and visiting a city during major events so it's worth consider attending one of these and planning a trip around your visit.