Album cover art remains a crucial element in capturing the essence of an artist's work. It serves as the visual gateway to the sonic journey that lies within, making a powerful first impression on potential listeners. Musicians often find themselves at a crossroads when it comes to creating album covers that resonate with their music while also aligning with contemporary design sensibilities. 
The Power of Visuals in Music
Album cover art is much more than a mere visual accompaniment to music; it's an integral part of the storytelling process. In a world flooded with music, your album cover is your chance to stand out, convey the mood of your music, and engage potential fans. As a musician, you should strive to create album covers that not only represent your music accurately but also leave a lasting impression on your audience.
If you want to design your own cover art but don't know where to start, the innovative Vista Create tool allows you to create an album cover and simplifies the design process. With a user-friendly interface and a vast library of templates, graphics, and fonts, Vista Create empowers musicians to create stunning, professional-looking album covers that align with current design trends. 
Minimalism Reigns Supreme
In the world of album cover art, less is often more. Minimalism has emerged as a prominent trend, with many artists opting for clean, uncluttered designs that focus on a single central element. Here are some examples:
The xx – "xx" (2009)

Daft Punk – "Random Access Memories" (2013)

Kendrick Lamar – "DAMN." (2017)

Bon Iver – "Bon Iver, Bon Iver" (2011)

Tame Impala – "Currents" (2015)

Arctic Monkeys – "AM" (2013)
This approach allows for a strong visual impact and clear communication of the album's essence. Whether it's a bold typographic treatment, a simple yet powerful image, or a combination of both, minimalism is a timeless choice that appeals to a wide range of music genres.
Vintage Vibes and Nostalgia
Nostalgia has a remarkable ability to transport people back in time, and album cover art is no exception to this trend. Many musicians are embracing vintage aesthetics, drawing inspiration from designs of the past. Get inspired by the aesthetics of past decades:
Fleetwood Mac – "Rumours" (1977)

Pink Floyd – "The Dark Side of the Moon" (1973)

The Rolling Stones – "Sticky Fingers" (1971)

Led Zeppelin – "Physical Graffiti" (1975)

The Doors – "Morrison Hotel" (1970)
Whether it's the warm, analog look of the '70s or the pixelated nostalgia of '90s video game graphics, infusing a touch of retro charm into your album cover can create a sense of familiarity and nostalgia that resonates with audiences.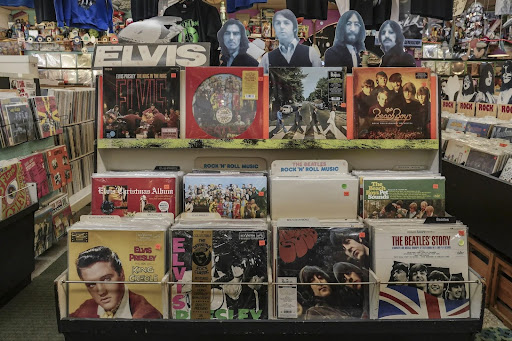 Handcrafted and Illustrated Designs
In a digital age dominated by pixel-perfect graphics, there's a growing appreciation for handcrafted and illustrated album covers. These designs offer a unique and personal touch, reflecting the artist's individuality and creativity. Hand-drawn illustrations, watercolor paintings, and other artisanal techniques can add a sense of authenticity to your album cover, making it feel more personal and human.
Abstract and Surreal Art
For musicians exploring experimental and avant-garde genres, abstract and surreal album cover art can be an effective way to pique curiosity. These designs often defy conventional expectations, challenging viewers to interpret and engage with the artwork in a deeper way. Here are some visually captivating and thought-provoking designs:
Pink Floyd – "Wish You Were Here" (1975)

Radiohead – "Kid A" (2000)

The Mars Volta – "Frances the Mute" (2005)

Tame Impala – "Lonerism" (2012)

Björk – "Homogenic" (1997)

Muse – "Absolution" (2003)
Abstract and surreal art can be highly effective in conveying the unconventional nature of the music within, creating intrigue and anticipation.
Collage and Mixed Media
Collage-style album covers are gaining popularity due to their ability to create visually striking and eclectic compositions. Combining elements from various sources, such as photographs, illustrations, and textures, can result in a cover that is rich in symbolism and depth. Some examples for your inspiration:
The Beatles – "Sgt. Pepper's Lonely Hearts Club Band" (1967)

Sufjan Stevens – "Illinois" (2005)

Gorillaz – "Demon Days" (2005)
Collage and mixed media designs offer ample room for experimentation, allowing musicians to create visually captivating stories.
Final Words
Staying attuned to the latest trends is essential for musicians looking to create impactful visuals for their music. By combining the right design elements with your unique musical identity, you can create album covers that not only capture attention but also resonate deeply with your audience.
Featured image credits: Unsplash