We've got a few travel tricks up our sleeve, or we should say in our bag. This is the big reveal of some not-so-secret gear that we wouldn't dare leave home without. These 7 items made our list because they add comfort, convenience and a little peace of mind to put the focus of travel back on the journey and allow us to remain committed to packing light. And without further ado, here they are…
Backpack from Arcido
Naturally, let's start with our luggage itself since we need something to actually pack in. For the past few years, our favorite luggage has been the compact and sleek backpacks from Arcido. Who likes paying checked-luggage fees, waiting at the baggage claim and then realizing you need to go up flights of steps with your wheeled luggage? No one and neither do we! An alternative to cumbersome, uniformed black luggage, Arcido bags are true to their philosophy of smart travel gear. Functional, stylish and ready for any destination, this is one of our new favorites.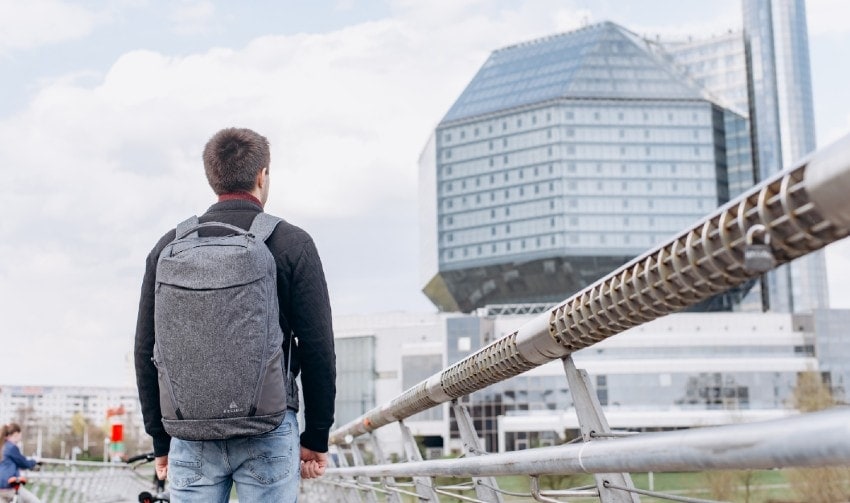 Mophie Portable Charger
After hours of being in flight or simply away from a power outlet, your mobile phone, tablet and other devices are dying. We rely on Mophie portable chargers to keep us up and running. Mophie allows you to power up any USB device and is available in a variety of sizes. So if you need a quick charge during your evening commute or to power through a full day of sightseeing, you will find the perfect power solution.
Mobile Wifi with Skyroam
Travel Smart with unlimited global WiFi at your fingertips. With Skyroam you get unlimited WiFi for just 7€ a day, no matter where you go. The connection can be shared among 5 devices, including family and friends. With global coverage in more than 100+ countries, no roaming charges and no SIM card changes, this portable WiFi device is a must-have when traveling aboard.
Special Offer: use our special code TWOBADTOURISTS when booking Skyroam online and you'll save 10% on your purchase. Click here to learn more.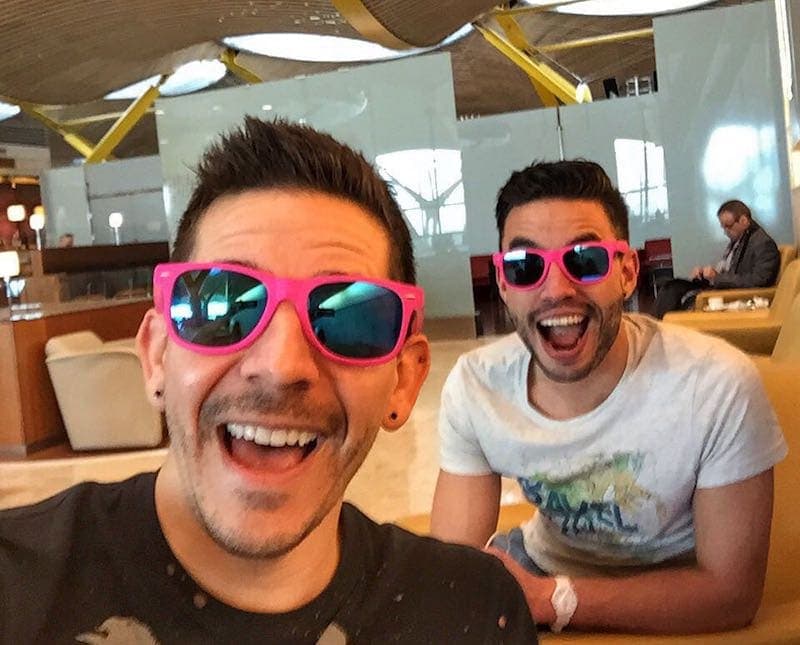 Priority Pass Lounge Access
Now that you have all that extra time saved from waiting in checked luggage lines, stop by the airport lounge to enjoy a cocktail, food and even a shower thanks to your Priority Pass. As frequent travelers, the pass quickly pays for itself providing access to 1,300 airport lounges around the world regardless of your airline. Additionally, several pass type are available to meet your travel needs.
Travel Insurance
If you're looking for peace of mind from travel delays, cancellations, theft or medical care, we personally use and recommend HeyMondo. It's simple to buy with plans starting at just $50. The plan duration ranges from 1 week to one year and you can always renew your policy on the road if you're a long-term traveler. Though it's worth pointing out that all insurance companies are usually strict with paying claims and it's common to get your claim denied. If you want the most out of travel insurance, be sure to keep good records of all your purchases and expenses so you have the best chance at getting your claim approved and paid.
Jambox Portable Speaker
Move beyond headphones with this awesome Bluetooth mini speaker! We've traveled the world with a portable speaker for years and this is our favorite – it's lightweight, compact and perfect to play your music out loud with great quality considering its small size.
Bonus!
We obviously don't travel anywhere without our token pink glasses. The truth is we've probably gone through about 17 different versions, which is why we don't spend more than $10 on any pair. Yes, our secret is out – these are NOT designer glasses…we're Bad Tourists, remember?!
What top items are in your travel bag? Let us know in the comments below.
Note: Some of these links are affiliates which means using them won't cost you any extra but we do receive a small commission for each referral. You're not obligated to use them but we appreciate it if you do. Thanks in advance for supporting this site if you choose to use our link!