El Calafate is a small town located in Patagonia within the most southern region of Argentina. Given its location, it's not exactly the type of place you go for a last-minute weekend trip. A flight to Argentina from the US will take you at least 8 to 10 hours or more and going all the way south to El Calafate requires a layover in Buenos Aires and another 3-hour flight with Aergolineas Argentinas. The airport is tiny and modern, but the main draw is the scenery as this airport easily has the most scenic view I've ever encountered from the runway. The airport is on the banks of Lake Argentino, a glacier-fed lake with stunning mountains surrounding its edge.
El Calafate is a tourist town with a local population of just 22,000 people. I arrived with my tour group at the Xelena Hotel & Suites to find spacious and comfortable rooms right on the edge of the lake. With floor to ceiling windows, I couldn't help but just stare off into the distance to admire the view.  As the clock struck 6pm I witnessed what was easily the most beautiful sunset I have ever seen as every color of the rainbow came out across the lake, sky and mountains over the massive lake. It's one of those phenomena that I tried to capture on camera but no photographic shot can compare with what I witnessed with my own eyes.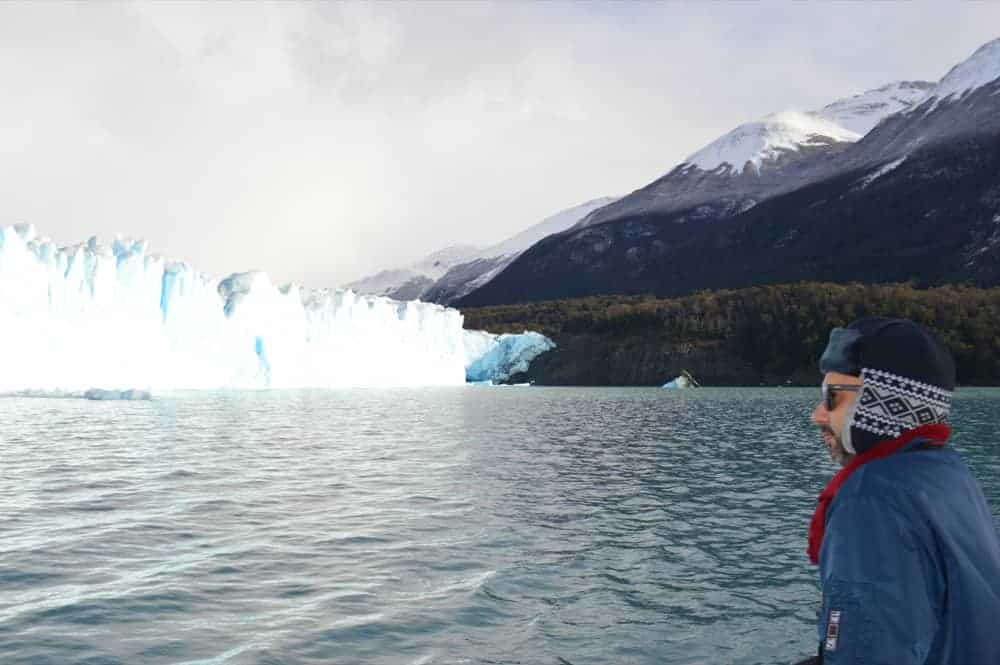 Restaurants in El Calafate
On our first night in El Calafate, we went to dinner at Hummus Restaurant, located at the Posada Los Alamos Hotel. Our three nights in El Calafate were certainly not lacking in wine and our first dinner introduced us to some fantastic Argentine reds, which of course included Malbec and an amazing pinot noir. After some tasty appetizers, my main course was served – a massive piece of cordero (Spanish for lamb) atop a pile of mashed potatoes. It was slow roasted, tender and delicious. While Argentina is famous for beef, the region of Patagonia in Southern Argentina is also well known for lamb.
The second night we tried Casimiro Restaurant and had amazing food, fantastic wines and great service. The friendly staff and obviously gay waiter made for an enjoyable experience and we left the restaurant sampling some of the best Argentine beef, lamb, empanadas and wines from around the country. We returned to the hotel that night but not before ordering a round of delicious gin-tonics made from top quality Argentine gin topped with locally produced tonic. A simple, yet tasty cocktail thanks to the hotel bartender who loved fashioning cocktails for our group of rambunctious and thirsty gay travelers.
We also stopped by the Alta Calafate Hotel, another beautiful property in town, which is coincidentally owned in part by the president of Argentina. Complete with a bar, restaurant, gym and several pools, it's another great luxurious option. Our final meal in town was at La Tablita Restaurant, a place well known for traditional Argentine barbecue. The entrée for that evening was a massive platter of meats grilled to perfection including chicken, lamb and of course some of the finest Argentine beef, which paired amazingly with another crisp glass of pinot noir.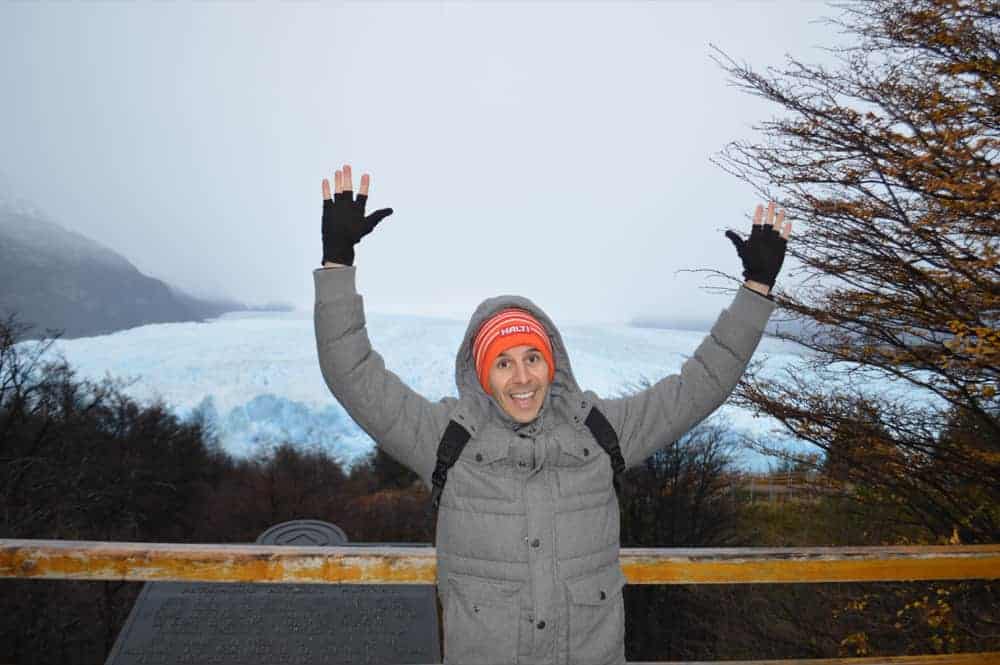 Perito Moreno Glacier
Our first activity was making a day trip to visit the Perito Moreno Glacier located 48 miles from El Calafate in Los Glaciares National Park. The drive started barren and dry but the landscape slowly changed into dense forest as we made our way into the park to explore the massive ice sheet reaching 200 ft high and 3 miles long. The Perito Moreno Glacier is not Argentina's biggest glacier but it is one of the most beautiful and majestic. We spent an hour walking along the catwalk at the southern face of the glacier, one of the most extraordinary natural sites I've ever seen. Our guide told us that the glacier calves and breaks off at least once a day and there was a good chance we might even see it. As it turned out, about half way into our visit, what sounded like a massive boom of thunder was in fact a giant sheet of ice breaking off from the glacier face and crashing down some 100 ft below into the water. Book tour →
After exploring the southern side, we drove down to the water to board a boat to get up close and personal with the northern face. The boat came about as close as possible to the towering face of the glacier and the views from below were remarkable. After exploring the glacier all morning and early afternoon, we finally headed back into town for a quick rest before heading out to dinner at my favorite restaurant on the trip. Book tour →
Calafate Mountain Park
My visit to El Calafate was in June, which is the middle of winter in Argentina. The weather in El Calafate itself was chilly but manageable, but I wasn't prepared for the subzero temperatures and loads of snow that we had in store for us later that day. I packed a fairly warm jacket, but you'll want to get yourself a good Patagonia down jacket or similar to stay warm. After a hardy breakfast, we took a bus transfer up the road to board what can only be described as a massive off-road bus capable of climbing the snow-covered Mount Huyliche, just on the edge of El Calafate. The bus carried about 30 people to the top of the 3,440 ft mountain making several stops along the way so we could admire the viewpoints while the drivers added chains to the tires making sure we could climb the last few hundred feet of the snow-covered road. As we reached the top, we found a lodge and a huge space for snow activities including skiing, tubing and snowmobiling. Sadly, our timing was poor as the snow activities at Calafate Mountain Park weren't prepared to open until the following week. But even so, we made a stop at the lodge for lunch to enjoy a simple, yet savory steak sandwich and a couple of glasses of wine yet again before making our way down the mountain. Book tour →
El Calafate certainly didn't disappoint, and it truly lived up to all the hype I've always heard about Patagonia. Sure, it's a place that takes a little extra time to plan and visit, but the journey is worth the effort. You'll see unimaginable landscapes of desert and forest, stunning sunsets over Lake Argentino and experience one of the most beautiful natural wonders as you gaze upon the vast glacier at the national park. Visiting Patagonia is a life-changing experience and El Calafate is perfectly situated to ease you into the wonder of Southern Argentina.