Going on a gay sailing trip is one of the most enjoyable and relaxing vacations you can take. The destination options range from the Mediterranean and Caribbean to the Panama Canal or even Tahiti. On a gay sailing trip, the entire boat is full of LGBT+ guests and all staff has been extensively trained to provide you with a welcoming and gay-friendly experience. It's a very open environment and one where you can relax both mentally and physically. The environment is friendly with a great social atmosphere. And depending on the size of the boat, there might even be entertainment included onboard.
There are a number of companies that offer gay sailing trips in different destinations around the world. It's important to note that the experience on a small sailing boat of around 10-20 people is quite a different experience than a gay cruise which would normally take place on a larger ship with hundreds or thousands of people. A sailing trip is more intimate, relaxing and casual than a gay cruise. However, larger sailing ships holding between 50 to 250 guests might feel a bit more like a small gay cruise. 
What Can You Expect on a Gay Sailing Trip?
By joining a gay sailing trip you can enjoy a port hopping vacation around beautiful coastlines with gay guests from around the world. You'll stop at the best gay-friendly locations in the area for you to explore, as well as have the opportunity to relax on great beaches for an afternoon dip. You will generally sail several hours each morning or early afternoon and then arrive in port with enough time to explore the port town or city, relax on your private yacht or sailing ship or find a nice cocktail sunset bar. ​Sailing trips typically last about a week in length and you will have daily swim stops, a selection of beaches, a handful of gay bars and a great selection of restaurants to choose from.
Gay sailing trips generally fall into two categories: small sailing boats (e.g. a private yacht) and medium sized ships. Small boat sailing trips are nothing like gay cruises. In fact, besides being gay and taking place on a boat, they couldn't be more different. You can think of a small boat sailing trip a bit like glamping. All the great elements of being outdoors, enjoying the sun, nature and the sea. But instead of your luxury tent being stuck on the ground, your private yacht takes you to a new destination each day with meals and swim stops along the way. All with the comfort of cozy cabins, onboard bathrooms and showers, plus a professional crew to sail your boat and prepare your meals. 
You can opt for a small boat with a more intimate feel or take one of the medium size ships, which tend to have a wide range of entertainment but are less intimate. Medium size sailing trips feel a bit more like a gay cruise and you might expect 50 to 250 guests onboard. A small gay sailing boat on the other hand typically only has 6-20 guests onboard so it's much easier to meet and connect with other guests. With the smaller boats you also feel the sailing experience—the wind, the sea and the sun—​​much more personally and you have a lot more freedom with your skipper to adjust itineraries or stop for a quick swim. You can literally just jump right off the side of the boat due to its small size. Medium sized ships on the other hand have a more fixed itinerary and you feel less with nature and the sea. The trade off is that the medium size ships have many more amenities like a gym, spa, bar and onboard entertainment. They also tend to be more expensive but offer a more luxurious experience. The experience on a small sailing boat is not 'roughing it' by any means, but the space and shared quarters are smaller and more casual. 
The other determining factor in selecting a gay sailing trip is typically the destination and sailing itinerary. While you can technically sail just about anywhere along the coast or open sea, the sailing experience is most enjoyable in locations which offer warm weather and smooth seas. This tends to limit the destinations to popular sailing routes in places like Greece, Italy, Croatia or the Caribbean. Small ship sailing is a fun experience because you will dock in small port towns that you might not otherwise explore on a traditional land trip. Medium sized ships tend to dock in larger towns or cities but not always. 
While we enjoy small ship sailing and large gay cruises alike, our favorite between the two are the smaller, private yacht experiences. We love being immersed in the sea, enjoying amazing views among the beautiful coastlines and also getting the opportunity to connect with the other guests in the boat. On most sailing trips, the group will enjoy both breakfast and lunch onboard together typically prepared by a host who also assists the skipper while sailing. These meal opportunities just aren't quite the same on the larger ships. However, if you're looking for a bigger ship with great amenities and want a more romantic and private experience with your partner, then a medium size ship might be the best option for you. This is particularly true if you have a larger budget and prefer luxury travel.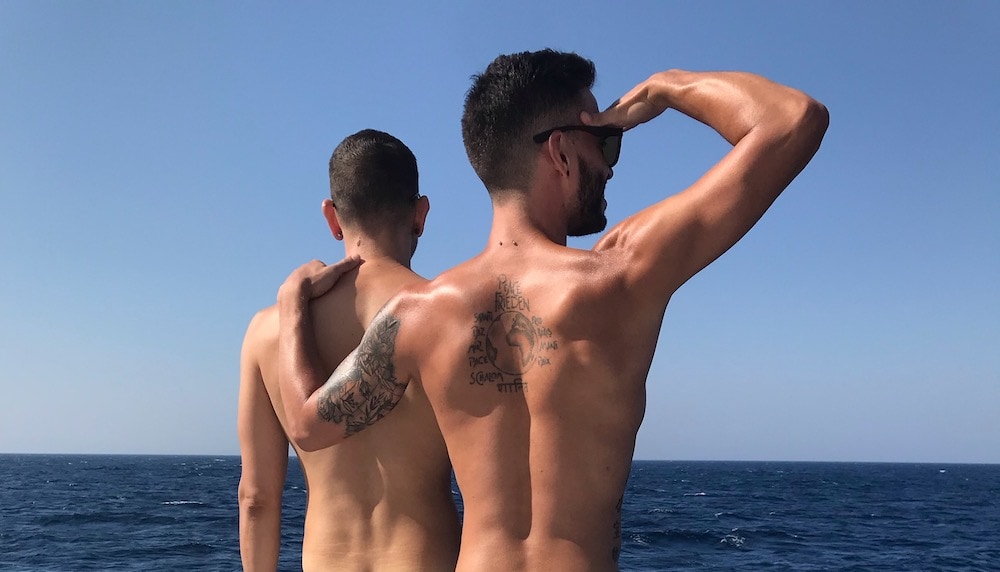 Why Take a Gay Sailing Trip?
There are a lot of great benefits of choosing a sailing trip as a holiday or vacation compared to other types of land trips or travel experiences. Here are a few things to consider when deciding. 
Easy to meet new people – one great aspect of taking a gay sailing trip is that most of the guests are friendly and open to meeting new people. On the small boats you simply can't avoid meeting your travel companions as the experience is so intimate. On the larger sailing ships, there are many activities that help connect guests to give you a better chance at meeting people as well. 
Travel alone – most gay sailing companies offer a cabin match program where they will assign you a roommate, so you don't have to pay for the full price of a two-person room if you're traveling alone.
Be yourself – probably one of the most attractive parts about a gay sailing trip is the comfort zone. The entire boat is full of LGBT+ guests and all crew has been extensively trained to provide you with a welcoming and gay-friendly experience. It's a very open environment and one where you can relax and be yourself without fear of harassment. 
Enjoy nature up close – We love being immersed in the sea, enjoying amazing views along the beautiful coastlines and feeling the wind glide across your body sailing from port to port. This is the feeling you get on a smaller boat and you also experience the sailing first hand as the captain steers the boat right next to you while adjusting ropes and sails to adapt to the wind. On a small boat you can even learn to sail yourself if you want. You also have a lot more freedom with your skipper to make random stops in a cove for a quick drip or to explore a nearby beach. The smaller private yachts literally allow you to jump right off the edge into the sea, an option not typically possible in the medium sized ships which feel more like a small gay cruise. 
Clothing-Optional – many gay sailing trips are considered clothing optional which means that you're welcome to take it all off or leave it all on during your times sailing at sea. Of course, once you pull into port, you'll need to cover up a bit since your port neighbors won't want to see your white bum or man parts hanging about. Generally the clothing optional trips happen only on the smaller sailing boats. 
How to Choose the Best Gay Sailing Trip?
Determining which gay sailing trip to take is completely subjective. People have different preferences, budgets or destinations in mind when it comes to booking a trip. All the companies listed here are highly recommended and have great reviews, but you want to make sure you pick the right trip for your travel style and preferences. Below are a few tips to consider before booking your trip.
Destination – decide if you are going on a gay sailing trip for the ports of call, for the sailing experience in general, or both. Some people might prioritize the destination over the sailing so be sure to check out the route and places you'll visit to help you decide.
Budget – the price of the trip is an obvious factor. You'll need to add the price of flights or transportation into your budget so the location of the departing and arrival port should be part of your planning process. The entry-level price to a gay sailing trip typically starts around $1,500 per person for a week-long trip.
Size – it's important to decide if you prefer a large group or small. Large groups and full ship takeovers offer great parties and header liner entertainment, but some people may want to avoid the crowds and opt for a more intimate experience on a smaller sailing boat. The difference between the two can't be emphasized enough because the experience of a small sailboat with just 8 guests on board is worlds apart from a larger ship with 250 people. 
What's included? – most gay sailing trips come with a crew/staff to sail and serve food and the price usually includes the cabin, some or all meals and onboard entertainment (for larger ships) in the price. However, unless you book an all-inclusive trip with Brand g, these items are typically not included in the price: pre and post hotel stay, land tours and excursions, specialty drinks/alcohol and airport transfers. One of the nice parts about private/small sailboats is they allow you to bring your own alcohol onboard. Simply stop at a shop in port to stock up on wine, beer or spirits which keeps your travel spending down. Medium sized ships with a full bar usually ban bringing alcohol onboard so you may need to factor this into your total trip cost.
---
7 Gay Sailing Trips to Checkout for 2023
We recommend and partner with a handful of different sailing operators who offer amazing experiences and have great reviews. In particular, we partner directly with a Europe-based gay sailing company to host our own sailing trip of Croatia, Italy and Greece listed below. We've been hosting these trips since 2018 and they have become so popular that we've added boats to our fleet and added destinations. They typically have departures weekly from multiple destinations all summer long from June through September. Our other top recommendations below include Everything To Sea and Out Adventures. We've been collaborating with these companies for years and also hear great reviews from guests who book their trips.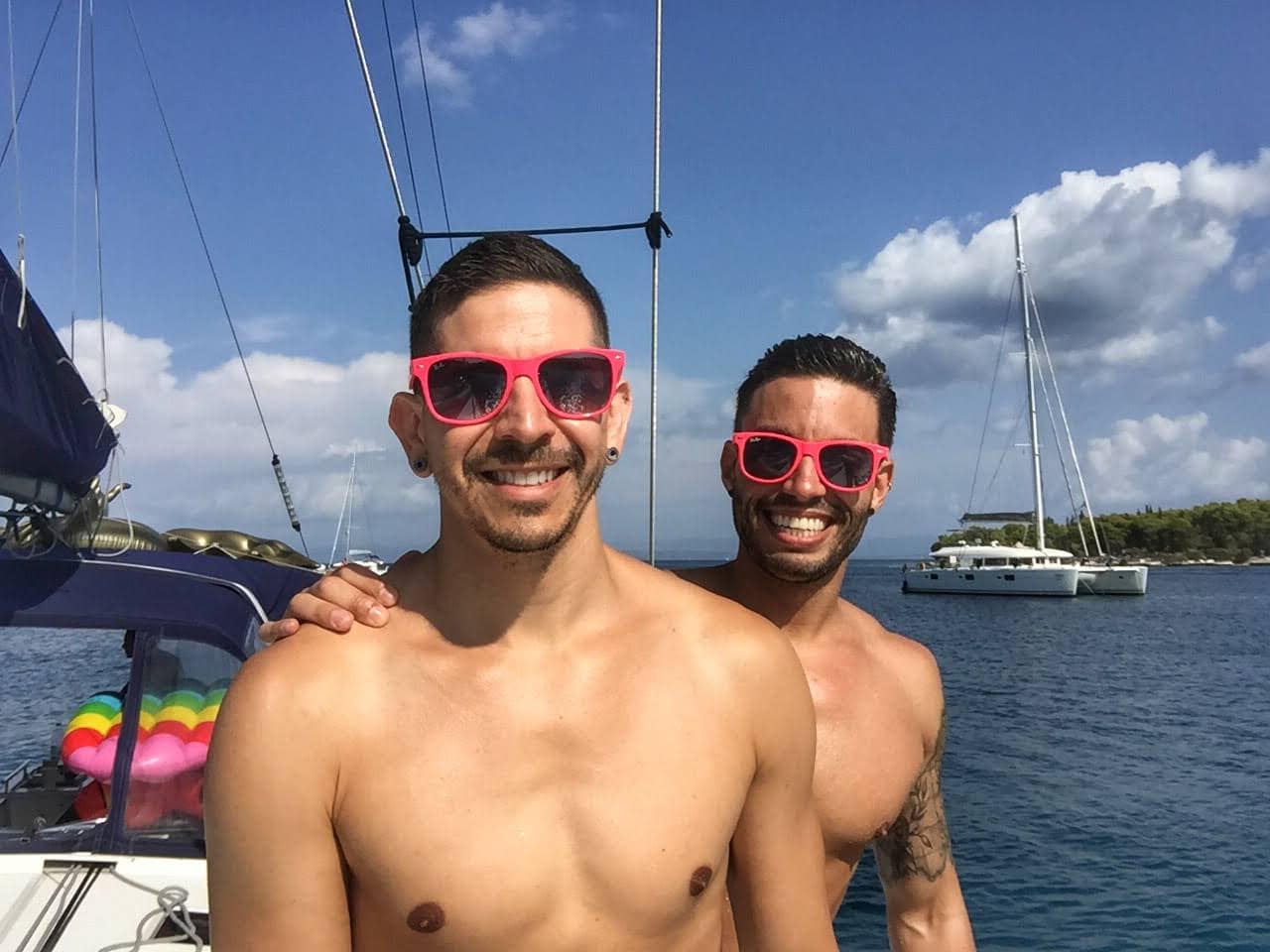 Croatia Gay Sailing
Dates: there are 6 scheduled departure dates in July, August and September 2023
Destination/Route: Split to Dubrovnik, Croatia
Type: Small Boat (8 guests per boat)
Dress code: Clothing-optional 
All aboard for this awesome gay sailing trip with a certified skipper to pilot the boat. You can enjoy an island-hopping vacation around the beautiful Croatian coastline with gay guests from around the world. You´ll stop at the best gay-friendly locations in the area for you to explore, as well as great beaches for an afternoon dip. You will arrive in port with enough time to explore the island, relax on our private yacht or find a nice cocktail sunset bar. The amazing destinations include Dubrovnik, the famous island of Vis, Hvar with its buzzing nightlife and fine dining, plus you'll get the opportunity to party in Split's bars and clubs. Since 2018, we've partnered with a Europe-based gay sailing company and have sailed this exact route several times. In 2023, we won't personally be able to host and join you, but we have no doubt you'll have an amazing week with the team of the gay sailing company. Croatia is the ideal place for sailing with smooth seas, beautiful coastline and fun ports with lots of activities and well-equipped facilities. View Sailing Trip →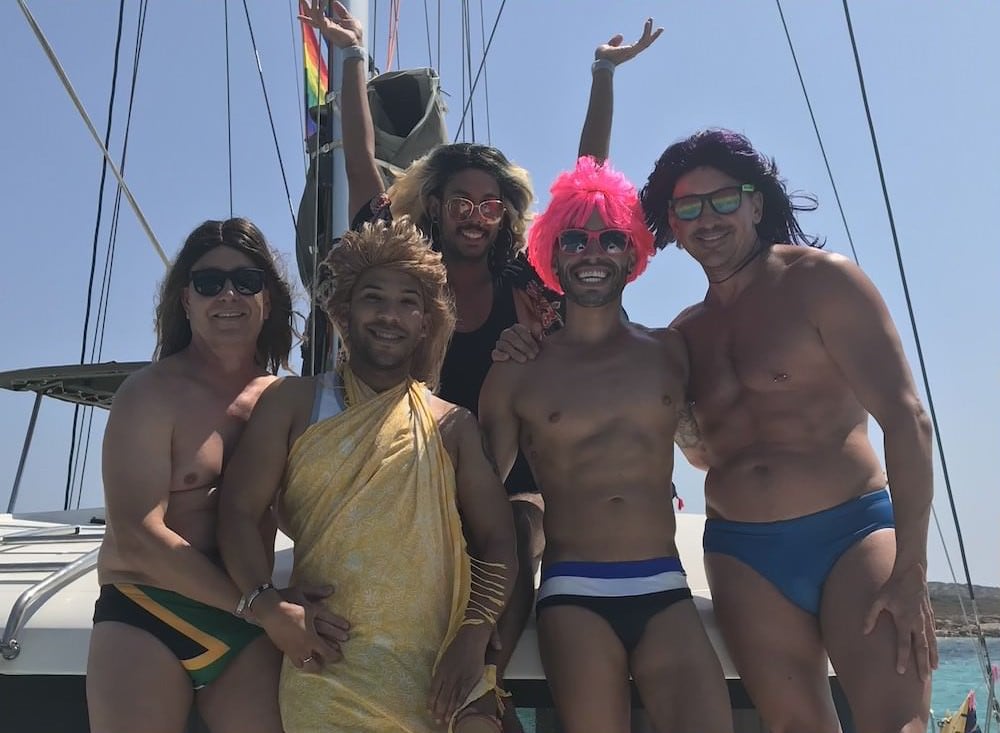 Greece Gay Sailing
Dates: July 1st – 8th, 2023
Destination/Route: Round trip from Athens, Greece
Type: Small Boat (8 guests per boat)
Dress code: Clothing-optional
Due to the past years' success and popularity of our sailing trips in both Croatia and Greece, we are expanding by holding both our Croatia and Greece sailing trip in the same summer season, separated by just a couple of months. So depending on your choice of destination or available time off, you can join either one, or both! For Greece in 2023 we specifically chose Athens as the departure port since it makes booking flights simple with lots of direct options from Europe and abroad. The itinerary from Athens features a variety of islands and mainland ports including Hydra, Spetses, Porto Heli, Ermioni, Poros and Agistri. This group of islands known as the Saronics offers picturesque and energetic stops where you can discover local culture, classical architecture and the best of Greek cuisine, all while enjoying breathtaking islands, ports and local hospitality. It's the side of Greece where sailors gravitate due to it's gentle winds and calm seas and is the perfect sailing spot. Add on a few days in Athens before or after the trip to explore the history of this Ancient Greek city. View Sailing Trip →
Naked Gay Sailing in Indonesia
Dates: Multiple departure dates throughout the year
Destination/Route: Located in the Flores Sea within the Indonesian Archipelago. 
Type: Small Boat (12-16 guests)
Dress code: Clothing-optional, nudism highly encouraged
Get the pun in their name? It's intentional. These guys encourage you to let it all hang out so there is everything to see, and nothing to hide. Picture guys, naked, sailing on a traditional wooden vessel through the Flores Sea. Free, honest, and fun. This 6-night clothing-optional sailing trip on a traditional all-wooden Pinisi boat is a once-in-a-lifetime experience. Amongst literally thousands of islands – Indonesia's archipelago boasts nearly 17,000 pieces of land surrounded by water – many are uninhabited, and many are small. Glancing around, you can see craggy rocks, sensuous hills, and mountains–all surrounded by a mix of seas. As striking as it is wild, the land, sea, air and light all combine to create a spectacular landscape. And the all-male environment turns it into a man's landscape. Check out this place where guys can escape. Close to Bali but a world away – sailing amongst uninhabited islands in unbelievable waters. View Sailing Trip →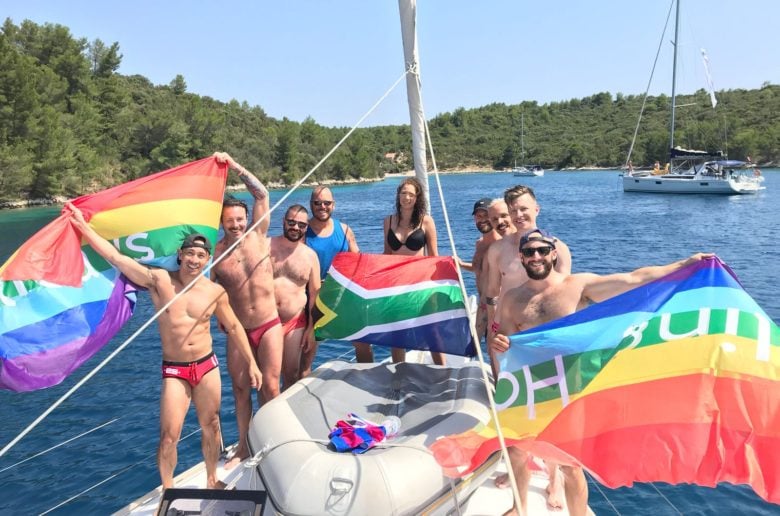 Mykonos and the Greek Islands Gay Sailing
Dates: Multiple departure dates throughout the summer. 
Destination/Route: Round trip from Mykonos, Greece. 
Type: Small Boat (8 guests per boat)
Dress code: Clothing-optional
Our gay sailing partner offers this trip as a private charter which means you and your friends will need to book the whole boat of 8 people. The Mykonos itinerary is for the more adventurous, as the Meltimi Winds are known to blow hard in summer. The trade off is partying in Mykonos and Ios and enjoying the less-frequented islands in the Cyclades. In 2019 we hosted this itinerary with a group of 3 boats. It was indeed windy at times, which meant rough seas while sailing, so keep that in mind. However if you're big fan of the XLSIOR gay festival then this might be the perfect addition to your trip. Charter the sailing trip directly before or after XLSIOR with a group of friends for the perfect balanced holiday of party and relax. You'll be making stops to amazing destinations including the islands of Mykonos, Paros, Ios, Santorini and Naxos. Let your taste buds come alive with the local food and wines onboard and take in the sights and relax and sail the coast. You'll enjoy golden sunsets and sunrises like nothing you've seen before plus a sky full of stars at night, with no light pollution. View Sailing Trip →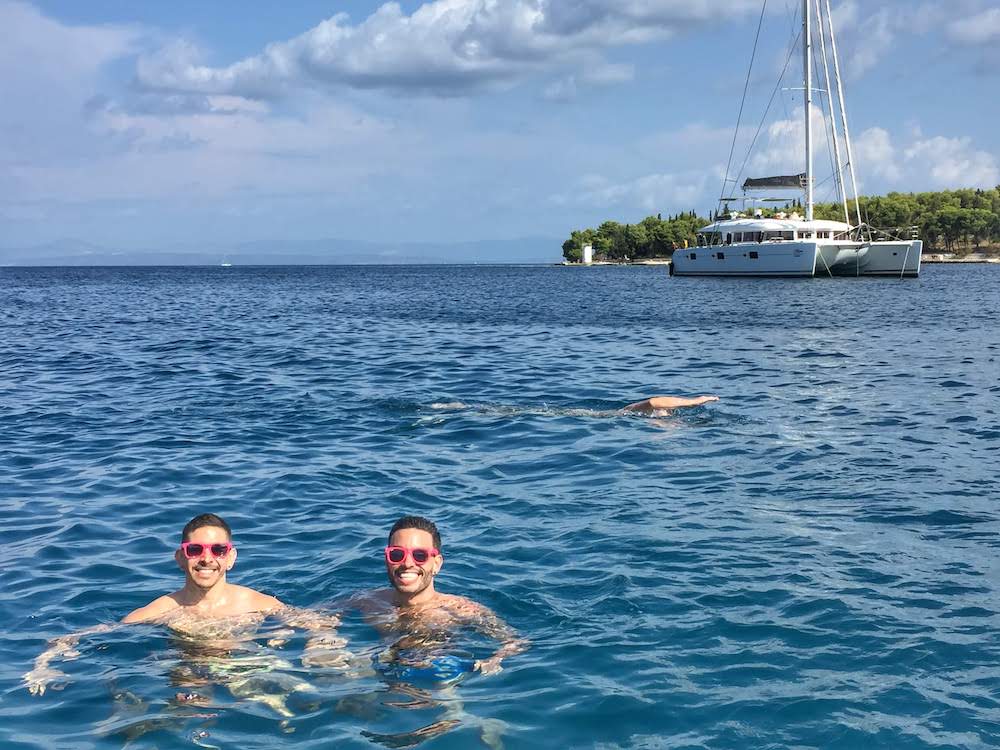 Gay Sailing of the Ionian Sea in Greece
Dates: Multiple departure dates throughout the summer. 
Destination/Route: Round trip from Lefkas, Greece. 
Type: Small Boat (8 guests per boat)
Dress code: Clothing-optional
This itinerary starts in Lefkas, which is several hours away from Athens by road. This route offers more beaches and quiet ports but we've opted to host our trip from Athens for more convenient travel without the additional transfer to Lefkas. However, if you really do want a more tranquil and quiet route focused on deserted beaches then this is the itinerary for you! With hidden sea caves, lush coastlines and turquoise waters, the Ionian Islands make for the perfect island-hopping adventure. Sailing the Ionian is what people dream of when they 'Sail the Greek Islands'. It's the perfect sailing area with the most amazing beaches, rich culture, local tavernas and super friendly hospitality. Wine and dine, meet locals and engage in fun activities. There is so much adventure that awaits you on this 7-day trip on a relaxing luxury sailing yacht. Drink, eat, and swim with your friends or other like-minded travelers on this awesome Greek sailing trip. View Sailing Trip →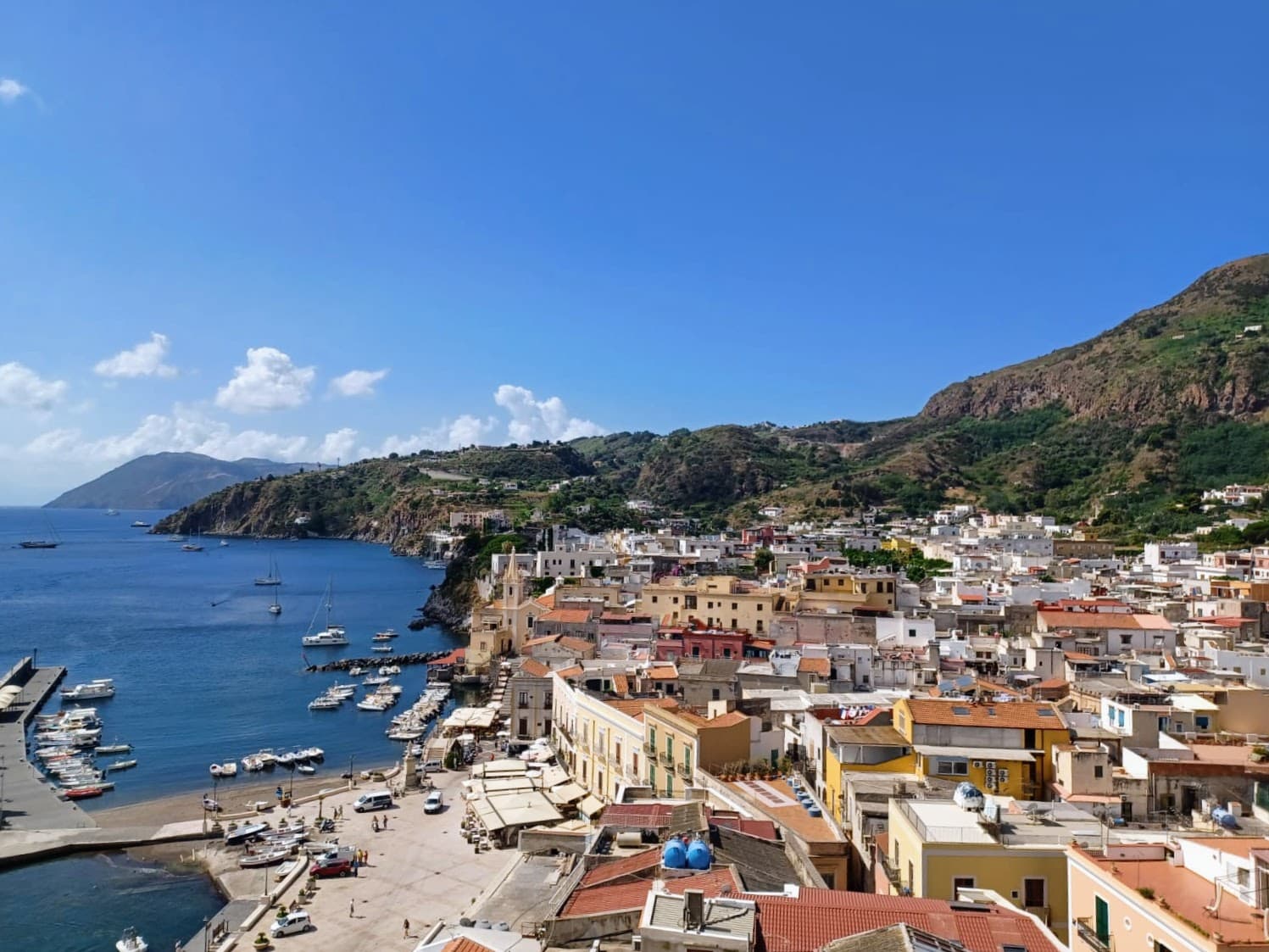 Gay Sailing the Aeolian Islands and Sicily
Dates: July 8-15, 2023
Destination/Route: Round trip from Portarosa, Italy
Type: Small Boat (8 guests per boat)
Dress code: Clothing-optional
Discover the amazing Aeolian islands, off Sicily, and its crystalline waters. The trip starts and ends in Portarosa, reachable easily from Catania airport. Another option is also flying into Palermo airport and getting a private transfer. They have selected only the best crew to keep you afloat as you cross the sea and head to the beautiful Aeolian islands. During the trip you will explore the amazing volcanic islands of Alicudi, Filicudi, Lipari, Vulcano and Panarea, just to name a few. This exclusive gay sailing experience is a 7-night adventure stopping at islands and ports where you can explore, sunbathe, swim, meet the locals, eat out and plenty more. The gay sailing yachts are modern with space to relax. The cabins are comfortable and there is a fully equipped galley and 2 bathrooms. This gay sailing trip is a great opportunity to relax, enjoy, taste local cuisine, meet new friends and explore beautiful Italian islands. View Sailing Trip →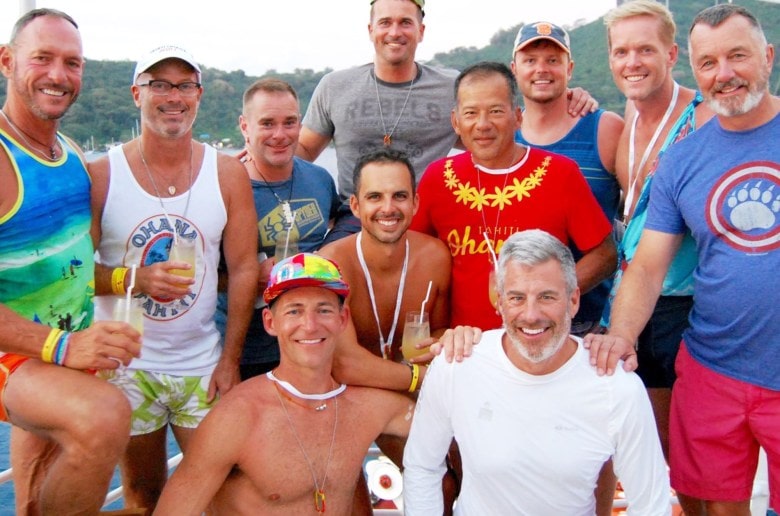 Tahiti Gay Cruise
Dates: April 21-28, 2023
Destination/Route: Round trip from Tahiti
Type: Medium ship (approx. 130 guests)
Dress code: Standard dress, clothing required
If you're interested in seeing the amazing islands of French Polynesia you can join Out Adventures on their Tahiti Gay Cruise aboard a private charter. Sailing through the heart of French Polynesia is a postcard-perfect way to experience this South Pacific dreamscape. With just 130 travelers on the Wind Spirit, you'll feel like you're sailing on your own private yacht. Imagine sailing into Bora Bora – the world's most beautiful island in the world's most spectacular setting. You'll hear the drumbeat as the sun sets and the Full Moon rises over mystical Mount Otemanu. After a Polynesian feast, you'll be dazzled with the high-speed acrobatic moves of traditional fire dancers. View Sailing Trip →