Saunas have existed since Ancient Roman times and even then bathhouses were always far more than just a place to relax. Back then, the public baths – or "thermas" of Rome served as social meeting places. Separated by sex, it isn't hard to imagine that Roman men would indulge in activities not that different from what the gay community use them for in the modern age. Either way, the tradition of saunas has very much been inherited by gay/bi men as places to unwind, socialize and find some no-strings attached fun.     
Barcelona honors this Roman legacy with its saunas filling every day from dusk till dawn – and indeed dawn till dusk as the majority have 24/7 open hours. Barcelona being abundant with gay tourism plays a role and its saunas have become an international reference standard – with designs from quality interior designers and coming equipped with clean reliable facilities. Within them you'll always find tourists from all over the world mixing with hot local men – and what more could you really want?
The individual saunas of Barcelona are different enough from each other to make every escapade a unique experience, ranging from the luxurious and modern to the small and cozy. Some sadly closed over the pandemic, but these four have stood the test of time and are each worthy of exploration during any trip to Barcelona.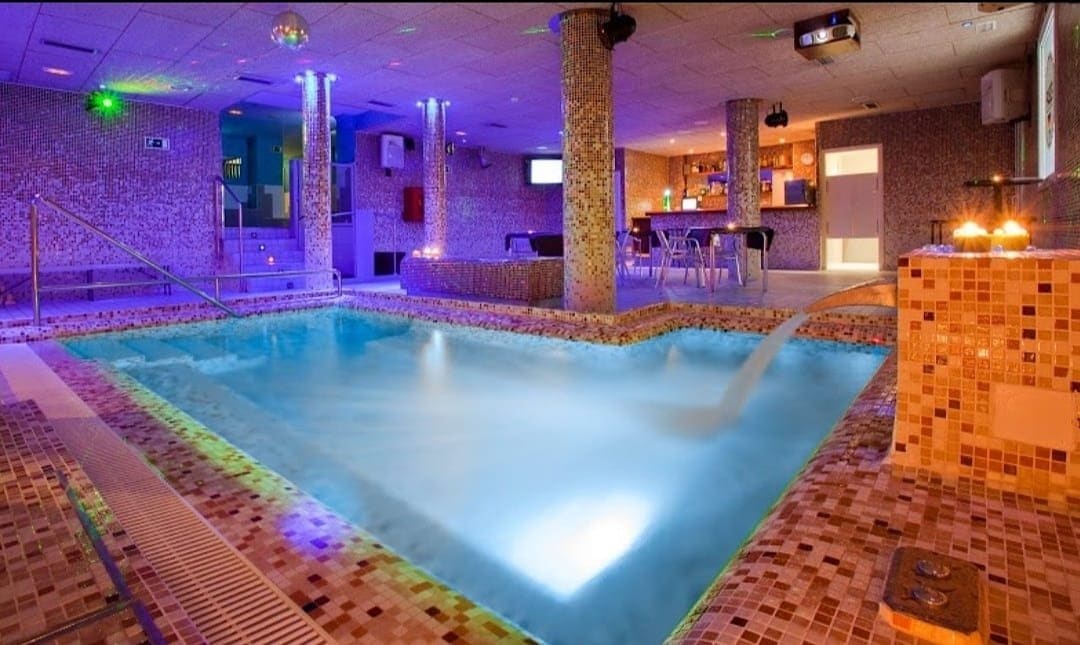 Sauna Casanova
Eixample – better known to the locals as "Gaixample" – is Barcelona's principal gay area and where you'll find most of the saunas, sex clubs and cruising bars of the city. Sauna Casanova is found in the heat of the action in Gaixample, on the street of the same name. It's the most famous bathhouse in Barcelona – making it the busiest. Recently renovated, it is huge – at 1400 square meters – also making it not only the biggest sauna in Barcelona, but also the biggest in all Spain.
Casanova has a massive jacuzzi, which fits more than twenty guys – at a pleasant squeeze – and its other facilities across three floors include dry and wet saunas, a steam room, big dark rooms, a maze in the basement filled with cubicles, a fetish area equipped with a swing, a video room and even an actual swimming pool – not that a lot of swimming goes on there. In the center of Casanova is a lively and somewhat stylish bar – by sauna standards – making it a great place to socialize as much as find action.
The men are generally of the younger muscled variety, although everyone is likely to find someone to their tastes due to the influx of tourists. During the weekends there is a flurry of activity as the nightclubs close and party goers are looking for a way to close the night – saunas basically serve as the unofficial afterparties of Barcelona. During big parties like Barcelona's (in)famous Circuit party, or Pride, you can expect a long line to enter. Totally worth the effort though as the atmosphere on such occasions is palpable and with the hotness on offer, you'll no doubt find someone(s) with which to form the kind of memories you won't easily forgot. The only real negative is the cost: at 21 euros on average, or 23 on holidays.
Sauna Thermas
Once the biggest sauna in Spain until Casanova stole its crown, it is also found in Gaixample but on Calle Diputacion. Being the same group of saunas as Casanova – Grupo Pases – it is also open 24/7 and its 900 square meters is packed with a lot of the same facilities. There are two pools in Thermas and its own jacuzzi – this time for 12 people – as well as darkrooms, cruising area and cabins. The cozy bar downstairs serves as a welcome respite from the action upstairs.
For many Thermas is the second option after Casanova and is slightly less busy as a result – a good thing for those who don't like getting lost in the throng. It does however cost the same amount to enter. The selection of cute guys who attend are endless, but it is also a well-known location for rent boys, so make sure you clarify beforehand because some of them may expect to be paid in return for their company.
Sauna Condal
Grupo Pases largely hold the monopoly on saunas and this is yet again one of their venues, meaning it costs the same to enter. However, Condal is best known for being welcoming to everybody. As in…every body type, making it is a firm favorite of bears, chubs and older guys – who mix with a few of the more typical muscular guys you'd expect to find in saunas. It also tends to draw those of the kinkier persuasion. Perhaps this variety is due to the themed nights they organize like bears, leather, and naked nights. Its four floors include enormous darkrooms and fetish areas as well as the usual saunas and jacuzzi.
Sauna Condal has a lot of tradition and character surrounding it making the people – and staff – feel a little friendlier with a more local feel. The entrance can be found close to Plaza Catalunya through a discreet cul-de-sac in the Gothic neighborhood.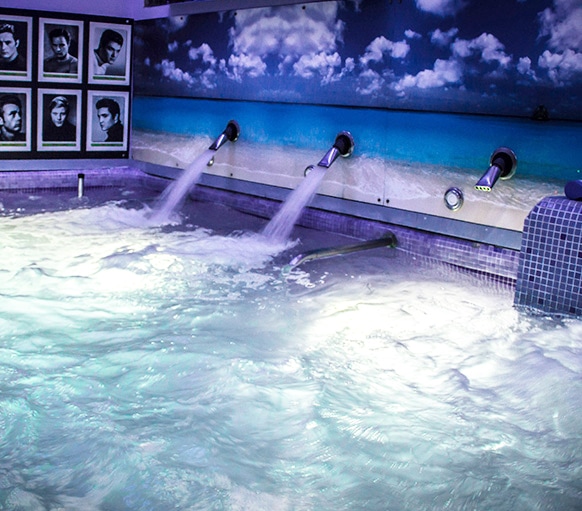 Sauna Bruc
If you like a little style in your saunas and prefer relaxation over intensity, then Sauna Bruc might be more up your alley. It's located a little out of the gay part of town, near the port and in Urquinaona – try pronouncing that! Sauna Bruc is slightly smaller than the previously mentioned saunas, but what it lacks in size it makes up for with effort – always a good trait.
Inside there's the usual dry and wet saunas, jacuzzi, steam room, dark rooms, glory holes and cubicles, but their pride and joy is their hydromassage pool that uses pressurized jets great to massage those hard to reach zones on the back – the wall contains pictures of male pop idols like Elvis to add the touch of culture often lacking in other venues. In fact, the whole sauna has a stylish chic to it with its blue interior, plants and artwork dotted around the place. The bar especially exudes a more laid back vibe than you'd typically expect from a sauna and it serves drinks and snacks at very reasonable prices.
The entrance fee stands at 14 euros, making it one of the cheaper saunas in Barcelona. Just like Condal, they host themed parties like naked nights and a 2-for-1 offer for mature men – should you want to bring your partner. Some nights even host local DJs to add a club type vibe into the mix.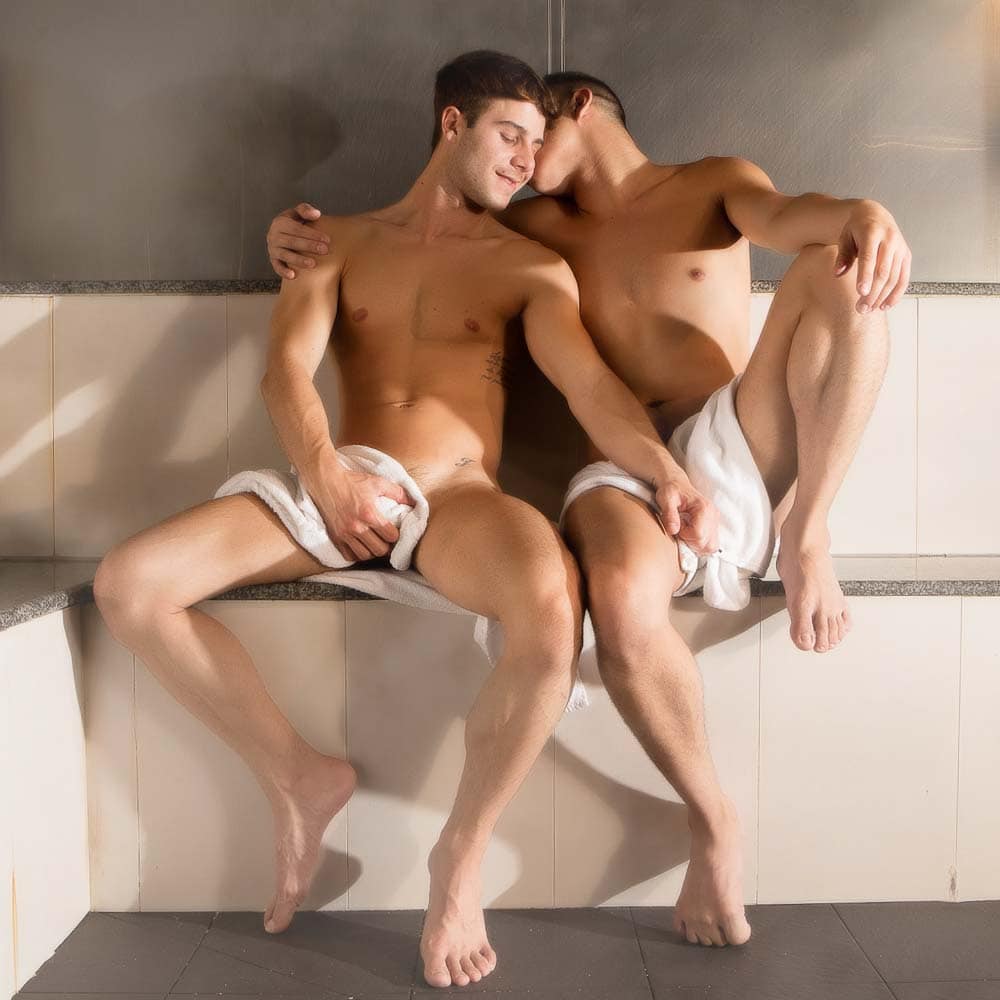 Sauna Etiquette
The gay saunas in Barcelona are perfect places for tourists and locals to come together – so to speak. They are undeniably more direct, and based in reality, than apps like Grindr. Not to mention more comfortable and relaxing than cruising areas. However, there are certain rules – both written and unwritten – in saunas, which are in no way unique to Barcelona.
Approaching guys can be nerve wracking – no one likes being rejected – but there are various tactics that can be used. Visitors who don't speak Spanish may find language an issue sometimes – although most people in Barcelona speak at least some English – but sex is an international language as is the "I think you're hot" eye! Good ways to hook-up with your prey of choice are leaning on the wall opposite them and waiting for eye contact to approach, sitting in the jacuzzi, pool, bar etc and chatting to men before inviting them to a more private space – or not going to a private space for the exhibitionists amongst us – or waiting inside a cabin with the door ajar. What is important, whichever tact you choose, is learning to take no for an answer and moving swiftly on from rejected advances. Adopt a "plenty more fish in the pool" attitude because in saunas, there's always someone for everyone.
Then there's learning how to say no yourself. A tried and tested technique for someone who misreads your interest and touches you is to lightly move their hand off you by the wrist, smile and give a slight squeeze to show you aren't offended then move away – remember we're all there for the same reason and there's no reason to be cruel. If they persist however, never be afraid to give a more direct no. Never accept harassment for your preferences.
Cleanliness is next to Greek godliness in saunas and so don't leave things like used condoms on the floor. Remember you can swap your towel for a cleaner one at any point and douching facilities are available in all saunas… you might have to wait in line for it though. Finally, when making your exit be sure to return your towel and flip-flops into the given receptacle, give your keys to reception and thank the hardworking staff you'll find there.
With so many options available to you, all that is needed is the will and a little Roman-like courage to pursue it. So, as the expression in Rome once said – slightly adapted to the modern age – "'when in Barcelona, do as the Catalans'.