As cliche as it may sound, travel really changed our lives. However, it was never our intention to move abroad. Auston spent a decade working towards his profession as an engineer and David spent tens of thousands of dollars on his laboratory sciences degree to be able to work in a microbiology lab. We were happy living and working in Chicago with future plans to move to San Diego. So why did we throw that all away to live in Madrid? Well it wasn't because we wanted to live abroad at all really. It was because Madrid's charm captivated us.
After visiting the Spanish capital we could see nothing else but a future here. The first draw was the language. According to the Pew Research Center, Spanish is estimated to grow from 37 million speakers in the US in 2013 to between 39 and 43 million speakers by 2020. It is "the most spoken non-English language in the U.S. today" and will continue to rise. Learning a foreign language has always interested us and clearly Spanish was the language to learn. But why Spain and not a Latin American country? Well we considered other larger Spanish speaking cities like Buenos Aires or Mexico City. Coming from Chicago, we knew we were big city folk and loved all the advantages of big city life like constant events, a multi-cultural atmosphere, great public transit, and LGBT acceptance. This last one Madrid has ten fold over any other city. Nestpick, which ranked cities based on factors like gay scenes, low hate crime levels, and LGBT-friendly laws, puts it at number one of the best LGBT-friendly cities around the world. We have always felt the need to be cautious in most cities we've traveled to and lived in, but in Madrid it really feels like being gay is a total non-issue and we revel in that privilege. Add to this the fact that its location makes it quite easy to continue to travel, it was really no contest. We were moving to Madrid.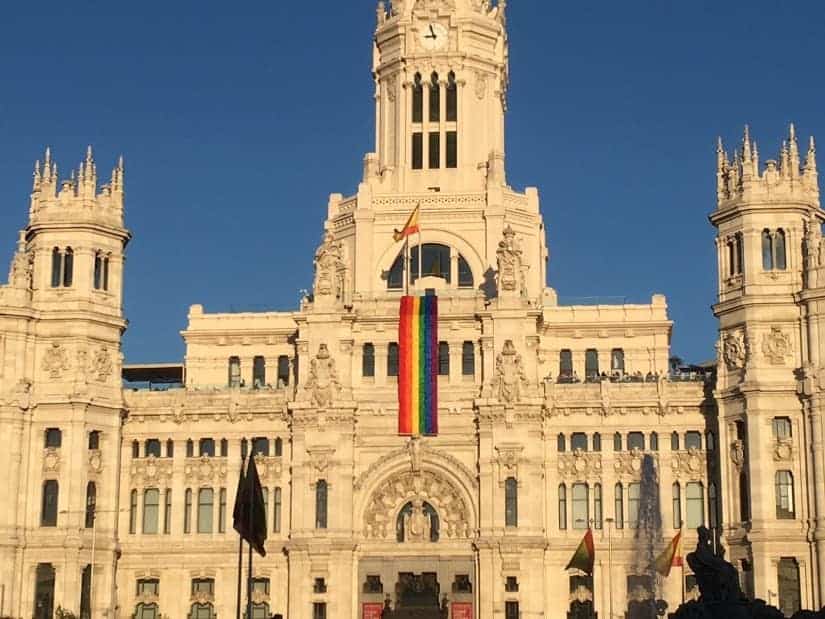 Living abroad comes with many challenges that we've had to learn to cope with and overcome along the way. Sure we've learned conversational Spanish and can keep up with our Spanish friends during a night out at a bar. But what about opening a bank account, setting up internet, and apartment hunting all in a foreign language? Sometimes we just lacked the right vocabulary to do things that can be stressful even in your native tongue and we had to stumble through it all. Just recently our landlord of three years decided not to renew our apartment lease and we were forced to find a new place unexpectedly during a short period of time where we were busy with work and travel. We loved our neighborhood but prices had gone up since we moved there and we were concerned about finding a place we'd love just as much as our current apartment.
Luckily we found Moving2Madrid through a Facebook group and they connected us with a property hunter who knew the system well and could line up several apartments for us to see all in one day. Though they are usually a service to buy property in Madrid, we used their services for our apartment search. With little free time to spare, this really worked well with our schedules and five days after seeing apartments we were signing the lease to our new one. Moving2Madrid lined up eight apartments according to our criteria and coordinated them to be all be shown in one day. Our contact, Marianne, help us to negotiate the price, fielded all our questions, made all the calls, put us in contact with the movers, and offered to help set up the utilities of the new place. They were a godsend to say the least! Without them I can only imagine we'd be crashing on a friend's couch overstaying our welcome as we searched for the perfect place or we would have settled for a less than ideal apartment.
This is the fourth apartment we've rented in Madrid and hopefully we won't be adding a fifth to the list anytime soon as we are very pleased with our new place. As we're getting exhausted from moving apartment to apartment we're now considering buying in Madrid. While renting gives us quite a bit of freedom to come and go, it's hard to ignore the investment opportunities of owning. Madrid is a city we plan to stay in for the foreseeable future. However, even if we do decide to move, it could continue to be an investment property. According to Global Property Guide, "The outlook for Spain's housing market is now upbeat, with house sales expected to rise by between 10% and 15%". After our pleasant experience working with Moving2Madrid, we'd happily use their services again. As property experts in Madrid, we know we could trust them to find us the perfect place. Whether we continue to rent in Madrid or buy a place, we couldn't be happier with our adopted home. It's been an unplanned adventure from the start, but that's why it's an adventure, right? Because it's all unplanned. Thankfully companies like Moving2Madrid helped us organize a little of the chaos that comes with living and moving to a new country.
[divider_10px]Have you moved abroad? What was your experience like?  or
Have you visited Madrid? Would you like to visit the Spanish capital?[divider_10px]