Choosing where to stay is one of the most important decisions you make when planning your trip. The options are limitless, and your choice ranges from large resorts and hotel chains to small, boutique hotels or apartment rentals.
Many travelers are choosing home rentals over hotels these days and it's no surprise why. They get a more comfortable, cost-effective stay and personal attention from their host instead of the impersonal offerings of an outdated, overpriced hotel room. Nowadays travelers even have a selection of several home sharing sites to choose from. If you're a gay traveler, the top choice for renting a room or home while traveling is misterbnb (mrbnb). While other sites may be LGBT-friendly, misterbnb is specifically tailored to the travel needs of the gay community.
Founded in 2014, misterbnb is not a hotel or chain, but rather a booking site for rooms, apartments and homes. Similar to AirBnB, misterbnb is an online service that allows you to rent short- or long-term spaces from gay and gay-friendly hosts around the world. They have hosts in more than 135 countries with more than 200,000 total listings. They recently even started offering listings of gay and gay-friendly hotels on their site for a one-stop-shop. You can even list your own room or apartment to earn cash from gay travelers in your city. Understanding a city's gay scene is much more easily done with the help of a local and apartment sharing is one of the best ways to meet someone living in the city who knows the best insider advice.

Meet new and adventurous people from all over
Meeting new people is a great reason to list your place on misterbnb. As an adult, it can be a challenge meeting new people that aren't your colleagues and even more challenging to meet other gay and queer men outside of the gay bar scene. When you stay in the home of a host, you open yourself up to new friendships too. Sure, some gay travelers are just looking for a place to crash with another gay host so they feel more comfortable as they come and go. Others will be happy to chat with their host, grab drinks, or share a meal. If you're skeptical about staying in a stranger's home, hosts are also reviewed and vouched for by other misterbnb guests, so you can freely vet them and decide to book or not. As misterbnb users and hosts ourselves, we've kept in touch with some of our hosts and guests long after check out.
Learn about other cultures
Staying in the home of a gay host in another city or country gives you the chance to get to know that place and hear about someone else's experiences there. It can be eye-opening to learn about other people's experiences being gay in other cultures. We were particularly fascinated by the stories of one guest who told us all about what it was like to be gay in Russia. You can also discover their culture if hosts offer to cook you a meal or offer you a small gift for staying in their home. Each host is different and will show their appreciation in various ways.
Earn extra cash for that something special your saving for
We could all use a little extra pocket money no matter our current financial situations. Been wanting a weekend away yourself? The latest gadget? Botex? A little extra cash in your account couldn't hurt. Renting your spare room on misterb&b is a guaranteed fast and easy way to reach your financial goals while offering someone a great gay travel experience. Misterbnb has a safe and secure payment method and everything is handled within the trusted website. As a bonus, you'll get a $10 travel credit when you sign up.

Get expert local knowledge about the destination you're visiting
Gay travelers face extra challenges when they go abroad. They have to consider LGBT rights in that country and perhaps take extra precautions. Going out and discovering gay and gay-friendly bars, restaurants, cafes and clubs isn't as simple as just looking online. Places close, descriptions aren't accurate, and the information online can't always be trusted. Your gay host can be the most reliable source of information for you. Where and when is the best place and time to go out? You can get help from your host to find the scene you're looking for be it a bear bar, a mixed dance club, leather and fetish or just a mainstream gay bar. These could be awkward things to ask a straight host, but as a gay host with misterbnb there's no issue here.
Receive a safe, guaranteed gay-friendly accommodation
Probably one of the most attractive parts about renting a room from a gay host is the comfort zone. It's a very open environment and one where you can relax and be yourself. Being in a foreign city or country can also be concerning at times for gay travelers and your host can be the best source for guidance beyond just explaining the gay neighborhood as they how to navigate being gay in the culture and in the city. This is an extra reassurance hotels often can't provide for such a niche community, but gay hosts can do so easily.
Misterbnb makes it simple and safe to travel 
They make it simple by providing an easy-to-use online platform for managing your booking and communicating with potential hosts. They manage all payment transactions securely through their website so you don't have to worry about handling money directly with your host. Additionally, they provide their hosts with insurance at no extra cost in case anything was to happen. As misterbnb hosts ourselves, we've never had any problems with guests, just friendly conversations, great meals or fun nights out!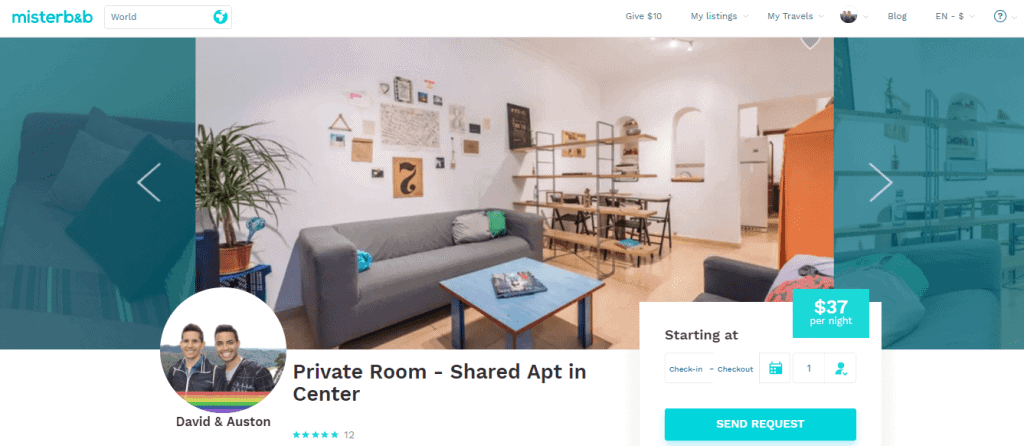 Location, Location, Location!
You can easily find an apartment or home from a gay host which is well located within or near the city's gay neighborhood if they have one. And even if the city doesn't have a 'gayborhood,' there are still plenty of apartments in prime locations where you can easily visit the destination's most popular attractions and gay nightlife.
Special Offer! Sign up with misterb&b  and you will receive a free $10 credit to use on your first booking!
Read Reviews from Past Travelers

What do you think? Have you rented or ever considered renting a room on misterbnb (mrbnb)? Let us know in the comments below! Image credits: misterbnb