Madrid may not have the coast. Madrid may not have beaches. What Madrid does have, however, is a selection of the best saunas in Europe –  frequented by some of the hottest guys in the world.
Saunas are comfortingly similar no matter where you go on your travels. They're always safe spaces to relax, unwind and enjoy some no strings attached fun. That said, Madrid's saunas do have some variety to them that make it worthwhile to either sample them all, or pick the one most suited to your tastes.
Let us be your guides to five of the best scattered around Spain's sexy capital city: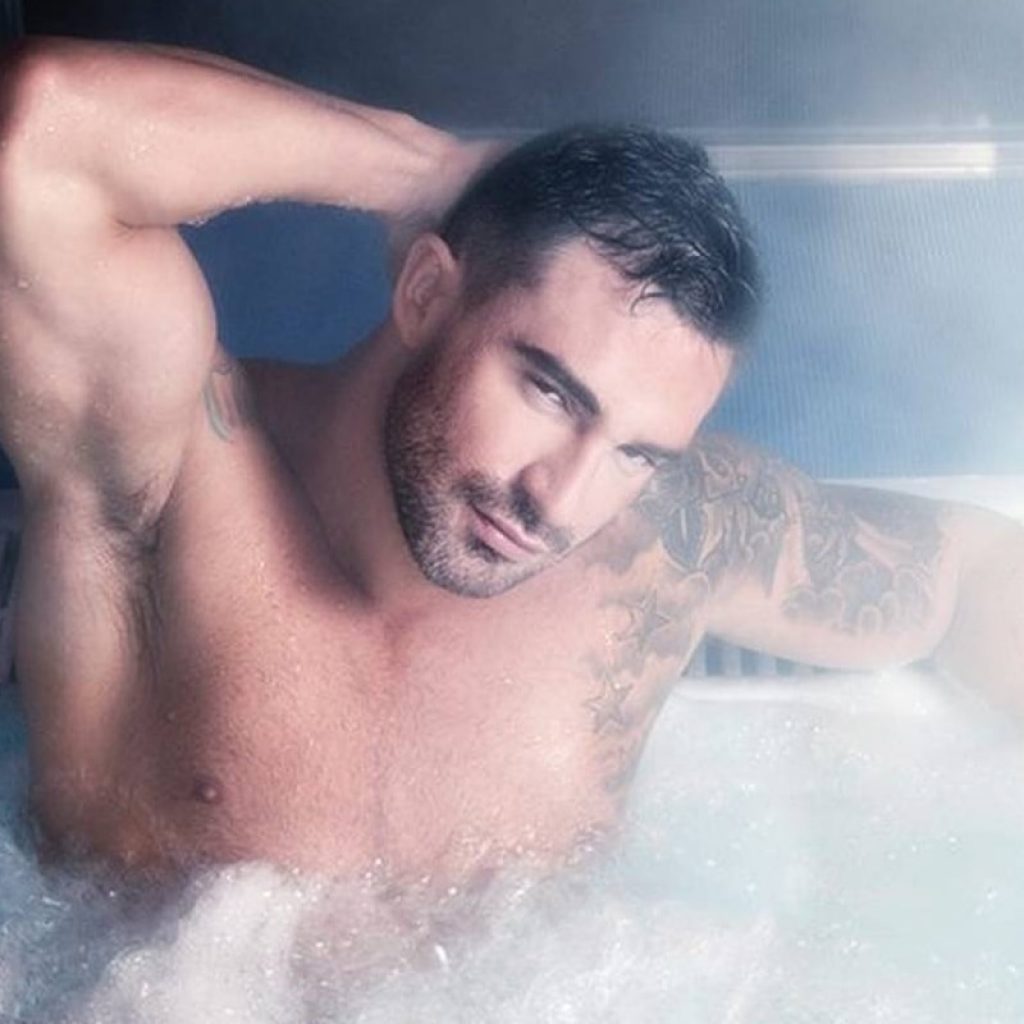 Sauna Paraiso
It's pretty much all in the name: Sauna Paraiso is a paradise for those looking for the perfect combo of relaxation and action! The years go by and as one of the first gay saunas in Madrid, Paraiso still maintains its popularity and appeal to both locals and visiting guys. Within its 1400 meters you'll find a large jacuzzi, a bar (with admittedly slightly too clinical lighting), a heated swimming pool (not that a lot of swimming actually happens in there of course), a steam room, a dry sauna and a veritable brick-walled maze of darkrooms, dungeons and cubicles to lose oneself in. Honestly, you can visit several times and still find new areas you'd missed.
Paraiso is without doubt the nicest of Madrid's saunas in terms of being well-kept and it is certainly the biggest, but it is the guys who truly make it what it is. It is promoted as the "young sauna of Madrid" and the general clientele are indeed mostly of the young and muscled variety, exactly as advertised.
 Sauna Paraiso can be found in Malasaña just a stone's throw from the gay neighborhood of Chueca and is open every day with opening hours between 10am to midnight – or 24 hours on weekends. It's always busy enough to find some action – and it really depends on the crowd you want, but it's busiest anytime between 2am and 2pm on Saturday and Sundays to catch all those late-night clubbers looking to get some post-club aftercare! Prices vary from 16 euros on a weekday to 20 on a weekend or holiday.
It is worth noting the sauna has unfortunately been under a lot of police scrutiny over the last few years due to client drug use and too much flexibility over Covid rules. Thus, it has been subject to a few raids recently. Nothing to worry about, but something to be aware of should a hot prospect disappointedly turn out to be an undercover policeman.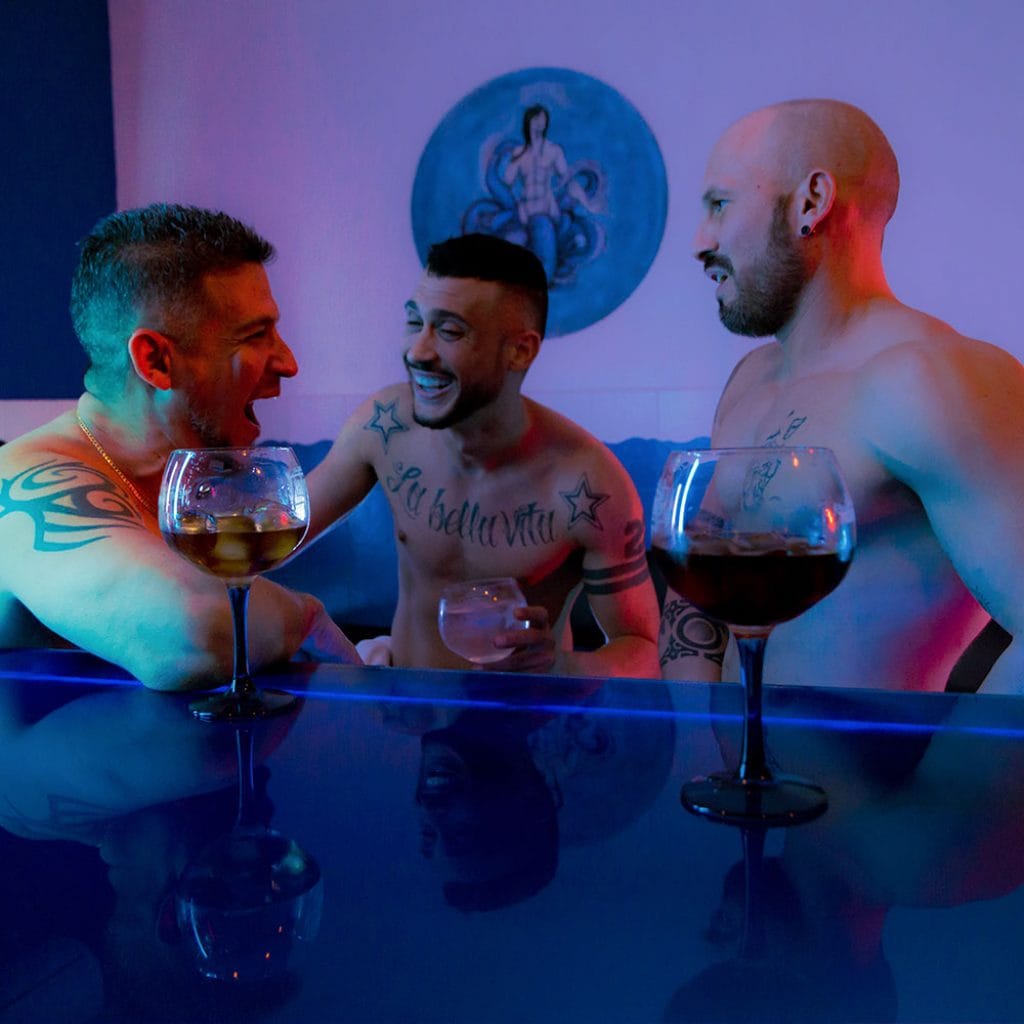 Sauna Octopus
Muscle bound youngsters aren't everyone's type and fortunately Madrid has other things on offer. Sauna Octopus is the largest sauna catering to the bear community in Madrid and has a more body positive feel to it than Paraiso. Named after a rather fetching tile mural of an octopus above the main pool, here you'll find bears, otters, chubs, cubs, older guys and their admirers amongst the pool of mixed clientele of locals and tourists alike.
Just as the octopus has many arms as does this sauna have a range of amenities, including the aforementioned pool, dry sauna, Turkish bath, a (far more flatteringly lighted) bar than Paraiso, two darkrooms and a cinema. Sauna Octopus more openly displays a kinkier side than Paraiso via the inclusion of a better equipped dungeon, or "pleasure zone" with slings, restraints and cages. Who knew bears were one of the kinkier tribes of gay culture! The sauna is located in the center of Chueca and entrance tickets cost only 15 euros during the week and 16 during the weekends.  The best time to go is around midnight on the weekends – as it is commonly known that bears do the majority of their prowling by night.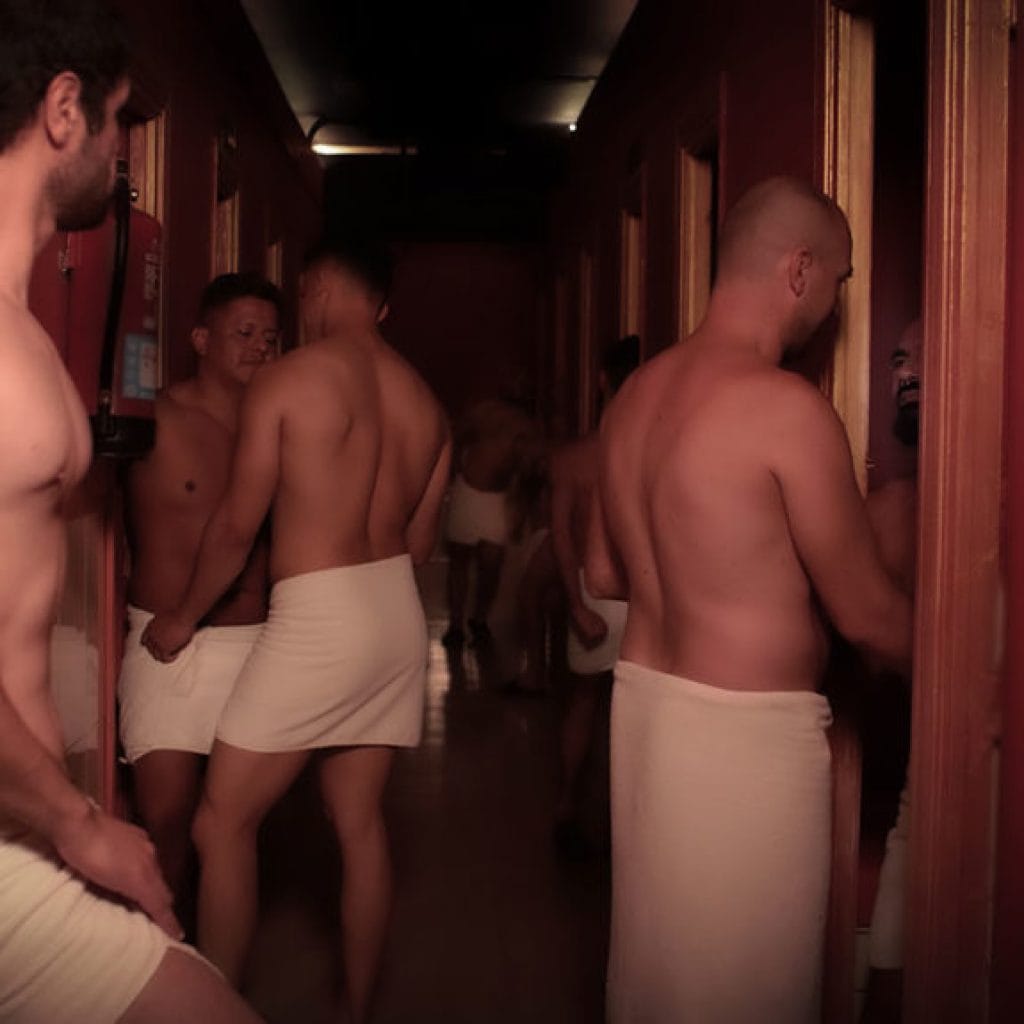 SaunaBeach
There may not be a beach in Madrid, but this sauna seeks to recapture the spirit of one. Upstairs is a large beach themed "chiringuito" bar with chilled vibes to use as your base for any escapades. The sauna is handily split into three sections: the spa/bar upstairs, the "hot" cruising area downstairs and the even hotter BDSM zone deeper below. In the spa area there is of course a jacuzzi, steam room and sauna to enjoy. Downstairs you'll find a "cruising labyrinth" that is home to an impressive 100 cabins, a darkroom, glory hole area, orgy area, XXX cinemas and not one but two impressive fetish-orientated spaces – 'laboratory' and 'the Jail' – that rivals Octopus's in terms of equipment. 
One of the most notable things about Sauna Beach is that it holds parties with various themes. A downstairs club-like bar hosts local DJs and comes replete with a large dancefloor – should you fancy taking on the challenge of dancing in flip-flops. They also run some spicey kinky nights with live sex shows and an onsite master of masters to keep everything in check. All special nights come with two free drinks as part of the entrance fee. Sauna Beach is found in the center of Madrid near Opera metro. Mondays to Wednesdays it is open ten to midnight with a 10-euro entrance fee, but it remains open indefinitely from ten on Thursdays till Monday night at 18 euros.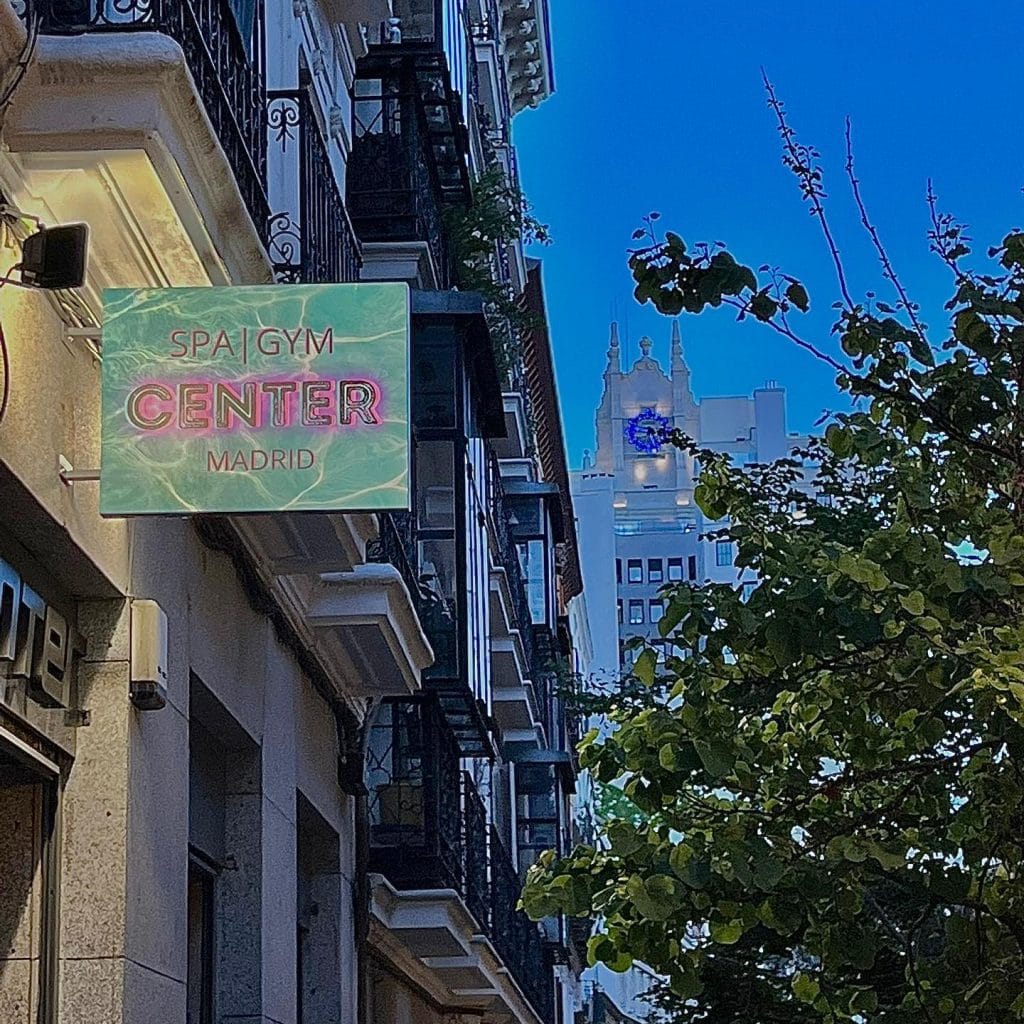 Sauna Center
Run by the same owners of Sauna Beach, which changed its name and passed it onto this newer charismatic sauna. Found right in the middle of the trendy Malasaña area on Calle Valverde near Tribunal metro, it pulls in a more international crowd. It lovingly refers to itself on its website as "a tourist resort with pools" and so expect a healthy mix of men from all over the world within its walls.
Sauna Center has the distinct advantage of being open 24/7 with entrance fees ranging from 9 to 16 euros depending on the day.  As well as all the usual facilities, like wet and dry saunas, cabins, beds and a bar there are also two big hot tubs to get cozy in and even its own gym.
Sauna Lavapies
In the bohemian area of Lavapies sits perhaps the most laid-back and underrated of Madrid's saunas. It may be smaller than its competitors, but is still no slouch sprawling over three different floors containing the obvious dry and wet saunas, a darkroom and cabins one would expect. What it lacks in size it makes up for that with its unpretentious vibe and you're more likely to find local guys here and those with an alternative queerer vibe about them – as well as the full spectrum of body types.
Sauna Lavapies has more limited opening hours but remains consistent by being open 10am to 6am irrespective of the day with an entrance fee of 12 euros. They host themed nights ranging from fully naked (say goodbye to those pesky towels), lights off nights and even "youth" nights where under 25's enter for just 10 euros.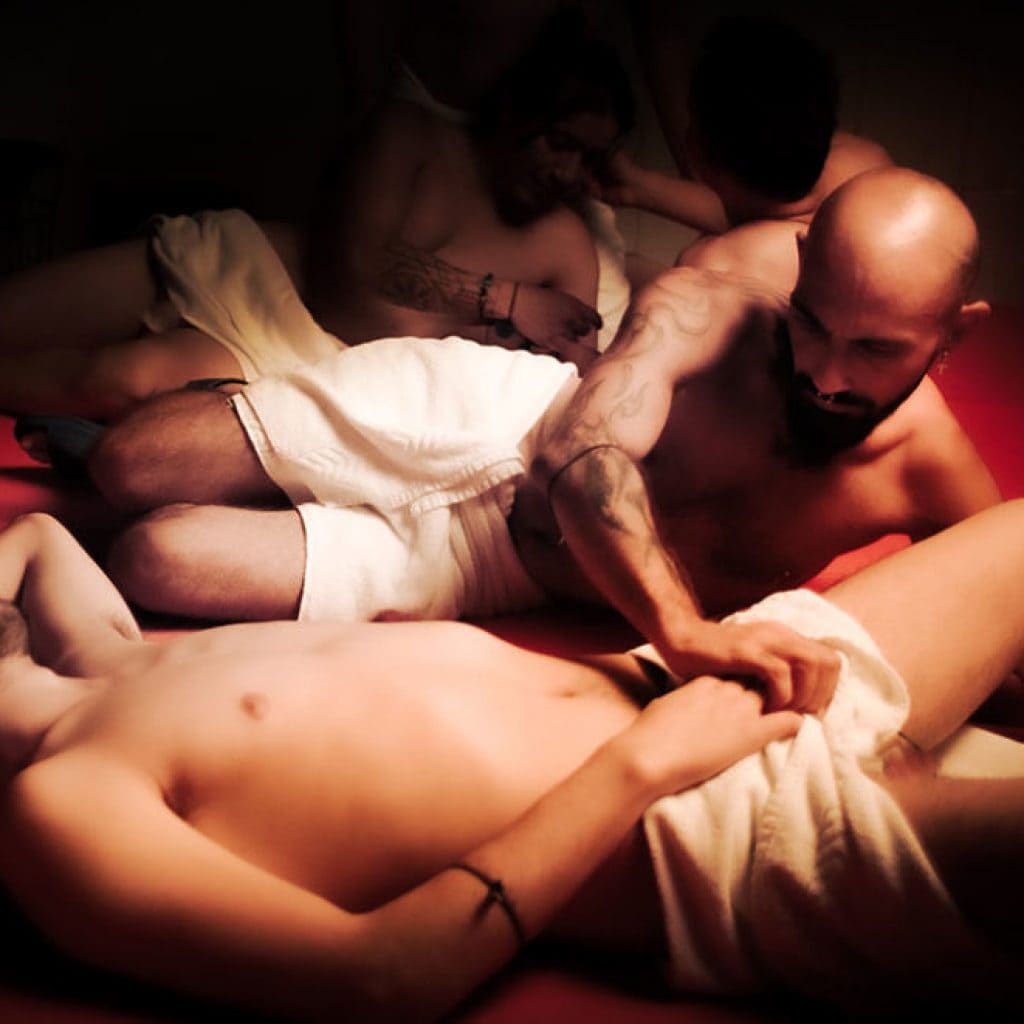 Sauna Etiquette
Not the name of a sauna in Madrid – but wouldn't it be a cool one – but instead a note on things to consider when visiting Madrid's saunas in general. There are certain rules – both written and unwritten – on saunas, which are in no way unique to Madrid.
Approaching guys can be nerve wracking – no one likes being rejected – but there are various tactics that can be used. Visitors who don't speak Spanish may find language an issue, but sex is an international language as is the "I think you're hot" eye! Good ways to hook-up with your prey of choice are leaning on the wall opposite them and waiting for eye contact to approach, sitting in the jacuzzi, pool, bar etc and chatting to men before inviting them to a more private space – or not going to a private space for the exhibitionists amongst us – or waiting inside a cabin with the door ajar. What is important, whichever tact you choose, is learning to take no for an answer and moving swiftly on from rejected advances. Adopt a "plenty more fish in the pool" attitude because in saunas, there's always someone for everyone.
Then there's learning how to say no yourself. A tried and tested technique for someone who misreads your interest and touches you, is to lightly move their hand off you by the wrist, smile and give a slight squeeze to show you aren't offended before moving away – remember we're all there for the same reason and there's no reason to be cruel. If they persist however, never be afraid to give a more direct no. Never accept harassment for your preferences.
Cleanliness is next to Greek godliness in saunas and so don't leave things like used condoms on the floor. Remember you can swap your towel for a cleaner one at any point and douching facilities are available in all saunas…you might have to queue for it though. Finally, when making your exit be sure to return your towel and flip-flops into the hole given, give your keys to reception and thank the hardworking staff you'll find there. They are, after all, the ones who keep these little pockets of gay sexual liberty running week in week out. And just what would we do without them?