Choosing your hotel in Miami is one of the most important decisions you make when planning your trip. The options are limitless, and your choice ranges from large resorts and hotel chains to small, boutique hotels or apartment rentals.
While staying at a gay hotel might not be the preference for everyone, some travelers enjoy the open environment that Hotel Gaythering offers where you can simply relax and be yourself without fear of judgment from other guests. It's true there are many gay-friendly hotels in Miami, which are not necessarily gay-themed or designed for the LGBT community. However, these properties simply can't provide the same unique experience. Hotel Gaythering is a gay, adult-only hotel so it's ideal if you are visiting with friends your same-sex partner or even alone since it's easy to meet other guests.
About Hotel Gaythering
The award-winning Hotel Gaythering is a unique gay hotel in Miami Beach, just steps away from one of Florida's best beaches. With a bar, sauna and popular weekly events, it's the top choice for your stay in South Beach. Hotel Gaythering has one of the only gay bar locations in Miami Beach so it's a central hub for visitors and locals alike to enjoy a cocktail. They also offer a clothing-optional, men-only sauna and spa featuring a Jacuzzi, steam room and sauna.
The property is gay owned and operated and was opened in 2014. It's a boutique hotel with industrial design and a unique, artistic feel. It's located two blocks from the Lincoln Road Mall and only a 15-minute walk to Ocean Drive or a 10-minute bicycle ride using one of the complimentary bikes. The hotel is relatively small with just 23 rooms and it is housed in a historical, art deco building which used to be an apartment complex.
Hotel Gaythering is very involved in the local LGBT+ community. Not only do they host events for both guests and locals in their bar throughout the week, they patriciate in local LGBT+ sports leagues as well as Art Basel, the world-famous Miami art festival.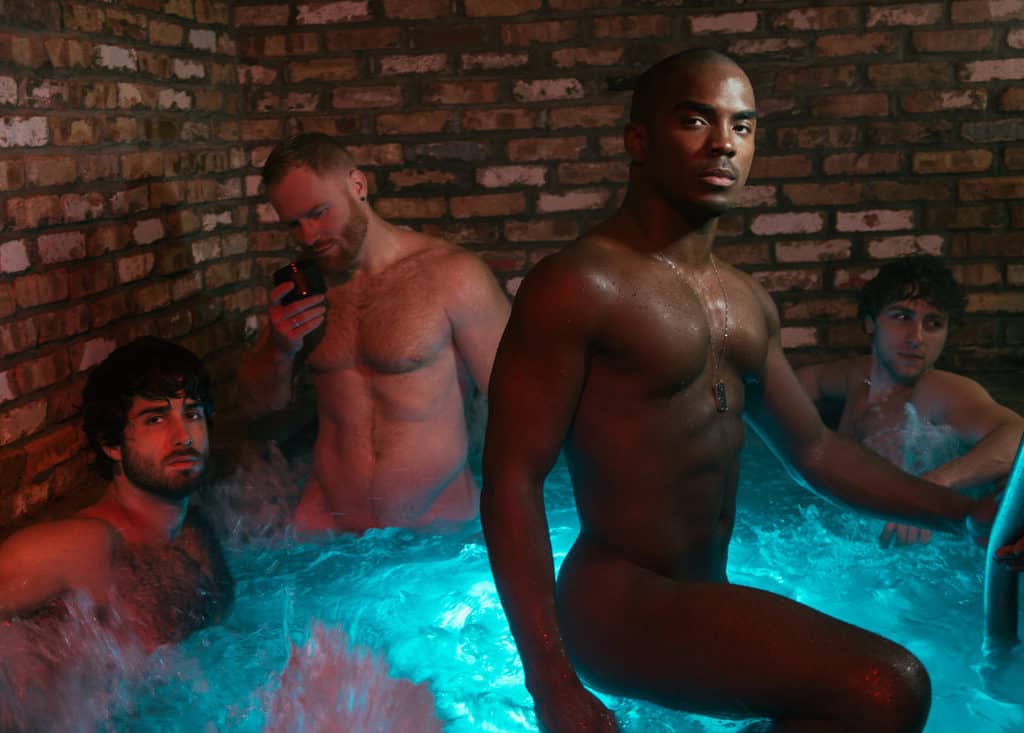 Why Stay at Hotel Gaythering?
Location – Hotel Gaythering is perfectly located in South Beach. It's walking distance to Miami Beach's most popular attractions, restaurants, shops and gay nightlife.
Unique design & style – the boutique hotel is housed in a 1950's art deco building and it has a very unique, industrial design. The style and décor were designed by co-owner Alex Guerra and his use of chic and masculine themes and colors, plus the mysterious rabbit masks and photography used throughout the property are one-of-a-kind.
Clothing optional sauna – travelers who enjoy relaxing in the buff in a Jacuzzi can take it all off in the company of other gay men. The clothing-optional men's sauna and spa features a Jacuzzi, steam room and sauna. It's free to access for hotel guests and non-guests and locals can also access the facilities by purchasing a day pass.
Parties & events – Hotel Gaythering hosts daily events like karaoke, trivia night, bingo plus happy hour and themed parties which are open to all guests as well as South Beach locals. Every year during Art Basel in Miami, Hotel Gaythering hosts their own gay-inspired event called Art Gaysel, showcasing queer art and artists.
Be yourself – probably one of the most attractive parts about a gay hotel is the comfort zone. The entire hotel is full of gay guests and all staff have been extensively trained to provide you with a welcoming and gay-friendly experience. It's a very open environment and one where you can relax and not worry about harassment or discrimination.
What Can You Expect if You Stay at Hotel Gaythering in Miami Beach?
More than just a hotel, Gaythering is a place where you can meet, socialize and enjoy a laid-back Miami vibe. The hotel bar is open to the public every night and the locals come for drinks, trivia and events throughout the week. The hotel offers nice rooms with a modern yet vintage flair and a unique, artsy theme. They even have "crate-style" rooms which start at just $99 per night offering an affordable, small but private space with shared bathrooms that are budget-friendly for all. You can expect to easily meet and socialize with other guests on their outdoor terrace, the bar or the spa.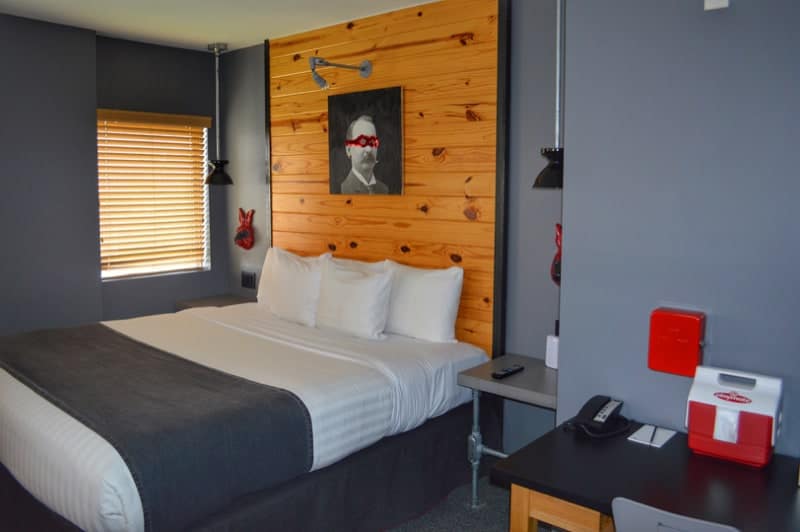 Is Hotel Gaythering Right for You?
Here are a few things to consider if staying at Hotel Gaythering interests you.
The hotel guests will be mostly all gay men
You won't earn points from loyalty programs like would from staying at a large chain like Marriott or Hilton
If you're visiting Miami during gay pride, Winter Party Festival or a popular gay event, rooms at Hotel Gaythering get booked well in advance, so you'll need to plan ahead
Hotel Gaythering is a great option if you're traveling with your same-sex partner and you won't have any issues with public displays of affection
You can take advantage of the full set of amenities and unique experience at a much lower price point by opting for a crate-style room, with shared bathroom facilities. There is not as much privacy and there is more noise, but the tradeoff might be worth it for travelers on a budget.
Hotel Gaythering Reviews
We've stayed at Hotel Gaythering and had a great time. Our favorites parts of the hotel are the men's sauna as well as the onsite bar, where it was fairly easy to socialize with other guests and locals. The staff was incredibly friendly, and we would definitely return. If you decide to stay at the hotel, be sure to snap a photo of yourself with one of the red rabbit masks in the rooms. Tag them on Instagram and they'll probably share your photo!
Book Your Stay at Hotel Gaythering
Interested in staying at another gay hotel in Miami?
The other gay hotel located in Miami is AxelBeach Miami, part of Axel Hotels, the largest gay hotel chain with more than 10 properties in North America and Europe. You'll almost certainly have a great time staying at either of these hotels, but Hotel Gaythering is probably the more unique of the two and has been around longer.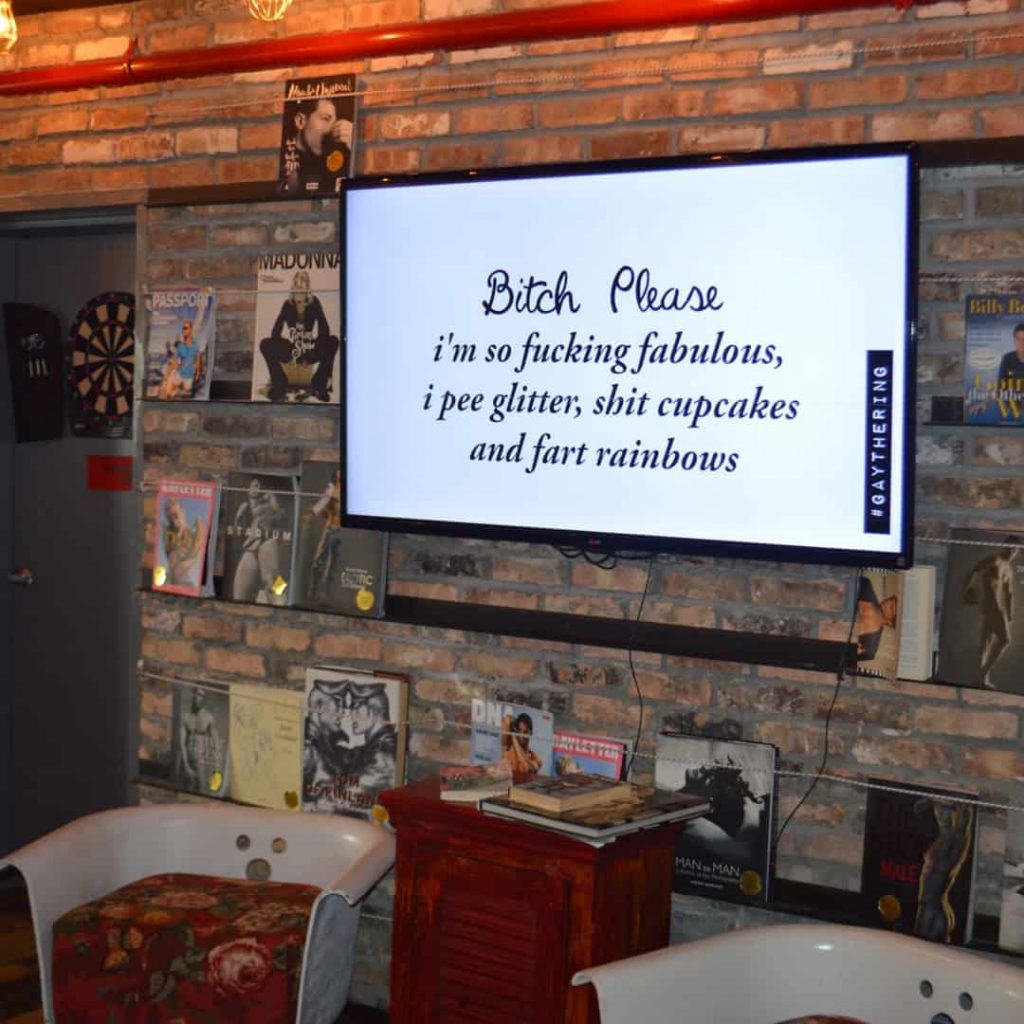 Interested in staying with a gay host in an apartment rental in Miami?
Founded in 2014, misterb&b is not a hotel or chain, but rather a booking site for rooms, apartments and homes. Similar to AirBnB, misterb&b is an online service that allows you to rent short- or long-term spaces from gay and gay-friendly hosts around the world. They have hosts in more than 135 countries with more than 200,000 total listings. They recently even started offering listings of gay and gay-friendly hotels on their site for a one-stop shop. You can even list your own room or apartment to earn cash from gay travelers in your city. Understanding a city's gay scene is much more easily done with the help of a local and apartment sharing is one of the best ways to meet someone living in the city who knows the best insider advice.
Photo credits: Hotel Gaythering