Galapagos is a famous top wildlife destination for tourists. Located in Ecuador, the Galápagos Islands have amazing landscapes that leave their visitors craving a second visit. This archipelago is a UNESCO World Heritage site, usually referred to as a living museum and showcase of evolution. Galápagos consists of 21 Islands. Of all these Islands, only four are inhabited by humans. They are Santa Cruz, San Cristobal, Isabela and Floreana.
If you are looking forward to a Galapagos honeymoon, you've made a great decision. Let's help you plan the perfect adventurous and romantic holiday with memories that will last a lifetime! 
Best Galapagos Islands for an Adventurous Honeymoon 
Check out these luxury Galapagos cruise destinations for a romantic and memorable honeymoon. 
Santa Cruz Island
Santa Cruz Island is the most visited and the largest of all the islands. Santa Cruz has the best of everything; cafes, restaurants, and hotels. Whether you want to stay in your hotel and enjoy more private honeymoons or be more adventurous and explore the Islands (trust me, the latter is more thrilling), Santa Cruz has everything that will meet your honeymoon needs. 
One of the fantastic things to do in Santa Cruz is to spend time at the famous Charles Darwin Research Station. Here, you can learn a lot about Darwin's evolution theory which he formulated inspired by the Galapagos Islands and its flora and fauna. The center has a beautiful garden where you can walk and take amazing honeymoon pictures. You can also explore the museum and appreciate the center's efforts in preserving Galapagos' wildlife and the island. 
Another exciting activity is to visit Tortuga Bay. This white sandy beach is worth visiting for a relaxing and refreshing day, during which you can also snorkel and kayak around the bay. 
San Cristobal Island
San Cristobal Island is the most populous island and also serves as the administrative capital of the Galapagos. Like Santa Cruz, San Cristobal has many restaurants, cafes, bars, and hotels. In San Cristobal, you can stay on the Galapagos sunset, where you will enjoy mesmerizing ocean views. You can also choose the golden bay hotel and spa, where you can experience top-notch service and pamper yourself at the ultra-relaxing spa. This luxury hotel will give you a charming honeymoon experience for sure. 
San Cristobal also has an array of activities lined up for you. You can visit Leon Dormido, a major Galapagos landmark. Here, you can go snorkeling and diving. You can engage in marine wildlife and a range of mountain activities. At the El Chato Reserve, you can visit and walk with the giant Galapagos tortoises and learn about their natural habitat. San Cristobal also has the Punta Carola, where you can have a romantic view of the sunset, hand in hand with your lover. Here, you will find a combination of sun, sand, and peace of mind. 
The Playa Mann is a beautiful beach with pure water, suitable for snorkeling. You can also decide to mingle with the sea lions or relax on the beach, basking in the beauty of nature. Cerro Brujo is another beautifully romantic white sand beach. It has a beautiful landscape and many attractive marine animals.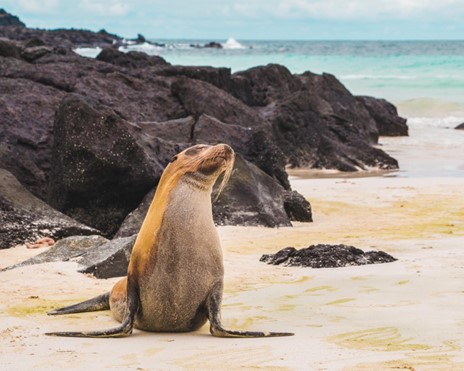 Isabela Island
Isabela Island is the largest but more reserved than Santa Cruz and San Cristobal. If you are looking for ultimate privacy where you can relax and have a memorable honeymoon, Isabela is the right choice.
While here, you can be adventurous by seeking out the giant Galapagos tortoises on the Island. You can also visit Vicente Roca Point, one of the best snorkeling spots in the Galapagos. While snorkeling, the fantastic wildlife is sure to draw you in. There are many beautiful species of fish and other sea animals to tickle your fantasy. The Concha de Perla is another embodiment of attraction in Isabela. It is a small beach that allows you to relate to and enjoy wildlife entertainment.
Floreana Island
If you are looking for a quiet romantic honeymoon, you'll find it in Floreana. Here, you will enjoy nature in its unspoiled form. Floreana offers you a serene and captivating aura. You can take as many walks as you want with your lover. You can also visit the black beach, Asilo de la Paz, see the devil's crown, post office bay, and so on.
Best Honeymoon activities on the Galapagos Islands
In case you want to put together a bucket list for your adventure to the Galapagos island, we'll provide a list of the top thrilling activities to embark on, which will give you an unforgettable experience.
Visit the Reserva el Chato, Santa Cruz Island.

Spend time at the South Plaza Island, the only place in Galapagos where Land iguanas share territory with marine iguanas in Santa Cruz.

Sunbath on the Galapagos beach at Tortuga bay, Santa Cruz.

Visit La Loberia, the coral sand beach with sea lions on San Cristobal.

Visit the Galapagos National Park, Ecuador's first national park and a UNESCO World Heritage Site.

Visit Charles Darwin Research Station, Santa Cruz.

Take a trip to Daphne Major, the volcanic island just north of Santa Cruz Island.
Book Your Travel!
The Galapagos Islands promise nothing short of an unforgettable honeymoon. With the unending list of exciting wildlife adventures that the Galapagos Islands offer, there is absolutely nothing stopping you from booking your trip to one of these Islands today.