Everyone loves Barcelona! It is the darling city of Europe and Spain's most visited city for a reason. Barcelona is idyllically sandwiched between mountains and beaches in the beautiful Northern region of Catalonia. It has its own unique culture, iconic landmarks like Sagrada Familia and inspiring gothic architecture, gorgeous parks, charismatic beaches with lively promenades and beach bars, great food and – naturally – a wild nightlife. As one of the most gay-friendly cities in the world, that nightlife includes a wealth of gay bars to lose oneself in after a hard day's exploring and sunbathing.
Barcelona is also a city neatly divided into two parts. In the 19th century, the walls limiting the city's growth were torn down and a "new town" was built in a rather efficient grid formation. It is in this new town that you'll find L'Eixample, which, in the modern day, is affectionately nicknamed Gayxample because…well it's very gay. Here you'll find the vast majority of Barcelona's gay bars, as well as all those comforting shops selling harnesses and Aussiebum underwear, which are the mark of any gay neighborhood the world across.  
However, Gayxample does not have the monopoly on gayness in Barcelona. Back down in the twisting roads of the old town you'll find the bohemian and hipster area of Raval, which houses some of Barcelona's queerer and more alternative gay bars. Let's take a look at the best gay bars north and south of the divide.
L'Eixample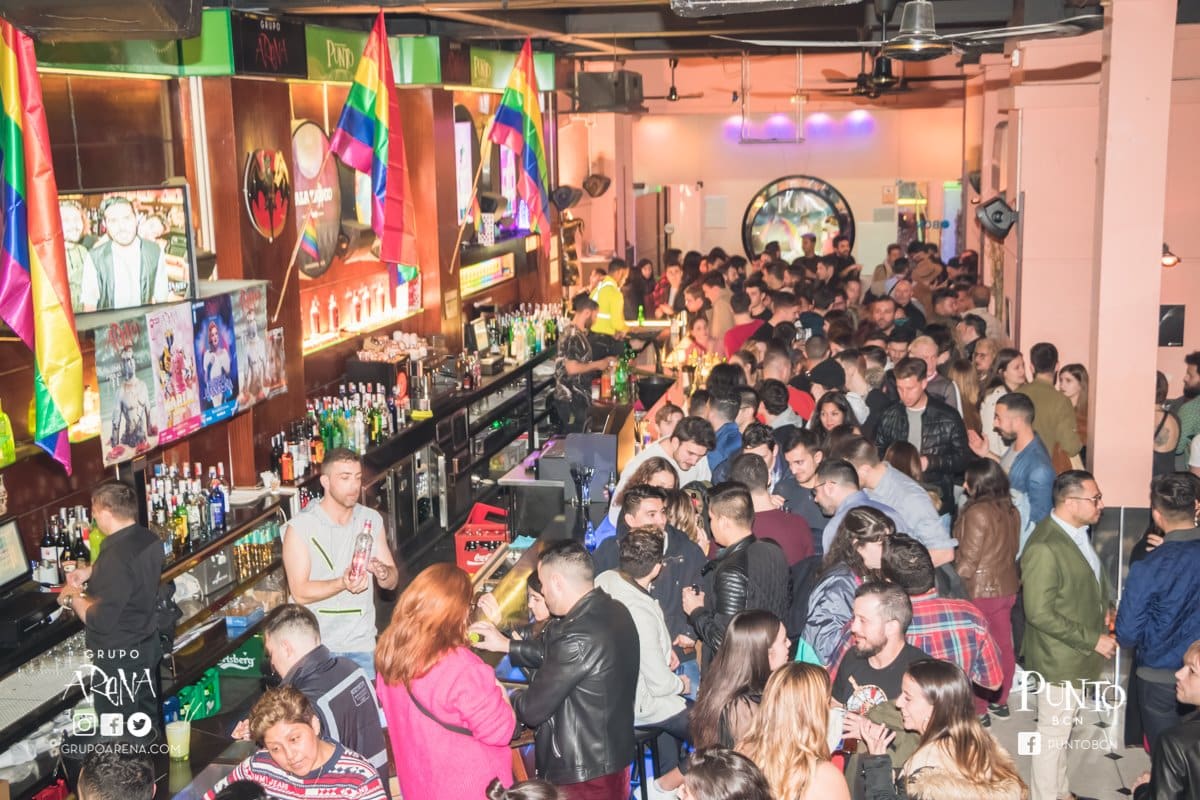 Café Bar Punto
Probably the most popular gay bar in Madrid – and certainly one of the oldest – Café Bar Punto encapsules Barcelona's lively gay scene to a t. Here you'll find a healthy mixture of ages co-existing in a spacious, modern-looking bar. There are plenty of seating, a raised indoor balcony area and a good range of drinks ideal to kick start any night on the town. Café Bar Punto opens every day, but gets especially busy around 11pm on the weekends. Being part of the Arena group, they are the starting point for those wishing to move on to one of the three Arena clubs in the same chain – mostly because you can get discount entry flyers at the bar.
La Chapelle
If you're looking for something with an edge in L'Eixample, you can't do better than this oddity of a bar. It is without doubt one of the most unique cocktail bars in the city, since you don't usually find a gay bar bedecked with crucifixes and Catholic imagery. As juxtaposed with the gay world as this may seem, it just adds to the atmosphere, and indeed there's always a pleasant atmosphere in La Chapelle with friendly attractive bar staff and an even friendlier crowd drawn in by the novelty interior and reasonably priced drinks.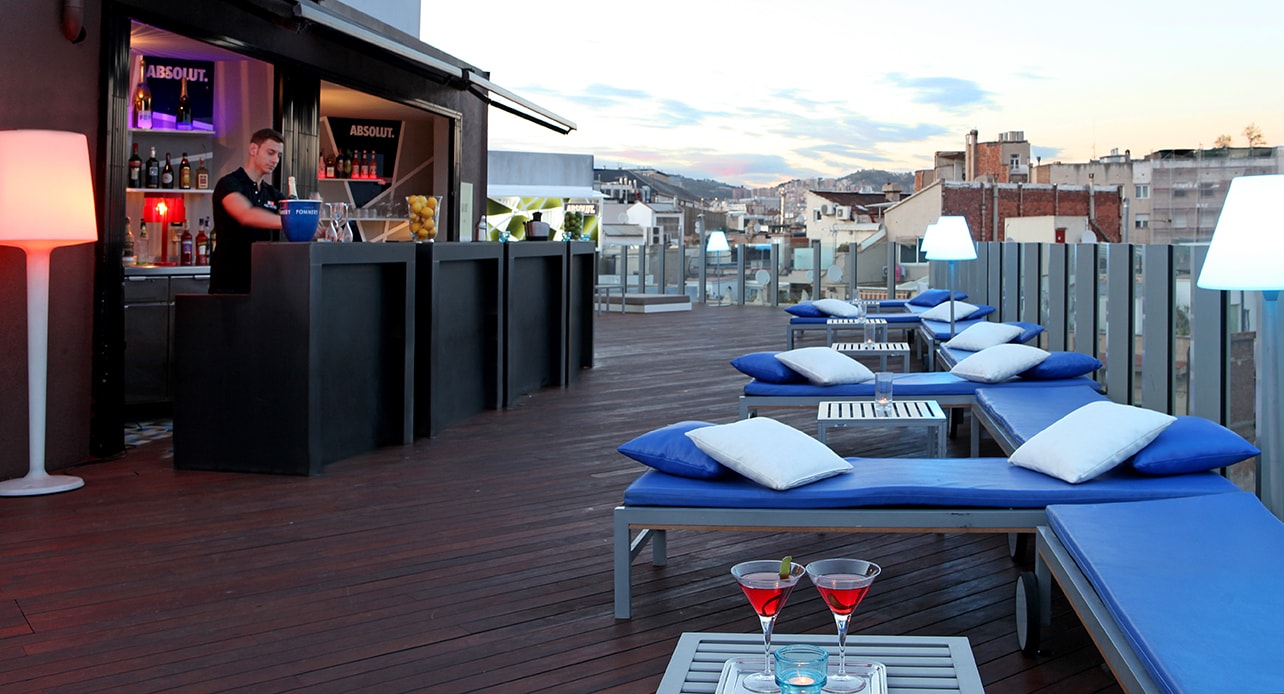 Axel Hotel Barcelona: Sky Bar
The first LGBTQ+ hotel in Barcelona also hides one of the coolest bars in the city on its rooftop. You don't need to be a guest to enter during the summer and it is the perfect place to sip away at a good cocktail, while watching the sun set over the city. It is also a great place to meet hot guys from all around the world, both guests in the hotel and those looking to mix with them. The Sky Bar is a bit on the pricey side, but then – if we're being real – you're paying for the view and the company. Both of which are well-worth it.
Bacon Bear Bar
Bears have gotta eat and this bar is the classic hangout in Barcelona for the hirsute and their admirers – although there's no actual food, just a lot of meat. The vibe is no-nonsense with perhaps the most welcoming bar staff and clientele in town. The drinks are cheap, including different promotions like 2-for-1s on Thursdays and the second beer free on Fridays. Bears and fetish go hand in paw, so it is also not uncommon to see pups and leather wearers frequenting the bar at the weekends before heading onto the fetish clubs nearby.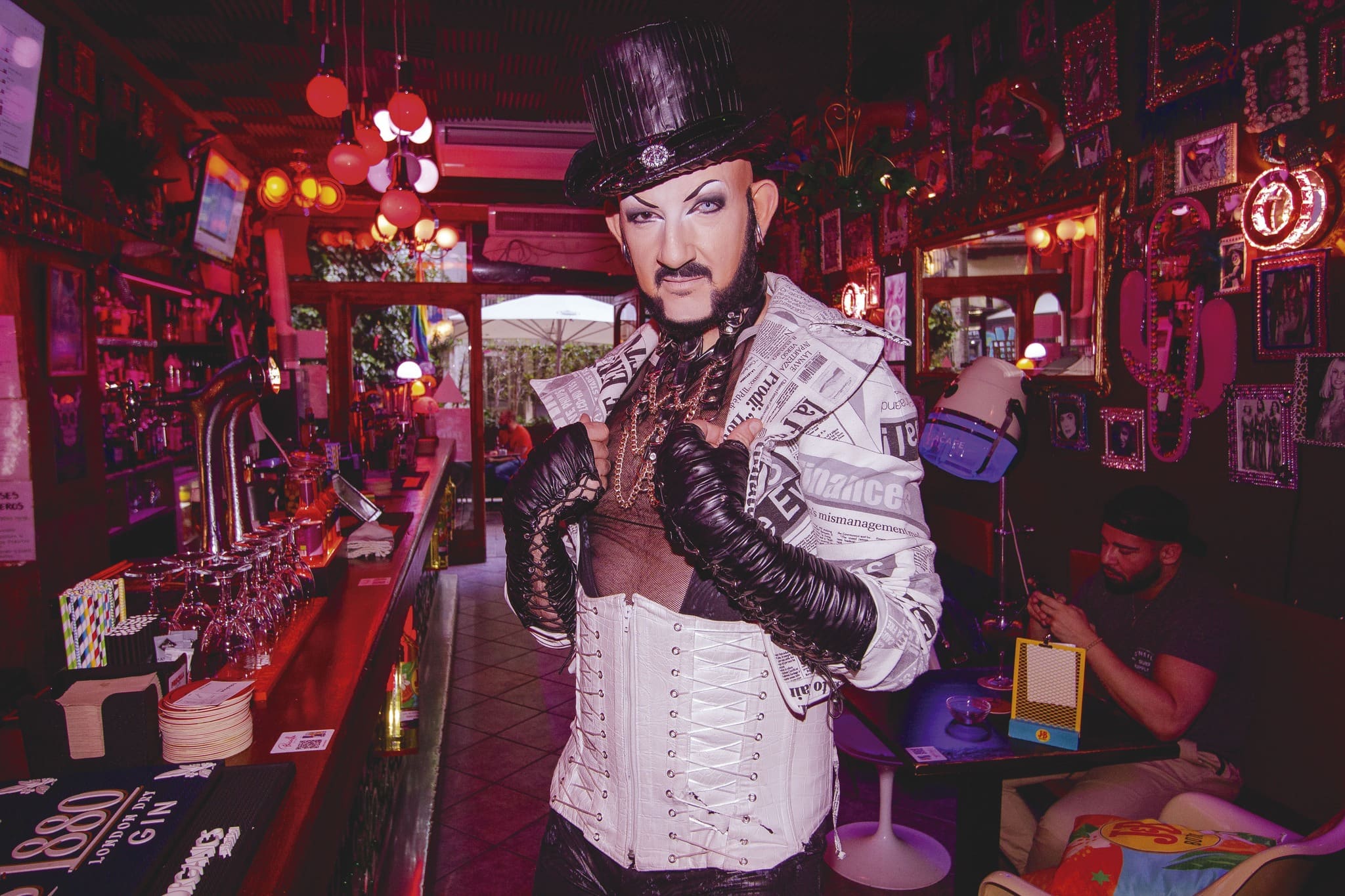 Pricilla Café and Bar
The award for the coolest – and gayest – decor, however, goes to Pricilla Café and Bar. Firstly, it's pink and the walls are filled with ornate mirrors and portraits of gay icons. The seating areas at the front are in the style of an old hairdressers with spin chairs and faux hair dryers. Needless to say: it's flamboyant and full of character. The crowds tend to be rather mixed, with gays of all size, shapes. styles and ages. It is also both a bar and café serving food from midday onwards. Most importantly though it is the place to go to see the best drag shows in Barcelona – during the winter months there is also drag lunch bingo. Pricilla Bar's philosophy is 'have a good time without worrying about prejudices' and how can one not get behind that sentiment. They also own the nearby Gingin bar and Believe Club operating under much the same ideals and sass.
Versailles
Putting the ass in class, this bar is the perfect place for anyone who fantasies about enjoying a drink sitting on a golden armchair under chandeliers while surrounded by the grandiose decor of a palace – Versailles Palace is what the bar is named after. All this is possible without sacrificing the fun playful vibe of your average gay bar. What's more, the drink prices fortunately do not match the grandiose décor and are reasonably priced.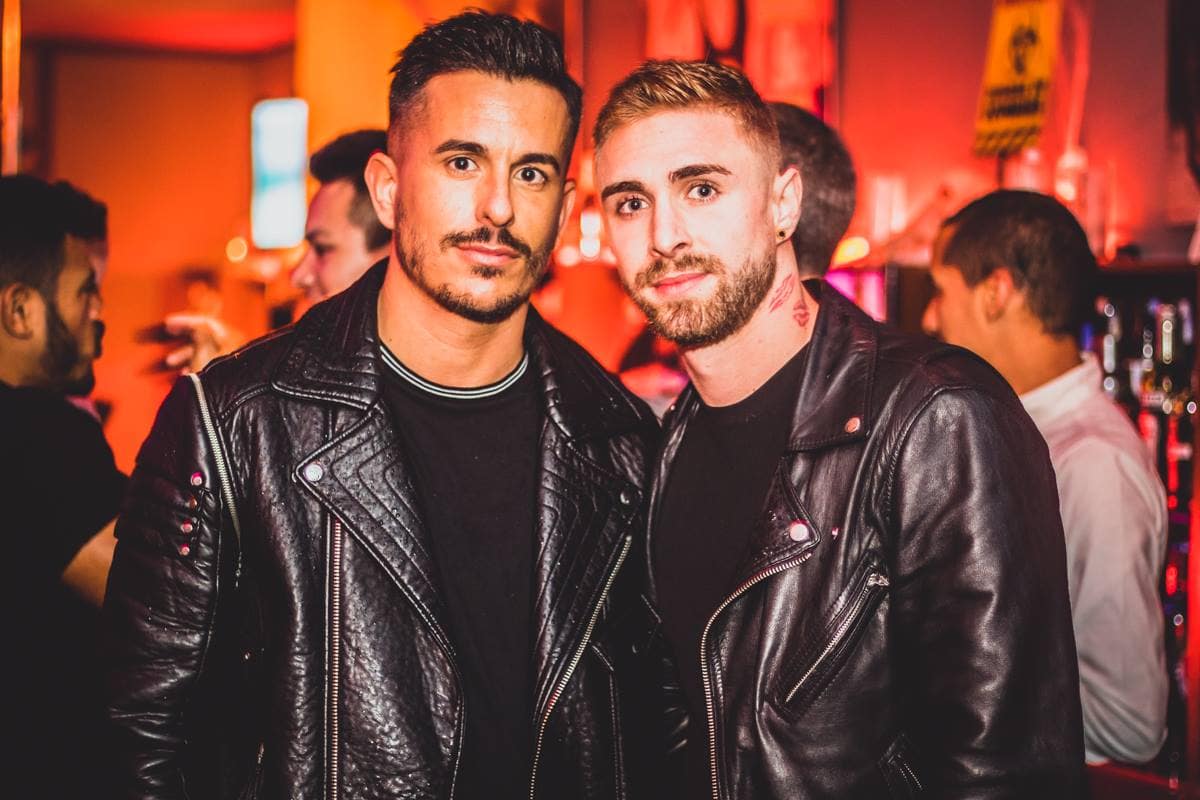 Night Barcelona
Conversely, if you're looking for action of another type, then Night Barcelona could be more your style. On its surface it is a lively men-only bar with loud house music and regular benefits such as a happy hour on Thursdays. However, the erotic art on its walls gives some clue to the bar's main draw: a darkroom replete with cabins, cruising area and glory holes. In short, Night Barcelona is a popular hang out for those who want to mix a bar atmosphere with some raunchy fun.
Raval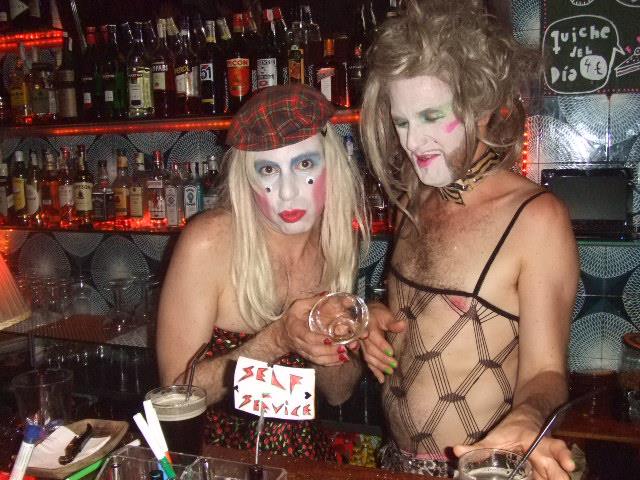 Madame Jasmine's
Raval's worst kept secret, Madame Jasmine's is what Raval is all about: it's edgy and eccentric in all the right ways. For such a small venue it blows the mind the sheer number of retro ornaments and antiques crammed onto its walls. Zebra print walls, free nail varnish at the bar and an unapologetically queer crowd complete the atmosphere, with friendly bar staff and local legends like Monica de Raval frequenting the place. Found directly in front of the panda statue halfway down Ramblas de Raval (an underrated area itself full of quirky cocktail bars), Madame Jasmine's gets very busy during the weekends as it is a firm favorite among locals.
Olimpic Bar
This long corridor of a bar is a more modern take on the Raval bar, but none the less full of hipster gays and those rocking the Raval look. The tiled interior has a few comfy armchairs within, but you'll have to kill to get one as it gets extremely full. More than likely you'll find yourself standing either inside, or in front of the bar's doorless entrance. This, however, is all part of its bohemian charm more than made up for by their great cocktails and cool, yet welcoming, vibe.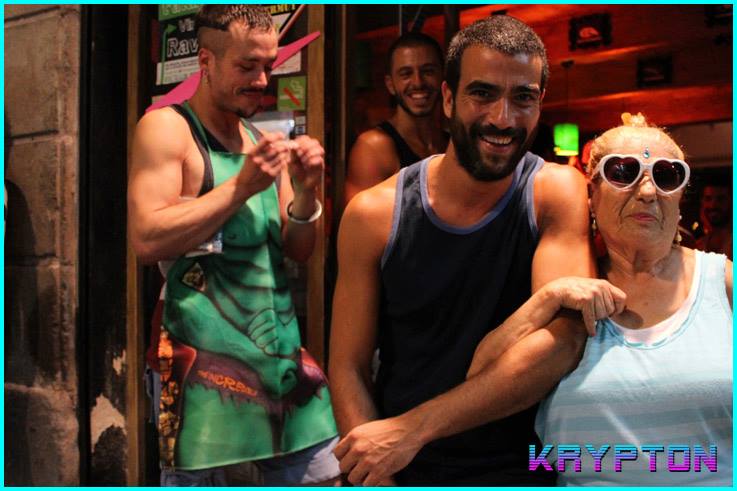 La Casa de la Pradera
La Case de la Prader is definitely the bar with the coolest name in Barcelona, translating as "little house on the prairie", like the western – and slightly camp – TV show from the 70`s. The charismatic bar has a large terrace, which is oft the meeting spot for an eclectic mix of alternative and queer folk – gay men and gay women are found mixing here in a way you would never find up in L'Eixample. There's a small bar at its front and the back is home to a dance floor with DJs playing indie and electro during the weekends – and fun themed nights. La Casa is tucked away on a backstreet not far from the Ramblas of Raval but is worth seeking out for those wanting to mix with local people who have that Barcelona alternative vibe to them.
El Cangrejo
There's actually two El Cangrejos in Barcelona, but it is the one in the "Chinese neighborhood" alongside Raval which has the strongest personality and is steeped in history. For a start, the legendary drag queen Carmen de Mairena became notorious for performing here on a regular basis, as have other Spanish legends.  Nowadays, a gay clientele mixes with a straight one, all out to enjoy the frequent drag queen shows and other performances taking part in this cozy venue. When the show is finished the seats are moved aside at the weekends to reveal a dancefloor, where pop DJs play till the early morning. Entrance is free, making it a great alternative for those wanting to dance, but not wishing to commit to a heavy night out at a club with an entrance fee.
La Federica
Art and alcohol! La Federica is the perfect marriage of the two. The walls are filled with pictures and photos created by local artists, and they even host regular art exhibitions during the week. This makes it a popular choice for those bored with the more typically gay bars of L'Eixample and with those who like a little culture around them as they drink. La Federica is technically not in Raval, but instead the adjacent area of Poble Sec. On the weekends it is one of the busiest bars in the area, full of hot hipsters and just down the road from Apollo, a popular club option for LGBTQ+ people in Barcelona.
Bonus Round: Down by the Sea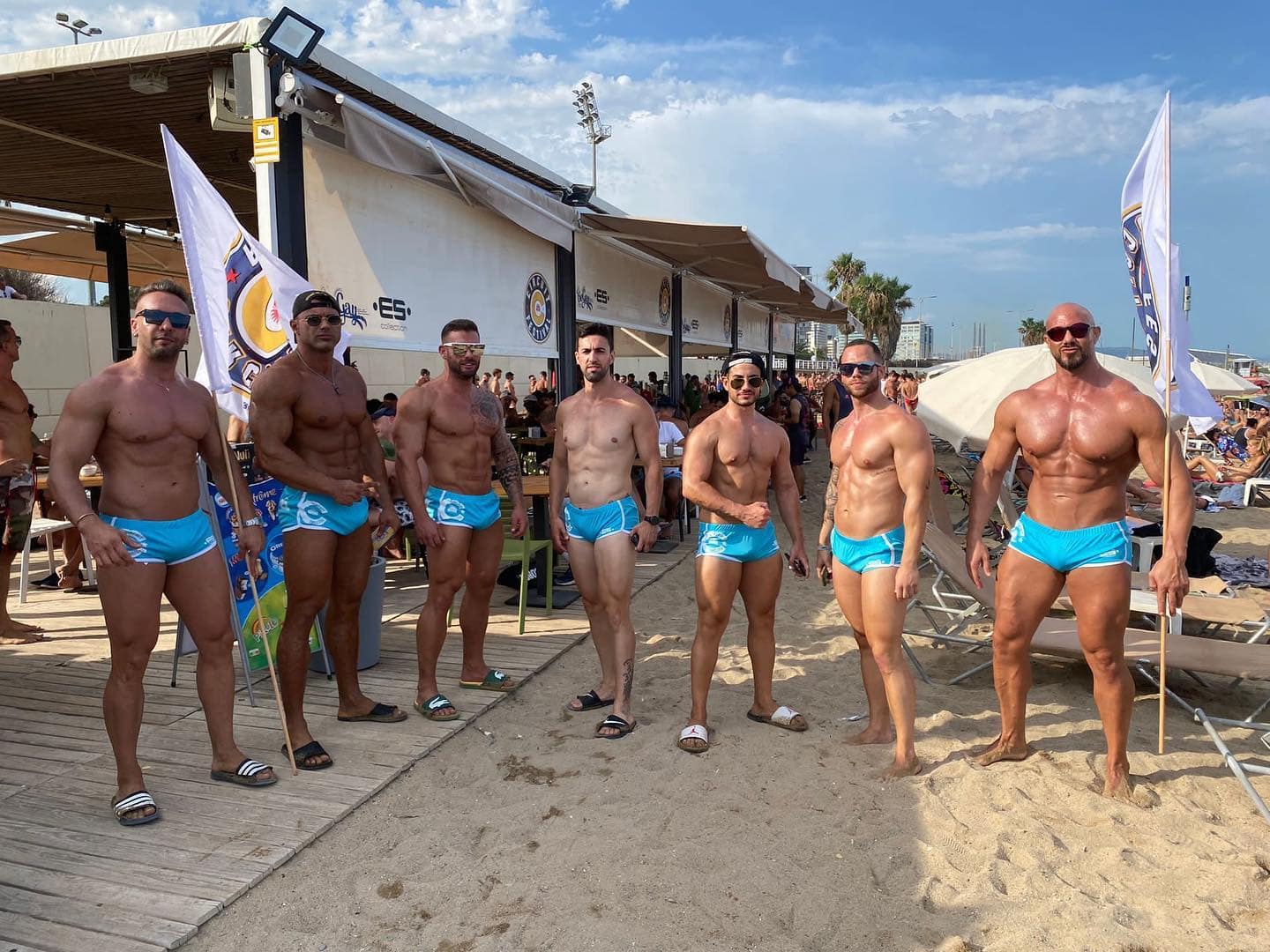 Chiringuito BeGay
Further yet to the south – right on the beach in fact – there's another popular gay bar worth a mention. "Chiringuito" is the Spanish word for "bar on the beach" and indeed Barcelona's promenade is full of them. Chiringuito Be Gay (given the cute nickname "Chiringay" by those in the know) is found on Marbella, the gay beach, and it is the "gay place" to be on a sunny day. There are either tables or loungers to relax at/on and enjoy their cocktails and finger food, while simultaneously perfecting a tan and eyeing Barcelona's trademark muscled bodies parading around the beach.  What more could you ask for?