Barcelona is a heavenly gaytopia with a plethora of gay bars and clubs sandwiched between its fronting beaches and backdrop mountains. Heavenly both because of the city's architectural – and natural – beauty and the sheer hotness of the men who make up the gay population there. It is also one of Europe's most open-minded and sexually liberated cities, giving even Berlin and Madrid a run for their money. As such, among the growing number of gay bars are an equally growing number of cruising clubs and bars, catering to every portion of the gay community whether you're seeking a quick cubicle encounter between drinks or an intense BDSM scene.
So, as the sun sets over Sagrada Familia, here are some of the best places to find some hedonistic action: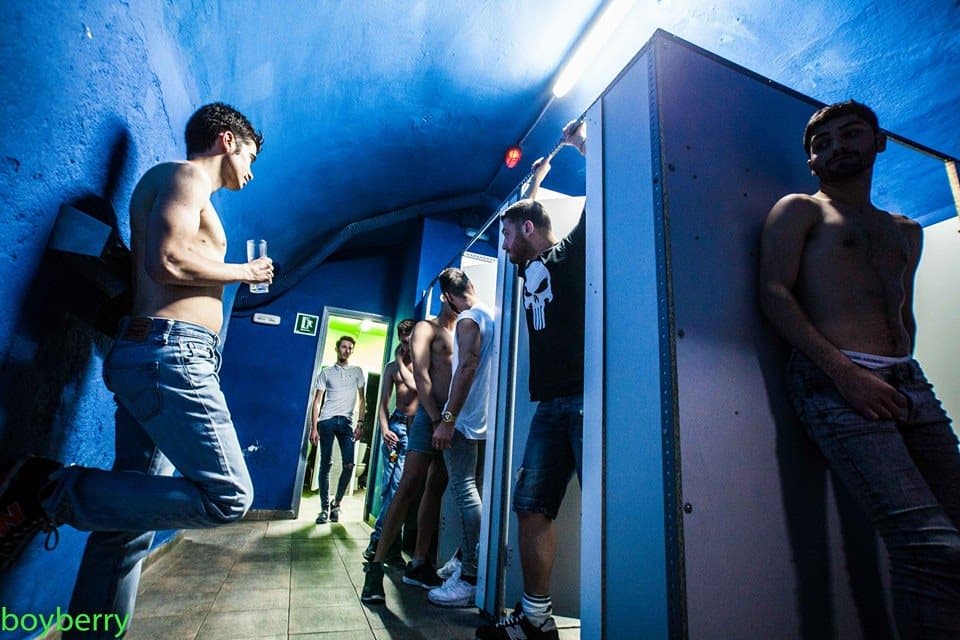 BoyBerry
Somewhat of a trend setter, Boyberry started as a video store, expanded into a sex shop and finally became a fully-fledged gay cruising bar. It quickly became very popular and has been the inspiration for many similar venues since, as well as opening a branch in Madrid. As you walk in, you'll find a sex shop where you can buy access to a main area consisting of a darkroom, a large cruising area, glory holes, a labyrinth, beds, sofas and – for the less exhibitionist – some cubicles to spend some "quiet time" in with any newfound friends.  
Boyberry is situated in the Sant Antoni area to the south of the city and entrance is only 5 euros with all sorts of deals offered, including two for one entrance – ideal for boyfriends looking to spice things up a bit by playing together – and even an offer to enter free on your birthday! They run an eclectic mix of themed events like naked nights and lights out, where they really turn the lights down and you are left to rely on luminescent bracelets to find some action.
Night Barcelona
Not having an actual bar, Boyberry decided to open a venue in the heart – or should that be heat – of Barcelona's gay area, Eixample. Better known as Gaixample by the locals. The idea is that you can enjoy a drink and delve into the darkroom and cruising areas at your leisure – or not, the choice is entirely yours. Just like in Boyberry, inside you'll find cabins and glory holes galore.
The bar is always full of people anytime of the day and there's absolutely nothing wrong with just popping in for a cocktail and enjoying some eye candy, or even to see one of the photo exhibitions sometimes held there. An amusing feature is that the toilet is just after the darkroom, and it's so very easy to "accidentally" go through the wrong entrance. Entrance is free, all that is required is that you purchase at least one drink and there's happy hour every Thursday from 6 to 9pm if you can pull yourself away from the action long enough to enjoy it.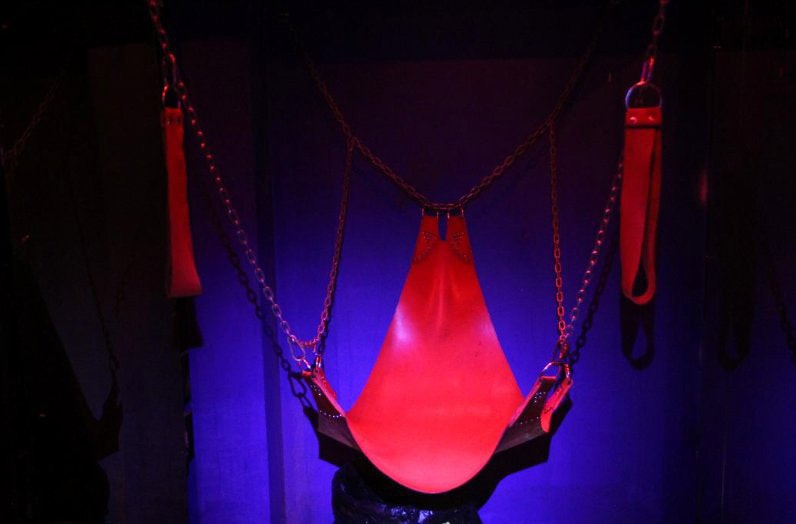 Open Mind
Open Mind's slogan is 'what happens in Open Mind, stays in Open Mind', so discretion is assured in the busiest gay cruising club in Barcelona. Perhaps this is largely due to its reputation as the naughtiest of the sex clubs, where anything goes…and comes. Like many of the gay clubs it is located in the aforementioned Gaixample in the center of the gay action. Open Mind boasts two floors full of slings, glory holes, beds, cubicles and kinky paraphernalia up for usage. They organize different themed parties ranging from naked night to fisting night, so check their website so you don't get a surprise. On any average night they have a strict dress code where jeans, shorts and street clothing are prohibited, so at least bring your best jock strap or harness. There's a bar to relax at between encounters and the entrance fee includes a free drink. Open Mind is particularly popular with men over thirty, which sets it as a nice contrast to Boyberry and it is undeniably kinkier whatever night you attend.
Berlin Dark
The name should give you some indication of what to expect here: something akin to a fetish club in Berlin. In short, they ramp it up a notch and it is the place to go for those who agree that 'if it isn't rough, it isn't fun'. Berlin Dark operates under the philosophy that fun and fetish should blend seamlessly and you can explore anything from leather and PVC to BDSM and CBT (no, that doesn't mean Cognitive Behavioural Therapy!). As well as the usual slings, dark rooms and cruising areas, you'll find cages, restraints and chains. Berlin Dark has the additional benefit of a dance floor pumping out industrial Berlin style techno to add to the atmosphere and to have a dance to get into the mood.
The unofficial dress code is lumberjack style jeans and boots or anything fetish – although there are themed nights with stricter dress codes like wrestling nights. Berlin Dark is located in Poble Sec, an area just outside of the center under MontJuic – an area also known for cruising.
The Basement (Formerly Black Hole)
On the other side of the city, not far from Parc de la Ciutadella, is another popular option for a gay cruising club. The Basement is the biggest fetish club in the city, being more than 400 meters long. The venue has a perfect industrial look to it with a range of facilities in its massive basement including cages, cabins, a cinema lounge, showers (a surprisingly rare occurrence in fetish clubs) and even a wrestling area. With regards to what to wear, those wearing trainers, sportswear, leather and rubber are all welcome. The Basement attracts a varied crowd and has a mixed night on Tuesdays popular with lesbians, bisexuals and trans people. It's worth noting that this is a "member's only club" but short-term memberships are easily purchased at the door.
Xman Aduff Club
Xman is smaller than a lot of the other sex clubs, but with a lot of action packed into a tight space, which is never a bad thing. It has not one but three slings, lots of beds and even a San Andre Cross in its repertoire. The crowd tends to be a little on the older side and it is popular with pups and their handlers. It is strictly fetish even when it comes to its dress code on their standard night – the brazenly titled 'Fuck Um'. Sometimes the venue is hired for private parties, so make sure you check the calendar on their website to avoid being turned away.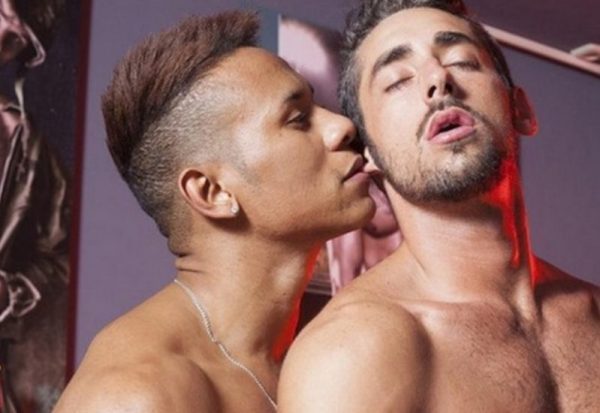 Men Factory
Exactly as advertised Men Factory is filled with hot guys and is open every day of the week until either 5 or 6am. Again, it is situated in Gaixample and besides the slings, glory holes and cabins, it also has a piss area, a jail and a place to film yourself getting some action – or providing the action – in a sling. Their themed nights include puppy play, spanking, masked and mixed nights. Men Factory also works in conjunction with popular cruising App Scruff to offer special nights with unique features like prize giveaways, live shows and surprise guests.
Rectum
Rectum – quite the name – is one of Barcelona's newest sex clubs located above Universidad on the outskirts of Gaixample. It caters especially to the bear community although any are welcome as long as you join at the door. Inside Rectum – snicker – they have all the usual facilities, slings and darkrooms etc and the atmosphere is more laid back than a lot of other sex clubs. On an average night it is free entry with the provision you buy at least one drink. A particular favorite themed night of theirs is 'Workers Night' for those who like the idea of sweaty construction workers letting off some steam. Rectum also holds orgies from time to time – like during Pride – with a 20-euro entry fee that includes cava and snacks…how civilized.
Imperial
Putting the ass in class, Imperial is found opposite the Axel Hotel and considered an elegant more exclusive cruising option, although it is more than just that. The main floor is a rather classy bar which operates as a meeting place for the gay community and has events, DJs, shows (some sexual and some not) and other forms of entertainment. All this contrasts interestingly with the cruising labyrinth down in the basement below equipped with glory holes, orgy areas and cabins. Imperial requires some preparation to enter as it is a "private social club" requiring registration on the Imperial website before going. All worth the effort though as Imperial's diverse vibes makes it the most unique cruising bar in Barcelona.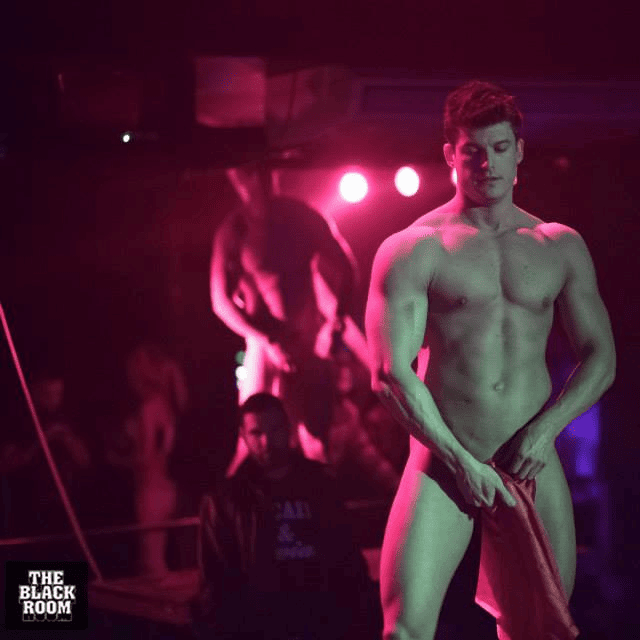 The Black Room
Technically a nightclub, it nonetheless has a highly sexually charged atmosphere, full of the hottest guys in the city and a reasonably sized dark room to meet them in. Considered the "rogue" gay party of Barcelona, it is the place to be on a Sunday night and you would be hard-pressed not to find some action while there. Sala City Hall is the hosting venue right off Plaza Catalunya and as well as the big DJs playing Circuit music, you can enjoy the sexy bartenders and go-go dancers between visits to the darkroom. Barcelona is an undeniably sexy city and there's no better way to round off any weekend of exploration, fun and debauchery than dancing and flirting in The Black Room until the Monday sun rises back over Sagrada Familia.