Berlin is arguably the gayest capital city in Europe…or at least the kinkiest and most alternative. Yes, Berlin is a scene for artists and independents, and this becomes obvious through the variety of places to explore in the city. From amazing street art and gritty neighborhoods with leftover feelings from the East Germany GDR times to the hip and trendy neighborhoods like Kreuzberg or Schoneberg, Berlin truly has something to offer for everyone. Whether it's art and history or dancing until the sun comes up in one of the countless nightlife options, Berlin doesn't disappoint.
Choosing where to stay in Berlin is an important decision you make when planning your trip, especially if you really want to experience gay Berlin. The options are limitless, and your choice ranges from large hotel chains to small, boutique hotels or apartment rentals. You can also find gay-owned hotels in Berlin or even a hotel chain like Axel Hotels, which is designed for the LGBT community.
While staying at a gay hotel might not be the preference for everyone, some travelers enjoy the open environment that Axel Hotel Berlin offers where you can simply relax and be yourself. It's true there are many gay-friendly hotels in Berlin that are not necessarily gay-themed or designed for the LGBT community, but those properties simply can't provide the same type of unique experience offered by Axel Hotel Berlin.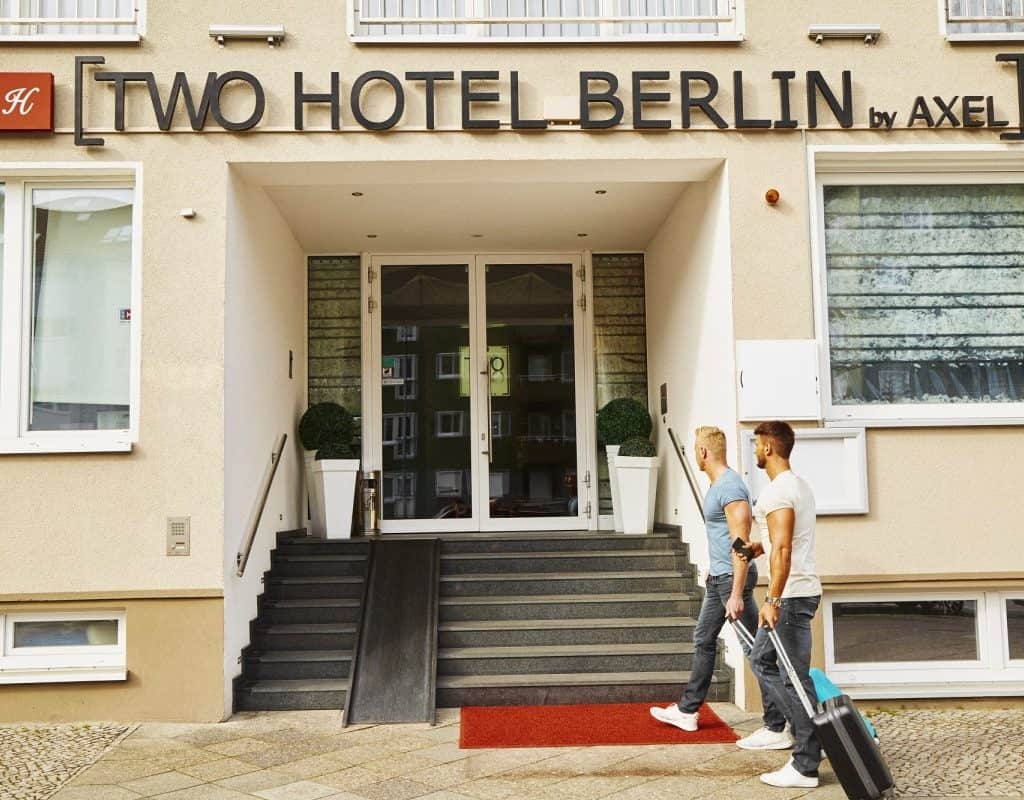 About Axel Hotels
Axel Hotels was founded in 2003 and is really the only major gay hotel chain in the world. Their hotels are mostly located in Europe, but they recently expanded to the US and Italy, and will soon expand to Portugal, Cuba and beyond.
The Axel Hotel vision is to offer a hotel aimed at the LGBT+ community. The spaces are cosmopolitan with a tolerant environment where diversity and respect are valued. The philosophy is a hotel chain for the entire LGBT+ community where two men, two women, a man and a woman or any type of customers are equally welcome, without prejudice to their sexual orientation. Axel Hotels is designed for the LGBT+ audience but is opened to everyone. In fact, Axel Hotels doesn't define itself exactly as a gay hotel per se, but rather heterofriendly.
Check out our listings below of all the Axel Hotel locations in the US, Spain, Germany and Italy.
What Can You Expect if You Stay at an Axel Hotel?
Axel Hotels are properties where any guest, gay or straight is welcome to stay, but with the concept of offering a space designed for the LGBT community. You could bring a straight friend or even your grandma to one of these properties and you wouldn't feel awkward. The concept is simply to create a welcoming environment for LGBT guests. Axel Hotels is gay owned and operated and they promote respect and diversity, have non-discrimination policies as well as offer sensitivity training for their staff.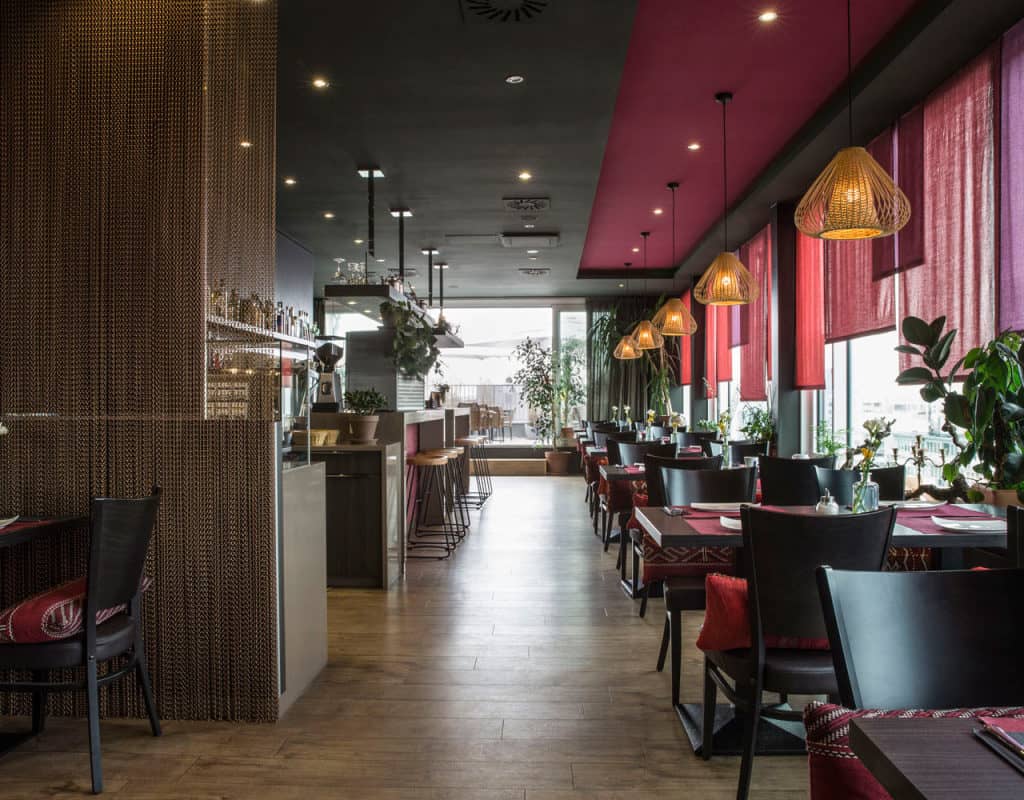 Axel Hotels currently has 2 properties in Berlin. If you're visiting the city during gay pride or a popular gay event, rooms at Axel Hotel Berlin and TWO Hotel Berlin by Axel get booked well in advance, so you'll need to plan ahead. Axel properties in Berlin are often fully booked during popular gay events like Berlin Gay Pride, Folsom Berlin and SNAX. Axel Hotels are a great option if you're traveling with your same-sex partner and you won't have any issues with public displays of affection.
Axel Hotel Berlin
Axel Hotel Berlin is located in Schöneberg, which is the heart of the gay scene in Berlin. The hotel was opened in 2009 and has 87 rooms decorated in a unique black and gold style. The property has a rooftop Jacuzzi, gym as well as a bar and restaurant on the ground floor.
TWO Hotel Berlin by Axel
TWO Hotel Berlin by Axel was opened in 2017 and is located at Bundesallee street, in the district Charlottenburg-Wilmersdorf, which combines leisure, shopping and great gastronomy. The hotel is only few minutes away from the most famous shopping street Kurfürstendamm located in the famous gay district of Schöneberg. The hotel has 86 modern rooms with the latest technology as well as a small gym, restaurant and bar.
Our Review
We've stayed at Axel Hotel Berlin and really enjoyed our stay. Every stay we've had at Axel Hotels has been enjoyable and the staff is always friendly and helpful. It's usually quite easy to socialize with and meet other guests, which is great when you're visiting a new city. The location is perfect, right in the gay neighborhood and it's well connected to other parts of the city. Both properties have great amenities including a bar, restaurant, gym and jacuzzi. In the original location, the rooms are painted black which makes it a bit dark and difficult to see, particularly in the bathroom. If you're visiting Berlin, we'd recommend you actually stay at their second property, TWO Hotel Berlin instead of the original, if it's available.

Ready to Book Your Stay at Axel Hotel Berlin?
Interested in staying with a gay host in an apartment rental instead of an Axel Hotel?
Next to Axel Hotels, misterb&b is definitely the other major player in the market. Founded in 2014, misterb&b is not a hotel or chain, but rather a booking site for rooms, apartments and homes. Similar to AirBnB, misterb&b is an online service that allows you to rent short- or long-term spaces from gay and gay-friendly hosts around the world. They have hosts in more than 135 countries with more than 200,000 total listings. They recently even started offering listings of gay and gay-friendly hotels on their site for a one-stop shop. You can even list your own room or apartment to earn cash from gay travelers in your city. Understanding a city's gay scene is much more easily done with the help of a local and apartment sharing is one of the best ways to meet someone living in the city who knows the best insider advice.