Choosing your hotel in Puerto Vallarta is one of the most important decisions you make when planning your trip. The options are limitless, and your choice ranges from large resorts and hotel chains to small, boutique hotels or apartment rentals. You can find many gay-owned hotels in Puerto Vallarta and Almar Resort is the largest.
While staying at a gay hotel might not be the preference for everyone, some travelers enjoy the open environment that Almar Resort offers where you can simply relax and be yourself. It's true there are many gay-friendly hotels in Puerto Vallarta which are not necessarily gay-themed or designed for the LGBT community, but those properties simply can't provide the same type of unique experience offered by Almar Resort.
About Almar Resort
Almar Resort has only been an LGBT-specific resort since 2014. Before that it was a mainstream property until it was gutted and remodeled, with the goal of creating a high end, gay hotel. The property is owned by a well-known family in Puerto Vallarta who has been in the hotel business for more than 60 years. The company is co-managed by two brothers and one happens to be gay. Almar Resort is both a hotel and a timeshare so guests have the opportunity to become a member or purchase a share in the property, which gives them unique access and benefits.
Why Stay at Almar Resort?
Location – Almar Resort is perfectly located in the Romantic Zone (old town) of Puerto Vallarta. It has private beach access and is walking distance to the city's most popular attractions and gay nightlife.
Free beach club access – Mantamar Beach Club is the only gay beach club in Puerto Vallarta and it's part of Almar Resorts. Hotel guests get free access to the club, pool, restaurant and beach. Non-hotel guests must pay for access which costs about $20 per day.
Parties and events – Almar hosts a variety of parties and events at both the Top Sky Bar as well as Mantamar Beach Club. These activities might be offered to just guests or in some cases even to the local LGBT community in the destination.
Be yourself – probably one of the most attractive parts about a gay hotel is the comfort zone. The entire hotel is full of LGBT guests and all staff has been extensively trained to provide you with a welcoming and gay-friendly experience. It's a very open environment and one where you can relax and not worry about harassment or discrimination.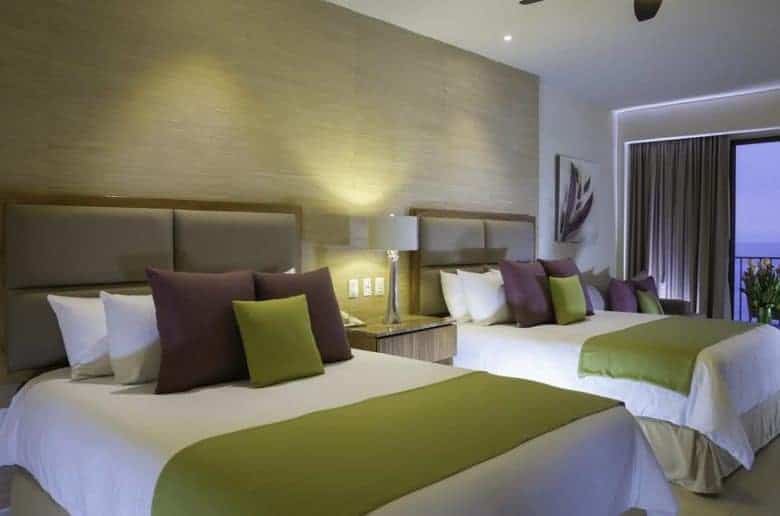 What Can You Expect if You Stay at Almar Resort?
Almar Resort has 79 luxury suites and is an adults-only gay hotel nestled in the fascinating tropical scene in the exclusive Romantic Zone of Puerto Vallarta. Almar Resort is a hotel where any guest, gay or straight is welcome to stay, but with the concept of offering a space designed for the LGBT community. You could bring a straight friend or even a family member to the hotel and you wouldn't feel awkward. The concept is simply to create a welcoming environment for LGBT guests. Almar Resort is gay owned and operated and they promote respect and diversity of the LGBT community.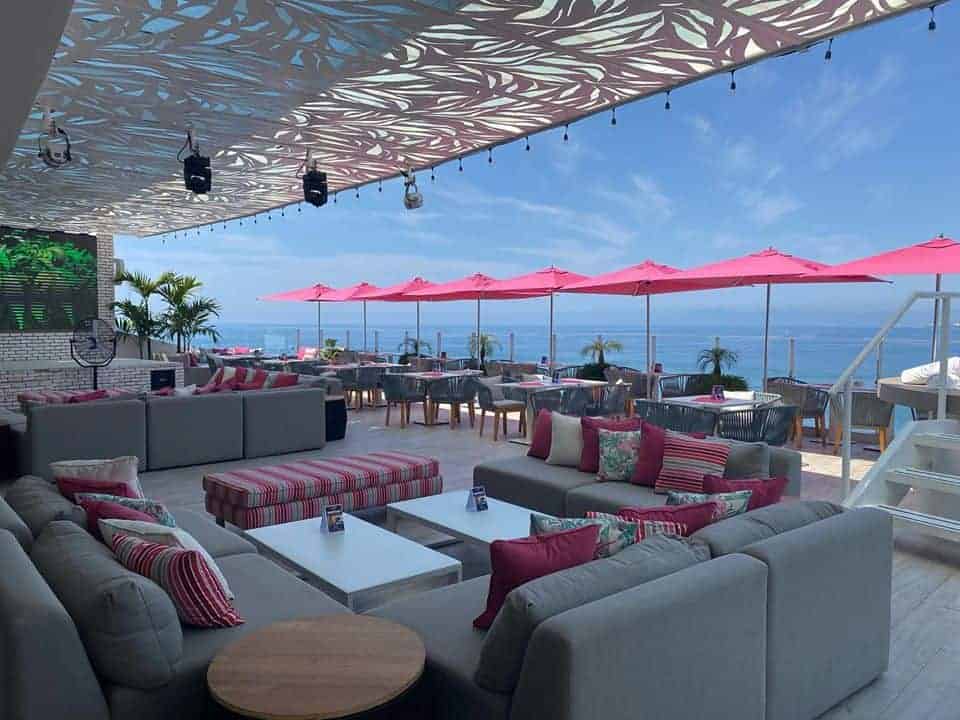 Almar Resort Location and Amenities
Mantamar Beach Club Bar is part of Almar Resort and it's located on the popular gay beach in Puerto Vallarta called Los Muertos. Enjoy the infinity pool or relax at one of the oceanfront cabanas and lounge beds. The club also has a restaurant and sushi bar offering lunch and dinner.
You can also eat breakfast, lunch or dinner on the rooftop terrace called Top Sky Bar, which has amazing panoramic views of the bay. You can relax in the lounge area during the day or sit in one of the Jacuzzi's. At night you can enjoy gourmet dinners, specialty cocktails, international DJs and a variety of gay shows during their popular happy hour.
The hotel also has a fully equipped gym on the top floor as well as spa and massage services available for booking.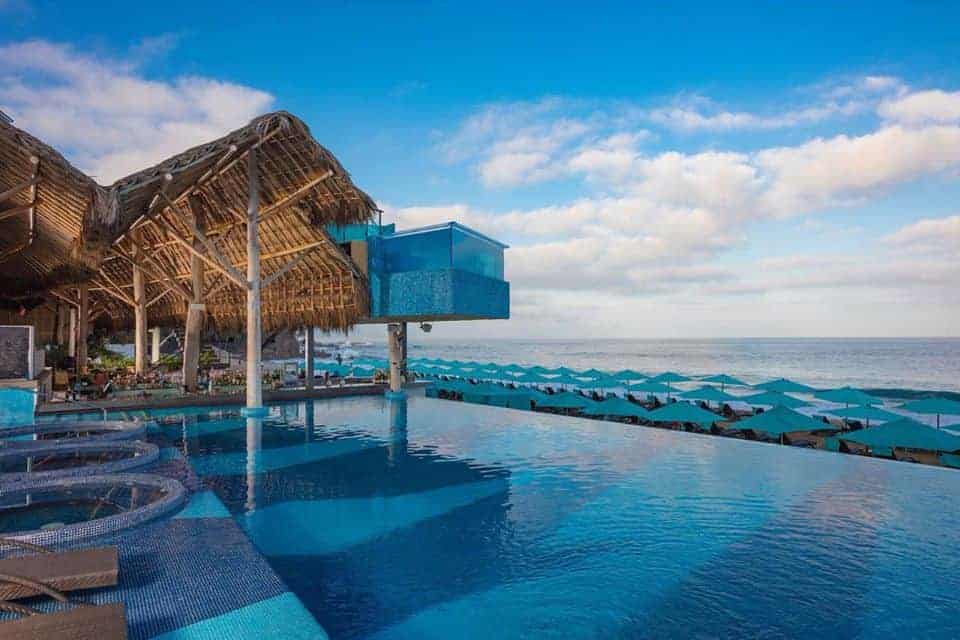 Is Almar Resort Right for You?
Here are a few things to consider if staying at Almar Resort interests you.
The hotel will be almost exclusively LGBT guests
You won't earn points from loyalty programs like would from staying at a large chain like Marriott or Hilton
If you're visiting Puerto Vallarta during gay pride or a popular gay event, rooms at Almar Resort get booked well in advance, so you'll need to plan ahead
Almar Resort is a great option if you're traveling with your same-sex partner and you won't have any issues with public displays of affection
Almar Resort is a luxury property so it will have a higher price than other gay properties. However, the additional service and amenities might be worth the extra cost.
Our Review
We've stayed at Almar Resort and had a great time. Our favorites parts of the hotel are their rooftop terrace as well as the Mantamar Beach Club. We stayed in October, just before high season and paid a pretty low rate considering it's a luxury property. The staff was incredibly friendly, and we would definitely return. Almar Resort also happens to be a timeshare, so you may be offered an opportunity to sit through a sales presentation in exchange for room credit or another incentive, however, it's not required. We did the presentation which lasted about 2 hours and included lunch. It was definitely pretty boring, but we ended up with a free $75 credit to use at the bar or restaurant.
Interested in staying at another gay hotel in Puerto Vallarta?
Puerto Vallarta has a large selection of gay hotels ranging from hostels and guesthouses to hotels and resorts. The most popular options include Blue Chairs Resort, Piñata PV Gay Hotel, Casa Cupula, Mercurio Gay and Lesbian Resort and Jet's Gay Hostel.
Interested in staying with a gay host in an apartment rental in Puerto Vallarta?
Founded in 2014, misterb&b is not a hotel or chain, but rather a booking site for rooms, apartments and homes. Similar to AirBnB, misterb&b is an online service that allows you to rent short- or long-term spaces from gay and gay-friendly hosts around the world. They have hosts in more than 135 countries with more than 200,000 total listings. They recently even started offering listings of gay and gay-friendly hotels on their site for a one-stop-shop. You can even list your own room or apartment to earn cash from gay travelers in your city. Understanding a city's gay scene is much more easily done with the help of a local and apartment sharing is one of the best ways to meet someone living in the city who knows the best insider advice.
Photo credits: Almar Resort