Tourism in Puerto Rico has struggled severely in recent years. While the world nearly stopped and international tourism was all but nonexistent from the COVID-19 pandemic, Puerto Rico had been going on 3 years prior with tourism recovery as a result of Hurricane Maria which devestated the island in 2017. Of course, as tourism resumed to the island, the gays are always amongst the first to return to travel and visit their favorite gay places. And there's no better time than ever for Puerto Rico to recover its title as one of the top gay vacation destinations in Latin America.
While Puerto Vallarta is probably the de facto top gay vacation destination in Latin America over the past decade, San Juan used to hold this title in the 70s and 80s. Being part of the US, gays from all over the country would hit the gay bars and beaches of this tropical island to escape to a more tolerant destination. But as the AIDS epidemic ravaged the gay community in the 80s and 90s, Puerto Rico's popularity as a gay destination faded and it lost this recognition.
Atlantic Beach in San Juan has actually been known as the city's prime gay beach since the 60s, though today the gay influence is more subtle. Due to the likely combination of gentrification and increased acceptance of LGBT+ people, you can find gay locals and tourists at most of the city's beaches. These days, Sunday afternoon is the most popular gay day at Atlantic Beach, just in front of the Tryst Hotel, the former location of the Atlantic Hotel, San Juan's then-gay hotel for a number of years. This property has changed owners over the decades and is going through its own gay renaissance, now hosting weekly drag shows every Sunday.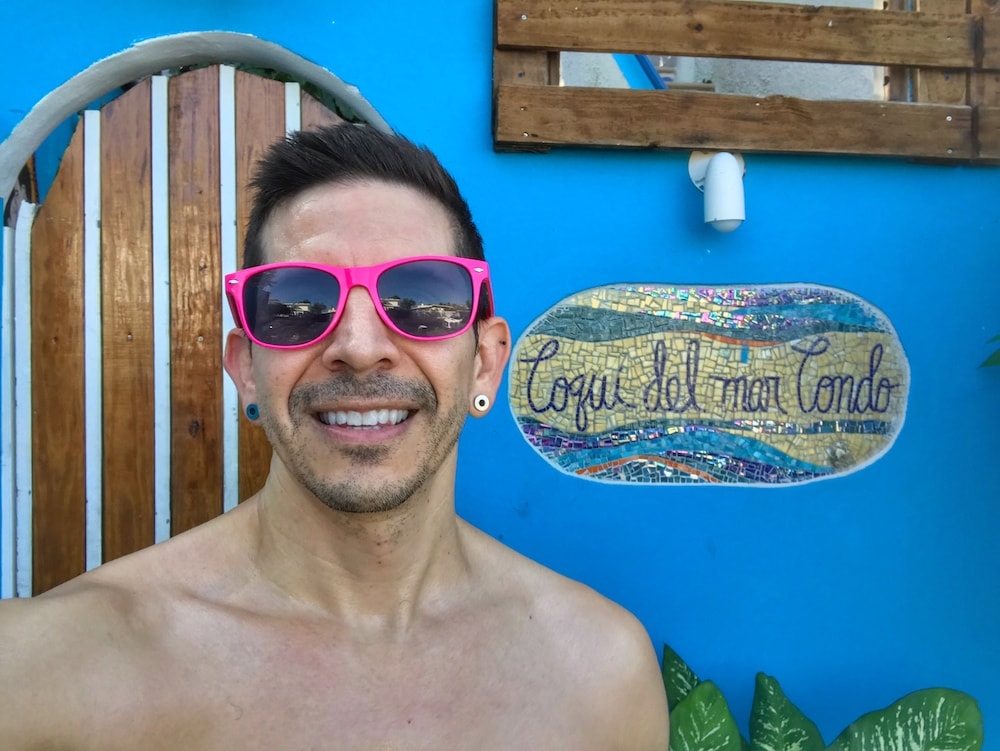 One place on the island in Ocean Park hopes to recapture the LGBT+ community with an adults-only, clothing-optional gay guest house. Coqui Del Mar opened its doors in 2016 as an all-welcome guesthouse. The owner Rob is an American guy originally from California who opened the property as a gay-friendly but not a gay-only hotel. The atmosphere has always been open to all and it's even 420 friendly. But since 2021 when Puerto Rico finally opened back up to tourism post-pandemic, Coqui Del Mar has now switched to an all-gay guest house exclusively for the LGBT+ community. If you've never visited Puerto Rico there's no better time than now. Or even if you've visited before, why not check out the coolest gay guest house San Juan has to offer? We recently visited this fun and trendy property and absolutely recommend it! Want to find out why? Here are 9 reasons why you might consider booking your stay during your trip to San Juan. 
Trendy Neighborhood 
The guesthouse is located in Ocean Park, one of San Juan's most popular and trendy beachfront neighborhoods. It's located just a 2-minute walk to the beach and you can enjoy a variety of walkable, local style restaurants (no chain restaurants here) such as Barbacoa, a great authentic barbecue, and Los Pinos, a 24/7 Puerto Rican restaurant that locals love. While Condado is probably the most touristic and upscale neighborhood, Ocean Park is more laid back and residential with a larger portion of locals living in the area. The white sand beach at Ocean Park spans 1.5km (approx. 1miles) and you can find some cool beachside bars and restaurants nearby like Numero Uno Beachouse and a great breakfast spot, Donostia Cafe. All the beach areas in Ocean Park are gay-friendly and you can even find a local gay cruising area at night just next to Numero Uno Beachouse. Ironically the cruising area is literally a red light district at night, though the lights are to help guide the baby sea turtles after they hatch. But the coincidence of the red lights doesn't go unnoticed.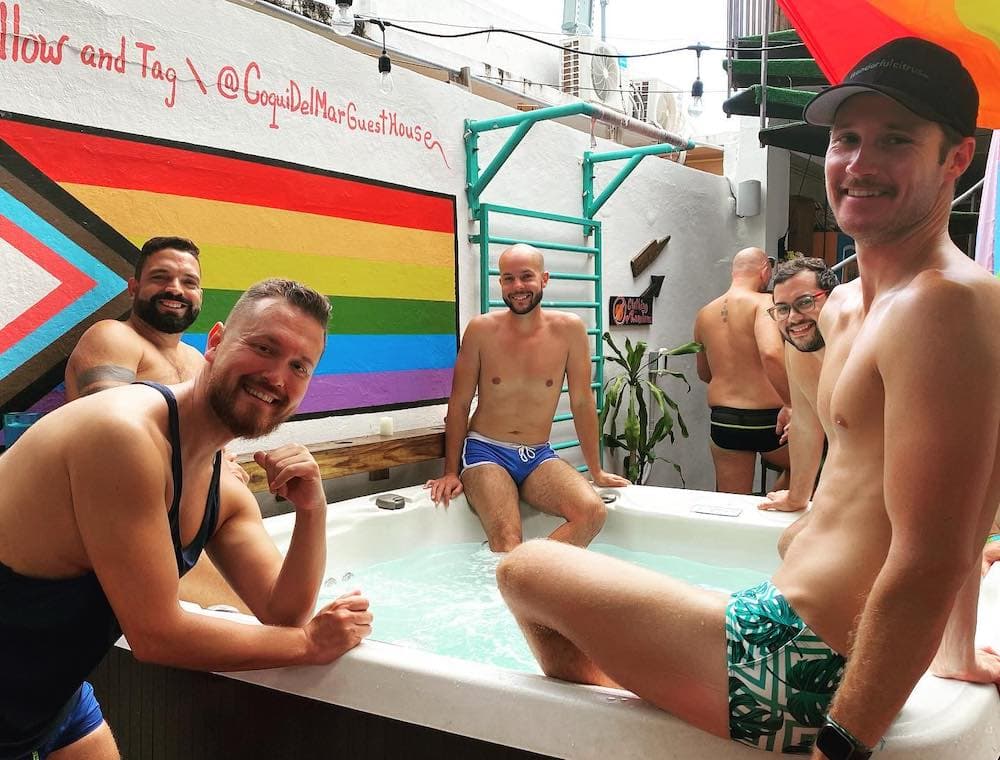 Friendly Community & Social Atmosphere
While there are other gay-owned or gay-operated guesthouses in San Juan, Coqui del Mar is currently the only guesthouse created for the LGBT+ community. The friendly and welcoming, community-based atmosphere of Coqui del Mar simply can't be matched. Whether you come alone, with your partner or a big group of friends, it's easy to meet and socialize with other guests while hanging out at the pool, sipping drinks in the jacuzzi or enjoying their weekend brunch. We've stayed at a lot of gay hotels and guest houses over the years. Coqui Del Mar definitely tops the list as one of the most friendly, welcoming and social guest houses we've experienced. If you're a solo traveler visiting San Juan, Coqui Del Mar is easily the best accommodation option since it's so easy to make friends and socialize with the other guests. You're sure to also see their adopted stray dog named Coquito. He loves to greet new guests and loves to be invited to the pool to practice catch. He may look menacing at first but he's actually quite the sweetheart.
Room Types for All Needs & Budgets
One great aspect of Coqui Del Mar is that they've made their rooms accessible to nearly all types of travelers and budgets. From fully equipped apartments to shared, hostel-style rooms (great for solo travelers), you can choose the option that best suits your taste as well as your wallet. When in doubt, book the Orange room. It's a large one-bedroom apartment with a kitchen, pull-out sofa and….that's right, a sling. Plus there's plenty of room to play naked Twister (one of the many games available onsite) with your travel buddies or other guests. You certainly wouldn't be the first guest to do this!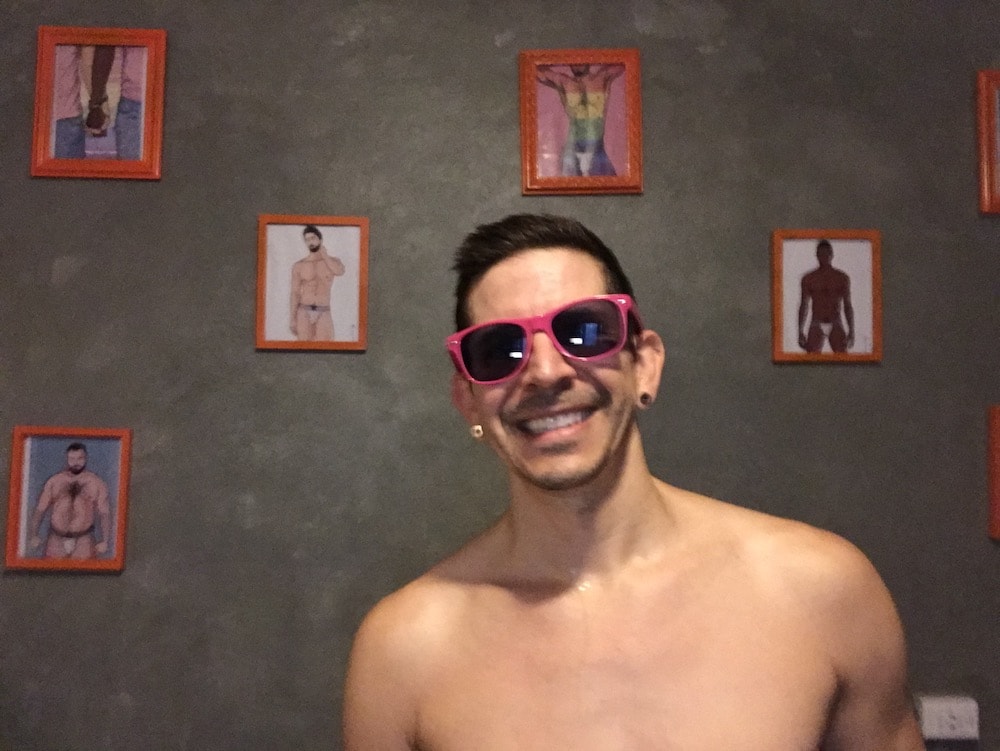 Need to relax?  Come for a professional massage and take a soak in the clothing optional jacuzzi after.  You'll get a chance to see the facilities, including where they serve their daily breakfast and weekend brunches (always a tropical experience with local ingredients).  This is a great option if you're visiting San Juan but staying at a different hotel and still want to experience the social atmosphere for a day. It's also perfect if you're visiting San Juan as a port of call on a cruise.
Enjoy Group Meals & Weekend Brunch
Breakfast is included with your stay and is served every morning from 8:30-11 am. If you're visiting on the weekend you definitely don't want to miss the weekend brunch at 11 am that includes Puerto Rican coffee. While the weekday breakfast is simple yet good, they pull out all the stops for the brunch including delicious homemade quiche, French toast, fruit salad, scrambled eggs and more. They also do a great job at offering options for vegetarians and vegans. So be sure to book a stay over the weekend and sip as many mimosas as you can handle while chatting with the other guests. Besides weekend brunch, you can also enjoy Saturday and Monday barbecues by the pool.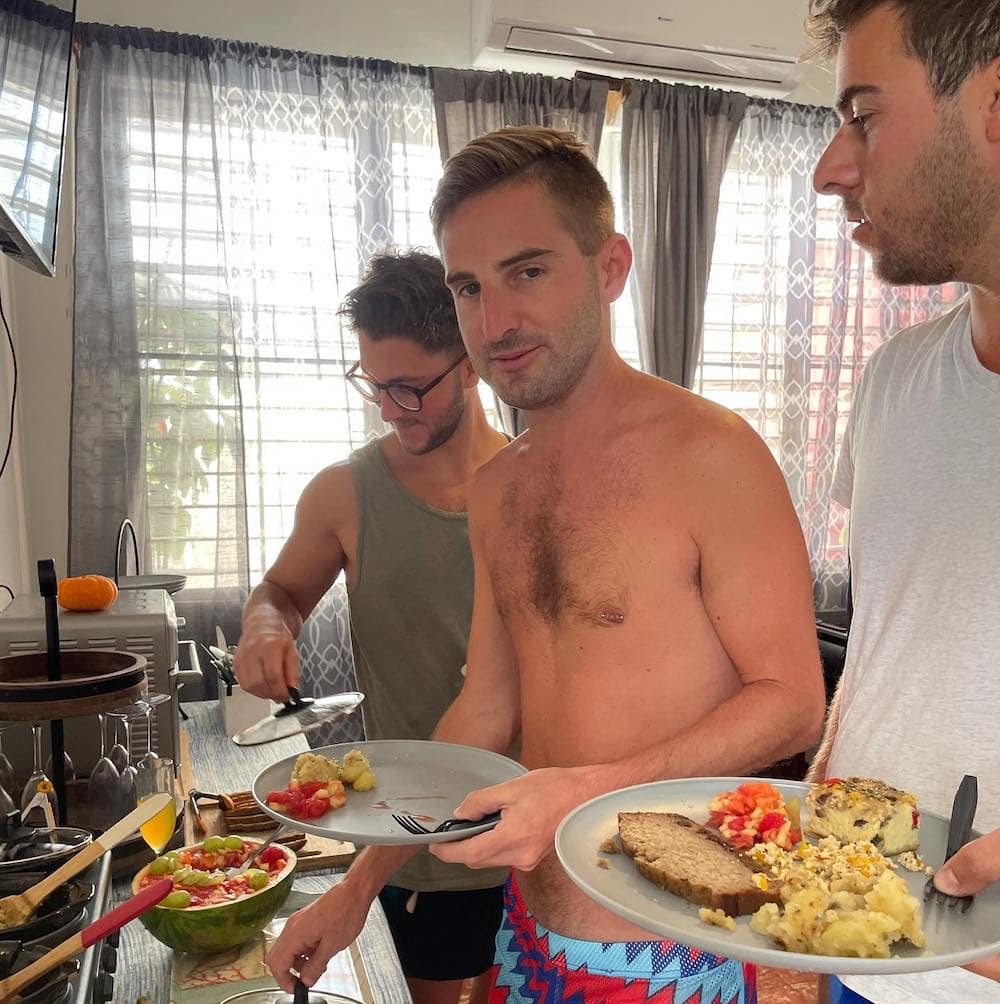 420-Friendly
Coqui Del Mar is 420-friendly and can even help you get a legal license to buy marijuana locally upon your arrival. Medicinal marijuana has been legal in Puerto Rico since 2017 and some common legitimate reasons to obtain a license with no further verification are for anxiety, back pain, PTSD, and insomnia. If you have a medicinal marijuana license from another state, it can be used at the dispensaries in San Juan as well (though you must get a local license to buy flower). You can easily obtain a license prior to your stay by going to Island Med. They provide online medical licenses for visitors within a few hours. Your interview is completed over the phone and your license is emailed to you. Their splash pool area, jacuzzi, mango tree area, barbecue area, and lounge area/herb garden are all designated as smoking areas. Smoking marijuana is not legal in public outside of the guesthouse, though you may smell it on the beaches or streets occasionally. It's best to keep it on-site and not take chances.
Cool LGBT+  Events
There is always something going on in San Juan and many of the events are popular with the local LGBT+ community. Besides the obvious annual gay pride celebration in San Juan, you can plan your trip around a few other events throughout the year including a month-long Halloween or several prides, including Winter Pride Fest. Winter Pride takes place in December each year and is a weeklong series of events, performances, parties and more. It also coincides with Miss Gay Puerto Rico, a local drag pageant and competition for queens in San Juan and other parts of Puerto Rico. You can also plan a visit during the Noches de San Juan festival on 23 June.  At the gay beach, all the gays run into the water backward at midnight to "baptize" themselves. This is the largest gay party in San Juan!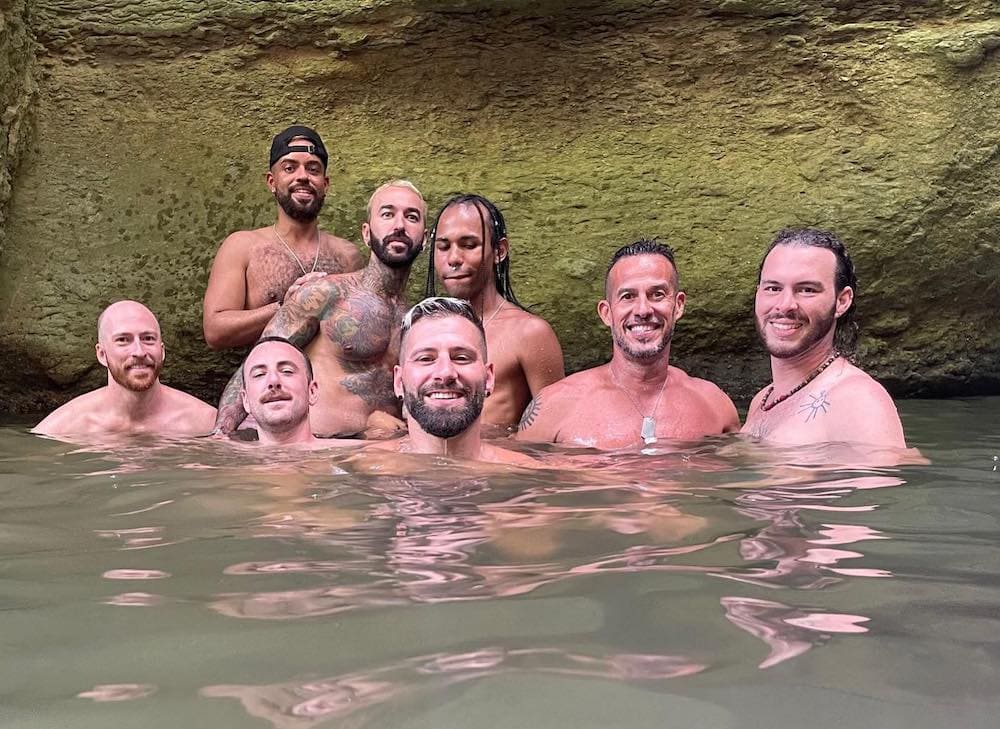 Join a Guided Gay Tour 
Enjoy a tour to various parts of the island with a local certified gay tour guide. Created in 2021, Puerto Gay Tours is owned by Coqui Del Mar and aims to provide friendly tours where you can be yourself without fear of discrimination or discomfort. Although the locals in San Juan are generally very welcoming and gay friendly, it's entirely possible to encounter closed-minded tourists visiting from conservative places from the US. Avoid the awkwardness of a mainstream tour and enhance your gaycation with a trip to the rainforest or impressive caves. They can also take you on an excursion to a secret naked beach and more. They have partnered with top-rated Spoonfed Tours for the foodie lovers' dream experience. Book direct on their website,  for any of their food and cocktail tours and use the exclusive code: coquiandspoon15 for a 15% discount. Although it's not specifically an LGBT+ tour, it is one of the highest-rated excursions on TripAdvisor.

Awesome Amenities
Be sure to make use of the free extras included with your stay, such as a pool and jacuzzi (they are all clothing optional), bicycles, beach chairs, coolers, community shared refrigerator (in La Hacienda – check before going to the grocery store to see what guests have left behind to share) and community game and bookshare cupboards  They also offer assorted beverages for sale. They also offer daily breakfast,  fresh coffee and tea from 6 am as well as iced coffee that is saved in the community refrigerator.
Note: We were hosted and invited by Rob to stay at Coqui del Mar but rest assured all opinions are our own. We have no doubt that anyone visiting Puerto Rico and Coqui del Mar will be welcomed with the same hospitality we experienced.