Greece is a popular European summer destination and taking a trip to the mainland or one of the Greek islands is on many travelers' bucket list – a lot of foreigners are even moving there indefinitely. Greece is hands down, one of the most beautiful countries to visit in Europe and it's a place with a wide range of diversity in its landscapes, attractions and gastronomy.
Same-sex sexual activity has been legal in Greece since the 1950s and anti-discrimination laws for employment have been around since 2005. Most recently, civil unions were approved in 2015 and Athens' Mayor Giorgos Kaminis conducted the first one in January of 2016. These unions allow same-sex partners to have many, but not all of the same rights as their married hetero counterparts. For example, it does not include adoption by same-sex couples. Overall, Greece is making strides in the right direction toward LGBT+ equality albeit a bit slower than its neighbors in Western Europe.
Besides it's history (and food of course!), Greece is probably most famous for its islands. There are more than 6,000 islands that are part of Greece with roughly 200 that are inhabited. Selecting which island to visit can be overwhelming unless you narrow down the parameters. While you can find a variety of offerings across the different islands, it's best to choose the kind of experience you'd most like to have. Though you might not expect it, the islands vary greatly and you can find everything from nature and landscapes, party or relaxation, luxury to budget, history, gastronomy and water activities. Most of the main islands are connected by a network of ferries and some of the larger ones even have airports. 
After visiting Greece many times in the past few years, we've come up with a list of our top 5 destinations for LGBT+ travelers. While Greece may not be as progressive as other countries in Western Europe regarding LGBT+ rights and widespread acceptance, these 5 destinations are definitely among the most welcoming. Of course, Mykonos is the one gay haven in Greece, but LGBT+ visitors should also find great options and welcoming locals in all 5 locations.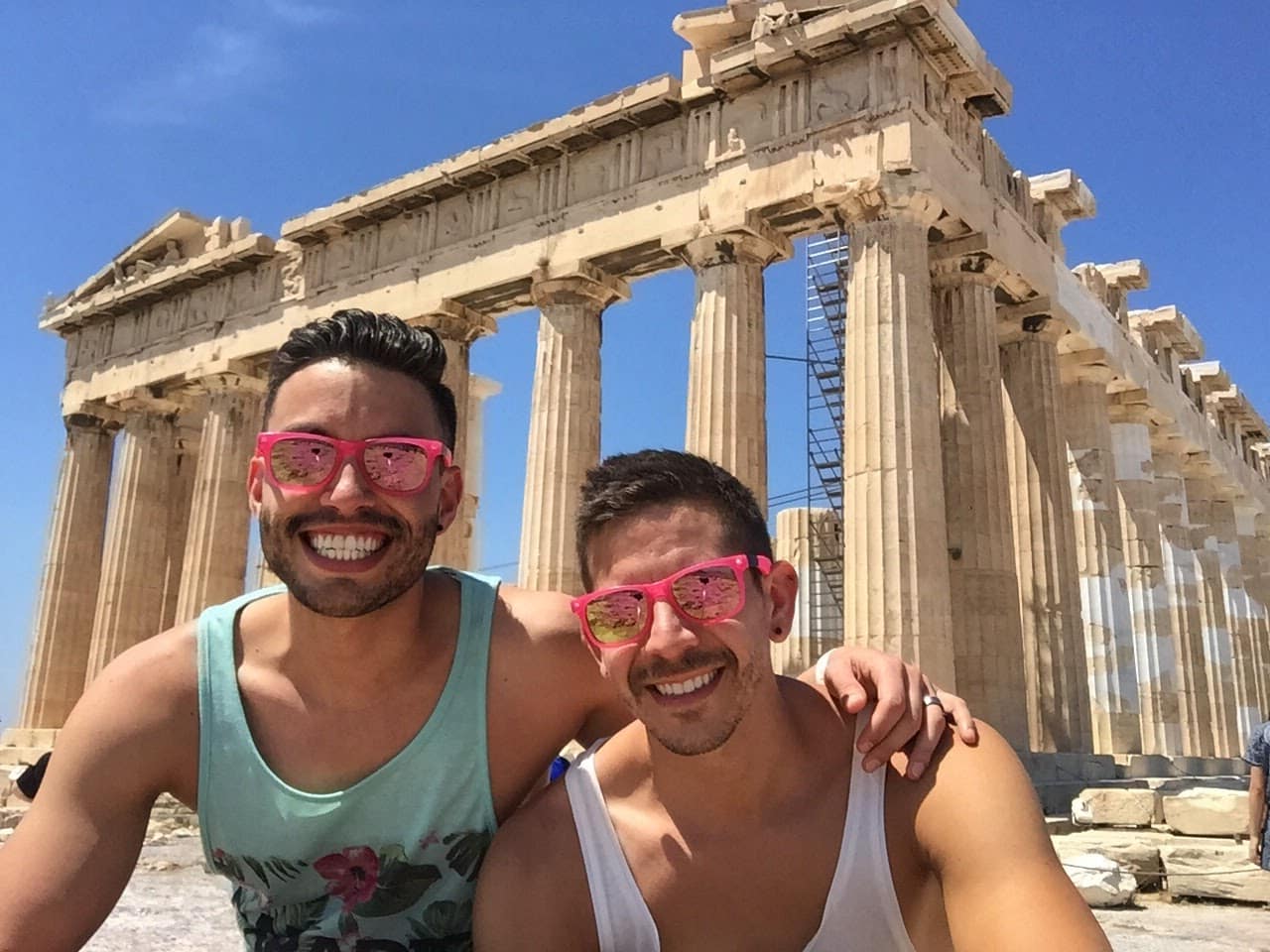 Athens
Athens is known for its rich historical and cultural relics of the past. Ruins, ancient architecture and a beautiful landscape make this journey to the cradle of civilization a breathtaking one. Athens is surely a place that you have to see at least once in your life. The Parthenon on top of the Acropolis is a must-visit attraction and historical site in Athens and an accompanying visit to the Acropolis museum is a good choice to get all the history after exploring it yourself. At the Acropolis you experience history in its truest of form by taking a step back into time and by exploring these breathtaking ruins. 
Though not typically known as a gay destination, Athens is very well known to all kinds of travelers who come to immerse themselves in the city's renowned history. Many LGBT+ visitors may simply pass through the city on their way to more gay-friendly Greek destinations like Mykonos, but they'd be mistaken to skip Athens entirely or only drop in to catch a glimpse of the Parthenon on their way to a more relaxing beach town. 
Gazi is one of the more popular neighborhoods and you'll find plenty of gay and gay-friendly venues in this area. Over time, it has become slightly less gay-focused as it's become gentrified but as a first-time visitor, it's still the place to start. It's important to note that the gay scene in Athens is less public compared to gay hotspots like Mykonos. Equally so, the scene here is much more local and year round as opposed to seasonal and tourist driven like you'll find in the islands. As the capital city of Greece with nearly 4 million people living in the metro area, you'll find a large selection of gay and gay-friendly restaurants, cafes, bars and clubs.
Pride in Athens is not the biggest or most progressive pride you'll find in Europe like those of Stockholm, Madrid or Berlin. It's still at that cross between being a political event and a celebration of LGBT+ equality. However, it's a fun and interesting event worth planning a trip around if you have some flexibility. 
Along with the Parthenon there are other historical sites near Athens that are worth a visit, such as taking a day trip to the ancient theater of Delphi, which gives you views of the unreal landscapes below. And finally, Mystras is another nearby option that holds the ruins of carefully crafted medieval buildings, also set in a fantastic landscape.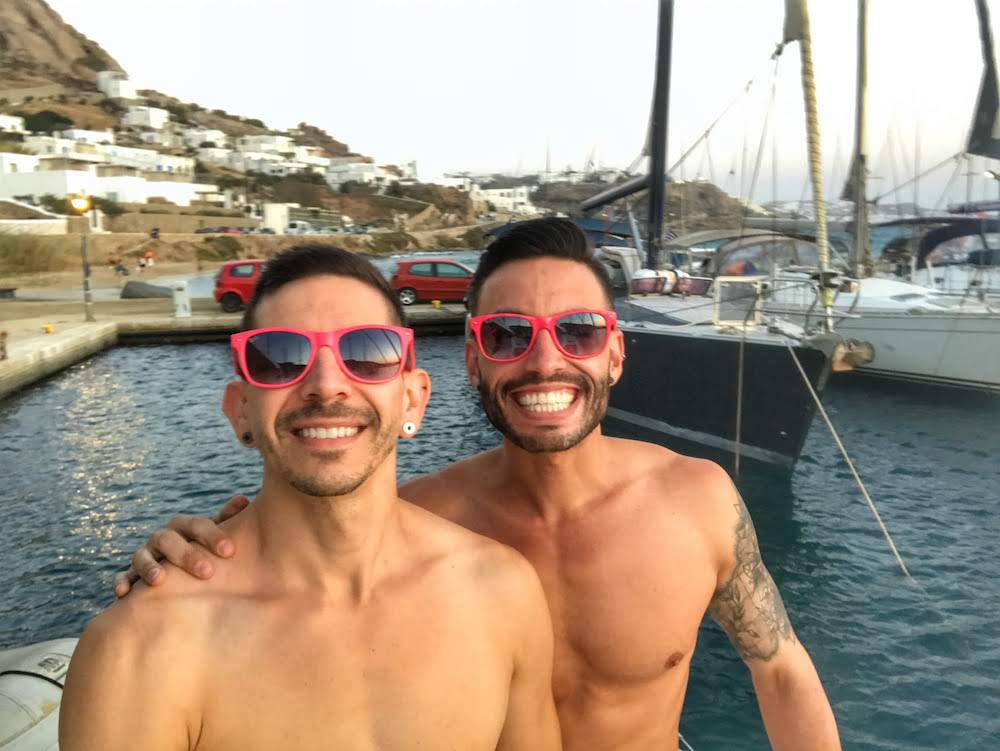 Mykonos
Mykonos is the most popular Greek island for LGBT+ travelers. Beautiful beaches, white painted buildings framed with blue windows, beachfront shops, restaurants and wild summer parties attract many LGBT+ visitors wanting a mix of rest and relaxation as well as party and pleasure. One of the most popular and biggest gay events is XLSIOR described as Europe's hottest annual summer gay circuit festival. Like most Greek islands, Mykonos comes alive with crowds during the months of June through September but stick to the end of May to the beginning of July if you prefer to avoid the crowds. 
Mykonos Town is the main transport hub on the island and the area most will stay. It's a pretty place, with houses painted white to reflect the strong sun, with the characteristic blue church domes. There are also a few gay hotels in Mykonos along with many gay-friendly options. Elysium Hotel is the largest and most popular with an outdoor public bar where you can catch a fun drag performance. Geranium Residence is located just 500m from Mykonos town and is another gay hotel available at a slight lower price. 
The old town is impressive with Little Venice lining the water and its gay beaches are great for relaxing and mingling. Mykonos offers countless things to do, but with the popularity and over-development of the island often comes crowded streets, packed beaches and extremely high prices. We won't tell you not to go to Mykonos due to this, because frankly you should and you'll probably love it, especially with how gay-friendly it is. Remember it's popular for good reason. 
Besides Santorini, which is probably the most popular and touristy island of them all, Mykonos probably holds the title of 2nd for the general visitor but definitely takes the lead of the Greek Island gay hotspot. Mykonos has for decades been a getaway for gays as it became open and more liberal than Athens and all of the surrounding islands. 
Mykonos is part of the Cyclades group of islands as are other popular spots like Santorini, Naxos, Milos, Ios, Delos and Paros. Each island has a unique vibe and culture and you probably won't be disappointed with any choice. If you're already planning a visit to Mykonos, it's perhaps easiest and most practical to choose another island in the same group to visit before or after by catching one of the many ferries to complete your trip.
Santorini
Santorini is another island in the Cyclade group and is probably Greece's most famous and well known island. This ancient volcanic island has cities and towns that should only exist in storybooks. Throughout the island you'll find amazing views, stunning natural wonders, secluded seaside villages hanging off the cliffs and well preserved ancient Greek historical sites. If you arrive in Santorini by ferry, you'll need to take the shuttle bus up a ways to the city where you're staying. Most will stay in either Oia or Fira, which are the main cities on the island. Santorini does have a small airport but flights are generally quite expensive and most connect through Athens. Island hopping around the Cyclades is easily done by taking a ferry from one port to the next and including Santorini on a trip to several islands is a great option to round out your visit to Greece.
Santorini is a perfect escape from the party scene after you've binged in Mykonos for days and require a much needed detox. However it is important to note that with its popularity, the island can often feel overcrowded in the peak summer months, particularly when cruises are in port and people are visiting for a day trip. The evenings in Santorini definitely quite down as a big portion of the cruise tourists leave the island to head back onboard for their next stop. Santorini has a wide range of accommodations but probably far less budget style backpacker hostels since it's not really a party island attracting that crowd. Due to its popularity, prices for everything are high, similar or more to what you might pay in Mykonos. 
Fira, the capital of Santorini is full of white-washed buildings perched all along the 400m high cliff.  These buildings that line the cobblestone streets consist of shops, hotels, taverns, cafes, hotels and homes.  The sunsets that are seen here are said to be some of the most striking in the world, as warm colors of red, yellows, purples, pinks and oranges fill the sky, they paint the white buildings in the same colors. Arrive in the early evening to get a nice table at one of the many bars to enjoy the sunset with a cocktail before heading out to dinner in the area.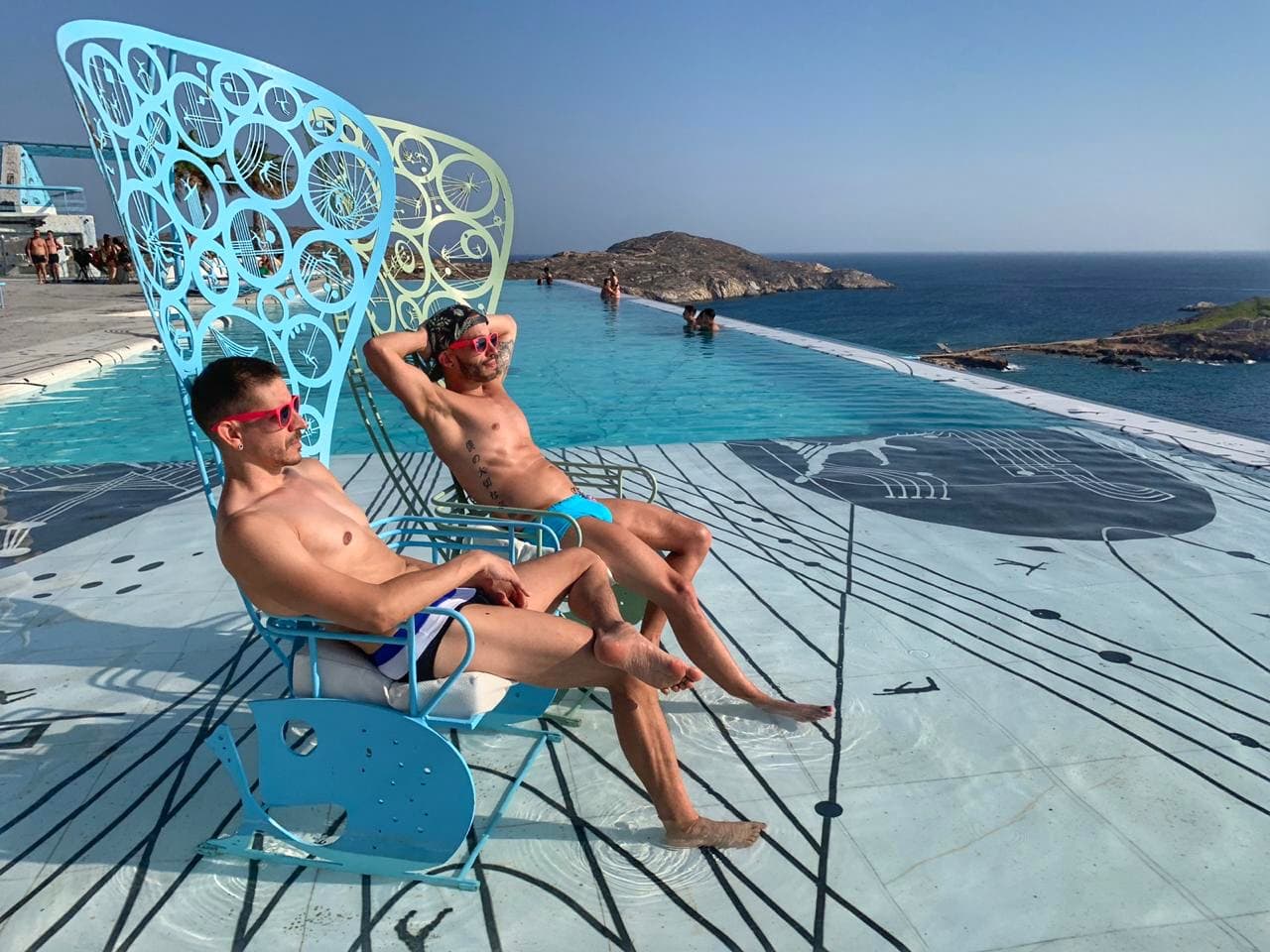 Ios
Ios has historically been known as a party island and its popularity started a few decades ago as backpackers and local Greeks visited during the summer months, slept on the beach and partied all day and all night. Though the island still has a fair share of beachside bars and clubs, its vibe has changed slightly over the years. Ios has not been overdeveloped like some islands so the atmosphere remains relaxed and the prices are much lower than traditional destinations like Mykonos or Santorini. 
There are plenty of budget friendly places on the island including hostels or simple private rooms for just €50 per night. High end properties like Agalia Luxury Suites or Liostasi Hotel give visitors additional options when visiting the island if you have the budget to splurge. Most luxury properties will provide you with a transfer from the port and may even offer you a ride to various parts of the islands. 
If you want to be part of the Ios vibe, you should stay in the heart of the action near the old town, the port or Mylopotas Beach – probably the three most visited areas of the island.  The most popular beach on Ios is Mylopotas and this area has plenty of restaurants, bars, clubs and water activities. Unlike Mykonos, you won't find any gay specific venues but the atmosphere is pretty open and gay-friendly overall.
One not-to-miss attraction includes an evening visit to Pathos – a sunset bar on the edge of the rocky cliffs, which is perfectly aligned to watch the sunset. The design is artistic and fresh, the cocktails delicious and the sunset one of the most stunning you'll ever see. Head there just before sunset for a fantastic experience with a few cocktails before heading out to dinner.
Great food can be found throughout the island, but our favorite spot is easily a cute little place in the old town called Katogi. Owned by a young Greek couple, the restaurant is tucked in between a small alley, provides outdoor dining and the food is out of this world. 
On the far end of the island you will even find the tomb of Homer, which pays tribute to the famous Greek playwright. Though historians argue whether this is his true burial place, it's undisputed that Homer spent many years living on Ios in ancient times. The tomb itself isn't overly impressive, but the views you'll find from the lookout point at the tomb are remarkable.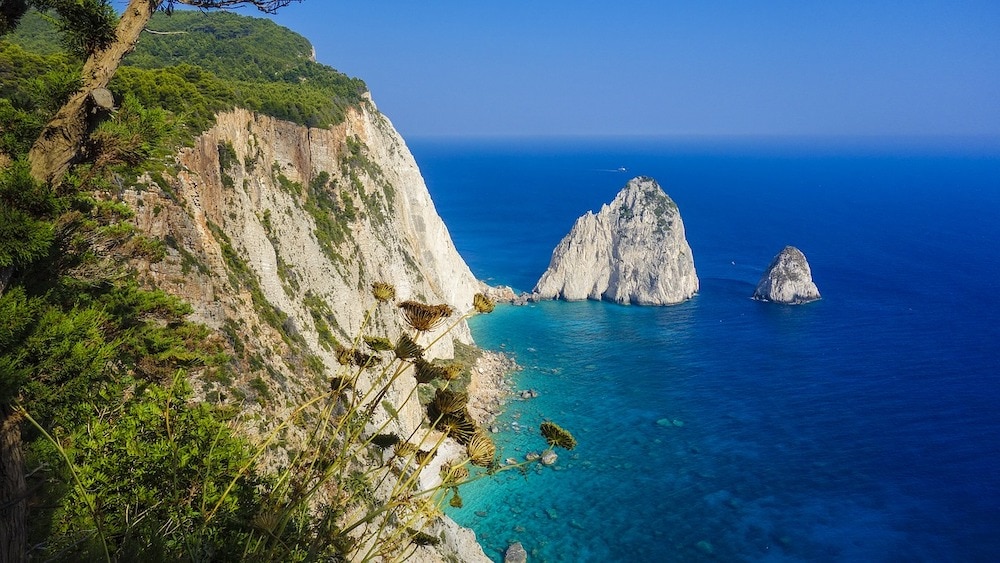 Crete
There are so many Greek islands popular with tourists, especially the smaller ones in the Cyclades. While many of these can offer a fantastic experience of Greek island life, many lack the infrastructure and range of things to do that a larger destination would have. Crete, on the other hand, has something of everything and with a population of over half a million spread over more than 8,000 square kilometres, has enough going on that you won't get bored while still not being too busy to enjoy the beaches, landscape and cities. 
Given its size, Crete has a lot to offer. With hundreds of kilometres of coastline it has pristine beaches including some very secluded and hidden ones. There are plenty of opportunities to enjoy the island's gorgeous weather, but there's also a ton to keep you busy off the beaches too. The two main cities on Crete, Heraklion and Chania, both along the north coast, offer a lot in the way of culture, including museums, art galleries and theatres as well as plenty of shopping opportunities, nightlife and sporting events. Though it's relatively large, there's an extensive network of buses that connect all of Crete's main towns and most of the smaller villages. Chania is a beautiful destination choice to visit and the Old Port of the city was built by the Venetians in the 14th century. It's a great place to stroll along the sea and enjoy one of the many restaurants, cafes and shops.
Like the rest of Greece, Crete is full of history. But it is also the home to many unique and important historical finds and sights that can't be seen anywhere else in the world. Humans have been present on Crete for more than five million years, and since then, relics of many cultures have been left behind, including the Minoans, Myceans, Romans, Byzantines, Arabs, Venetians and Ottomans. Top places for history buffs not to miss include the Heraklion Archaeological Museum, the Palaces of Knossos and Malia, Phaestos, the Fortezza and the Koules Fortress.