Stuck at home? Grab your phone or laptop and get ready for these awesome online interactive streams. These gay Airbnb online experiences are live, interactive video sessions limited to small groups. They offer access to expert hosts, online interaction and they're a great way to connect with people around the world. All five experiences listed here feature LGBT+ themes from drag queens to LGBT+ history archives. Have a cool idea you want to share with the world? You can even host your own online experience with Airbnb and earn extra cash.
Sangria and Secrets with Drag Queens – Lisbon, Portugal
This experience is the #1-rated gay Airbnb Online Experience with over 2,700 5-star reviews. This is so much more than a live cocktail class. Fabulous drag queens will teach you how to make the most authentic, fresh and delicious Portuguese sangria, all from scratch, step by step. They'll not only share this traditional secret recipe, but they'll also be serving up their unique live performances. It'll be a cabaret-style, digital cocktail class you'll never forget. Get ready for fireworks, smoke effects, lights and amazing costumes. Book experience →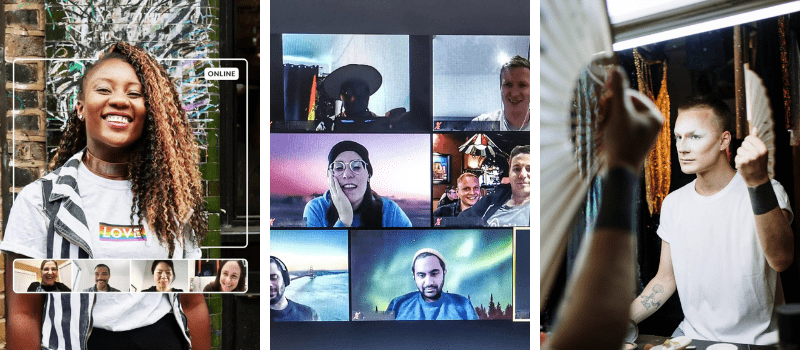 Hidden History with Drag Queens & Kings – London, England
Enjoy a night in to explore hidden LGBT+ stories, from royal queer kings and queens of Great Britain to the multifacet of what it means to be LGBT+ in London. Sit back and relax at home until you can actually join in real life, that is. You'll be entering the wonderful world of the LGBT+ community through the perspective of activists and live performances from talented drag queens and drag kings. See how pride colors flourish in the diverse community from London Pride to UK Black Pride. Everyone is welcome—solo, couples or groups. Join with an open mind to connect, laugh and have fun with people from around the world. Book experience →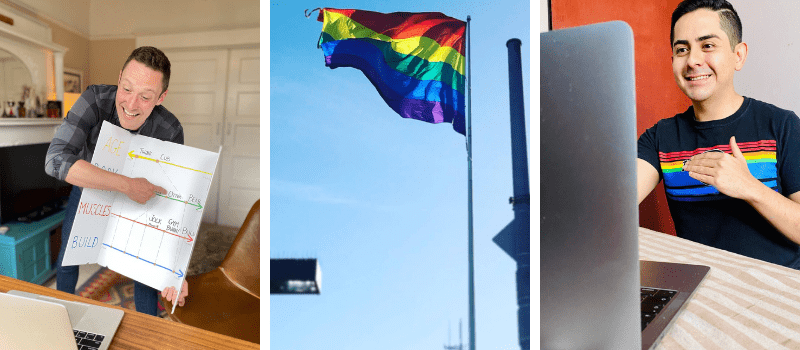 International LGBT+ Bar Hop – Locations Vary
Curious about how the LGBT+ social scene differs around the world? Interested in the LGBT+ community and its history? Ever wanted to go on an around-the-world bar crawl? Now's your chance and all without having to leave your house. Join this experience for an interactive, informative and fun exploration of the global LGBT+ scene. Featuring a rotating line-up of co-hosts, the hosts will take turns presenting for 20 minutes each about their local communities. Book experience →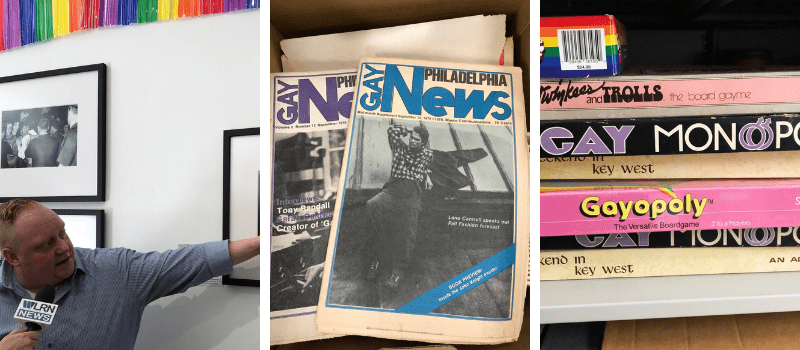 Explore Stonewall Museum LGBT+ Archives – Fort Lauderdale, USA
Explore rare and one-of-a-kind original artifacts that tell the story of the voices, pivotal moments and profound community organizing that defined the LGBT+ movement in American history. Begin with a private tour of Stonewall Library, with more than 28 thousand LGBT+ titles representing decades of cutting-edge literature and art and an impressive array of rare and signed works, such as a signed copy of Walt Whitman's Leaves of Grass, now more than one hundred years old. Continue with a virtual tour of the current exhibition at Stonewall Museum, where historic items and research are curated to inspire thought-provoking questions and parallels to today's issues. Book experience →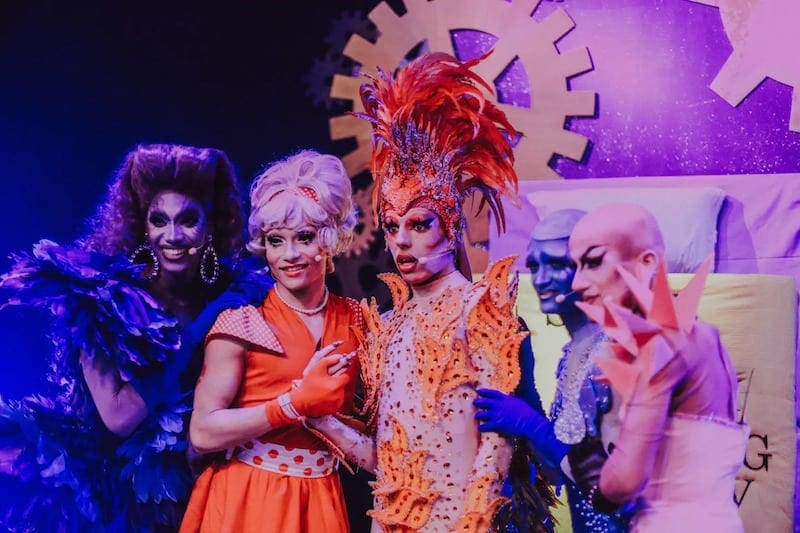 cLock Down the Interactive Live Musical – Lisbon, Portgual
A team of 50 leading Portuguese artists created an entire Musical from scratch with a fascinating script, original songs, breathtaking scenarios, wigs, costumes, singers and dancers that won't let you take your eyes off the screen. cLock Down tells a story about Teresa, a little girl that many years ago lived in the magical kingdom of Tic Toc Town, a place where time and clocks were alive. Until the day they stopped due to the arrival of an egocentric wizard, Vyraz. Scared about the situation, the queen ordered lockdown. During Teresa's quarantine, she was able to find happiness in her emotions represented by Ladies Sadness, Fear and Anger, by playing games and smiling. During the play, the characters will interact with you, shout your name, have pillow fights and you'll even make a delicious mug cake recipe together. Book experience →
Can't travel right now? Check out these additional top-rated online experiences from Airbnb, like Following a Plague Doctor Through Prague or a Coffee Masterclass from Mexico City. Explore all online experiences →
Special Offer! Sign up with AirBnB and you will receive a free $25 credit to use on your first booking!
All images courtesy of Airbnb Experiences. 
Note: Some of these links are affiliates which means using them won't cost you any extra but we do receive a small commission for each referral. You're not obligated to use them but we appreciate it if you do. Thanks in advance for supporting this site if you choose to use our link!