Update (October 2020): After the cancelation of our 2020 sailing trip, we're excited to announce that we're finally hosting the sailing trip along the coast of Croatia, from August 14-21, 2021. We'll open bookings soon so stay tuned for more info!
Update (June 2020): Unfortunately, due to some personal issues, we won't personally be able to join the sailing trip this coming August. As much as we really want to return to Croatia again and spend a week sailing, the pandemic has affected us in a number of ways and we just can't make it work this year.
The good news is that our partners at Pride Sailing Holidays have decided to still run the trip without us, from August 15th to 22nd, 2020! So if you've already booked or have been thinking about joining, you can still go. Before booking, just make sure Croatia will allow you to enter. For example, Europeans will be allowed to enter Croatia for tourism this summer, but it's possible that the border will still remain closed for Americans and residents of other countries. Click here for more info from the Tourism Office of Croatia.
We're excited to announce that we're hosting another sailing trip along the coast of Croatia, from August 15th to 22nd, 2020! Our most recent sailing trip of the Greek Islands this past summer and of Croatia the summer before were such great successes (and loads of fun!) that we've decided to do it again! Want to come? Here are the details….
You can enjoy an island-hopping vacation around the beautiful Croatian coastline with gay guests from around the world. We'll stop at the best gay-friendly locations in the area for you to explore, as well as great beaches for an afternoon dip. You will arrive in port with enough time to explore the island, relax on our private yacht or find a nice cocktail sunset bar. ​
As part of the 7-day island hopping sailing adventure you will have daily swim stops, a selection of gay/nude beaches, a handful of gay bars and the most mouthwatering restaurants to choose from.
Who Else is Coming?
We'll be sailing with three boats and each one holds a maximum of ten people, so we'll be inviting all our favorite followers and friends. Why not join us? You can come with a friend, significant other or even alone, it's up to you.

Check Out These Trip Highlights!
We'll be your hosts on this awesome trip and we'll also have a certified skipper to pilot the boat. You can even learn to sail if you'd like at any point during the trip. We'll also provide snorkeling gear to take a swim and explore the coast. Let your taste buds come alive with the local food and wines onboard and take in the sights and relax as we sail the coast. You'll enjoy golden sunsets and sunrises like nothing you've seen before plus a sky full of stars at night, with no light pollution. When we're not on the boat, we'll be making stops to amazing destinations including the famous island of Vis, you'll enjoy Hvar's buzzing nightlife and fine dining plus get the opportunity to party in Split's bars and clubs.
What's Included in this Awesome Trip?
Seven days/nights' accommodation on our own private yacht
Certified skipper
Breakfast and lunch daily on the boat
BYO alcohol/mixers
Snorkeling gear
All on board costs are covered: fuel, water & port/marina charges, taxes, linen and cleaning
Free Wifi (4G unlimited data)
No hidden charges or departure taxes
Plus, yours truly, Two Bad Tourists as your fabulous hosts 😉
Here's Our Awesome Itinerary!
We'll start off by setting sail from Dubrovnik on Saturday, August 15th and the sailing trip will complete on August 22nd and we'll disembark at 8am in Split.
What's the Boat Like?
Click here to see photos of the Oceanis 48 boat so you can get a feel for where you'll be spending 7 amazing nights.
​How Much Does It Cost?
The price of the trip starts from 1,395€ per person. This also includes breakfast and lunch daily on the boat, fuel, water & port/marina charges, tourism taxes, linen and final cleaning fee. There are no hidden charges or departure taxes, however, you may consider tipping the boat staff at the end of your trip. The pricing is based on 2 people sharing a double cabin. If you're interested in traveling alone we also have opportunities to share. The deposit to hold your spot on the boat is €500 per person.
Special Offer – book your spot on our trip by January 31st and you'll get 50€ per person off the total price.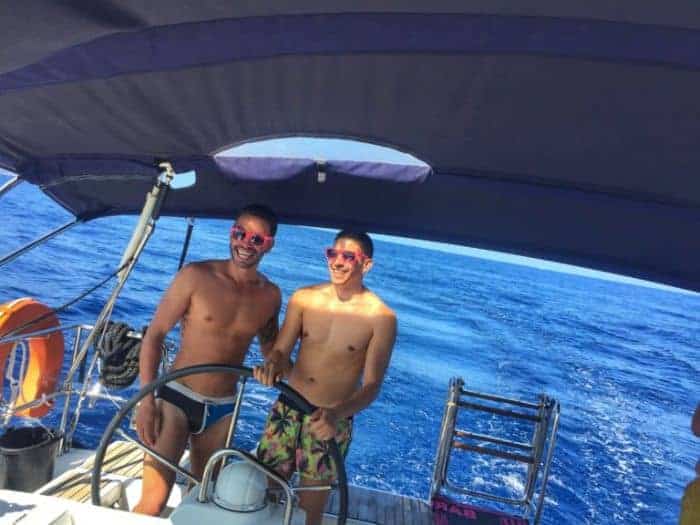 I Want to Go!…..What's Next?
We've teamed up with Pride Sailing Holidays to host this awesome gay sailing trip of Croatia's beautiful coast. If you're interested in joining us or would like to learn more about this trip, please contact us below using the form.
Note: this article was written in collaboration with Pride Sailing Holidays. As always, rest assured all opinions are 100% our own and we don't sacrifice our integrity for a sponsorship.