Greece is a popular European summer destination and taking a trip to one of the Greek islands is on many travelers' bucket list. Besides Santorini, which is probably the most popular and touristy island of them all, Mykonos probably holds the title of 2nd for the general visitor but definitely takes the lead of the Greek Island gay hotspot. Mykonos has for decades been a getaway for gays as it became open and more liberal than Athens and all of the surrounding islands. The gay scene has developed over the years and since 2009, Mykonos has hosted the XLSIOR festival, now one of the most popular summer circuit festivals in Europe.
We visited Mykonos back in 2012 and had a great time and would recommend it to any gay traveler – especially one looking for a great party scene. The old town is impressive with Little Venice lining the water and its gay beaches are great for relaxing and mingling. But with the popularity and over-development of the island often comes crowded streets, packed beaches and extremely high prices. We won't tell you not to go to Mykonos, because frankly you should and you'll probably love it. But if you're planning to go all the way to this gay hotspot, why not considering adding on a couple days to one of its neighbors?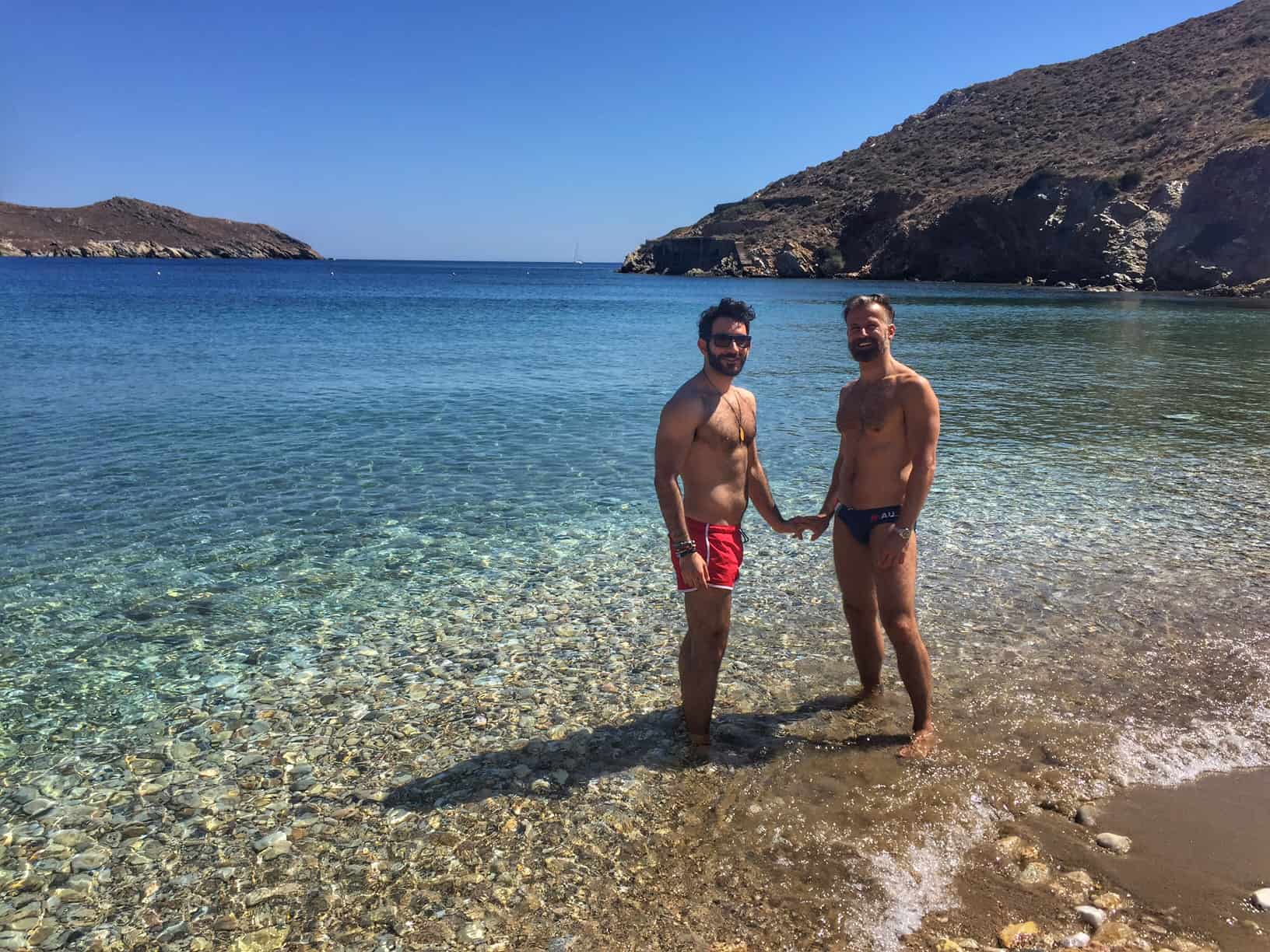 Selecting an Island
There are more than 6,000 islands that are part of Greece with just over 200 that are inhabited. Selecting which island to visit can be overwhelming unless you narrow down the parameters. While you can find a variety of offerings across the different islands, it's best to choose the kind of experience you'd like. Though you might not expect it, the islands vary greatly and you can find evening from nature and landscapes, party or relax, luxury to budget, history, gastronomy and water activities. Most of the main islands are connected by a network of ferries and some of the larger ones even have airports. If you're already planning a visit to Mykonos, it's perhaps easiest and most practical to choose another island in the same group.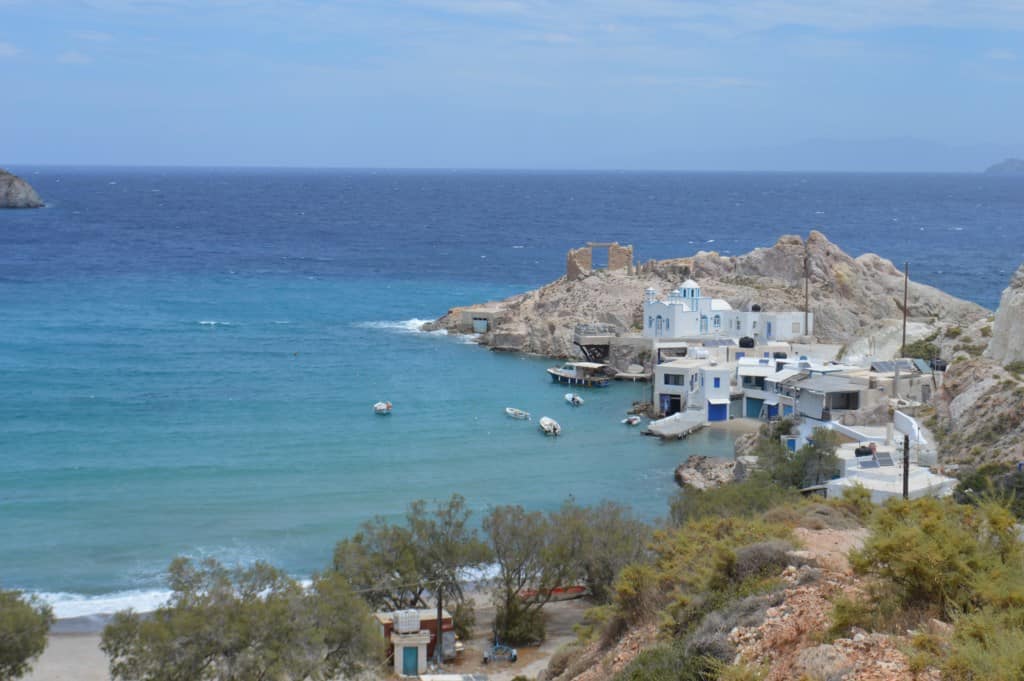 Mykonos is part of the Cyclades group of islands as is other popular spots like Santorini, Naxos, Milos, Ios, Delos and Paros. Each island has a unique vibe and culture and you probably won't be disappointed with any choice. Still, if you've already spent time in Mykonos, it might be a nice option to avoid the crowds of Santorini and opt for a more off-the-path destination. We recently visited both Ios and Milos which are just a short ferry ride away from Mykonos and we found a nice mix of nature, nightlife, gastronomy, history, architecture and those stunning views and sunsets which are ever so popular and memorable on any visit to the islands.
Special Offer! Interested in visiting Mykonos or Milos as part of a tour? Our friends at Detours Travel offer gay group trips to Greece several times per year. Plus, you can even save $100 on all tours with Detours Travel when booking online. Contact us here to get your special promo code for your discount.
Read Part 1 – Ios: Exploring the Greek Islands beyond the Gay Hotspot of Mykonos
A mini-Guide to Milos
Milos is another island in the Cyclade group which is famous for nature, history, remote seaside towns and beaches. This island is a perfect escape from the party scene after you've binged in Mykonos for days and require a much needed detox. Upon immediate arrival on Milos, it has a relaxed vibe and might not seem like anything out of the ordinary for a Greek island in the Cyclades. But venture out of the port town of Adamas just a short drive and you'll find stunning natural wonders, secluded seaside villages hanging off the cliffs and well preserved ancient Greek historical sites.
Where to Stay
Milos has a wide range of accommodations but probably far less budget style backpacker hostels since it's not really a party island attracting that crowd. Rates are similar to that of Ios and still much lower than you'll find in Mykonos or Santorini. Mid ranges places like Santa Maria Village Hotel located just near the port offer great value, with nice facilities and a delicious Greek-style buffet breakfast. If you're looking for luxury properties, head out to Polonia, which has amazing views of the stunning crystal blue waters of the island and offers nice high end properties like Tania or Melian Hotel. The old town of Plaka village is up on a hill, is a good option if you want to be centrally located and you'll find lots of great restaurants and sunset bars all within walking distance of each other.
Beaches to Visit
Like most Greek island, there are great beaches with beautiful waters all with different vibes and landscapes. The beaches in the port town of Adamas aren't particularly special so you may want to venture out to see the best of the Milos. Our favorite beach by far was Paliochori with its sheer cliffs, unique bright red colors, but other island favorites include Kleftiko, Sarakiniko and Firiplaka. Many of the great beaches of Milos offer clear blue waters, stunning rock formations and cliff like landscapes that makes for enjoyable scenery while taking a dip or soaking up the sun.
Island Highlights
One of the most recommend activities in Milos is to take a boat trip around island with one of the best stops at the beach of Kleftiko. This area is not accessible by car so the only way you can see the breathtaking views of the colorful cliffs and waterfront caves is by water. Milos is also known for its bright sandstone rock formations and Sarakiniko is one of the best spots to experience this. You'll also find catacombs carved out of the rock in this area as well as picturesque views of the water, islands across the sea and unique rock formations that are continuously carved away by the wind and sea.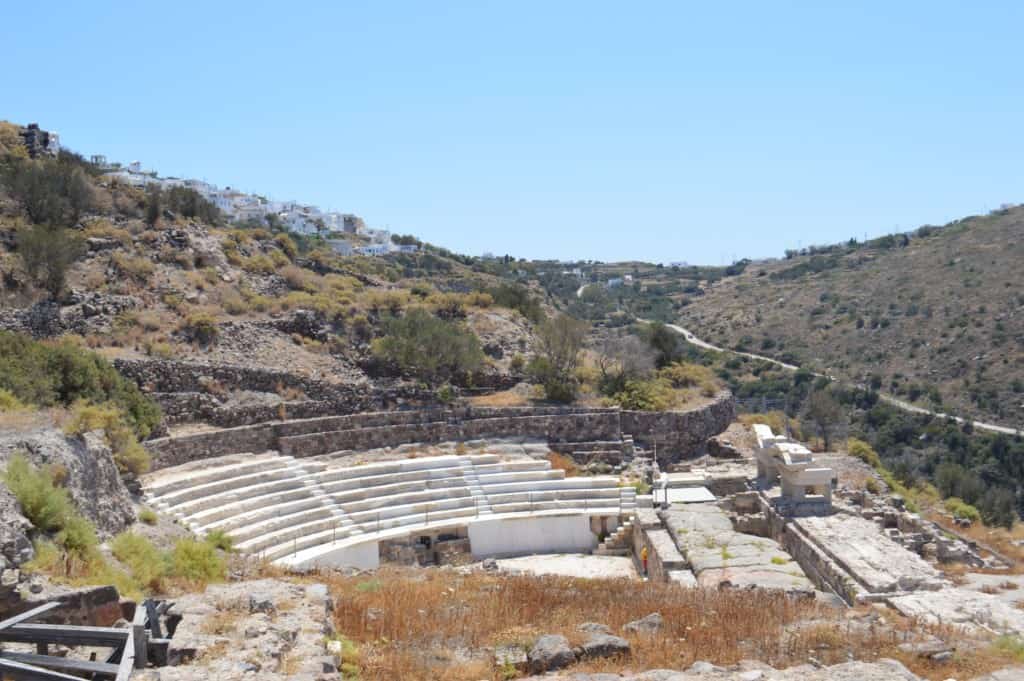 You'll want spend at least one evening in Plaka, which is the old town of Milos. Arrive in early evening to get a nice table to enjoy the sunset with a cocktail before heading out to dinner in the area. Make a stop by the Sand Museum in Plaka which has interesting works of art and collections of sands not only from the Greek islands but from all over the world. You'll find plenty of good restaurants around the island but one of our favorites was O Hamos, a Greek taverna located in Adamas. Other highlights of the island include visits to the tiny villages around the island like Klima and Mantrakia. Lastly, you can't visit Milos without seeing the ancient discovery site of Venus de Milo. This statue of Aphrodite was found in the early 1900's and is one of the most famous works of ancient Greek sculpture. Also in this area, you'll find a cliff side amphitheatre, which is well preserved and overlooks the edge of the island.
Read Part 1 – Ios: Exploring the Greek Islands beyond the Gay Hotspot of Mykonos
Have you ever visit the Greek islands before? Which feature of Milos sounds most interesting to you? Let us know in the comments below.
Note: Our visit to Ios and Milos was sponsored by the local island office of tourism, however rest assured all opinions are 100% our own and we would never sacrifice our integrity for a sponsorship.