Greece is a popular European summer destination and taking a trip to one of the Greek islands is on many travelers' bucket list. Besides Santorini, which is probably the most popular and touristy island of them all, Mykonos probably holds the title of 2nd for the general visitor but definitely takes the lead of the Greek Island gay hotspot. Mykonos has for decades been a getaway for gays as it became open and more liberal than Athens and all of the surrounding islands. The gay scene has developed over the years and since 2009, Mykonos has hosted the XLSIOR festival, now one of the most popular summer circuit festivals in Europe.
We visited Mykonos back in 2012 and had a great time and would recommend it to any gay traveler – especially one looking for a great party scene. The old town is impressive with Little Venice lining the water and its gay beaches are great for relaxing and mingling. Mykonos offers countless things to do, but with the popularity and over-development of the island often comes crowded streets, packed beaches and extremely high prices. We won't tell you not to go to Mykonos, because frankly you should and you'll probably love it. But if you're planning to go all the way to this gay hotspot, why not considering adding on a couple days to one of its neighbors?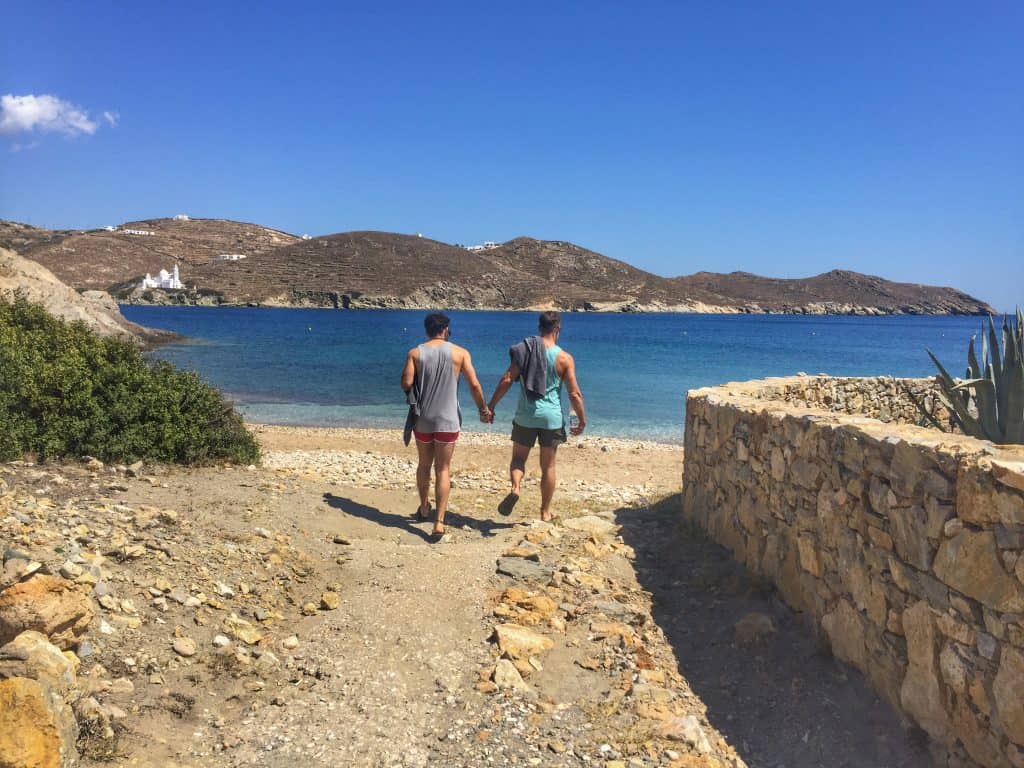 Selecting an Island
There are more than 6,000 islands that are part of Greece with just over 200 that are inhabited. Selecting which island to visit can be overwhelming unless you narrow down the parameters. While you can find a variety of offerings across the different islands, it's best to choose the kind of experience you'd like. Though you might not expect it, the islands vary greatly and you can find evening from nature and landscapes, party or relax, luxury to budget, history, gastronomy and water activities. Most of the main islands are connected by a network of ferries and some of the larger ones even have airports. If you're already planning a visit to Mykonos, it's perhaps easiest and most practical to choose another island in the same group.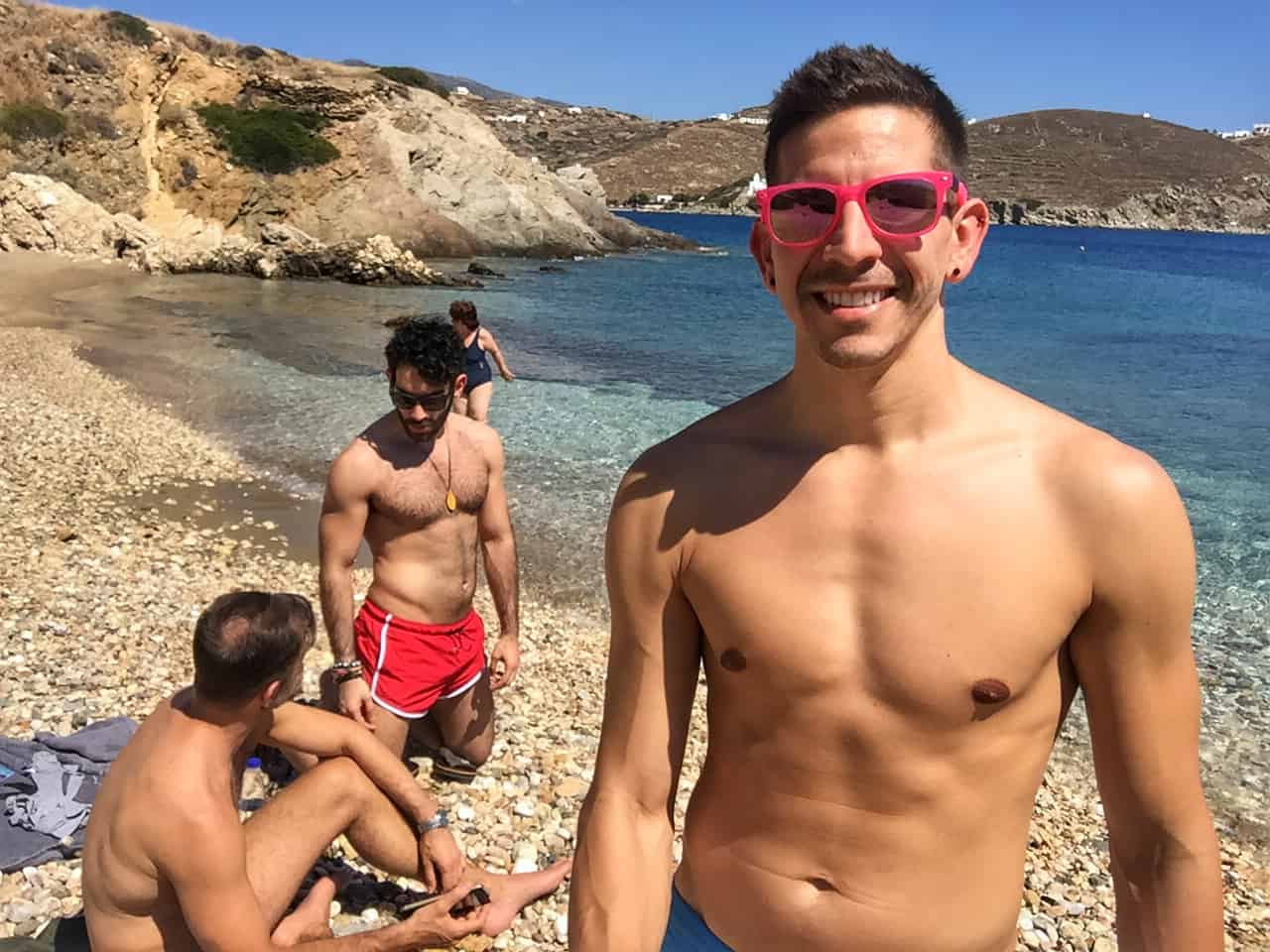 Mykonos is part of the Cyclades group of islands as is other popular spots like Santorini, Naxos, Milos, Ios, Delos and Paros. Each island has a unique vibe and culture and you probably won't be disappointed with any choice. Still, if you've already spent time in Mykonos, it might be a nice option to avoid the crowds of Santorini and opt for a more off-the-path destination. We recently visited both Ios and Milos which are just a short ferry ride away from Mykonos and we found a nice mix of nature, nightlife, gastronomy, history, architecture and those stunning views and sunsets which are ever so popular and memorable on any visit to the islands.
Special Offer! Interested in visiting the Greek islands as part of a tour? Our friends at Detours Travel offer gay group trips to Greece several times per year. Plus, you can even save $100 on all tours with Detours Travel when booking online. Contact us here to get your special promo code for your discount.
Read Part 2 – Milos: Exploring the Greek Islands beyond the Gay Hotspot of Mykonos
A mini-Guide to Ios
Ios has historically been known as a party island and its popularity started a few decades ago as backpackers and local Greeks visited during the summer months, slept on the beach and partied all day and all night. Though the island still has a fair share of beach side bars and clubs, its vibe has changed slightly over the years. Luckily, Ios has not been overdeveloped like some islands so the atmosphere remains relaxed and the prices are much lower than traditional destinations like Mykonos or Santorini.
Where to Stay
Investors have recently come to the island and expanded beyond the traditional backpacker hostels and budget rooms and you can now find a wider choice of accommodations at all ranges. High end properties like Agalia Luxury Suites or Liostasi Hotel give visitors additional options when visiting the island if you have the budget to splurge. Both properties offer amazing views of the island, excellent food and a location which lets you escape and relax in privacy, while still being near all the nightlife options of the old town of Chora or popular bars in Mylopotas Beach. Most luxury properties will provide you with a transfer from the port and may even offer you a ride to various parts of the islands. Rates at these properties start at roughly 160€ per night for entry level rooms during high season.
If you have a car or don't mind traveling around the island, then your options for accommodation are endless. But if you want to be part of the Ios vibe, you should stay in the heart of the action near the old town, the port or Mylopotas Beach – probably the three most popular areas of the island.  You can also find plenty of mid range and budget options on the island as well. A simple private apartment like Pavezzo near Chura and Mylopotas will only run you 80€ per night even in high season, with pricing dropping off during June or September, which are still great times to go.
Beaches to Visit
The most popular beach on Ios is Mylopotas and this area has plenty of restaurants, bars, clubs and water activities. Unlike Mykonos, you won' findt any gay specific venues but the atmosphere is pretty open and gay friendly overall. If you're a gym rat and don't skip a workout even on holiday, you can even find a fitness center right next to Far Out Beach Club, which offers day passes for visitors. If you rent a car or want to go by taxi, you can visit more secluded beaches for a totally different vibe including favorites like Manganari or Kalamos.
Island Highlights
Ios Island can easily keep you busy for a several days as you enjoy the nice beaches, the enjoyable nightlife, cute old town and amazing gastronomy. In summer of 2018, the first gay bar opened called Pride. Given it's the only one, it's certainly worth checking out to meet and great with other LGBT and friendly residents and visitors. One not-to-miss attraction includes an evening visit to Pathos – a sunset bar on the edge of the rocky cliffs, which is perfectly aligned to watch the sunset. The design is artistic and fresh, the cocktails delicious and the sunset one of the most stunning you'll ever see. Head there just before sunset for a fantastic experience with a few cocktails before heading out to dinner.
Great food can be found throughout the island, but our favorite spot is easily a cute little place in the old town called Katogi. Owned by a young Greek couple, the restaurant is tucked in between a small alley, provides outdoor dining and the food is out of this world. You'll enjoy eating local Greek taverna style, which is a bit like tapas where you share a variety of dishes with the entire table – it's a place that simply can't be missed. On the far end of the island you will even find the tomb of Homer, which pays tribute to the famous Greek playwright. Though historians argue whether this is his true burial place, it's undisputed that Homer spent many years living on Ios in ancient times. The tomb itself isn't overly impressive, but the views you'll find from the look point at the tomb are remarkable.
Read Part 2 – Milos: Exploring the Greek Islands beyond the Gay Hotspot of Mykonos
Have you ever visit the Greek islands before? Which feature of Ios sounds most interesting to you? Let us know in the comments below.
Note: Our visit to Ios and Milos was sponsored by the local island office of tourism, however rest assured all opinions are 100% our own and we would never sacrifice our integrity for a sponsorship.