Spain is a dream destination for many. However, that doesn't mean you need to spend a fortune to have an amazing experience. Before you book your trip, consider these money-saving tips to help you get the most for your money without missing any of the unique moments Spain has to offer.
Travel by Bla Bla Car
Bla Bla Car is a website focused on connecting riders with drivers who are already heading the same way. While the site conceptually focuses on carpooling, it works well for travelers too. Just select your starting location and destination and see who's heading your way.
Free Museum Days
Many museums and monuments have days on which admission is free. For example, the Catalan National Museum of Art and Picasso Museum offer free entry during the first Sunday of every month. Additionally, many museums offer free admission on May 18th in celebration of International Museum Day.
Free Walking Tours
If you want to orient yourself to the chosen city, such as Barcelona or Madrid, check out a free walking tour. Often, the tour guides rely on tips instead of traditional pay. That means you can often get a quality tour for free, though it is kind to tip your guide. For those who want to avoid paying anything, including the tip, consider downloading a city guide and operate as your own personal guide.
Travel during the Shoulder or Off Seasons
Many people know that it is more expensive to travel during peak season based on supply and demand. If you visit during shoulder season (the period between high and low seasons) or the off-season, you can save on flights, hotels and much more.
Enjoy the Parks, Public Spaces and Beaches – They're Free!
Some of the greatest attractions can be enjoyed at no cost. Take the time to explore public parks and beaches, as well as what can be seen from public roadways or city property. Spend time in retail centers, historic downtowns or anywhere in between.
Picnics in the Park
Many public parks are great spaces for picnics. Bring some snacks, your own beer or wine and find a nice spot to settle in. In most public spaces in Spain, drinking is either permitted or at least tolerated and typically not punished by law – though it's best to look around you and see what the locals are doing. You can easily spend an afternoon just enjoying the weather and the scenery.
Book Accommodation Early for Popular Events
If you have your heart set on a particular event, like the Fiesta de San Fermin in Pamplona or Madrid Gay Pride, then book your accommodations as early as possible. The further out you book your stay, the less you will usually pay. By booking in advance, you'll have more options available too. The closer to the event date, the more likely your first choice(s) will already be full.
Search for Flights Using the Flexible Dates Option
The price of your flight can change dramatically depending on the exact date on which you fly. If you have some flexibility with your arrival and departure dates, you can leverage that into cheaper airfare.
Travel by Bus, Not by Train
Traveling by bus in Spain typically less expensive than going by train. The trade-off is that buses are a bit less comfortable and often take longer, but it just might be worth the extra effort to save some cash for drinking money or other fun experiences elsewhere on your trip.
Buy Travel Insurance to Avoid Unexpected Costs
Travel insurance provides protection throughout your trip. You can get coverage for medical expenses, loss of equipment, rental property damage, theft, legal fees and trip cancellations. That means, if the worst does happen, at least it doesn't cost you a fortune. We personally use HeyMondo for our travel insurance needs and recommend their service.
Get Cash from ATMs, Not Airport Currency Exchanges
Many travelers convert currency at the airport out of sheer convenience. However, you will likely pay higher rates at these exchanges than traditional ATMs. If you have a card that works in foreign ATMs (most do but talk to your bank if in doubt), you could save yourself quite a bit.
Try Couchsurfing for Free Accommodation
Couchsurfing offers the ability to connect with local hosts and stay in their homes at no cost. Not only that, but you get to spend time with someone who knows the city. It can be a unique opportunity to see the exotic places only locals know about while making new friends.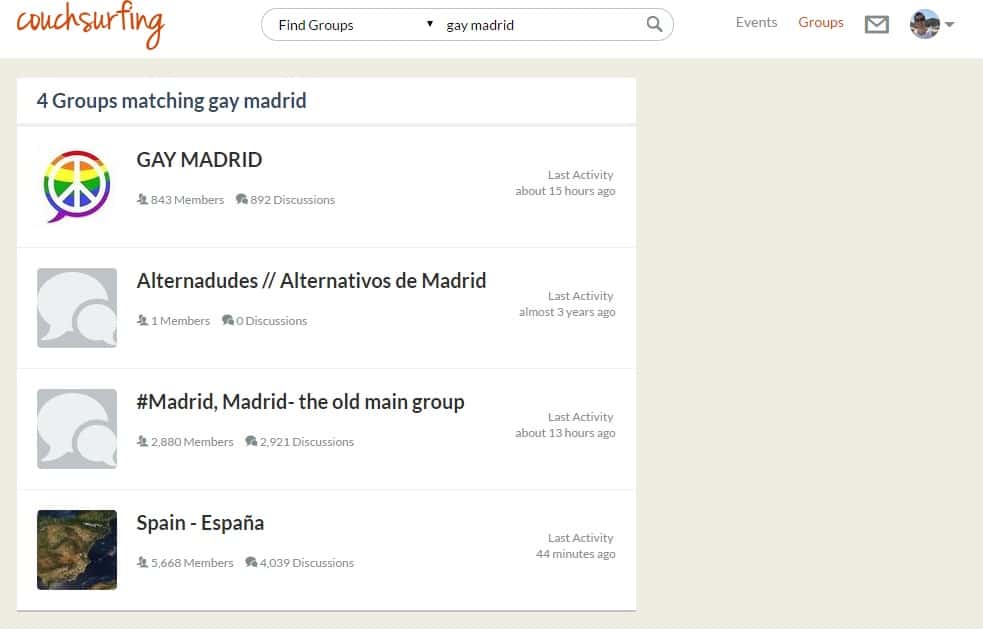 Try Wimbify for Free Accommodation and City Tours
Wimbify is another site that connects travelers to local hosts, but the service caters to the LGBT community specifically. You can find accommodations or city tours offered by people who have the inside scoop on the LGBT scene in your destination city.
Eat the "Menu del Dia"
The "Menu del Dia" is the menu of the day or the Spanish lunch menu. Often, meals are multi course and are available at true bargain prices. By focusing on daily specials, you can save money compared to traditional menu offerings. Experience the cuisine of your chosen city and have a little culinary adventure along the way.
Stay Like a Gay Local in a Shared Apartment Using misterb&b
If you're looking for a place to stay on a budget, try renting a room in a shared apartment. We've recently starting using the LGBT-oriented booking site mister&b with gay owners who list their apartments. Understanding a city's gay scene is much more easily done with the help of a local and apartment sharing is one of the best ways to meet someone living in the city who knows the best insider advice. Plus, if you're a new user to misterb&b you can save 10€ on your first booking by signing up here.
Get on the Guest List for Discounted Entrance for Gay Nightclubs
Most gay clubs in Spain have a cover charge but your entrance usually includes a free drink. The clubs often use local promoters and have a guest list allowing free or discounted entrance before 2am. The easiest way for a foreigner to get on the list is to either send a Facebook message to that club (or name of the party) early in the day or log into Grindr (or another gay dating app) and see if anyone is advertising their guest list. You simply tell the person your name and how many friends are in your group and you'll get the special rate.
Buy a Multi Ride Pass when Using Public Transportation
If you're visiting a big city like Madrid, Barcelona, Valencia or Seville, it might be worth buying a multi ride ticket that allows either unlimited use or multiple trips with one ticket. These are usually offered at reduced rates compared to single ride tickets.
[divider_10px]Are you ready to book your budget trip to Spain? What's your best tip for saving money while traveling, without compromising on experience? Let us know in the comments below![divider_10px]
Note: This article was sponsored by Visit Gay Spain, however rest assured all opinions are 100% our own and we would never sacrifice our integrity for a sponsorship. In fact, anyone that knows us well can attest to our love for Spain – a destination we would recommend to anyone.