Is it time to plan your next escape but maybe you're not sure where to go next? Sure, there are thousands of holiday hotspots around the world where you can relax by the beach, sample the local cuisine, enjoy the nightlife in a welcoming atmosphere. But if you're looking for a destination that combines all that plus a gay-friendly city or in many cases a huge LGBT population or group of visitors, there are only a handful of places internationally that make the cut. 
We've come up with a list of the top 15 most gay-friendly cities in the world to visit. These destinations are well-known and exciting places to visit on your next gaycation!
Key West has long been a welcoming place for LGBT travelers, artists, and freethinkers and that remains true today. This eclectic, delightful little island has loads to offer active travelers – kayaking, sky-diving, shipwreck diving – and just the right amount of low key activities for the more relaxed traveler – beaches, shops, galleries. Getting around on foot or by bike are great ways to experience the island. During the day, you can head to Duval Street for shopping or check out the only gay & lesbian historic trolley tour. There's also Higgs Beach which has a poignant AIDS memorial. Gay life seems to spill into the mainstream on the island and visitors can expect to feel welcome and comfortable at any establishment be it a bar, hotel, or shop. At night there are plenty of options for fun like 801 Bourbon Street for drag shows or Bourbon Street Pub for dancing.
>> Recommended Hotel: Island House Key West
Manuel Antonio, Costa Rica
Central America isn't exactly known as an LGBT friendly destination but Costa Rica is making headway especially thanks to Manuel Antonio, a popular gay-friendly beach town. In fact, it's one of the few LGBT-friendly small towns in Central America and here you'll find plenty of gay establishments. Manuel Antonio has only one main road making getting around ridiculously easy. The gay nightlife scene can be found at the last half mile of the road. Same-sex marriage will be recognized in 2020 in Costa Rica and it is relatively acceptable though with a bit of discretion. Check out Mogambo BarCafé or Café Milagro for an LGBT bar and cafe scene and Club Karma for a night out. Playa Espadilla is the main beach and by virtue of just being in Manuel Antonio, also a gay beach of course. For a nude beach you'll have to go to Playa La Mancha. 
>> Recommended Hotel: La Mansion Inn Guest House
Just south of Barcelona, Sitges has been a popular gay destination for decades and its luster seems to hold strong. With an awesome, yet relaxed beach vibe, great restaurants, events and nightlife – we can't find any reason why you wouldn't love Sitges. Perhaps one of its most famous assets are the sun soaked beaches that line the coast of this tiny Catalan town – 17 in total! All are gay-friendly though Platja de la Bassa Rodona is the main gay beach along with Platja d'Aiguadolç and Platja dels Balmains, which are the nude beaches a bit farther south from the city center. Sitges is a totally relaxed beach town but comes alive at night with a surprisingly vibrant nightlife scene. The night kicks off early in the evening at Plaça Indústria. This large square is filled with outdoor terraces – perfect for people watching and sipping your cocktail. 
>> Recommended Hotel: Parrots Gay Hotel 
Gallipoli, Italy
Puglia is also one of the most gay-friendly areas in Southern Italy and within it is the town of Gallipoli. Gallipoli is another small charming gay beach town, but unlike Sitges or Fire Island, it is not known for the party boy wild nightlife scene and more for its beauty and come-as-you-are atmosphere. However, increasingly popular is its Italy Gay Summer Party held at the end of August in Gallipoli. It is a three day beach party organised by Italy Gay Travels attracting an international crowd. Salento Pride also takes place in Gallipoli in August. Overall, this gay beach town is perfect for the gay traveller looking to relax in a gay-friendly town away from the circuit scene. 
>> Recommended Event: Italy Gay Summer Party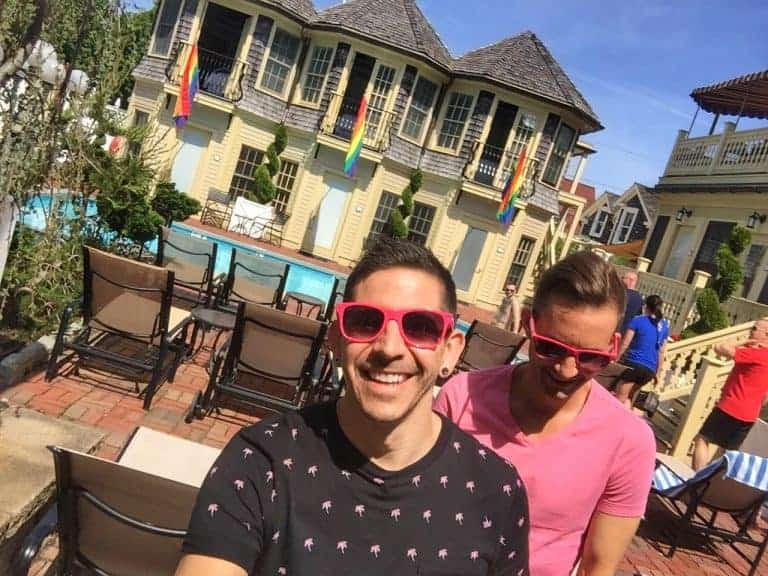 Just 90 minutes away from Boston is a tiny seaside town on the tip of Cape Cod that has as much history as it does gay culture. While many remember from history class that Plymouth Rock was where the Pilgrims settled in 1620, it was in fact Provincetown where the Pilgrims first landed before passing onto Plymouth and settling what would soon become the US. But American history aside, P-Town, like many popular, small gay getaways, has been completely taken over by the LGBT community. With a population of about 3,000, the small New England getaway boasts 40+ gay guesthouses, 10+ gay bars and clubs, 2 gay beaches while also hosting a dozen or more LGBT events throughout the year.
>> Recommended Hotel: The Brass Key Gay Guest House
Palm Springs has been an LGBT getaway for decades ever since the glamorous days of Hollywood starting in the early 1930's. Actors working in Hollywood would escape to Palm Springs, just a 2 hour drive away, to let loose and mingle with other closeted gays from the entertainment industry. These days, Palm Springs may have a reputation as a destination for just middle-aged or retired visitors but don't be fooled. The city has plenty to offer for all ages and you'll find travelers of all generations visiting the city, especially during major events like gay pride, The White Party and especially the Cochella Music Festival, which draws an especially young demographic. If you haven't thought about visiting Palm Springs, you might want to think again. With year-round warm weather and lots of events and cool activities, there's no better time than now to plan a trip. 
>> Recommended Hotel: La Dolce Vida Resort & Spa
Fire Island, USA
For New Yorkers and East Coasters, Fire Island is the go-to summer gaycation spot. Though its yearly population is only 400 residents, during the summer months it soars to about 20,000 with the visitors. One of the more charming aspects of the island is the lack of cars with people using bikes, golf carts, and boats instead. If the island had a capital, it'd be Ocean Beach with the largest downtown area of the island. The more queer centered neighborhoods are the Pines and Cherry Grove. Some annual events worth noting include Women's Pride, Invasion of the Pines, Fire Island Dance Festival, and Pines Party. 
Brighton, England
While London may have a great LGBT scene, Brighton is really where it's at. Just an hour away from London by train, this gay-friendly seaside village is a great summer destination for gay bars and clubs and even its own Pride. Apart from the nightlife, there's plenty of coffee shops, drag burlesque shows, or simply lounging and taking in the sun, weather permitting of course. The heart of the gay scene is the Gay Village located on St. James Street in the Kemptown district. All the beaches will be visited by the gays but the Brighton Gay Beach is the nudist beach by Brighton Marina. As for annual events, in addition to Brighton Pride there's also Trans Pride in July. Let's hear it for the T in LGBT!
>> Recommended Tour: Piers & Queers Tour
As Mexico's most gay-friendly resort town, Puerto Vallarta offers a safe environment and even legalized civil unions. The gay district of Zona Romantico has gay clubs, cocktail bars, as well as gay hotels and even a gay hostel, Jet's Gay Hostel, opened up by our friend Jet. This gay-friendly beach town is still growing as LGBT travelers discover its sandy beaches, boutique shops, and nightlife. Playa Los Muertos is the gay beach of Puerto Vallarta and great for relaxing and people watching or socializing and cruising. Head there in May for Vallarta Pride or in November for the White Party Thanksgiving Circuit Event.
>> Recommended Tour: Jet's Gay Boat Tours
Mykonos is the most popular Greek island for the LGBT traveler. Beautiful beaches, white painted buildings framed with blue windows, beachfront shops, restaurants, and wild summer parties attract many queer travelers wanting a mix of rest and relaxation as well as party and pleasure. One of the most popular and biggest gay events is XLSIOR Mykonos described as Europe's hottest annual summer gay circuit festival. The best time to visit the island is from June to September but stick to the end of May to the beginning of July if you prefer to avoid the crowds. 
>> Recommended Hotel: Elysium (Gay) Hotel
This small island in the Mediterranean is very gay-friendly and brings in quite the mixed crowd. Whether you're there to go clubbing in its infamous nightlife scene or take it easy while tanning on one if its beautiful beaches, or perhaps a little bit of both, Ibiza won't disappoint. It's also well known for its historic center where the old city wall still stands, its incredible Mediterranean gastronomy, and its can't-miss annual events. Most of the gay and gay-friendly bars will be found on the gay street of Calle de la Virgen. However, there are also a hand full at Peixateria Vella, the old fish market, and within Dalt Vila, the walled city as well. When on the gay street, check out places like 22, DADO, JJ, Leon, MAD Bar, and Sunrise. Most of these spots are quite similar and have a cute terrace where you can enjoy a cocktail and people watch. 
>> Recommended Hotel: AxelBeach Ibiza
Maspalomas, Spain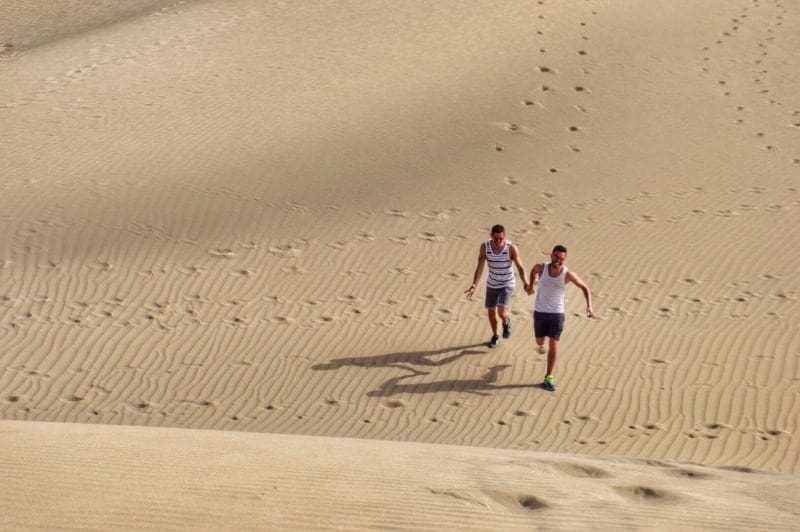 Gran Canaria is a unique, gay-friendly and adventurous place to visit. It's a hot gay destination year round due to the warm climate and Maspalomas is its gay capital. Drag shows in Gran Canaria are like the residency shows of Las Vegas, with a slightly smaller budget and a lack of celebrity status. Still, they're a hit and they're a must. The Yumbo Centre in Maspalomas is the center of the gay nightlife with gay bars, clubs, restaurants and cafes. There are plenty of gay accommodations in and around Maspalomas but we personally recommend Paso Chico, which is a great budget option for private bungalows, with a pool right across from all the gay nightlife. Don't miss the chance to visit Gran Canaria's famous sand dunes. Located close to Maspalomas, these gently undulating dunes are a protected Nature Reserve that look like a dazzling corner of the Sahara Desert and are quite cruisy.
>> Recommended Hotel: AxelBeach Maspalomas 
Phuket, Thailand
Some say that Phuket has a poor reputation as a tourist destination as it's incredibly popular and with that demand in tourism often comes overdevelopment, large crowds and abuse to the natural environment and wildlife. This is not limited to Thailand but occurs across the world. Still, local authorities are continually making efforts to curb these trends. Thailand's gay-friendly reputation and Phuket's relaxing and equally desirable party atmosphere attracts gays from all parts of the world. Whether you come alone, with a significant other or with friends, you're sure to run into other gays and you might even make a few new friends. One thing we really do appreciate about Phuket is how welcoming they are to LGBT people. The annual TropOut Festival is a symbol of how gay-friendly this place is and demonstrates the wide opportunities available to visitors including cultural excursions, island tours or simply relaxing on the beautiful beaches.
>> Recommended Event: TropOut Festival
Torremolinos, Spain
Torremolinos was a gay hotspot that started in the 1960s when its first gay bar opened. Today, it may seem a little outdated as the 60's and 70's style is largely still present, but its relevance to the LGBT community remains strong as many gays continue to head there during the warmer months or for specific events like Torremolinos Pride and Bear Week. Plenty of year round sunshine makes it an ideal place for a vacation and breezes from the sea keep the summer heat tolerable. It's the perfect place to get a great tan and enjoy some outdoor activities. Some go to relax on the warm sandy beaches, to party in the gayborhood of La Nogalera or for shopping along the pedestrian street of Calle San Miguel. Whatever your interests may be, this former fishing village in the south of Spain is absolutely worth checking out.
>> Recommended Hotel: Hotel Ritual
Benidorm, Spain
Benidorm started as a relatively unknown fishing town until the 1960s. Its discovery by northern Europeans as an inexpensive and beautiful getaway in the Mediterranean helped boom its international tourism. Even back then Benidorm had a gay leaning with its first gay bar opening in the 1970s. It was one of the first popular gay destinations in Spain even before Sitges. The gay scene has taken over the Old Town where about 30 gay bars and clubs reside. Bars and terraces tend to be busy all evening and into the night due to the mix of visitors who are used to going out early and the local Spaniards who go out much later. As for the beach scene, the gays head to Ti Ximo cove for a full body tan. For a cruisier spot, there's Racó de Conill which is a gay/mixed nudist beach a few kilometers outside the city.
Which place would you most like to visit?