Welcome to Nepal, the birthplace of Buddha and home to the world's highest peak, Mt. Everest.
While we haven't personally conquered the Mother of the Universe ourselves, the soaring mountain continues to climb higher and higher on our bucket list. But with all the logistical aspects of this challenging endeavour, it's become clear an organized tour is easily the best option. Enter Out Adventures, the only gay tour operator currently hosting treks to Everest Base Camp. Their all-gay expedition begins in the country's capital Kathmandu before taking flight over the haunting Himalayas and landing in Lukla to adjust to the altitude. After everyone has acclimatized, laced up, and said adieu to flushing toilets, the tour sets off.
While we're aware an Odyssian expedition isn't everyone's schtick, the more audacious amongst us will find great value in the challenge. Here are ten reasons to join Out Adventures' gay Everest expedition.
Kathmandu is a Cultural Mecca
The ancient capital has bounced back from 2015's devastating earthquake. Most of the temples that were damaged in Durbar Square have been restored while the residential areas hit hardest have been rebuilt or replaced. Today, the city is a pulsing experience teeming with unexpected sights and sounds. Be sure to swap stories with hikers in Thamel, the city's lively backpacker district. Rickshaw narrow streets en route to mesmerizing monasteries. Or brave the bustling markets where vendors sell marigold garlands, prayer flags and dried chillies.
Special offer! You can save up to $200 on all OUT Adventures trips when booking online. Click here to get your special discount.
Nepal is (Relatively) Gay-Friendly
Unlike the majority of South Asia, Nepal has never criminalized same-sex relations. In fact, in 2007 the country took active steps to usher in a series of anti-discrimination protections for our community as well as legally recognizing a third gender. To this day Nepal remains a generally safe Asian destination for LGBT people. That said, don't expect a robust gay scene. As far as we're aware, the country only has one gay bar located on the outskirts of Kathmandu. When it comes to PDA, holding hands is culturally appropriate for any gender while all other forms of intimacy are frowned up.
Slumber in a Tea House
A significant part of any Everest expedition are the unique Tea House accommodations. These B&Bs began as an extra source of income for entrepreneurial locals. In exchange for a warm bed, breakfast and some tea, hikers would pay locals a nominal fee. Today, they're the only place you can sleep on a Himalayan hike, aside from your own tent of course. Keep in mind, the higher you climb, the more basic the accommodations will get. The most remote Tea Houses aren't likely to have electricity, warm water or flushing toilets. Remember, this is an adventure!
Savour the Flavours of Nepal
While not as famous as neighbouring national cuisines like Indian or Sri Lankan, Nepal has perfected a selection of incredible dishes worthy of this list. Dal bhat is Nepal's national dish consisting of lentils, rice, seasonal vegetable curry, pickles and a slew of other bits and bobs like papadum and salads. The hearty meal varies wildly and will make up the majority of your lunches and dinners. Another local favourite are the adorably named momo. These steamed or fried dumplings come in chicken, pork or vegetable and are served with a chutney or sauce. Meanwhile, lentil soup, omelettes, curried meat and a variety of fried noodle dishes are staples throughout the country.
Hire a Sherpa
No matter how you look at it, clambering to Everest Base Camp is going to be a physically demanding challenge. One way to mitigate the work is a sherpa. These local expert hikers trek ahead, taking your heavier luggage from tea house to tea house. All you need to carry is your daypack and camera. On Out Adventures' expedition, they hire a team of sherpa's on your behalf to ensure the group is well taken care of.
Stay Connected
As bloggers, it can be quite a challenge for us go a full day without wifi. In years gone by, accessing a reliable broadband connection on the Himalayan slopes was as common as a unicorn traipsing onto the trail ahead of you. But thanks to the very recent arrival of Everest Link, us gays can snap, pin, tweet and post anywhere on the trek. Now that's #extremeinternet.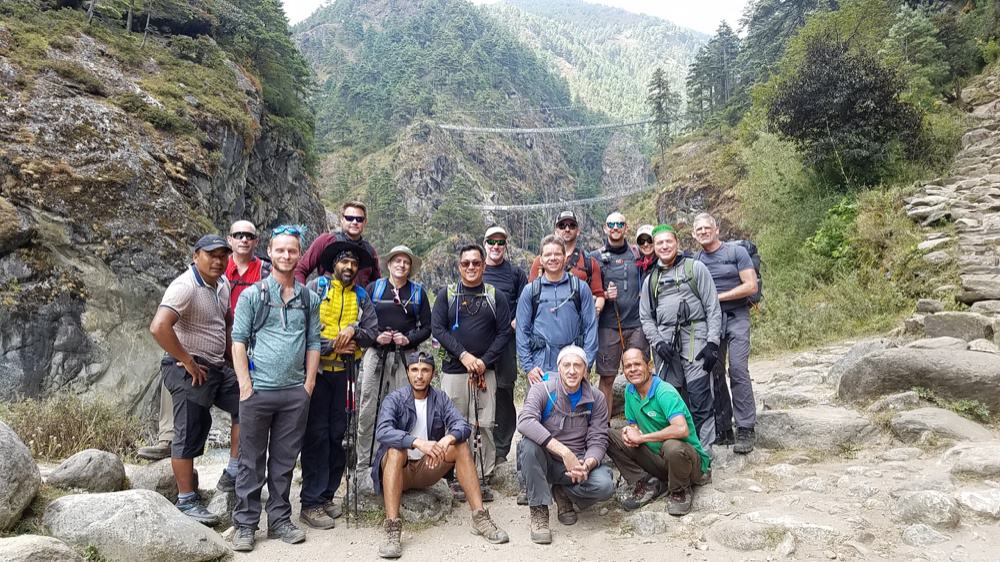 Discover Nepalese Culture
As the birthplace of Buddha himself, Nepal has ancient religious beliefs and customs. The country is officially secular, but the vast majority of locals practice Buddhism or Hinduism. One of the most distinct customs you'll encounter are the famous prayer flags. These colorful flags are printed with ancient mantras and strung throughout the country. The five colors used represent both elements and directions, and when strung together they signify balance. It's culturally encouraged to buy your friends and family prayer flags, making them one of the country's best souvenirs.
Photograph the Himalayas from Soaring Vantages
It goes without saying the world's highest peaks also have the best vantages. Grab your camera and get ready to be blown away by soaring views, mountainous landscapes and cloudy perspectives.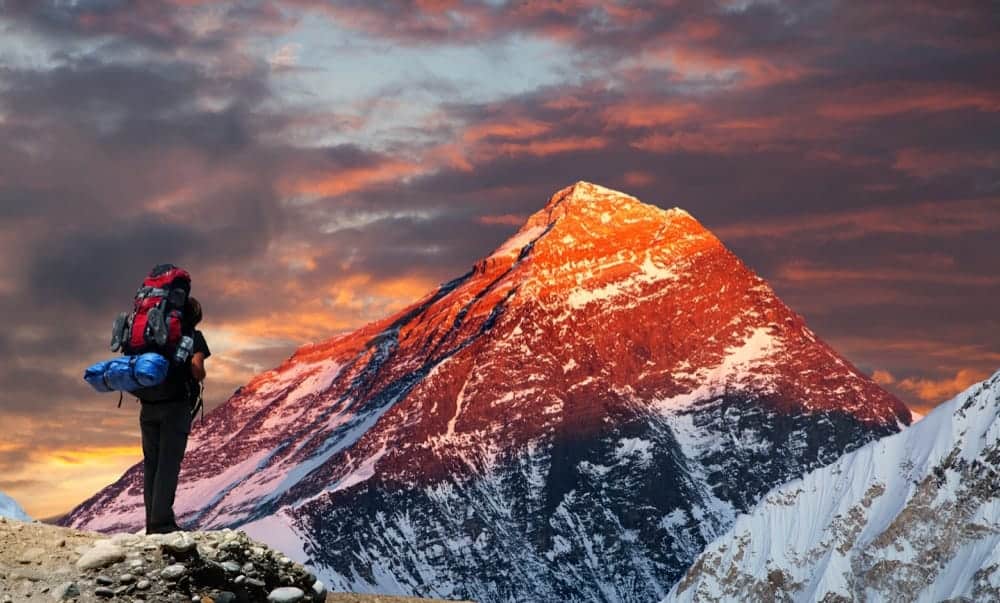 A Challenge for the Mind and Body
While we love to kick back on a gay cruise or leisurely stroll through Italian villas, every once in awhile we crave an epic challenge. A vacation that will make us uncomfortable, take us to new heights, and frankly, kick us in the ass. In our opinion, a sweaty schlep is the best way to detox, refocus and gain new perspective. Besides, wouldn't it be spectacular to casually drop "I hiked to Everest Base Camp" into a conversation? ;)
Reach Travel Nirvana
Few destinations demand the respect Mt. Everest does. She reaches higher than any other peak on earth and it's well known thousands have died attempting to surmount her. Because of her size and the very real risks associated with her, Mt. Everest has become the gold star of adventure travel. A badge of honor among the nomadic cognoscenti. While we have no intention of ever summiting, the difficult trek to Everest Base Camp alone will present us with enough swinging bridges, epic vantages, Sherpa culture, gompas (monasteries) and fluttering prayer flags to help us reach true travel Nirvana. Namaste!
Ready to summit Everest Base Camp?
Out Adventures is the only LGBT tour operator to be organizing treks  up the slopes of Everest. Sub your loafers for hiking boots and learn more about the all-gay tour here. The next trek departs October 2019 and is already guaranteed!
Special offer! You can save up to $200 on all OUT Adventures trips when booking online. Click here to get your special discount.