LGBT+ people have always traveled even before tourism was a major industry. But now, more than ever our community is taking to the skies, roads and rails to explore more new places with major improvements in visibility. With a growing acceptance of LGBT+ people and more countries approving marriage equality around the world, it's no surprise that we now have a variety of new apps, resources and technology at our fingertips.
No longer do you have to visit a travel agent to book a vacation or buy a traditional guidebook to plan your journey in the places you're going to visit. In fact, now the availability of information is almost overwhelming, and it can sometimes be difficult to know where to turn for the best advice, information and resources to make the most of your trip.
Using a gay app enhances the experiences of LGBT+ travelers and is one way you can connect with locals in a city you're visiting to get the best insight and updated information about the destination. These apps can be particularly useful, especially if you're traveling alone or looking to connect with other gay guys on your trip. If you've never used a gay hook up or dating app then you're either living under a rock or you've specifically convinced yourself to avoid downloading one for whatever reason. Regardless of whether you're looking for gay hookups or use these apps regularly, many of them have useful features that you can use when you travel.
There are a lot of apps that are popular for gay hookups, but we've come up with a list of 10 gay hookup apps below that can help improve your travel experience. Though not all are designed to be true hook up or dating apps, they all have features that will assist you in making the most of your trip.
Grindr
Grindr was launched in 2009 and has become the largest gay hookup site and social networking app for gay, bi, trans and queer men. The application was among the first networking apps to use location-based technology and it became well known as the first major app in the LGBT+ community. Grindr is used globally, and they have millions of daily users in nearly every country in the world. They pioneered the main functionality, which allows you to see images and profiles of people nearby. You can send messages, images and requests to users via their platform. The app is free to download and use its basic functionality but there are various upgrade options including Grindr XTRA and Grindr Unlimited, which provide enhanced functionality and eliminates ads. Grindr also has a video platform called INTO (later sold to Q.Digital) and they publish LGBT+ connect on their YouTube channel as well as other online and social media outlets. Grindr is a good app to use in the moment to see who's around and willing to meet up. While seemingly used for sex, Grindr can be an excellent way of meeting a local for a drink if you're traveling on your own. You can also use it to meet other gay travelers and perhaps grab a beer together on your gay travel adventure.
Hornet
Hornet is considered the #2 gay network in the world but perhaps you've not used it or even heard of it before? If that's the case, it's because Hornet is extremely popular in places outside North America and Europe, especially in countries like Brazil or Russia. But the app is growing and has a lot of cool features. Hornet goes beyond the typical geolocation dating app for finding sex. It's a great tool for meeting locals in a new city and you can even search for people in places you're planning to visit or even by interests or hashtags. Within the Hornet app, you'll find Hornet Stories, which is a curated LGBT+ media feed. They publish relevant stories and articles for the LGBT+ community that users can read within the app or online. Hornet is also free to use but has paid upgrade options.
Scruff
Scruff is another social application for gay, bi, trans and queer men that runs on iOS and Android devices. Like the others, it allows users to upload profiles and photos, and search for other members by location and shared interests. Scruff also has a feature called Venture, which is specifically designed for gay travelers. The feature allows you to connect with locals and ask for tips prior to your trip. You can publish your travel agenda on your profile, letting guys in your destination city know that you'll be visiting. You can even volunteer to be a Scruff Ambassador to help out guys visiting your home city. Like all Grindr and Hornet, they also offer free and paid versions. The paid version provides enhanced features and eliminates ads.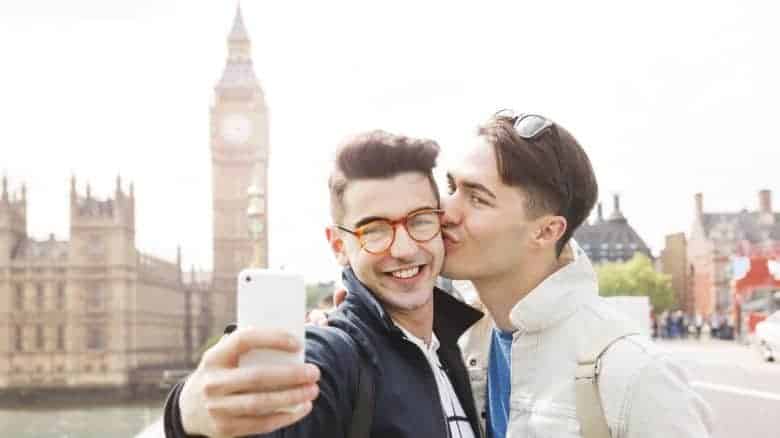 Recon
Recon is one of the largest international kink dating apps for gay and bisexual men and certainly the most well-known. As such, it focuses on casual hookups and is a great way to find people with – let's just say- similar interests as you, no matter where you are in the world. It combines the locator feature of other apps with the ability to filter for whatever you might be into; be that rubber, leather, bondage, BDSM or anything else.  Useful features are the ability to create your own gallery, adding "friends" and being able to see who has visited your profile. It also has an events feature for you to check out upcoming events, or even organize your own. It offers a premium membership allowing access to an unlimited number of profiles and freedom to peruse without publicity.  Recon also hosts its own fetish events in the US and various parts of Europe – the information for which is easy to find on the app itself.
Planet Romeo
This app was originally from Germany and in fact, it remains especially popular in German-speaking countries to this day, so check it out if you're looking to meet friendly locals on a holiday to Berlin. Now an international phenomenon, Planet Romeo affectionately refers to its gay, bi or trans users as "Romeos". As well as providing the profiles and messaging of other apps, it also allows its Romeos to create Club and Guide profiles, which other Romeos can join and/or link their profiles to. The clubs can be about anything ranging from a sauna frequented by its members, employees in a mutual business, political parties or just Romeos connecting with each other more sexual interests. In these groups, users can chat together privately and even have their own newsletter.
Surge
Surge is one of the new kids on the block within gay dating apps and has a fresh wholesome flavor about it. They distinguish themselves with the refreshing motto: #no labels. In function, it's like Tinder in a lot of ways, with its swipe left or right feature and only allowing men who match to chat. The biggest difference being that it is made especially with men who like men in mind. Surge goes all in on security and includes a fingerprint security mode. Additional features include photos and videos which vanish after being seen, sharing your feelings with your matches or "teleporting" to other cities to see what company you might want to keep before even beginning your travels.
Instagram
Yes, we know what you're thinking. How is Instagram a hookup app? It may not specifically be a gay hookup app or even a travel app, nor does it actually help you much during a trip, logistically speaking. However, the one thing that Instagram does is inspire your next journey. Well before you know where your next trip is going to be, Instagram sits in the palm of your hand providing traveling inspiration to places you might not ever have considered. All you need to get inspired is to follow travel-related accounts with amazing photos and before you know it, you'll be going to places that might not have been on your list before. Searching for hashtags like #gaytravel can be a good start to find cool accounts to follow. If you start using Instagram before your trip, you can even find guys posting in the location where you plan to visit. Of course, Instagram is not designed as a gay dating or hookup app, but it is a good way to connect with locals in advance of your trip and to build a relationship with them in hopes of meeting up when you finally visit the destination.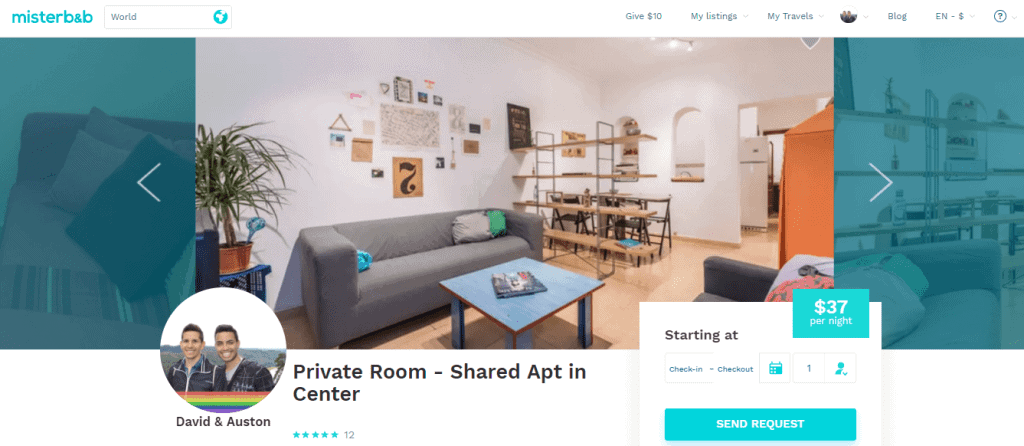 misterb&b
misterb&b is an online service and app that allows you to rent short- or long-term spaces and hotels from gay and gay-friendly hosts around the world. Think AirBnB for gays! misterb&b has become the #1 gay hotelier in the world with more than a million listings in over 200 countries. You can rent a loft in Soho, share a room in Barcelona, a couch in the Castro or a cozy apartment in Le Marais or Chelsea! Understanding a city's gay scene is much more easily done with the help of a local and apartment sharing is one of the best ways to meet someone living in the city who knows the best insider advice. Not only can you save money on a place to stay but you can meet a local who will inform you about all the best places to visit. And you might make a friend for life! It's important to point out that misterb&b is not designed as a hookup platform or app. It is simply a platform to rent a room in a new city you plan to visit. However, if you happen to rent a room in an apartment where the host lives, you have the opportunity to get to know that person and possibly spend time together. If there happens to be chemistry, you might even end up hooking up. But unlike the other apps including here like Grindr, Scruff and Hornet, misterb&b is really focused on travel and not dating and hookups.
Special Offer! Sign up with misterb&b and you will receive a free $10 credit to use on your first booking!
Tinder
Tinder has grown to become one of the most popular dating apps beyond just the LGBT+ community. That's right, straight people can use it for dating or even hookups as well. Although Grindr can be attributed to being the first geolocation-based dating app, Tinder has caught up and even grown a tad larger than Grindr in terms of the number of users. While most dating apps traditionally display a grid-style list of people located in your area sorted by distance, Tinder's unique swipe feature takes a different approach. Instead, the app will randomly show you people one-at-a-time within your area. For each profile that is presented, you can swipe right or left. Swiping right indicates you're interested in connecting while a swipe left indicates you're not interested in the person. If both people happen to swipe right, then Tinder will present a match and you can begin a conversion by chat. Tinder is free for the basic version. However, the free version will only show you a limited number of profiles per day. You can upgrade the app with a paid subscription which provides unlimited swipes as well as other enhanced features. 
Blued
This was launched in 2012 and claims to be the largest gay social network app in the world. That claim may perhaps be true given their main target audience is located in China. With a population of 1.4 billion, there are certainly enough gay men in China to make up the 40 million user base. Blued is available in other countries but you can be sure that the majority of users are Chinese of Asian descent or at least, interested in meeting other Asian guys in their local area. LGBT+ people in China don't have the same openness and support of the community found in most western nations so apps like Blued are even more important in creating and maintaining connections with other gay guys. In their earlier years, Blued was considered a copy of Grindr who was certainly the first to market in the LGBT+ space. But in recent years they've launched unique features which set them apart. The app is primarily used by gay men but it does include services for the broader LGBT+ community.