This post was updated on May 27, 2021.
South Africa is a country unlike any other in the world. The long colonial history followed by its recent turbulent past of apartheid has shaped the country in many ways, yet has created an opportunity for carving a new future. South Africa has become a popular choice for intrepid travelers seeking culture, adventure and nature. With miles of gorgeous coastline to explore, a temperate rather than tropical climate and a well-established wine-making tradition (meaning a wealth of inexpensive, good, local wines to choose from), South Africa might just be the new up-and-coming place to visit.
Is South Africa Gay Friendly?
When looking at the facts, South Africa is really the only country on the African continent that would be considered gay-friendly. While there are still struggles with equality in some parts like any country, they were globally ahead of the pack officially legalizing same-sex marriage in 2006. South Africa gay life is most prevalent in Cape Town, perhaps the most open-minded city, as well as in the vibrant metropolis of Johannesburg, which has plenty of LGBT specific venues as well. So it's no surprise when our friends at Detours Travel announced that they've launched gay group trips to South Africa four times per year.
General Tips
Unless you live in Southern Africa, South Africa is not particularly close to anything. So a 10 to 12-hour flight or longer isn't uncommon to arrive at this stunning destination. If you want to be connected to the internet on your phone, you can pick up a local SIM card at the airport or head to a Vodacom store in town – just be sure to bring your passport.
Amazing Cape Town, the Gay South Africa Hotspot
Cape Town is often voted one of the world's Top 10 Cities. This picturesque setting at the tip of the African continent is home to the majestic Table Mountain, pristine beaches and world-class cuisine. Cape Town is a superb destination and offers a wide variety of activities from cultural tours to adventure activities like shark cage diving, whale watching, swimming with penguins and much more. Cape Town also boasts some of the world's leading vineyards and restaurants, making for a truly remarkable city.
Starting in Cape Town, arguably one of the world's top LGBT-friendly destinations, you can immerse yourself in a cosmopolitan city with amazing landscapes and stunning views. Cape Town is the perfect place to start your journey with amazing places to stay, countless sights to see,including favorites like Table Mountain, Third Beach (the gay beach in Clifton) and the V&A Waterfront.
When day turns to night, Cape Town's Gay Neighborhood called De WaterKant has several gay favorite places. Head to Beefcakes for nightly drag and striptease performances plus body shots from sexy bartenders. If you want to get your dance on then Crew is a must-visit club on the weekends. Cape Town has its annual gay pride in February and also hosts another popular LGBT event called the Mother City Queer Project (MCQP) in December where 10,000 people attend a costume party to celebrate diversity together.
Penguins and Sharks and Wines, Oh My!
Just an hour's drive from Cape Town is Cape Point, featuring a road that hugs the rocky coast and is one of the most stunning drives in the country. At the bottom tip is the Cape of Good Hope, Africa's most southwestern point. And who could forget Cape Point's most charming attraction? Yes, Africa has penguins and they are probably the cutest thing you'll ever see. Boulders Beach is home to one of Africa's few penguin colonies and you can get up close and personal with these little birds. Did someone say penguin selfie?
If you're extra adventurous, just a two hour drive from Cape Town is the world-renowned "Shark Alley." Located just off the coast near the town of Gansbaai, it's one of the best places in the world to spot (and dive with) great white sharks year-round. And trust us, it's one of the most exhilarating and life-changing experiences you will ever have. Whether you get in the cage or just watch from the deck of the boat, the experience you have with the great white sharks will leave you awestruck.
South Africa is considered the great white shark capital of the world, so you can't pass up the opportunity to see the magnificent creatures in person. Like getting to South Africa itself, going on the shark excursion takes a bit of time, but the effort is 100% worth it. Needless to say, this is one of those excursions that are really life-changing and is highly recommended.
Just 20 minutes out from Cape Town is the Constantia Wine Valley which is home to numerous vineyards producing high quality wines. You can take the city hop-on, hop-off bus from Cape Town out to the vineyards and visit them all in half a day. If you're a big wine fan then it's worth taking a trip out to the Winelands and staying overnight in a region full of rolling vineyards as far as the eye can see. Head out to Franshoek and catch the wine train, which will take you out to numerous vineyards where you can sample your favorite whites and reds and enjoy a great lunch in the stunning backdrop of this amazing wine country.
So whether you visit on your own or with a group tour like Detours Travel, these are the top, must-visit places in and around Cape Town.
When in South Africa, You Must Safari!
And lest we forget one of Sub-Saharan Africa's most coveted activities – the safari! Just a short flight from Cape Town, you'll find Kruger National Park, one of Africa's most popular wildlife reserves where you can experience the African safari of a lifetime. If you picture lions, elephants or rhinos when you think of an African safari then you'll want to see the Big 5. South Africa is home to the Big 5, which includes the lion, elephant, buffalo, rhino and leopard, but these are just a few of the animals you can see on a safari. These animals were originally given this name as they were the most difficult to hunt and track. Of course these days the animals are protected but also on the endangered species list.
The best place to see the Big 5 is in Kruger Park in South Africa. In addition to these majestic animals, the Kruger features over 140 other large animal species, more than any location in Africa and a must-see if you are going on safari. Among those 140 species in the park, you might expect to spot giraffes, zebras, springbok, cheetahs and hippos on your adventure into this 19,000 square kilometer reserve. And if the wildlife isn't enough, you can even go zip-lining through the park or white water rafting to round out your South African adventure.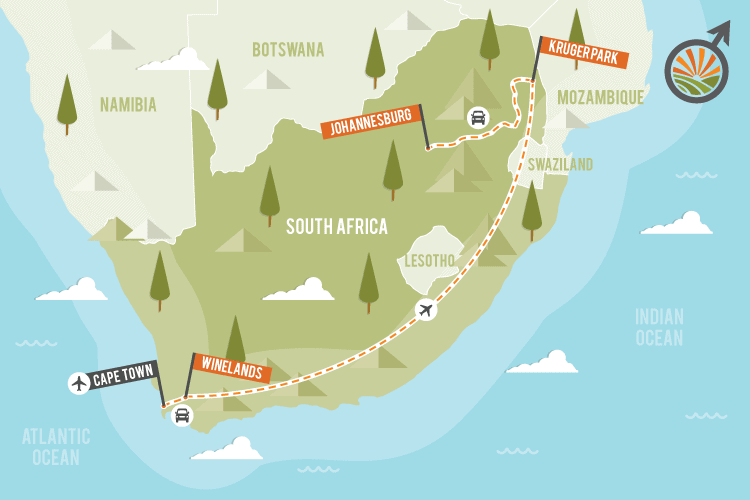 Johannesburg
Finally, no trip to South Africa is complete without visiting the slightly grungy, yet bustling capital of Johannesburg – better known to the locals as "Joburg." While this capital city can't be compared to the beauty of Cape Town and other regions of the country, this metropolis is full of history and offers a diverse urban experience. Spend a couple of nights here and check out the Apartheid Museum, Constitution Hill or cruise around on one of the bus tours. Take in the views at the Top of Africa observation deck on Africa's tallest building. Joburg also makes a great jumping-off point to Victoria Falls, the world's largest waterfall located at the border of Zambia and Zimbabwe.
Ready to Go?
If South Africa isn't on your bucket list there is no better time than now to plan a trip. The recent decline in the Rand (South Africa's currency) makes visiting less expensive for most foreigners than before. If you haven't yet considered a trip here we're not quite sure why you wouldn't. If you're hesitant to travel to Africa or not sure where to start, we definitely recommend checking out a group tour with Detours Travel. Not only will they plan all the necessary details, but you'll be joined by a group of friendly gays – both singles, couples and friends traveling together all in the company of knowledge, local guides.
So why not take that trip you've always dreamed of to one of the top gay-friendly and diverse destinations in the world? Go alone or bring a friend to experience the destination in a social setting that will make your trip unforgettable. We think there's nothing quite like it and we're certain you'll discover the same.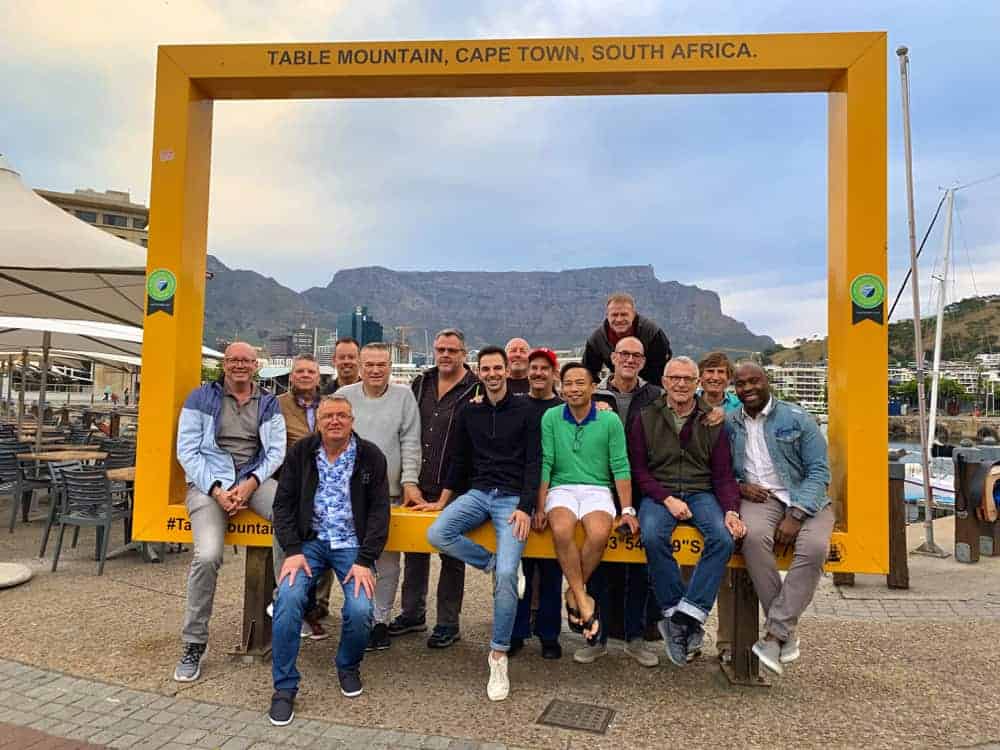 ---
View Available Trips to South Africa & Beyond