The coronavirus pandemic has caused the travel industry to grind to a halt with international border restrictions, reduction in flights and the closure of hotels and other tourism businesses. But as the world enters 2021, the likelihood of tourism returning to normal is finally on the horizon. Vaccine distribution will certainly take time and each region and country will approach restrictions differently. However, there is tremendous hope that international air travel will return worldwide in the second half of 2021. So as you start dreaming of that next big trip, we thought we'd highlight some of the best gay tours around the world you should consider joining. Luckily, most tour operators have loosened their cancellation policies to give you the confidence you need to book a trip now knowing that you may need to postpone or cancel and request a refund.
A gay group tour is a great option for an amazing travel experience that's already pre-planned and purchased as a package. It's particularly useful if you're too busy to plan your own trip or if you're a gay solo traveler because you'll quickly make new friends in your group as you travel together. Of course, you can also travel with a friend, significant other or even a family member on one of these awesome adventures. We recommend a few different tour operators that do gay group trips and they all offer great itineraries and experiences that you'll surely love and won't forget.
You'll need to choose a wise destination to travel to in 2021 and be mindful of potential travel restrictions. For Americans, Europe may be a good option for summer travel as it's more likely to have open borders than Asia or Australia/New Zealand. Europe is without a doubt one of the most amazing, dynamic and gay-friendly places in the world to visit. You could spend years or decades traveling across Europe and still not see it all. From the beaches in Barcelona to the history and art of Rome, there's so much to see, yet so little time. Depending on how the first part of the year goes, Latin America may also be an option as some countries have open borders as long as you provide a negative COVID test upon arrival. Nearby Mexico seems to have adopted some of the lightest restrictions and borders are open without many requirements.
Table of Contents
1. Gay Croatia Sailing Tour
2. Tahiti Gay Cruise
3. Gay Cuba Tour
4. Gay Train Journey on the Orient Express
5. Gay South Africa Tour
6. Gay Italy Tour
7. Gay Iceland Cruise
8. Gay Israel Tour
9. Gay Indonesia (Clothing Optional) Sailing
10. Gay Spain Tour
11. Gay Thailand Tour
12. Gay Costa Rica Tour
13. Gay Australia Tour
14. Gay India Tour
15. Gay Morocco Tour
16. Gay Mexico Tour
17. Gay Greece Tour
18. Gay Peru Tour (Machu Picchu)
19. Gay Japan Tour
20. Gay Egypt Tour
Gay Croatia Sailing Tour
Hosted by Two Bad Tourists (yes, that's us!)
After the cancelation of our 2020 sailing trip, we're excited to announce that we're finally hosting the sailing trip along the coast of Croatia, from August 14-21, 2021. Our most recent sailing trip of the Greek Islands in 2019 and of Croatia the summer before were such great successes (and loads of fun!) that we've decided to do it again. You can enjoy an island-hopping vacation around the beautiful Croatian coastline with gay guests from around the world. We'll stop at the best gay-friendly locations in the area for you to explore, as well as great beaches for an afternoon dip. You'll arrive in port with enough time to explore the island, relax on our private yacht or find a nice cocktail sunset bar. ​As part of the 7-day island hopping sailing adventure you will have daily swim stops, a selection of gay/nude beaches, a handful of gay bars and the most mouthwatering restaurants to choose from. View Sailing Trip →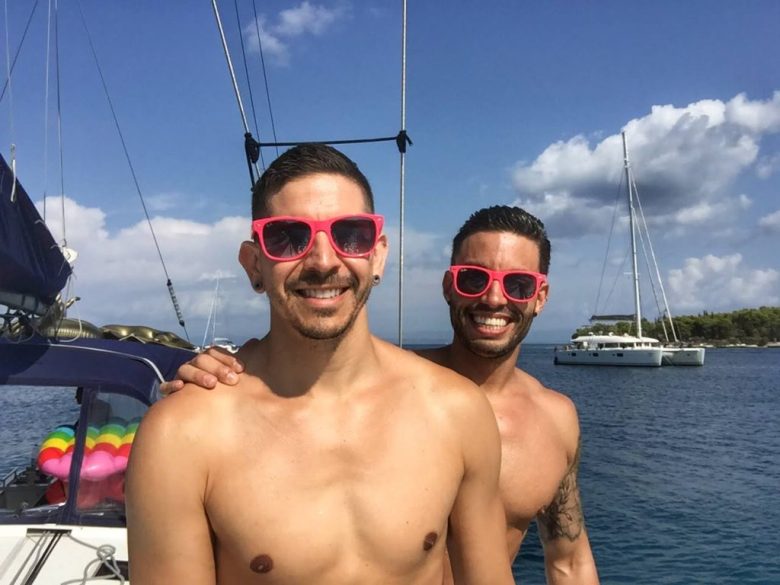 Gay Cuba Tour
Hosted by Out Adventures
Within the past decade, Cuba has become a destination gaining more interest and the ability to access this island nation has grown. Although the political climate (particularly in the US) changes and access is affected, it's still possible to visit Cuba. Visitors from Canada or Europe can go easily, and American's can go on an organized, "People to People" tour. Cuba LGBT+ rights and equality are surprisingly more forward than you'd think for a country that's been trapped in the past. One of the most outspoken advocates for LGBT+ progress in Cuba is actually Raul Castro's daughter, who has been a major ally to the local LGBT+ community. Though Cuba is still behind in LGBT+ reforms compared to other western nations, the surge in Cuba's popularity as a destination has given rise to a number of different local tours and guides specifically offering packages for LGBT+ visitors. Out Adventures has taken this opportunity to expand their gay group tours and they offer two separate tours, Cultural Cuba and Cuba New Year Fiesta, both taking place in late 2021.
Gay Train Journey on the Orient Express
Hosted by Belmond's Venice Simplon Orient Express
When considering the experience itself, by far one of the best ways to travel is by train. Hands down. Ask any well-seasoned traveler. If train travel intrigues you, then here's why you should consider joining the LGBT train journey from Venice to Paris. Step aboard the Venice Simplon-Orient-Express, the most storied set of carriages in the world, that has been transformed into an outstanding party venue for this special journey. Arrive in Paris, the city of lights and love, where the journey ends, but a lifetime of friendships and memories have been created along the way. Like most scheduled trips, the original 2020 journey was postponed until 2021. However, bookings are already open for the trip, which is scheduled from November 2-4, 2021. View Train Journey →
Gay South Africa Tour
Hosted by Detours Travel
South Africa is a country unlike any other in the world. The long colonial history followed by its recent turbulent past of apartheid has shaped the country in many ways yet has created an opportunity for carving a new future. When looking at the facts, South Africa is really the only country on the African continent that would be considered gay-friendly. While there are still struggles with equality in some parts like any country, they were globally ahead of the pack officially legalizing same-sex marriage in 2006. Cape Town is perhaps the most open-minded city and the vibrant metropolis of Johannesburg has plenty of LGBT+ specific venues as well. A gay African safari is also a must during your visit to South Africa and Detours Travel has packaged all this and more into their popular 12-day trip returning in 2021. View South Africa Tour →
Gay Italy Tour
Hosted by Italy Gay Travels
Italy is, without doubt, one of the must-see destinations for gay travel in Europe. Tourists flock to the home of 'La Dolce Vita' (the sweet life) every year, drawn to it by sun, sea, fashion, design, history, art, architecture and don't forget great food! But there is another element that makes this country so unique: the Italians themselves. Over the years the Italians have developed a high level of tolerance: they have a welcoming attitude by nature and their hospitality is unique and generous. Italians are friendly, open-minded and caring towards the needs of their guests. On this gay tour of Europe you'll discover gay beaches, amazing food and awesome Italian hospitality. Our friends from Italy Gay Travels organizes all gay tours, events and custom-made trips in Italy. Join one of their small group tours in 2021 exploring the most beautiful Italian places off the beaten track, a visit to Rome or enjoy the beach and great music at the Italy Gay Summer Party in Gallipoli. View all Italy Tours →
Tahiti Gay Cruise
Hosted by Source Events
Many of us are eager to start traveling again but the situation has been delicate depending on your part of the world. Americans, in particular, have not been allowed to enter many countries in 2020. Luckily, once place has allowed Americans to visit early on as long as you can prove you're COVID free. Tahiti in French Polynesia has managed the pandemic well and currently has record low COVID cases. To keep everyone safe, they implemented a testing protocol for visitors. If you're interested in seeing the amazing islands of French Polynesia you can join Source Events on their Dreams of Tahiti Cruise from September 16-23, 2021 aboard a private charter of the Wind Spirit. View Tahiti Cruise →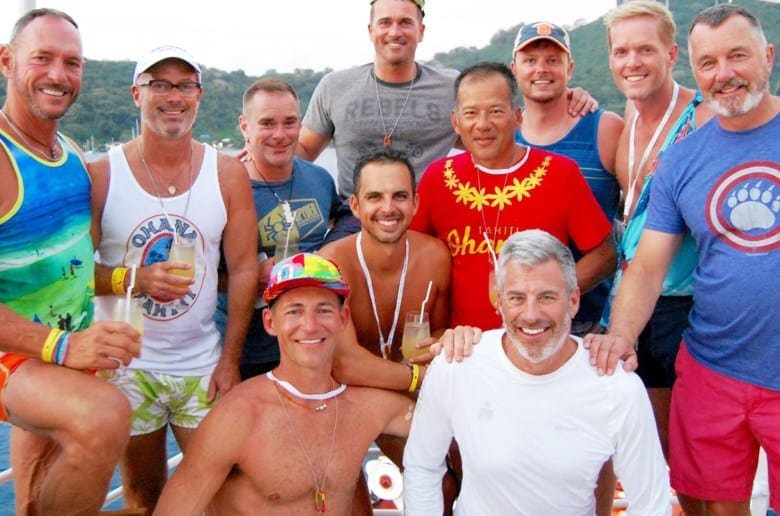 Gay Iceland Cruise
Hosted by VACAYA
There's no more magical a place on earth than Iceland. From the geothermal pools of The Blue Lagoon and the thunderous Gullfoss Waterfall to the 5-star luxury of the Ponant expedition vessel, you'll be blown away. If you're itching to travel in 2021, know that Iceland put rigorous protocols in place early that limited their exposure to COVID-19 and the Icelandic government is making it convenient for tourists to enter and exit, worry-free. VACAYA has charted the brand new luxurious 5-star Le Jacques Cartier from Ponant Cruises for their Iceland summer trip from September 1-8, 2021. This is the ultimate voyage of discovery of Iceland and the Arctic Circle – a truly exotic summer adventure on the trail of the Vikings. For 8 days, VACAYA will take you to extreme lands and breathtaking scenery. Glaciers, lava fields, geysers, and steam baths await those with a passion for travel and a love for the finer things in life. View Iceland Cruise →
Gay Israel Tour
Hosted by Hosted by Detours Travel
Cosmopolitan cafes lining beautiful white sand beaches, the giant golden dome of a local shrine rising over homes clad in Jerusalem stone, an oasis in the middle of a vast desert of sand. Detours Travel invites you to spend 8 days in Israel bringing you into the middle of a region of fascinating contradictions. You may find yourself reading a newspaper while you float weightlessly in the Dead Sea, sprawled out under the sun at the gay beach, exploring one of countless world-class museums or taking in the unique culture and traditions on display. As gay travelers, this trip gives you the ability to take in the Middle East while enjoying the comfort of a relatively gay welcoming community. You'll immerse yourself into the thriving LGBT scene, hike around the cliff top fortress of Masada, cover yourself in the nutrient-rich mud of the Dead Sea and explore the winding alleys of one of the most historically significant cities in the world. View Israel Tour →
Gay Spain Tour
Hosted by Detours Travel
Spain is a European destination that many travelers dream of visiting. Incredible Spanish cuisine, scenic coastlines, amazing events and a fascinating history make this southern European country worthy of anyone's bucket list. Imagine the sound of live music filling the streets, the taste of wine and tapas on a patio in the Spanish sun, all surrounded by the exotic heartbeat of authentic Spain.  This is the Spain we know and love and you now have the opportunity to experience the country with Detours Travel, whether you're a first time visitor, or a tenth.  Spain is that rare country that will steal a piece of your heart and beg you to come back for it. This is one of those gay European tours that you'll never forget as Spain is incredibly gay-friendly, the food is delicious and the nightlife is some of the best in Europe. View Spain Tour →
Gay Indonesia (Clothing Optional) Sailing
Hosted by Everything to Sea
Social, sensual, clothing-optional sailing. Has a nice ring to it, doesn't it? We love sailing trips because the experience is both vast and unforgettable, yet intimate and tantalizing. Everything to Sea is a sailing company offering relaxing trips across the Indonesian seas, visiting exotic islands while enjoying a care-free and naked experience, if you desire. That's right, a clothing-optional cruise through uninhabited islands. Our friends at Everything to Sea have announced their 2021, all male clothing-optional sailing trips in Indonesia. The 7-day trips are on a large wooden sailing ship called a "Pinisi" boat which fits up to 16 men including the crew. So what more is there to see exactly? Expect komodo dragons, stunning beaches, The Coral Triangle, the red beach at Namo Island and turquoise bays at Padar Island. View Sailing Trips →

Gay Thailand Tour
Hosted by Out Adventures
Thailand is one of the most popular destinations in Asia for LGBT+ travelers and The Land of Smiles awaits on this exquisite gay tour. The tour begins in Bangkok, wandering the Grand Palace and devouring the street food, which is delicious, fresh and costs under $4 for a full meal including a local beer. In the evenings you'll indulge in the raucous revelry and gay nightlife of Silom. Next you'll explore the famous temples of Northern Thailand and spend time with Chiang Mai's Asian elephants. To wrap up the adventure, you can explore the remote beaches of Krabi before hitting the tropical island of Phuket. Plus if you join one of the April departures, it coincides with Songkran – Thailand's famous New Year Festival. View Thailand Tour →
Gay Costa Rica Tour
Hosted by Detours Travel
Costa Rica is one of the most biologically diverse places in the world with dense jungles full of monkeys, sloths, reptiles and other tropical life, reaching out onto stunning white sand beaches. Nature is perfectly paired with adventure in this tiny Central American country and it gives its visitors an unlimited number of opportunities to get as active or as relaxed as you like. Spend an afternoon in a hidden hot springs waterfall oasis, zipline through the thick jungle on one of the world's longest ziplines, take a surfing lesson from a local Tico, hike onto the hardened lava flow of an active volcano or surround yourself with wild spider monkeys. The once-in-a-lifetime opportunities are endless! View Costa Rica Tour →
Gay Australia Tour
Hosted by Source Events
There's nothing like Australia. Awe-inspiring coastlines. Iconic cityscapes. The epic outback. Sydney's Harbour. Australia is filled with filled World Heritage sites and unforgettable experiences and the Aussies certainly know how to throw a fabulous party, which is why Source Events has timed this adventure so that you can experience Sydney's famous Gay Mardi Gras. Your Aussie adventure begins in charming and cosmopolitan Melbourne followed by visits to  Ayers Rock and later Sydney where you'll have plenty of time for sightseeing, beaches, and nightlife. Best of all, you'll have VIP seats for the spectacular and fabulous Gay Sydney Mardi Gras Parade and tickets to the famous party afterward. This is sure to be the adventure of a lifetime. View Australia Tour →
Gay India Tour
Hosted by Out Adventures
India, and especially the province of Rajasthan, is chaotic, colorful and laden with lavishness. This tour by Out Adventure fills a decadent 12 days with a 7th Wonder of the World, the Pink City of Jaipur, Indian cooking class and huge clouds of color that define the world-famous Holi Festival. Enthralled and exhausted by it all, stand by for the Royal Maharajah treatment, outstanding meals, memorable accommodations and the 'eternal tradition' of Hinduism. Colorful, outrageous, romantic and wild, India is a beautiful enigma, delivering spectacular natural beauty in every shape. On this journey, you'll experience ancient and modern wonders, enchanting Rajasthan, and the magic of India's colorful and most well-known festival. View India Tour →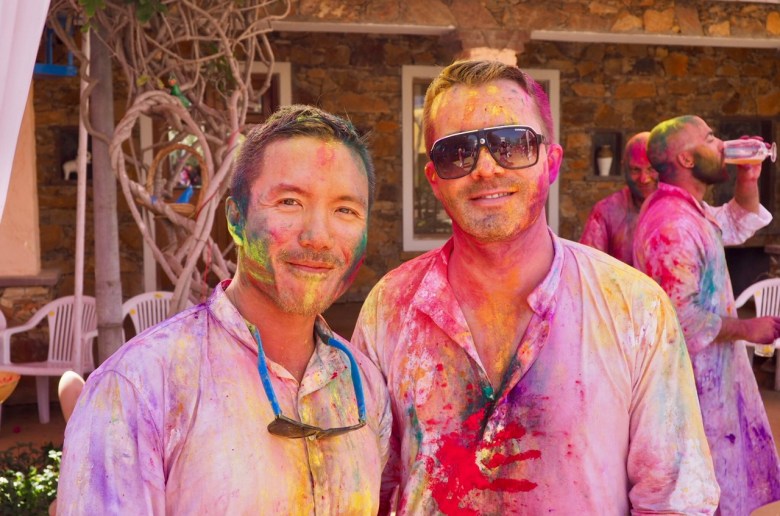 Gay Morocco Tour
Hosted by Out Adventures
Journey from Casablanca to Marrakech through moody desert landscapes, kasbahs and villages on Out Adventures' signature gay Morocco tour. Picnic in mountain gorges, learn to cook the perfect couscous and immerse yourself in labyrinthine souks. You'll also discover the ruins of a Sultan's city that was built to mimic Versailles, stay in a hotel made of Saharan sand and find tranquility in a traditional riad surrounded by the frenzy of a medina. All-in-all, the sounds, smells and flavours of North Africa will infuse your memories for years to come on this magical gay adventure through Morocco. View Morocco Tour →
Gay Mexico Tour
Hosted by Out Adventures
This short and sweet gay Mexico tour is packed with plenty of optional activities, giving you more control of your trip. Things kick off in the country's colonial capital where you'll be guided through a labyrinth of colorful alleys and cobblestone plazas. In the evening, the tour will get hotter than a habanero as you explore the Zona Rosa—the city's gay district. Finally, the latter half of this adventure focuses on Mexican history where you'll have the opportunity to get a glimpse of the wealth and power of pre-Columbian empires at sites like Teotihuacan and Cholula. So grab your sunscreen, crack open a beer and let Mexico unfold before you. View Mexico Tour →
Gay Greece Tour
Hosted by Detours Travel
There are no amount of photos, videos or stories that can prepare a person for the incredibly captivating country that is Greece. Whether it's the jaw-dropping scenery, the hospitable people, the fascinating history, the laid-back lifestyle or the endless exploring opportunities, Greece leaves travelers in awe. Catch the sun setting over Santorini's cliffs, start your day with a dive into the warm Aegean Sea, sip Ouzo in the shadow of the Acropolis, explore the famously gay island of Mykonos… so many options, all guaranteed to be unforgettable. Join Detours Travel on this awesome 12-day adventure and visit Athens, Mykonos, plus other top Greek island destinations. View Greece Tour→
Gay Peru Tour (Machu Picchu)
Hosted by Out Adventures
Transport yourself from Peru's bustling colonial capital, through the charm and history of Cuzco, into the stunning Sacred Valley and along the epic Inca Trail before arriving at the infamous Machu Picchu. There may be hiking involved, but you certainly won't rough it. This all-gay adventure features 3- and 4-star properties en route, with a few nights of 'glamping' thrown in (it's sort of like camping, only with guides, porters and cooks pampering our tender souls). Inca Trail Permits typically sell out 3-6 months in advance so it's best to book your trip early. View Peru Tour →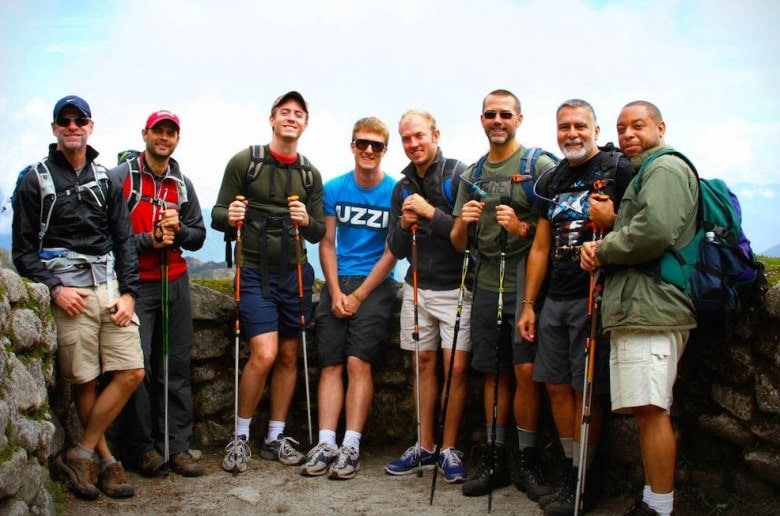 Gay Japan Tour
Hosted by Out Adventures
Japan is a universe unto itself—a tiny country that combines ancient history with unprecedented innovation. The tour begins in Osaka then takes you to Kyoto (which is now technically part of Osaka, to give you a sense of the island's density). After bowing to the friendly deer in Nara Park, you'll continue to Tokyo—the biggest megacity of them all. So grab your Hello Kitty backpack, choose your Pikachu and loosen those stretchy pants…between the street food, cooking class, public markets and gourmet restaurants, you'll eat so much Japanese food it will be anything but kawaii. View Japan Tour →
Gay Egypt Tour
Hosted by Source Events
Experience a once-in-a-lifetime journey to Egypt. The Great Pyramids of Giza and other treasures of Egypt have beckoned travelers for more than two millennia. On this luxury small group journey, visit venerable tombs and temples to piece together the life and times of one of the world's greatest ancient civilizations. Visit bustling Cairo, the Great Pyramids, the Sphinx, and the new Grand Egypt Museum, home to the world's largest collection of antiquities, including artifacts recovered from the great Tutankhamen's tomb. Cruise the fabled Nile in style — like the pharaohs once did — on the luxurious Nile Adventurer, disembarking at iconic sites as well as little-known temples. Go off the beaten path, flying to Abu Simbel, one of the most awesome monuments of ancient Egypt. With sand-covered tombs, austere pyramids and towering Pharaonic temples, Egypt brings out the explorer in all of us. Join Source Events for this luxury, gay tour you'll never forget. View Egypt Tour →
Note: Some of these links are affiliates which means using them won't cost you any extra but we do receive a small commission for each referral. You're not obligated to use them but we appreciate it if you do. Thanks in advance for supporting this site if you choose to use our link!