Europe is without a doubt one of the most amazing, dynamic and gay-friendly places in the world to visit. You could spend years or decades traveling across Europe and still not see it all. From the Circuit parties and beaches in Barcelona to the history and art of Rome, there's so much to see, yet so little time.We've teamed up with our friends at Rainbow Gay Tours to give you some insider tips to each of these 8 cities below. If you're planning a trip to one of these places be sure to check out the variety of tours offered in each destination. We've known Eloi, the founder of the company for  three years now and have become good friends. We can't speak highly enough about them and you can see for yourself from their 5-star TripAdvisor reviews.
Special Offer – Rainbow Gay Tours is offering our readers a 10% discount when booking on their website by using the code TWOBADTOURISTS.
Barcelona
Barcelona needs little introduction and it's one of the most popular destinations in all of Europe. With year around mild temperatures, a sea side location and a welcoming atmosphere for LGBT people, it's no wonder that gay travelers from around the world come here to indulge in the culture, nightlife and vibrant atmosphere. Don't forget the lively gay neighborhood called Eixample, which is centrally located in the city. One of the most famous gay hotels is the Axel Hotel and even better is the rooftop terrace with a pool and bar. And if you're looking to explore the nightlife, you can do a 2-hour bar hoping tour  to introduce you to the best bars and clubs in Barcelona.
Barcelona is also an architectural marvel. Paris has its Eiffel Tower, New York the Statue of Liberty and for Barcelona, the Sagrada Familia is without a doubt the most famous landmark of the city. Park Güell is another one of Gaudi's creations and is definitely worth a visit.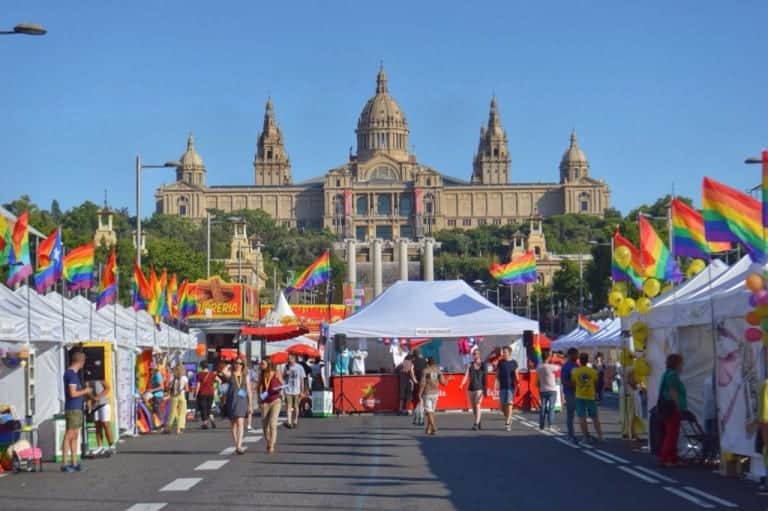 Berlin
It's hip, artistic, international and GAY! Berlin is easily one of the most gay-friendly cities in Germany and Europe with a huge offering to LGBT travelers. Popular neighborhoods like Schönenberg (the most well-known gay neighborhood) as well as Neukölln, Kreuzberg, Prenzlauer Berg and Freidrichshain all have a strong LGBT population living in the communities as well as many gay oriented businesses, cafes, bars and clubs.
Yes, not only is Berlin gay-friendly, the number of gay businesses in the city is in the hundreds including popular places like the Axel Hotel or Schwuz and Berghain nightclubs. The city has a rocky, yet unique and inspiring history that is one-of-a-kind even for those not so into history. If you haven't been to Berlin, you're truly missing out. To get the most out of your Berlin trip join a tour and experience the city center, visit cool Berlin neighborhoods, see the Sachsenhausen Concentration Camp or join a nightlife tour.
London
London is one of the top tourist destinations in England and the world with more than 30 million visitors each year. There is so much to see and do in London that it can even become overwhelming. Whether you come for just a couple days or maybe even a week, you certainly don't want to miss London's top highlights like Trafalgar Square, the Tower of London and Buckingham Palace. Rainbow Gay Tours offers cool tours in London including the city's most famous sites and pubcrawl-style nightlife tours. There are countless museums and galleries like the British Museum or National Gallery and also great parks and outdoor spaces like St. James or Hyde Park. You can also check out some of our top nightlife picks in London which include cool places like Ku Bar, G-A-Y, Heaven and XXL.
Madrid
The fact that Madrid is so gay-friendly is one of the many reasons why we chose to call the city home. Besides the art & culture and the seat of the Spanish royalty, Madrid is probably best known for its gay scene and nightlife. It hosts the largest gay pride in Europe with nearly a million and a half attendees. In all the cities we've been to around the world, it's hard to find a place that competes with Madrid, its gay scene and complete openness to live and visit as an LGBT person. If you want to plan a trip, you should consider staying in the gay neighborhood called Chueca. The Oscar Hotel is a gay favorite located right in the center of everything and it's walking distance to most attractions in the city. For the best Madrid experience, considering joining a nightlife tour of Chueca, visit the famous Retiro Park or even take a guided day trip to San Lorenzo de El Escorial.
Bilbao
Bilbao is the heart of Spain's northern region called the Basque Country and a city full of life, cuisine, awesome views and amazing architecture. Be sure to check out the top highlights in this small, yet vibrant city including famous monuments like Plaza Nueva and Casco Viejo as well as the stunning Guggenheim Museum. You'll be impressed by the architecture of both the new and old cities and you simply can't miss sampling some of the best tapas found in the country. The Basque Country is well known for their cuisine and the tapas culture is one of the best you'll find. Join a tour with Rainbow Gay Tours to make sure you visit some the best places to sample the local food.
Rome
Few cities in the world mesh modern with historical in the way that Rome can and it's a destination that doesn't disappoint. It's a major metropolitan city with a large population of LGBT residents but we have to point out that Rome is hardly a "gay destination" and the Italian capital is still highly conservative (and homophobic) and influenced by the presence of the Catholic Church taking hold in Vatican City.
There is not really any gay neighborhood in Rome but there is a small gay street (literary called "Gay Street" which opened in 2007) just beside the Colosseum where you can find a few gay bars, restaurants and hotels, including First Floor and Second Floor – two gay boutique hotels worth checking out. Muccassassina is a mixed but very gay (and awesome!) party held every Friday night at a club called Qube Disco. The atmosphere is very friendly with three large and separate dance floors plus drag performances throughout the night. As for sightseeing, there is so much to see but be sure to check out Rome's famous plazas and fountains, the archaeological zone or even do a sunset tour providing unique light and perspective in this magnificent city. You'll find hundreds of different tours to choose from in Rome, but if you want to explore the sights and connect with a gay local to really understand the gay scene, you should definitely check out Rainbow Gay Tours in Rome.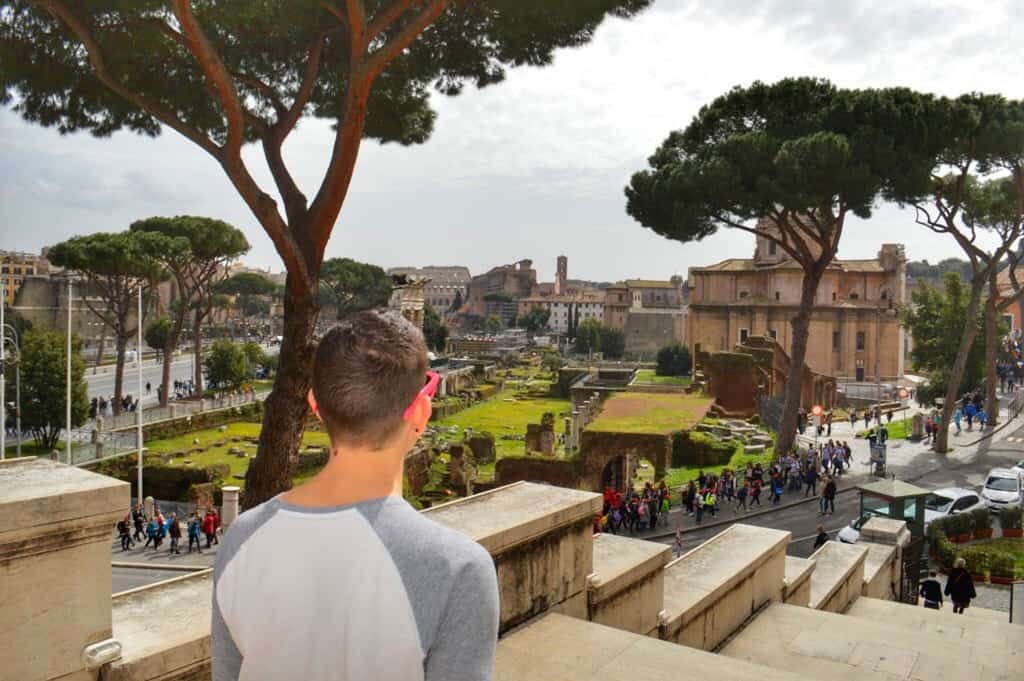 Lisbon
Many travelers seem to overlook that Portugal makes up a majority of southern Europe's west coast. That's too bad because this vibrant country has so much to offer that we find ourselves coming back often. Lisbon is easily the least expensive capital city in western Europe, offers mild year round weather and has plenty of activities for any LGBT traveler.
A few top sights include the Fashion and Design Museum, fabulous "miradouros" (lookout points), Mercado Ribeira (the gourmet market) and even the hilltop St. George Castle. Even with so much to do, be sure to make time for the gay beach or a day trip to Sintra and Cascais. After a long day of exploring the city center, consider resting your head at one of the only gay hotels The Late Birds Lisbon. Take a swim in the outdoor pool and relax while sipping a cocktail in the grassy backyard social space.
Gran Canaria
Gran Canaria is a unique, gay-friendly and an adventurous place to visit. It's a hot gay destination year round due to the warm climate and Maspalomas is its gay capital. Drag shows in Gran Canaria are like the residency shows of Las Vegas, with a slightly smaller budget and a lack of celebrity status. Still, they're a hit and they're a must. The Yumbo Centre in Maspalomas is the center of the gay nightlife with gay bars, clubs, restaurants and cafes.
Perhaps the best thing you can do to enjoy Gran Canaria is to take a private gay yacht tour to a secluded beach on the southern side of the island with a friendly, charming gay captain. Rainbow Gay Tours offers an all-day trip on the boat, time spent on the beach and provides tapas and quality drinks. There are plenty of gay accommodations in and around Maspalomas but we recommend Paso Chico, which is a great budget option for private bungalows, with a pool right across from all the gay nightlife.
Note: this article is sponsored by Rainbow Gay Tours. As always, rest assured all opinions are 100% our own and we don't sacrifice our integrity for a sponsorship. In fact, we highly recommend Rainbow Gay Tours to anyone, we've gone on their tours before and their great reviews on TripAdvisor speak for themselves.