Choosing your hotel in Key West is one of the most important decisions you make when planning your trip. The options are limitless, and your choice ranges from large resorts and hotel chains to small, boutique hotels or apartment rentals. There are several clothing-optional, gay hotels and resorts in Key West and Island House is the most popular and well known.
While staying at a gay hotel might not be the preference for everyone, some travelers enjoy the open environment that Island House offers where you can simply relax, be yourself and even take it all off. It's true there are many gay-friendly hotels in Key West that are not necessarily gay-themed or designed for the LGBT community. However, these properties simply can't provide the same unique experience. Island House is a gay, men's only resort so it's ideal if you are visiting with friends your same-sex partner or even alone since it's easy to meet other guests.
About Island House Key West
Key West has been a popular destination for the LGBT community since the 70's. In fact, the concept of a gay hotel or men's gay resort started in Key West, followed by other popular in places like Palm Springs, Fort Lauderdale and Provincetown. During those times, the acceptance of LGBT people wasn't what it is today so many gay travelers really needed a safe space if they wanted to travel with their same-sex partner and not fear judgment or harassment.
Island House has actually been a gay guest house since 1974. The current owners purchased the property in 1999 and completely renovated the complex. Since then Island House has won a variety of awards from BOYZ and Out Traveler magazines, as well as top recognition from TripAdvisor. The property is a 4-star resort and offers great amenities and services. Other popular gay hotels in Key West are Equator Resort, New Orleans House, and Alexander's Guest House. Alexander's Guest House is another award-winning resort in Key West. You'll almost certainly have a great time staying at any of these resorts, but Island House is the most popular for many reasons.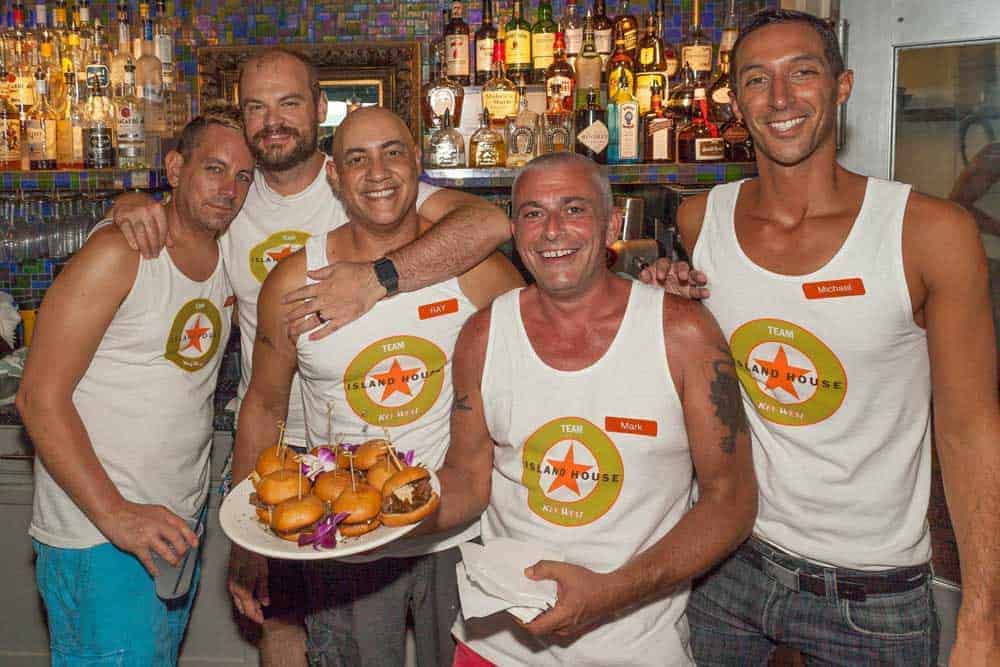 Why Stay at Island House Key West?
Location – Island House is perfectly located in Key West. It's walking distance the city's most popular attractions and gay nightlife. It's located along "Guesthouse Row' at the end of Fleming Street. Duval Street is located only about 6 blocks away and is the center for dining and nightlife.
Clothing optional – travelers who enjoy relaxing in the buff by the pool or in a jacuzzi can take it all off in the company of other gay men. The atmosphere during the day is not necessarily sexually charged, but instead more of an open and natural environment. You'll find that other spaces might get a bit kinkier as day turns to night, including their 24-hour video room or Jacuzzi.
Parties and events – Island House offers daily events like their evening happy hour which is open to all guests. You can even enjoy an open bar from 5-6:30pm and take the opportunity to meet new people who also happen to be staying at the hotel. They also host pool parties on various days throughout the week, especially during special events.
Be yourself – probably one of the most attractive parts about a gay hotel is the comfort zone. The entire hotel is full of gay guests and all staff has been extensively trained to provide you with a welcoming and gay-friendly experience. It's a very open environment and one where you can relax and not worry about harassment or discrimination.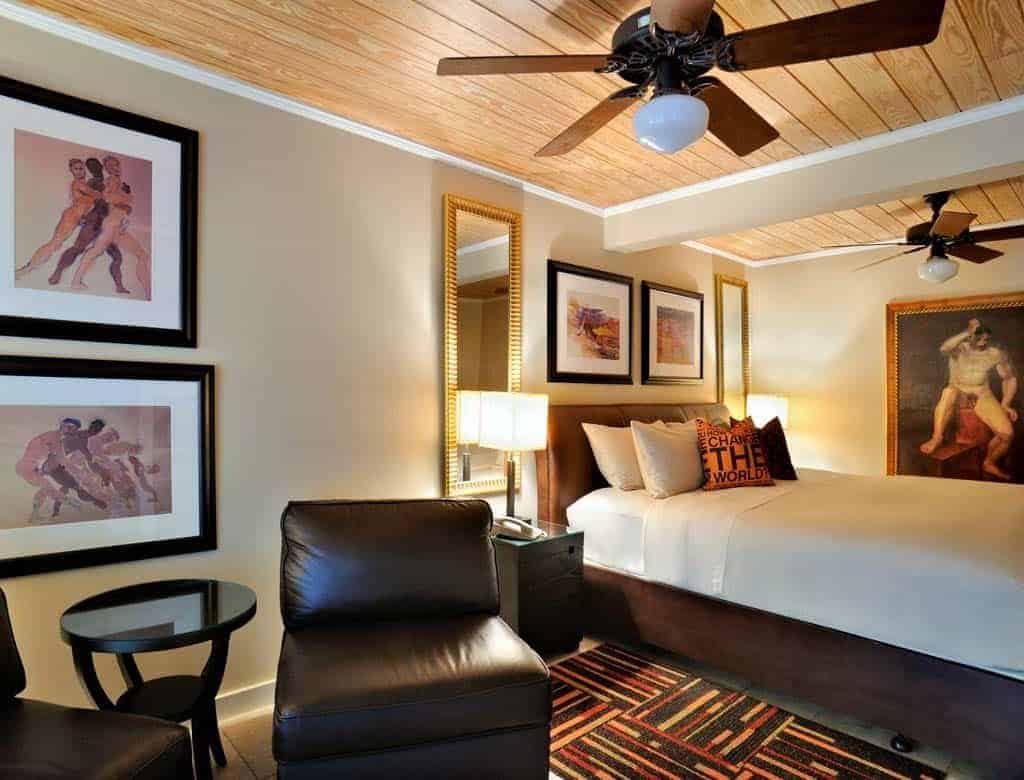 What Can You Expect if You Stay at Island House Key West?
One of the best aspects of staying in a clothing-optional gay resort in Key West is the sense of community they provide. It's very easy to socialize and meet other guests, which makes your stay in Key West even more enjoyable. Island House offers a free happy hour every evening where you can have a few drinks and make a new friend or two. During this time, you can order premium drinks from the bar, including top-shelf cocktails, beer, mojitos and more.
Island House is situated in a private compound with a large heated pool, Jacuzzis, gym, spa, café and bar. The café serves American food with a hint of Caribbean flare for breakfast, lunch, dinner. The poolside bar and café are even open 24 hours. They also have an erotic video lounge which is open 24 hours a day, showing adult male videos exclusively.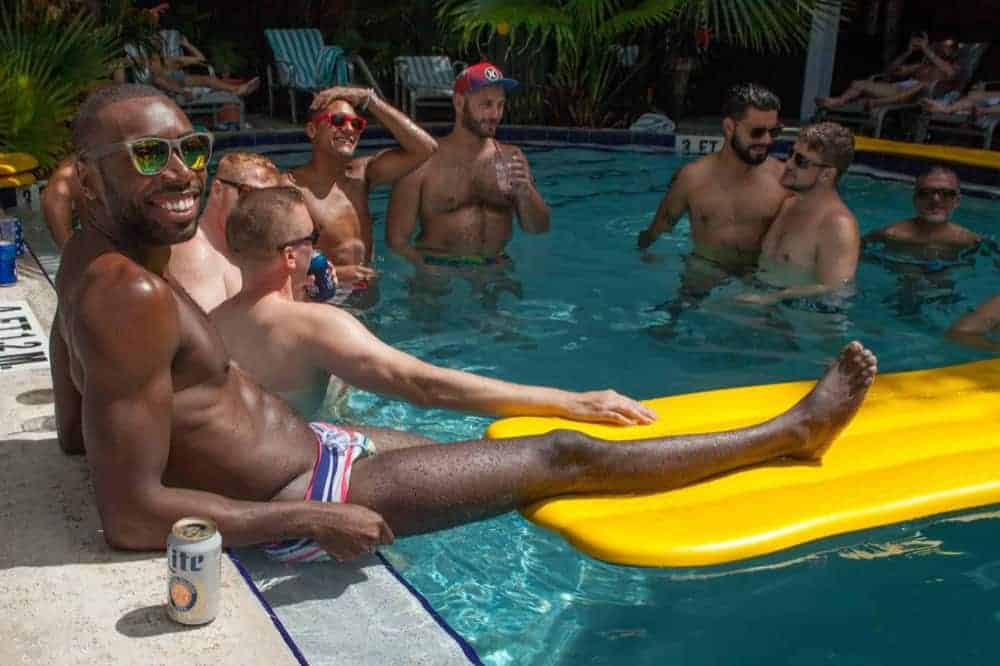 Is Island House Right for You?
Here are a few things to consider if staying at Island House interests you.
The hotel guests will be all gay men
The resort is clothing optional so make sure you're comfortable with being around other nude guests
You won't earn points from loyalty programs like would from staying at a large chain like Marriott or Hilton
If you're visiting Key West during gay pride or a popular gay event, rooms at Island House get booked well in advance, so you'll need to plan ahead
Island House is a great option if you're traveling with your same-sex partner and you won't have any issues with public displays of affection
You can find hotels or other resorts at a lower price point, but they don't offer the same amenities and unique experience
Island House Reviews
Island House is an award-winning, clothing optional guest house for gay men. With a legacy of more than 45 years, it's the top gay resort on the island. Island House has won a variety of awards and has been named the best gay resort in the world by BOYZ and Out Traveler magazines. They have great reviews by guests on TripAdvisor and they've received the coveted "Certificate of Excellence" since 2010.

Interested in staying at another gay resort in Key West?
Other popular resorts in Key West are Equator Resort, New Orleans House, and Alexander's Guest House. Alexander's Guest House is another award-winning resort in Key West.
Interested in staying with a gay host in an apartment rental in Key West?
Founded in 2014, misterb&b is not a hotel or chain, but rather a booking site for rooms, apartments and homes. Similar to AirBnB, misterb&b is an online service that allows you to rent short- or long-term spaces from gay and gay-friendly hosts around the world. They have hosts in more than 135 countries with more than 200,000 total listings. They recently even started offering listings of gay and gay-friendly hotels on their site for a one-stop-shop. You can even list your own room or apartment to earn cash from gay travelers in your city. Understanding a city's gay scene is much more easily done with the help of a local and apartment sharing is one of the best ways to meet someone living in the city who knows the best insider advice.
Special Offer! Sign up with misterb&b  and you will receive a free $10 credit to use on your first booking!
Photo credits: Island House