A wise drag queen once said: we're all born naked, and the rest is drag. As any nudist will tell you, wisdom exists in the statement. There's something innately liberating about stripping down to the bare essentials, feeling your oats and casting off those pesky societal norms along with your briefs.  
Over the last decade or so, there has been a growing trend among the LGBTQ+ community to embrace clothing-optional trips as a means of self-expression. Clothing-optional holidays are inclusive spaces that celebrate all body types, while encouraging a newfound sense of freedom and self-acceptance, ultimately fostering a more positive body image for all. Attendees can connect with like-minded individuals, form lasting friendships (or more), and experience personal growth with a dash of self-reflection…or at the very least enjoy some variety in eye candy with fellow connoisseurs of the male form.
Numerous nude vacation hot spots have emerged for the modern gay/bi man including men-only resorts, cruises, sailing and camping trips. Some of which offer diverse and fun activities to partake in without those cumbersome clothes. From yoga and sports to parties and cultural excursions, here are just a few of the possibilities – available for the aspiring nudist or seasoned naked adventurer alike:
Like a Fish to Water – The Best Gay Clothing-Optional Sailing Trips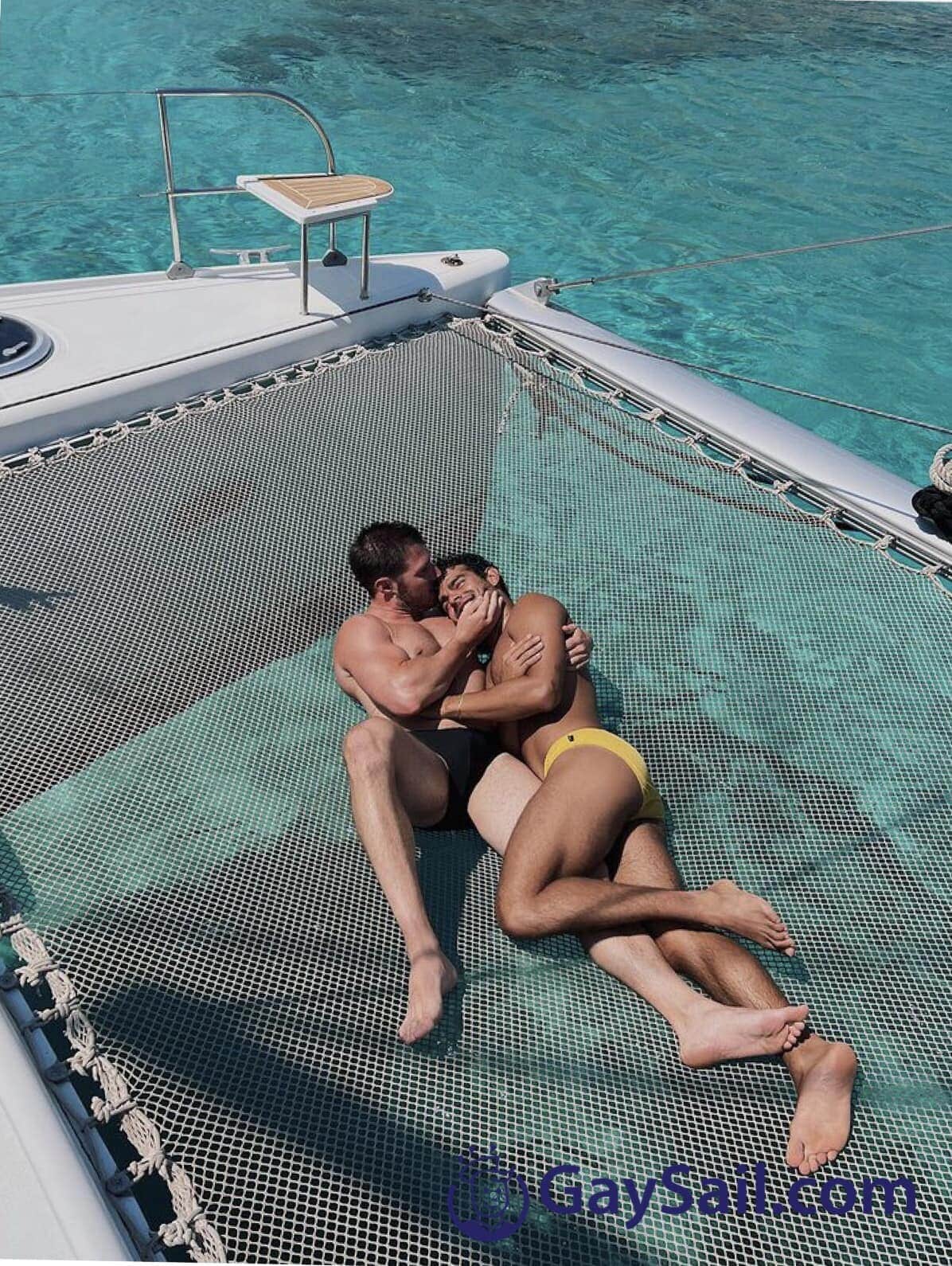 Amongst the many ways to see the world naked, there's nothing quite like a gay sailing trip to put the wind under your sails. Picture reclining butt naked on the decks of a yacht, gently rocking upon waters only rivaled in their azure blueness by the clear skies above. Far from the worries of everyday life, you can leave your phone with your clothes and simply be.
Everything to Sea are naked travel experts that hold all-male nudist sailing trips across the world -including in France, Spain, Thailand, New Zealand, and The Philippines, with a clear 'fun and freedom' philosophy. Their itineraries include activities as varied as exploration trips unique to each location to naked Twister.  However, no matter where you go with them, you'll see the region under the guidance of the men who really know how to show off its best bits – while you show off yours.
Gay Sail is another fantastic gay nude sailing holiday option. They are open to gay men of all backgrounds, shapes and sizes – providing sailing trips around the world to a wide array of foreign shores. From the sophistication of Saint Martin to the exotic paradise of Tahiti to the idyllic beaches of Thailand, they know all the hidden coves and exquisite restaurants to make your journey an inimitable adventure.  Stepping aboard one of their sailing yachts or catamarans – where gay skippers and cooks offer you a fully immersive holiday – proves that luxury and adventure need not be mutually exclusive.
Captain Jack Yachting blends two of life's greatest pleasures – sailing and yoga – into one convenient clothing-optional package. Boarding the spacious Captain Jack yacht will show you that yoga need not be confined to studios and gyms, as you set sail around Turkish and Greek islands in search of wondrous locations to stretch those muscles and open up those chakras. Experience Yoga for all levels with two classes a day on a spacious deck, secluded beaches and the very best of open-air picturesque locations. Besides the yoga, you'll enjoy physically focused activities, devour delicious Mediterranean food and simply unwind to the sound of the lapping waves under the radiant sun.
If size is important to you – on a cruise that is – then La Demence cruises are a great alternative to the smaller clothing-optional boat trips.  La Demence is an extremely sex-friendly environment in general and besides the jockstrap filled parties there's jacuzzis and nudist decks to get more intimate with your fellow passengers, or a quiet nudist deck to gaze out over the ocean and watch the world go by.
Resorting to Nudity – The Best Clothing-Optional Gay Resorts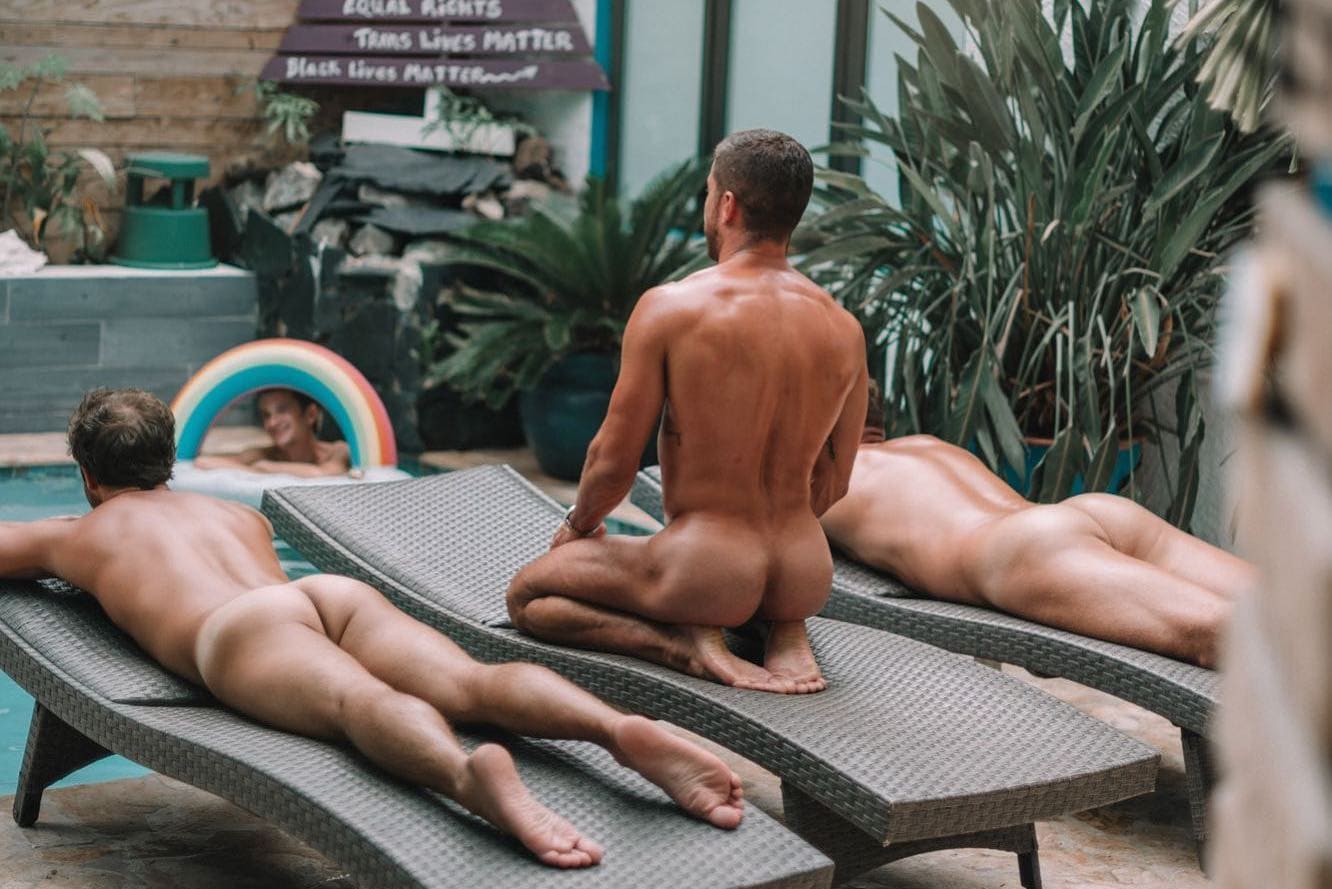 One need not take to the seas to strip it all off as there's also plenty of resorts around the world which cater to the naked experience seeking traveler. 
It should come as no surprise that gay utopia Palm Springs is full of men-only nude vacation villas, but one the best is no doubt the famously raunchy Vista Grande Resort. This 'gay man's paradise ' sits snugly under the San Jacinto Mountains. Besides the amazing views – both in and outside the villa – there's pools, steam rooms, waterfalls, and lagoons galore in this veritable gay man's playground.
Not far away in Puerto Rico you'll find Coqui De Mar, the best clothing-optional gay hotel "guesthouse" in not just Puerto Rico, but the whole of the Caribbean. Coqui De Mar is more than a place to stay, it's a community – with group meals, activities and tours included. This community spirit makes it a solo nudist's wet dream as it is easy to make friends. The atmosphere is friendly and you are free to take off or leave on as much as you please, making it a great place to experiment with nudism. They hold special parties and events – at Pride things get especially wild!
The aforementioned Everything to Sea also offer a fully naked upscale villa within the lush utopia of Thailand, available for seven days at a time. The male-only villa is a verdant maze of Thai gardens and living areas offering spectacular views from the hills over Surin beach below. It sports eight lavish rooms, a Thai pavilion, and an infinity pool with a swim up bar serving up bottomless cocktails – indeed the only bottom on display will be that of the naked butler! Spend your days relaxing, getting to know your fellow guests and/or choose between two specially selected activities each day, ranging from waterfall treks to ladyboy drag shows.
Finally, in Europe down in Southern France – near Cannes – you can find La Connexion, a gay owned boutique – by the aforementioned Gay Sail – nude vacation resort. It offers a more intimate setting – hosting just 20 guests in 6 apartments – and has a large jacuzzi and swimming. La Connexion is surrounded by beautiful French countryside and quaint medieval towns. Not to mention it is but a short drive from one of France's most popular nudist beaches, Saint Aygulf.
Bare with the Bears – The Best Gay Nude Vacation Campsites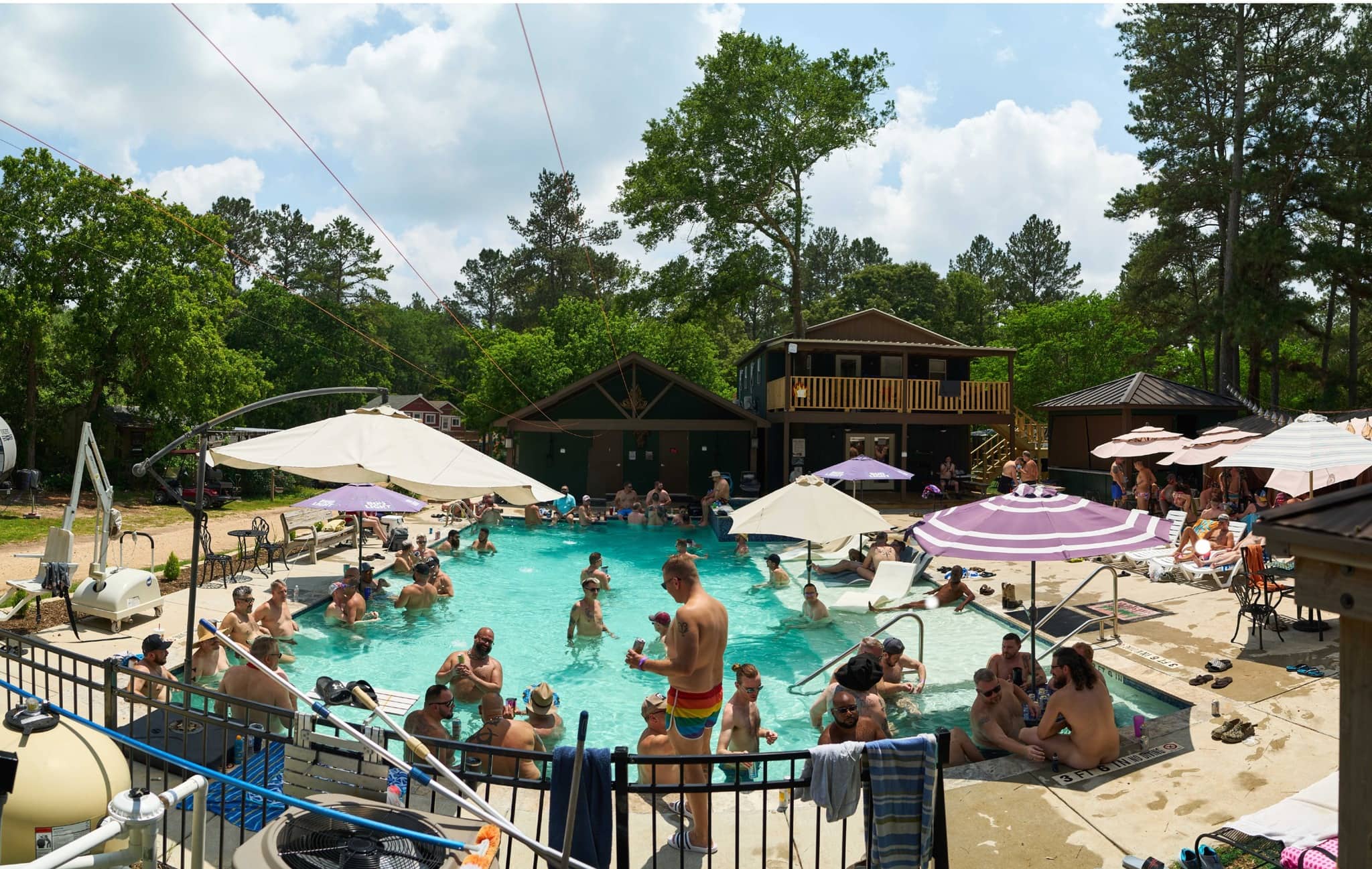 The great outdoors is the perfect backdrop to embrace one's animal roots and there are many clothing-optional campsites out there in the wilderness. However, you can't really beat the states when it comes to nudist camps.
Jones Pond is one of the best all-male adult campsites and is located in Angelica, not far from New York. It is members only but joining is easy for those with the right mentality, which is fun-loving and liberal. The campsite is huge at 100 acres with a welcoming atmosphere from the staff and attendees that is big enough to fill it. All types are catered to whether you want parties, games and big events or hiking, pond swims and wood-fire barbecues. It is also completely clothing-optional in the campground and pool, although you'll have to cover up at the front of the campsite and the café. You can choose how down and dirty you want to get with cabins, bunkhouses, or tents as accommodation choices.
Down in Navasota Texas you'll find Grizzly Pines, an independently owned clothing-optional campsite focused on – but not exclusively for – the bear community. They go out of their way to provide an "in the woods" still experience with fire pits and woodland activities. At Grizzly Pines you can let it all hang out anywhere on the campsite. The party action is very much centered around the pool, but the site has a lot to offer including fetish related events and movie nights. Their themed parties are second to none, especially for big events like Independence Day and Labour Day. As a bonus – and running with the animalistic theme – just 7 miles away is a wolf sanctuary – actual wolves that is, not of the sub-culture of the gay world variety — well-worth a visit.
Going naked out in the wilds need not mean roughing it and Copper Cactus Ranch Men's Retreat is an all-male clothing optional Bed and Breakfast Retreat, which provides accommodation options beyond your average campsite –  including a huge mountain view room, a Vegas style room and even a bunk room beside a windmill to share with your fellow naked vacation enthusiasts. The ranch is located just one hour east of Phoenix in the foothills of the Superstition Mountains, next to Tonto National Forest and – perhaps appropriately – the famous Elephant Butte. There's a hot tub, saloon and 40 acres of trails to explore. Not to mention karaoke and bean bag tossing contests to liven up your stay. Dare we say it…Yeehaw!
Sunny Side Up – The Best Nudist Beaches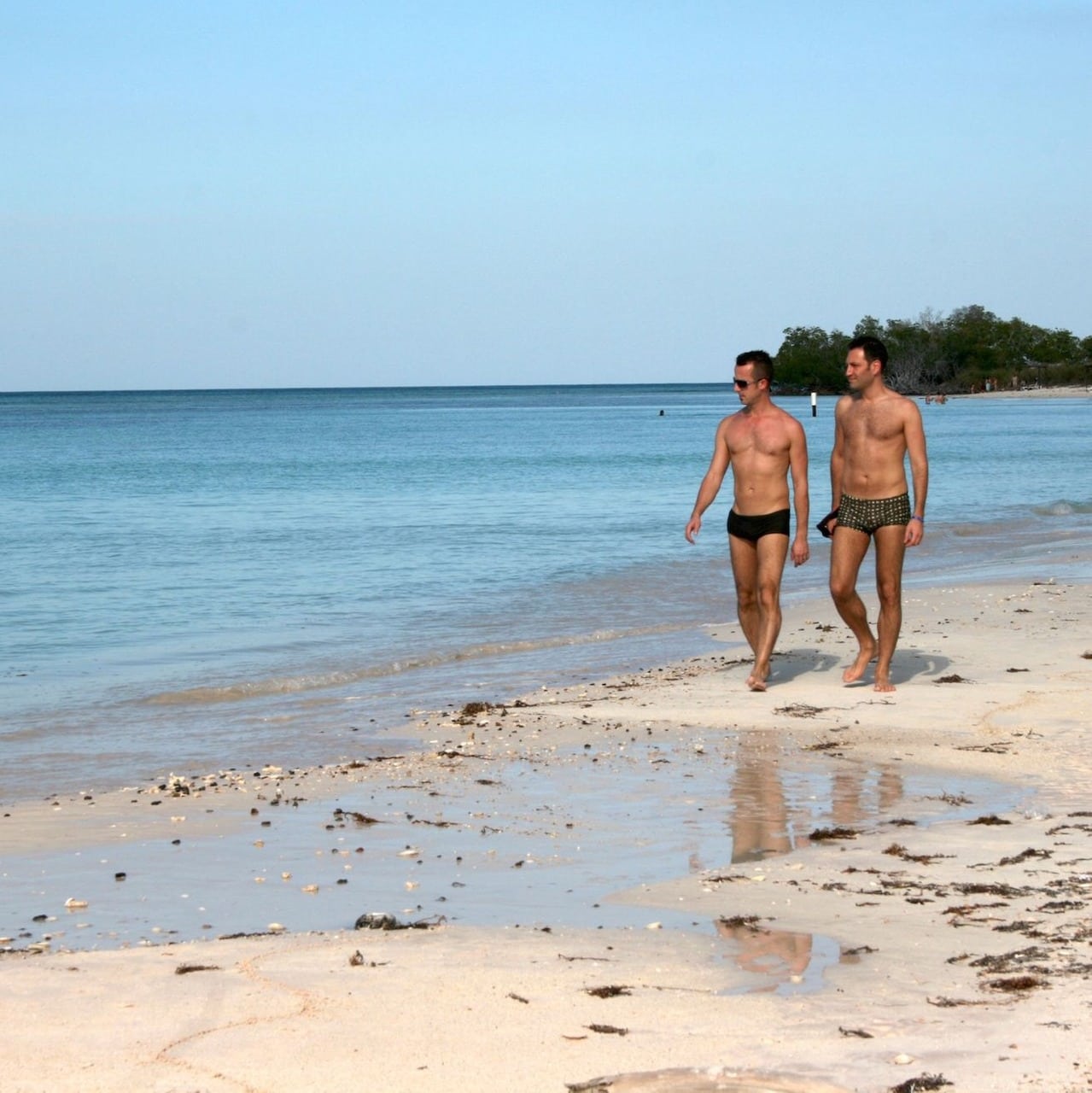 Those looking simply to dip their toes into the proverbial waters of nudity might prefer a day trip to a nudist beach as a nude vacation option. There are literally millions scattered across the world but three really stand out.  
Sitges is Spain's worst kept secret as a contender for gayest town in the world and is reached by a short train ride south of Barcelona, A short walk along its coast is Balmins Beach, the best nudist beach in Spain. Due to the proximity to Sitges it is filled with the hottest guys in town. Behind the beach are a few bars ideal to sip a cocktail in and enjoy "the view".
Meanwhile across the Atlantic in Cuba near Havana is the lesser known – at least international – beach, Mi Cayito. It's gay, big, clean and beautiful…and so is the beach. At the weekend it gets full as the only gay beach in Cuba, but the beach is big enough to house them all and the busy ambience makes you feel a part of the gay community of the island.
Finally, Sandy Bay in Cape Town is a firm budding nudist's favorite and reached by an enjoyable walk from the city towards Cape Point to a secluded cove sitting before lush green dunes and sheltered from the wind – and prying eyes – by rocky cliffs. There you are open to lay back in relative privacy with a few in the know gays, appreciate the view and let the sun wash away your daily woes – along with those pesky tan lines.