Body positivity! Just one of the many buzz phrases of the current times and – let's be real – the gay community doesn't exactly have the best track record in promoting diversity amongst male body types. We are, however, working on it and significant progress is being made to celebrate the beauty found within the bodies of men of all shapes and sizes – be you bear, twink, chub or twunk. Going hand in hand with this newfound self-love, and appreciation of body diversity, has come a rise in the popularity of the nudist holiday. 
As the world opens up, as have nude beaches, resorts, sailing trips, camp sites and – most especially – villas. All calling out to the budding gay nudist. Naked only villas for men are gay sanctuaries that focus on unfettered relaxation, shedding inhibitions and embracing mother nature…or anyone else you might feel like embracing.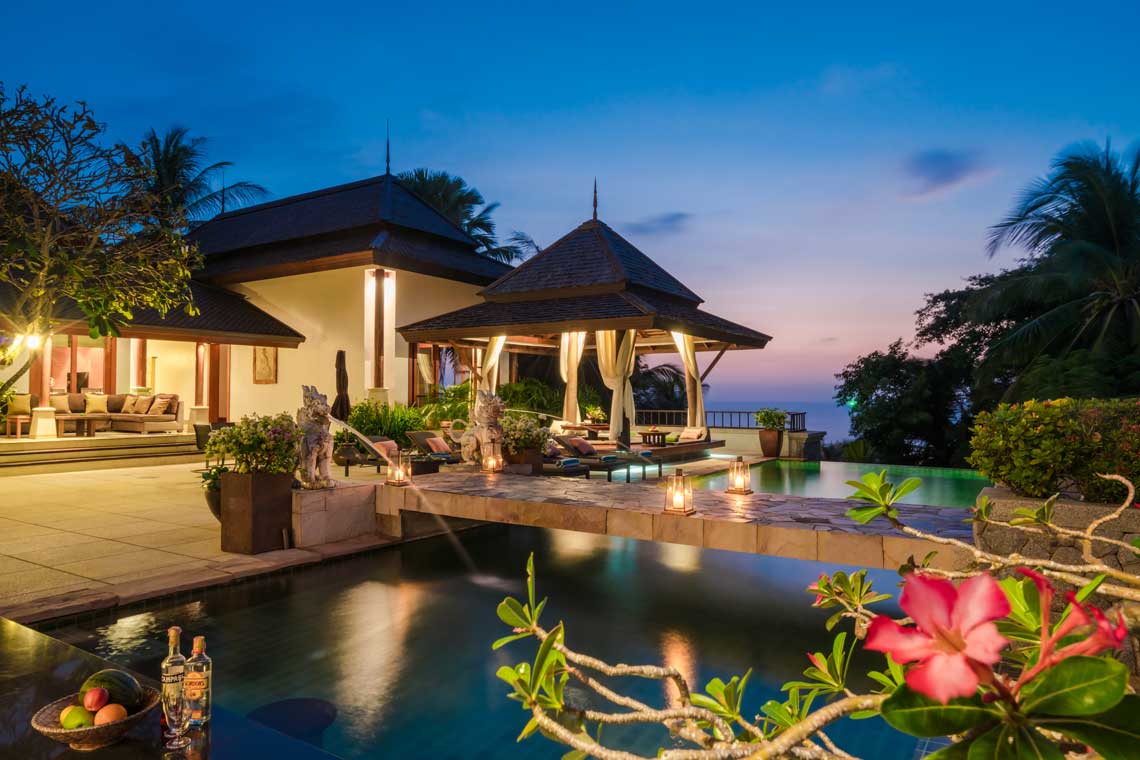 Everything To Sea is offering the ultimate gay nude villa experience in a country with one of the most beautiful backdrops to complement – it along with your naked form -, Thailand. As experts on naked holidays – running nude trips for five years in Bali, the Komodo Islands, Sulawesi, and Raja Ampat– they know how to nurture an unforgettable naked experience or two. Now Everything To Sea are cordially inviting you to strip down in their opulent all-inclusive palace-like villa in Thailand, with an excitingly eclectic roster of activities made to capitalize on the breathtaking location.   
So, as we expose ourselves, let's expose what awaits us at their gay nude sanctuary on the coast of Thailand.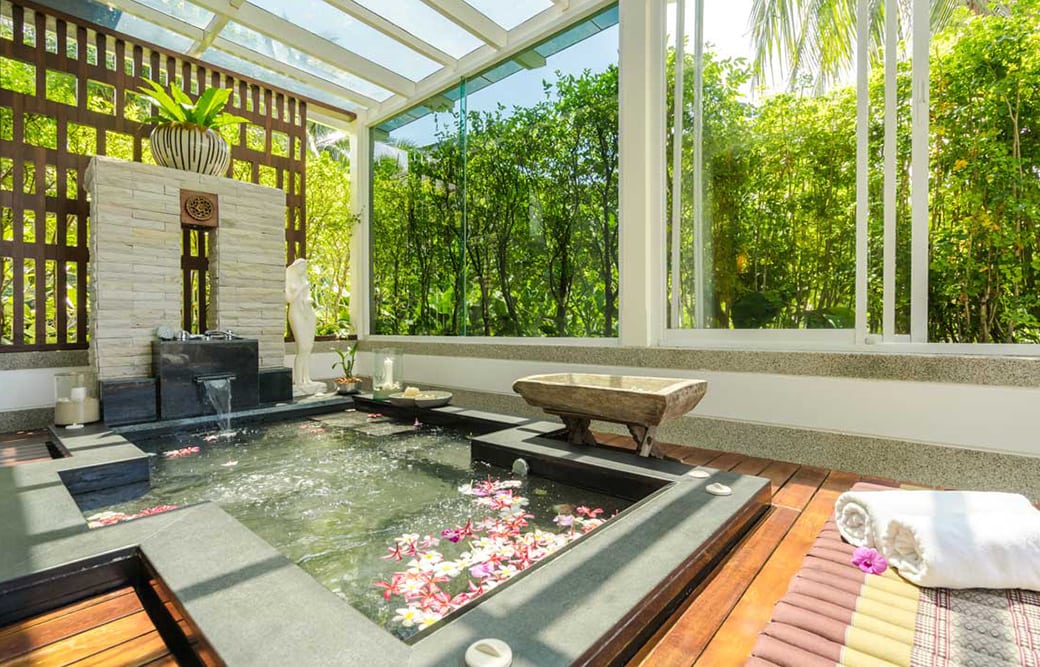 A Naked Oasis – The Villa Itself                       
Beauty may well be skin deep, but Everything To Sea's utopian villa effortlessly projects that beauty outward. The gorgeous three-floored luxury villa is perched atop a hill overlooking Surin beach and showcases killer views from multiple vista points. View Phuket West's coastal bays and the coconut palm trees of picturesque Thailand below. With three floors to traverse, you'll weave your naked self around socializing areas – including open living and dining rooms, a cozy indoor lounge, lavish gardens and statue lined terraces true to Thai stylings.  There's a rose petal filled jacuzzi and even a Thai pavilion with a round revolving table equipped with sunken seating. Of course, no paradise is complete without an infinity pool. The villa boasts a pristine one with a terrace to sun yourself on – as well as a swim-up bar, serving bottomless cocktails by bottom exposed butlers.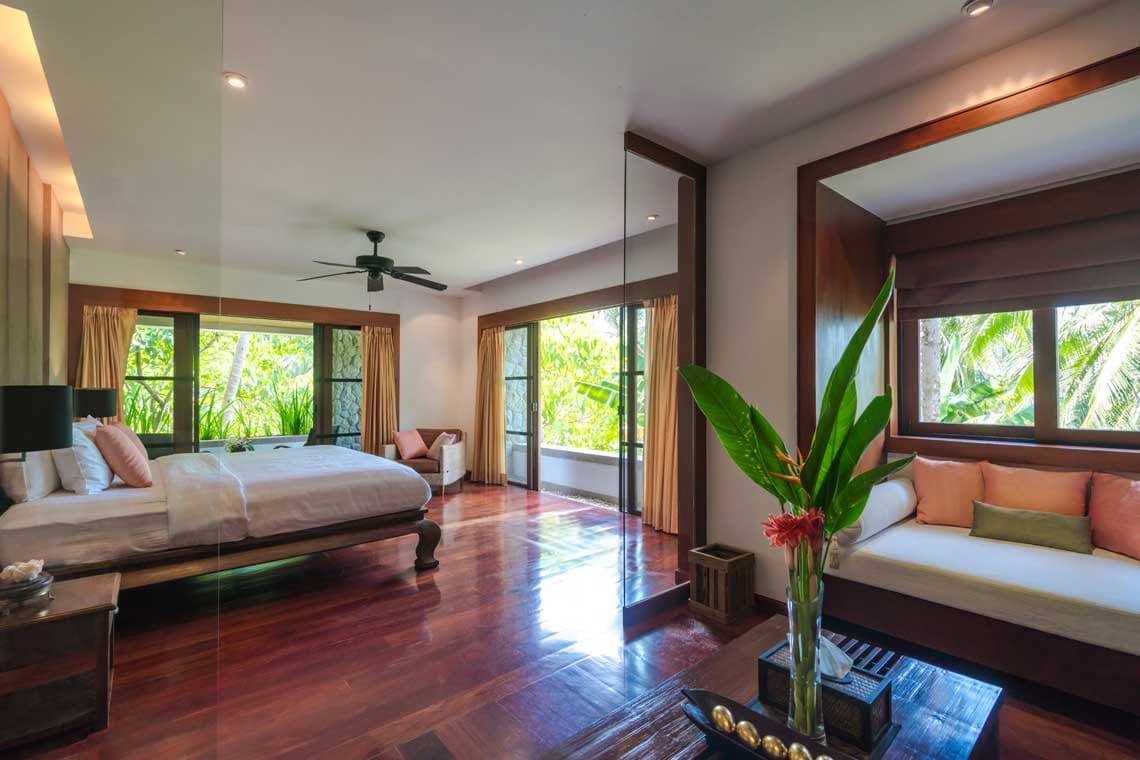 The villa can host up to 18 guests in deluxe air-conditioned guest rooms, uniquely styled with sleek furniture and sporting apt names like "The Blissful Room" or "The Expansive Room". A few even come equipped with their own terraces and gorgeous bathtubs. The rooms are spacious enough for you to bring your couple, throuple or simply stretch out and enjoy the space alone– each abode has nooks with couches ideal for snuggling up – or getting down. Your sanctuary is yours to use however you see fit! Notably, the villa also has hidden spots to uncover for the intrepid explorer or two.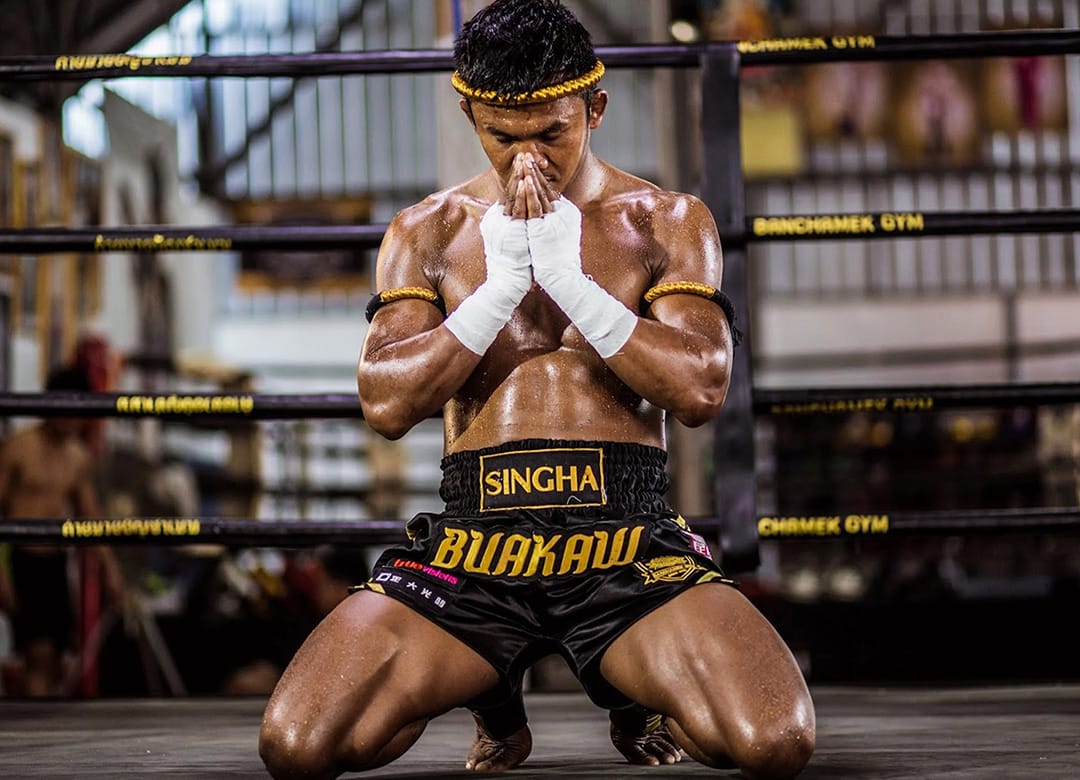 A Little Bit Thai, A Little Bit Gay – The Itinerary
Thailand is a country of two faces – somehow managing to combine serenity and bawdiness into the same package. Everything To Sea's villa itinerary seeks to showcase both faces – offering the opportunity to relax, absorb some culture, indulge in some raunchy fun or a healthy mix of all of the above.  There's a lot to do and variety is the spice of Thailand.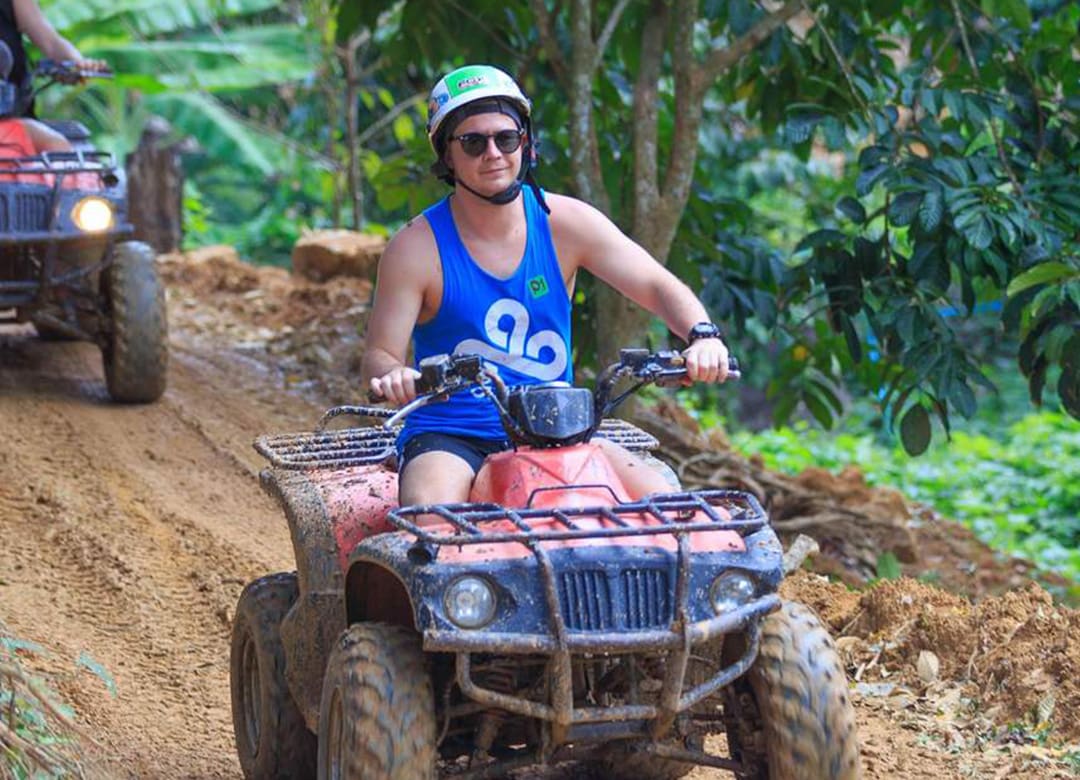 Every day over the week, when not letting it all hang out in the villa, you can choose between a "Famous" Activity or an "Off The Beaten Track" option with one of the four trip leaders present. Examples of the former include, ATV rides, exploring Phuket's – watch the pronunciation on that one – old town, seeing the Great Buddha and zipwire rides. Whereas, straying Off The Beaten Track with Everything To Sea will take you to Thai cooking class, hiking past pristine beaches and waterfalls, exploring the lesser-known temples of nearby Phuket, going to one of Thailand's infamous ladyboy drag shows and/or seeing men get down and dirty in a Muay Thai kickboxing match.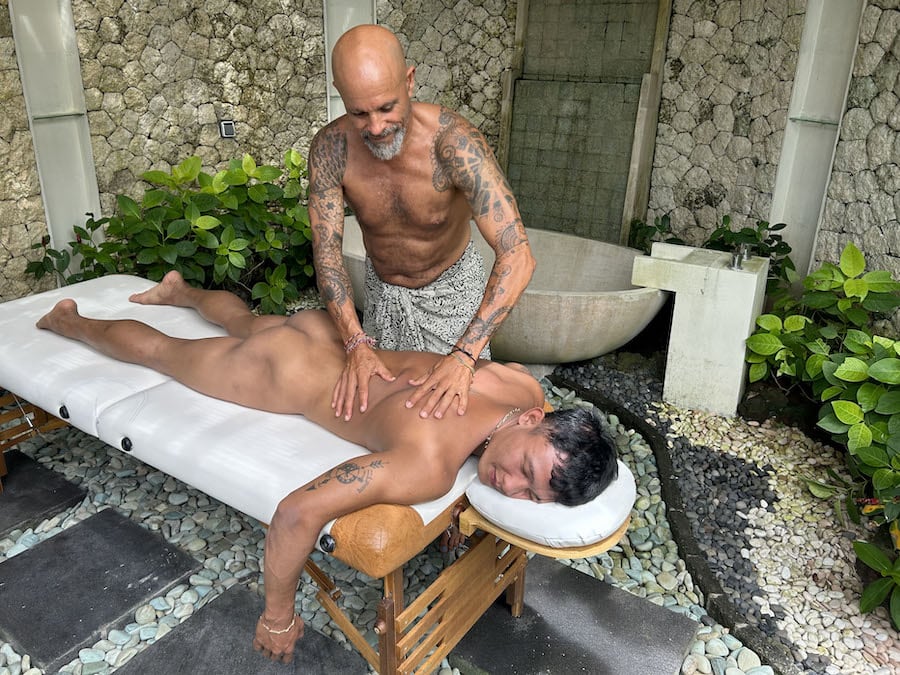 As for food, all meals are included in the price and you'll taste some of the best Thai cuisine served from the villa's personal chefs, as well as enjoying trips out to unique restaurants. The stay also includes two full naked body massages, probably best timed to alleviate the hangover left after the midweek Naked Villa Party – a rowdy event with music, drinks and games designed to get those connections forming.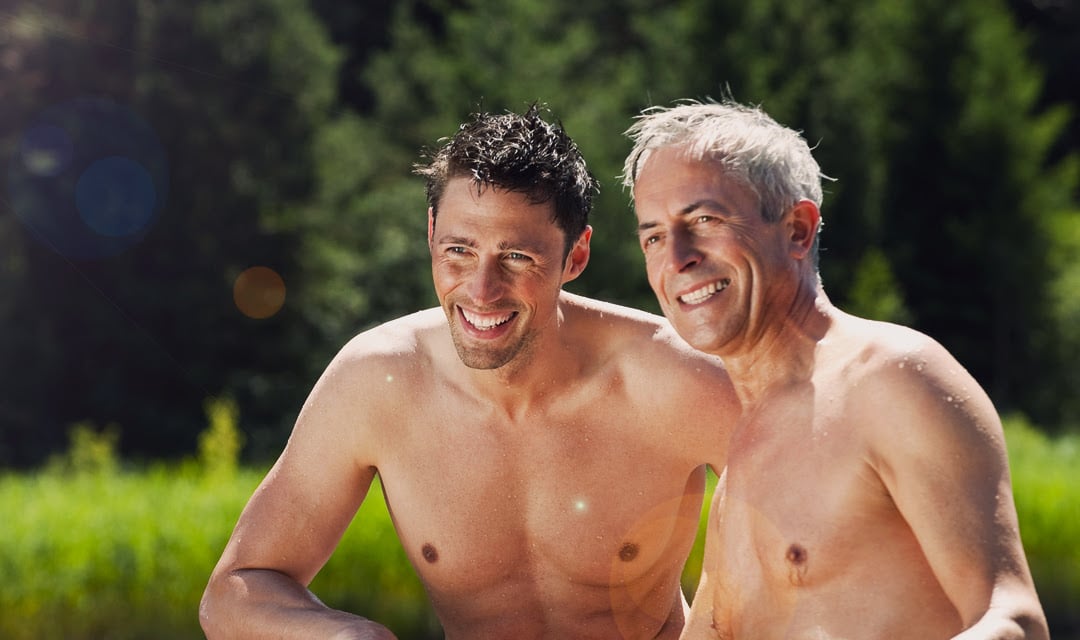 It's Raining Men with Everything To Sea
There's an exciting plethora of men who go to naked villas and Everything To Sea welcomes all, seasoned nudists or complete newdbies. Their Thailand villa is a non-judgemental space, where diversity is beauty and all shapes and sizes are celebrated. Furthermore, you are free to be as nude or clothed as you'd like with zero pressure.  Being naked can be extremely empowering and the opportunity often comes with a welcome boost to your self-confidence, but it is for you to decide your limits.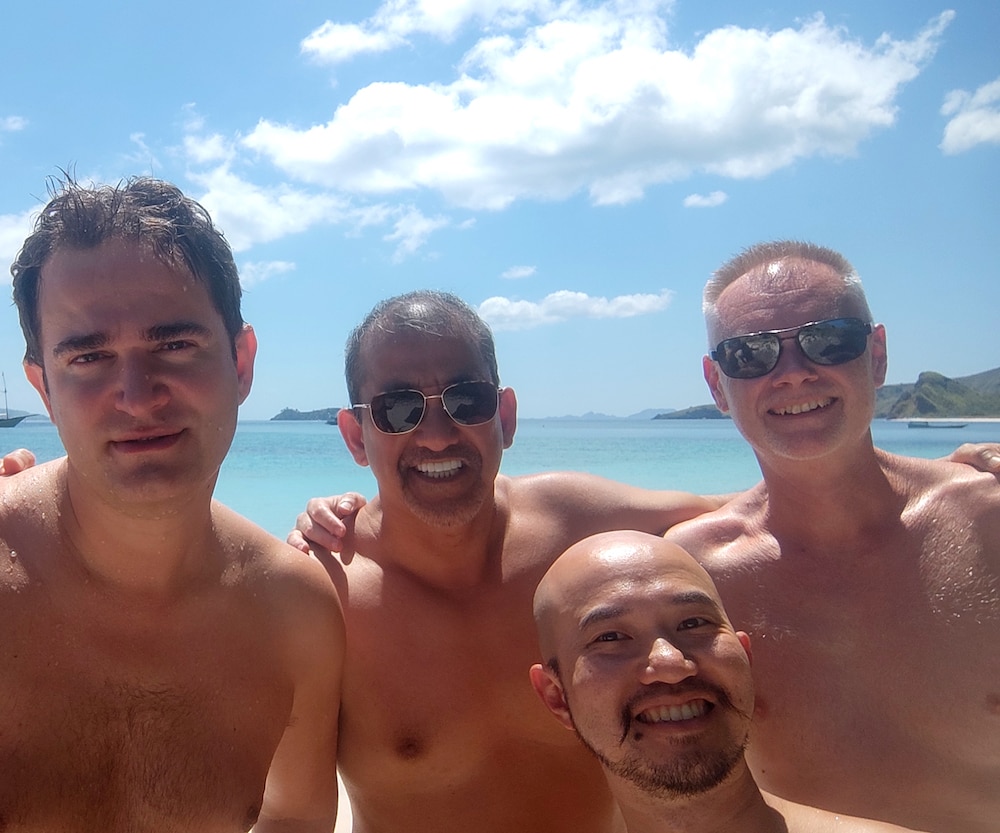 What's more, Everything To Sea believes that sex is not the enemy! In fact, it happens to be a good friend of a lot of us. Being hopeful of meeting someone to share intimate experiences with is a perfectly valid reason to go to a nude villa.  A healthy portion of the people who stay are single, opening the possibility for connections of all sorts. Everything To Sea supports these freedoms and offers the options of either shared or private rooms for those wishing to get some alone time with that certain someone. Finally, just wanting to see Thailand itself as a safe gay space and make some lasting friendships along the way is another good reason to choose the villa.
Whatever your motivations, embrace the idea of a naked future. You have "everything to see" and nothing to lose!
The article was sponsored by Everything To Sea.