Fancy a gay getaway complete with charming chalets, rugged lumberjacks and all sorts of water sports? Who doesn't? Canada's outdoors is the perfect place for gay travelers to spend the summer for a mix of active holiday and relaxing retreat. The country's outstanding hospitality makes anyone and everyone feel welcome. Canada has long been ahead of the pack with regards to LGBT equality. In fact, it was the first country outside Europe to legalize same-sex marriages back in 2005. Our friends at Out Adventures want to be sure gay travelers have the opportunity to check out the country's amazing Ontario region with a stop in a modern metropolis and an escape to the "Hamptons of the North" during a week-long summer trip over Canada Day and Independence day.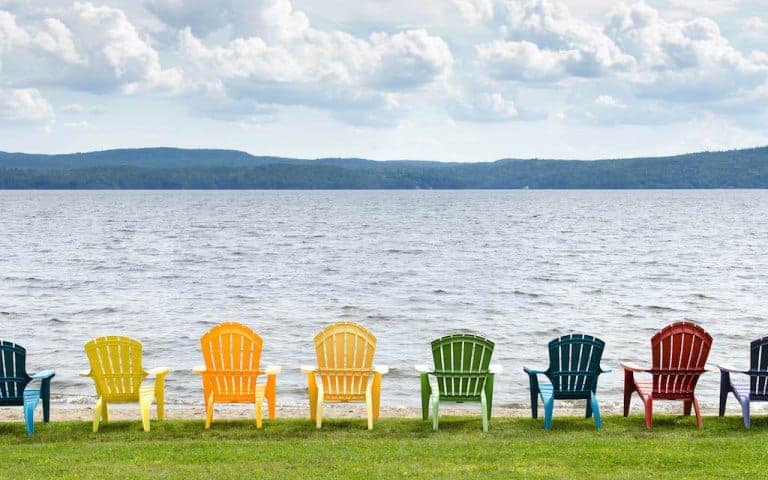 Tour Gay Toronto
The trip starts off with a weekend in Toronto, the capital of Ontario and home to the country's largest queer community. Enjoy a night out in the gay village at the intersection of Church Street and Wellesley Street where Toronto's annual pride takes place. Here you'll find a slew of gay bars, cafes, restaurants and shops. Take a tour of Toronto's main sights which includes the CN Tower, a key element of the city's skyline and the tallest free-standing structure in the Western Hemisphere or Old Town Toronto where you'll find historic architecture, cute shops, quality restaurants and the Hockey Hall of Fame. Further explore Toronto's gastronomy scene for a bite of traditional Canadian Food with dinner at one of the city's great restaurants.
Be Outdoorsy in Muskoka
After sufficient time in the city, head north to Muskoka for some time outdoors. This lesser known region is a great destination for its impressive nature to be enjoyed with hikes, outdoor barbeques and lake activities like water-skiing, canoeing, stand-up paddle boarding and tubing. Nature aside, Muskoka is also surprisingly known for its craft brewery scene with a few brews even getting national recognition. You can judge the microbrews yourself with a craft beer tasting. Other activities to take advantage of during your visit include horseback riding, beach volleyball, bonfires and movies.
Experience a Cottage Stay
While visiting this "Hamptons of the North", it's not all about the rugged outdoors. Part of the experience is also relaxing in quaint, romantic cottages. This is a unique stay that offers an experience hotels can't provide. Enjoy private rooms or chalets with private hot tubs at this gay-owned lodge. Yoga on the pier is a great way to start the day. Continue to take care of mind and body with a local skincare line that will share their tailor-made products for men. There will also be fun celebrations for the 4th of July with fireworks followed by Lumberjack Day. Seriously, if you're feeling extra "manly" then check out the archery, axe throwing and a saw-off. It's a lumberjack fantasy come true!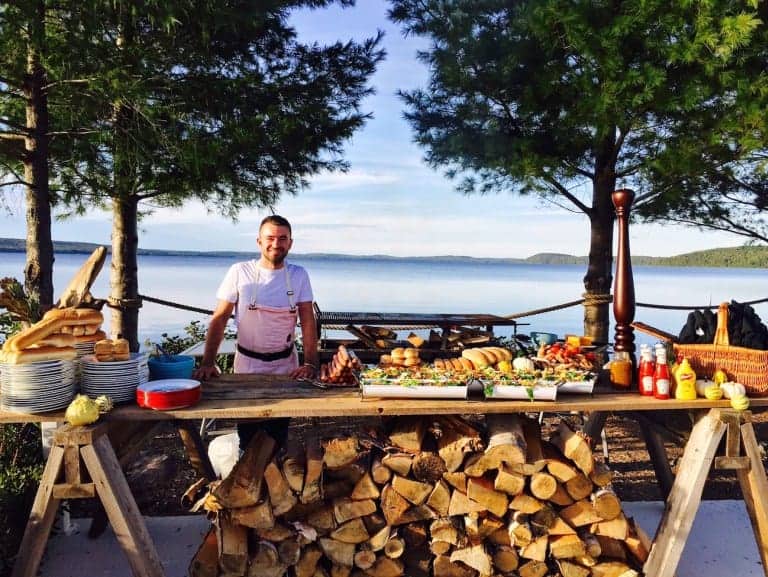 Nitty Gritty Deets
Have the charming cottages, fun leisure activities and macho lumberjacks convinced you yet? Good! If you're interested in a carefully curated cottage getaway, then let Out Adventures do all the work. The week-long trip runs from June 30, 2018 to July 6, 2018. All arrival and departure transfers, accommodations, meals at the lodge and activities on the itinerary are included in the total price. However, if you hail from Toronto or nearby and want to pass on the two-day Toronto tour, no problem. A $700 discount will be knocked off or if you want to get yourself to Muskoka, that's fine too. Another $100 discount can be deducted. This delightful cottage getaway is a great way to meet new friends as a solo traveler, enjoy romantic time together with a partner, or go along with some friends for a fun week away. And don't forget, you can save up to $200 on all OUT Adventures trips when booking online. Click here to get your special discount.
[divider_10px]What interests you most about visiting Toronto and Muskoka?[divider_10px]
Note: This article was written in partnership with Out Adventures, however rest assured all opinions are 100% our own and we would never sacrifice our integrity for a sponsorship.