Holidays get expensive fast! Budgeting for flights, taxis, meals, attraction entrance fees, nights out on the town and of course accommodation can suck the joy out of an adventure before it even begins – leaving one looking at a rapidly emptying bank account with increasing despair! However, finding a budget hotel before you head off on your travels can free up some hard-earned cash to spend on the more important things in life… like wine.
Spain's culture lives on its streets and lazing in an expensive hotel can feel like a waste when you could be out having a tinto de verano or cerveza on a terrace with the locals. As the capital of Spain, this is especially true for Madrid. For a big city, Madrid isn't expensive at least when compared to other capital cities in Europe, with high quality found in some of the most budget hotels and hostels. Let's investigate ten of the best found scattered around the city: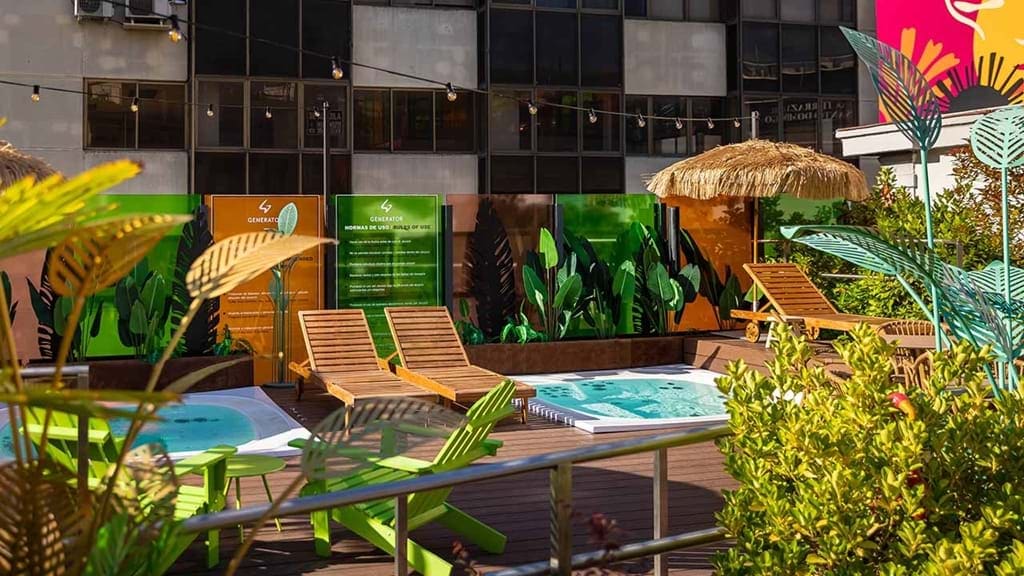 Generator (Gran Via)
Towering five stories above Gran Via is this quirky retro-looking building that straddles the line between hotel and hostel. Downstairs is a classical American style diner/café and upstairs a plant-filled rooftop bar boasting a 360 view of the streets below and of the impressively grandiose architecture of Gran Via. The rooftop also boasts not one but two hot tubs to squeeze into with the other guests anytime of the year.
The private rooms are spacious with a homely touch and cost around 80 euros a night, but there's also the budget option of dorms – which house up to eight people and are available for private hire for groups.
Woohoo Rooms (Chueca)
A hostel chain with multiple sites in the center, Woohoo Rooms are ideal for those wanting to stay close to the action while on a budget. They have locations in Sol, Gran Via, Fuencarral, Hortaleza but – most importantly – Madrid's gayborhood, Chueca.
There's the option of staying in shared rooms – or rooms with a shared bathroom – but the private rooms are very affordable (at around 80-100 euros a night depending on time and location), modern, clean and crisp looking. Breakfast is included, and you get 10% off repeat visits. The 24-hour reception comes in extremely useful, making it ideal for night owls hoping to stay out past midnight and stagger back after sampling some of Madrid's vibrant gay nightlife.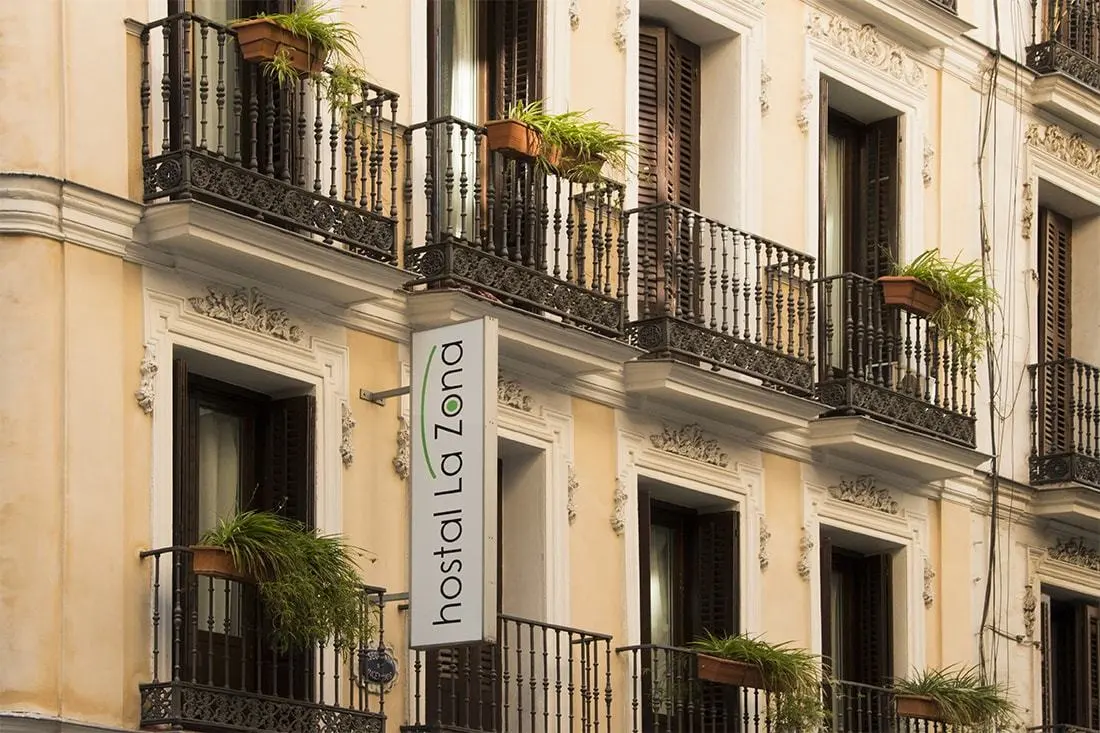 Hostal La Zona Madrid (Chueca)
Between Gran Via and Chueca on Calle Valverde is this authentically Spanish feeling hotel. The bright rooms all come equipped with private bathrooms, modern facilities and their own cute little plant-potted Juliett balconies looking out onto the street below, which make you feel you are truly part of Madrid's city life. Clearly promoted as being gay-friendly, the staff go that extra step to make all guests feel welcome. La Zona's rooms start at an extremely reasonable 50 euros a night for a double room.
Le Petit Palü (Fuencarral and Opera)
Le Petit Palu is a chain of hotels that are aptly named as they are indeed like "little dreams" – translated from the Venezuelan indigenous language, where the owners are from. A minimalist style runs throughout both hotels and the room interiors have a fresh feel to them – with their white walls, sheets and furniture creating a calming ambience. Both are great value for money with rooms coming in at a reasonable 51 euros a night for a single room and only 62 euros for a double. The hotels are also ideal for those on a working holiday, as the rooms are equipped with desks and speedy Wi-fi. Fuencarral is once more right near Chueca, whereas Opera is a stone's throw from the Royal Palace.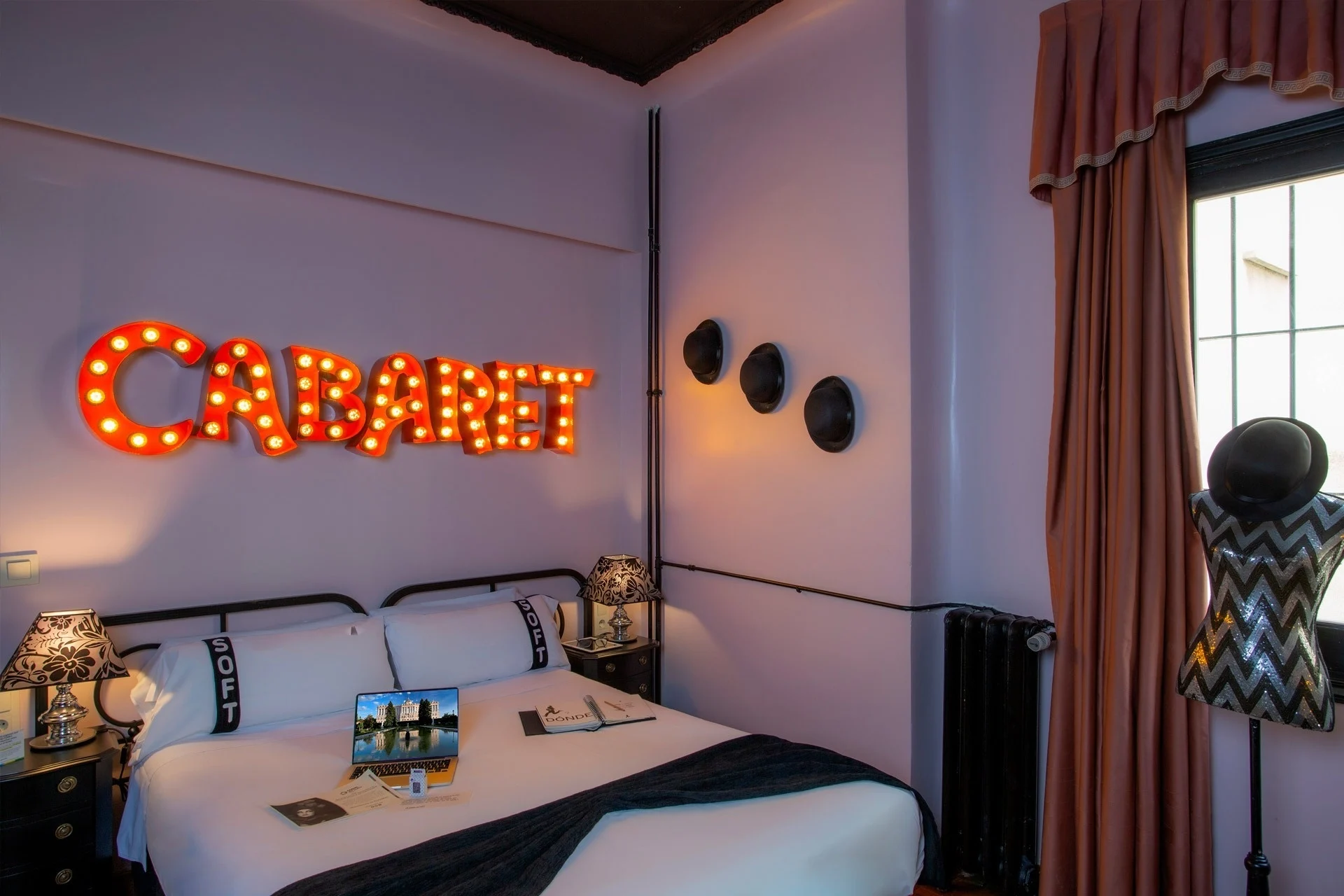 Casual Madrid del Teatro (Barrio De Las Letras)
The coolest and most bohemian budget hotel in all of Madrid is also located in one of Madrid's trendiest areas, Barrio de Las Letras – so named due to the words of famous Spanish poets carved onto its streets. Each room – rather camply – has a musical theater inspired theme designed to make you feel like the protagonist in a Broadway musical. The room designs range from the inside of a theater to more specific musicals like Cabaret or – for masochists – Cats. With rooms around the 80-euro mark, it's a bargain for the area and -for just a touch more cash – the stay can include a generously stocked buffet breakfast.
The Central House Madrid (Lavapies)
Lavapies is an underrated and often overlooked area of Madrid by visitors. It's a cosmopolitan area not far from Sol, full of unique bars and restaurants from all around the world. The Central House has a very "Lavapies philosophy" in the way it nurtures an experience as much as a place to stay, with its own sundeck terrace for mingling with other guests and group activities to take part in – such as group city tours and ax-throwing. The Central House's double rooms go for the rather precise cost of 65.90 euros a night with ensuite bathrooms, but groups of six or eight can book large cheap private rooms if you don't mind bunk beds – some even have their own private living room for only 120 euros a night.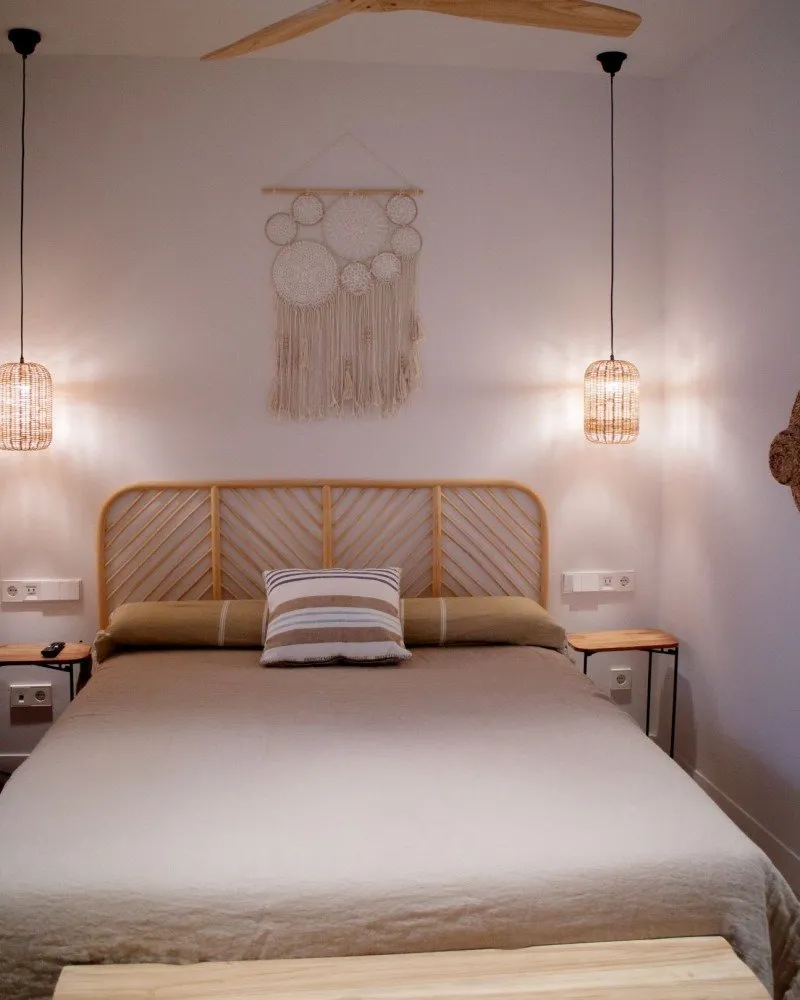 Casa Del Soleil (Tirso De Molina)
This beautiful little boutique hotel/hostel has a rather zen design – made up of wooden furnishings, straw pillows on cosey sofas and a healthy smattering of plant life. This and a communal area consisting of a kitchen and two patios – with its own cute little pool – make it exude a soothing warmth, contrasting with the busy city life around it. With just ten rooms, each having double beds, Casa Del Soleil also has an intimate feel to it as you rub shoulders with the other guests in the common areas. It is ideally located in the beautiful Tirso De Molino square, which often has a flower market and is just a short walk from both Sol and La Latina – a bohemian area filled with terrace bars and trendy Spanish restaurants. Prices start at 85 euros a night, with more deluxe rooms available for those wishing to step up the budget a notch.
Ibis Styles Madrid Prado (Atocha), Ibis Budget (Lavapies)
Ibis is a classic hotel chain that is hard to beat on a budget. They have a few hotels scattered around Madrid, but the two worth noting are found in either Atocha or the aforementioned Lavapies. The Atocha hotel is nicely tucked away down a quiet side street near the Prado Museum – thus the name – and is pure clean simplicity in its design, with simple but well-furnished rooms.
Whereas the Lavapies hotel is only a fifteen-minute walk away from the center and right in the area's main square by the Lavapies metro station. Despite only being a 1-star hotel, the Lavapies Ibis has a particularly nice roof terrace to eat your breakfast on and has equally cozy rooms as its counterparts. Both Ibis hotels operate around the 90-euro mark with a breakfast buffet included and superior room options sporting their own terraces.
Olala Vallecas Mini Hotel (Vallecas)
You need not stay right in the center of Madrid to enjoy the city. In fact, you can often find quality for cheaper by finding accommodations just a short metro or bus trip out of the chaos. Olala is a wonderful choice, which is located in Vallecas right in front of the metro – just four stops from Atocha. The rooms are especially big for the price, at just 72 euros for a very modern double room with sleek wooden furnishings and a shared patio. The doors have the additional beneficial quality of being contactless, with a pin to open the door – removing the need to carry easy to lose key cards. Vallecas is an oft neglected area filled with Latin American places to eat – like the Peruvian Chinese fusion restaurant round the corner, Jama, as well as having the naughtily named "Siete Tetas" park – a park with seven hills (or tits to translate literally) the biggest of which providing one of the best views over Madrid.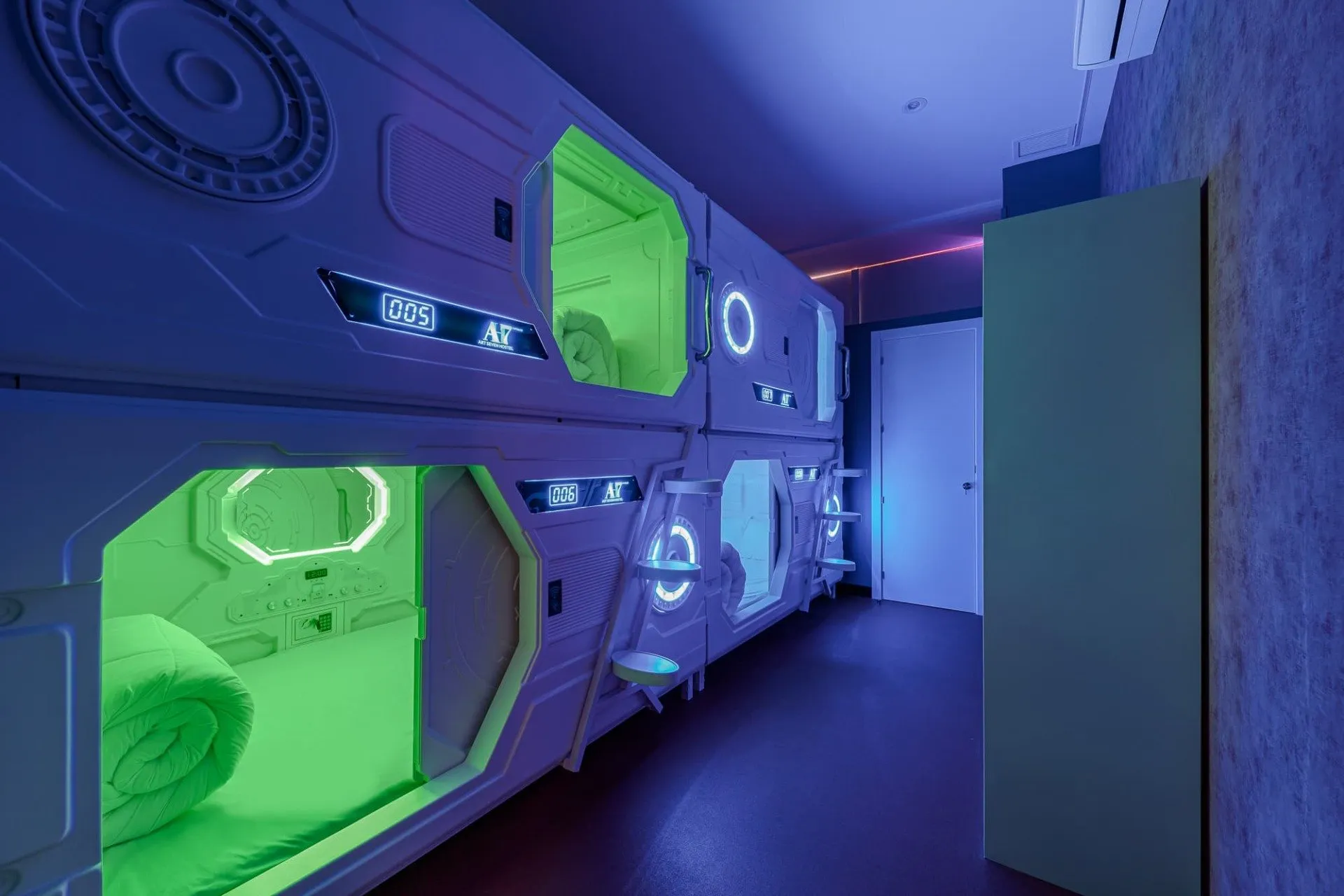 Art Seven (Sol)
Hotel rooms are so 2013, capsules are the future! Seriously though, solo-travelers looking to have an experience as much as a place to sleep – or just wanting a bed for the night without the frills – might consider trying out a capsule hostel. Art Seven makes the experience feel truly futuristic with the surprisingly spacious capsules resembling the cryogenic sleeping pods from a sci-fi spaceship. This combined with the cool blue green lighting and sci-fi posters plastered all over the walls, make for a thematic experience. Being thematic however, doesn't mean Art Seven is without the necessary facilities and there are private bathrooms, a shared lounge and even a bar to meet your fellow shipmates. Prices start around 45 euros and the hostel is as central as you can get being in Sol, just five minutes from the Plaza Mayor.
They say home is where the heart is and Madrid is nothing if not a city of heart… wherever you choose to lay your head for the night.