We recently learned about a cool event this June called One Magical Weekend. Not sure how we missed it before since it's been going strong since 2009. One Magical Weekend at Walt Disney World includes three magical days at Disney plus great events like daytime pool parties and more. The event takes place from June 1st to 3rd, 2018 where gays from around the country (and world!) spend the weekend at Disney World in Orlando. There are multiple parties and events that take place in the afternoons and evenings at the host hotel properties and other amazing venues.

Date & Location
From June 1st to 3rd, 2018 the weather heats up in Orlando and so does this awesome event that we just discovered. Now in it's 8th year, an expected crowd of 6,000 gays will attend from across the US and the world. The event is being held on the Disney World Resorts property located at the B Resort & Spa.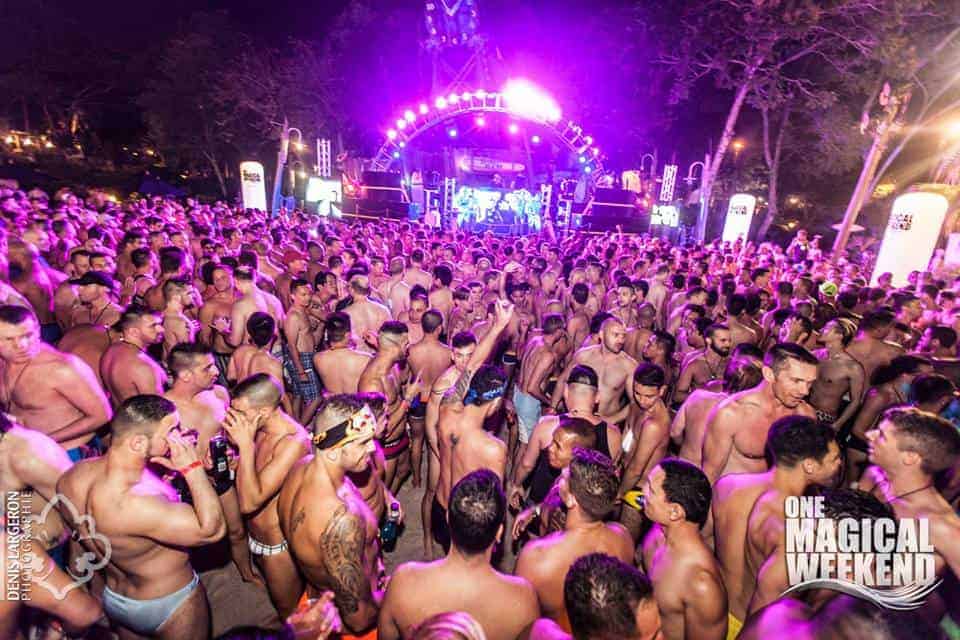 What's Unique?
One Magical Weekend, who is the only producer of LGBT events at Walt Disney World Resorts during the first weekend of June, begins this year on June 1st with an afternoon-into-late-night schedule. It begins on Friday, with the first "Therapy Pool Party," when hundreds of men converge on the sprawling zero-entry pool at the Official Host Hotel, the B Resort & Spa where great DJs will spin the pool deck on into the evening. More events and parties continue throughout the weekend and don't forget….you're at Disney World, how can it not be fun?!
Plus the location of the parties are awesome. The weekend's signature event will be Disney's entire 52-acre fantasy water park, where 6,000 party animals clad in little more than a bathing suit to dance, enjoy the amazing water rides or chill out inside this sprawling theme park. It's no wonder Disney's Typhoon Lagoon Waterpark is known around the world.
Full Line Up of Events
Friday, June 1st
12 PM – 7 PM: Therapy Session #1 @ B Resort & Spa
8 PM – 2 AM: Riptide @ Disney's Typhoon Lagoon Waterpark
2 AM – 8 AM: Cadabra After Hours
Saturday, June 2nd
12 PM – 8 PM: Therapy Session #2 @ B Resort & Spa
8 PM – 2 AM: The Main Event @ House of Blues
2 AM – 8 AM: Cadabra After Hours
Sunday, June 3rd
12 PM – 10 PM: Therapy Session #3 @ B Resort & Spa
12 AM – 6 AM (Sunday night): Cadabra After Hours
Where to Stay?
You definitely want to stay at the host hotel (the B Resort & Spa) if at all possible. While you can still access all the events without staying onsite, you won't get the full experience unless you're there. The event has reserved the entire hotel so it's just One Magical Weekend guests the whole time. You'll meet more new friends this way and maybe even enjoy a breakfast or two together – that is if you can wake up that early!
You can see the hotel packages offered by clicking here.

Why Go?
If Disney World isn't enough reason to attend, consider all the awesome events being hosted during the weekend. You can enjoy Disney World by day (or even party by day) and meet lots of new friends by night by attending the official events. Plus if you're a big on the music and party scene, they've lined up some of the best international DJ's around to keep beats going!
Check out their video on YouTube!
Click here to learn more about tickets to this awesome event!
[divider_10px]What do you think? Which part of this event appeals to you the most? Let us know in the comments below![divider_10px]
Note: photos provided by One Magical Weekend. Some of these links are affiliates which means using them won't cost you any extra but we do receive a small commission for each referral. You're not obligated to use them but we appreciate it if you do. Thanks in advance for supporting this site if you choose to use our link!