We're excited to announce that we are bringing back our summer campaign called #mygaypride. Last year we started the project as a way to experience Europe's best prides and connect with travel lovers and pride goers around the world. We created the hashtag, asked our readers to post their favorite pictures with the tag and it was a huge success and a lot of fun!
What is #mygaypride?
We've been inspired by the diversity of gay pride celebrations we've seen during our travels and we want others to share their pride using the hashtag and be part of the experience. This year the campaign is back and it's bigger and better than ever. We've partnered with 17 bloggers and Gay Star News to visit 8 prides in Europe this summer to promote LGBT travel and visibility through pride events. The project kicks off on June 15th in Riga, the capital of Latvia and host of EuroPride. Riga is the first former-Soviet country to ever host the event. Latvia is not known as a gay destination so it's important for the team to support places still fighting for LGBT acceptance as well as gay-friendly destinations.
Our Team
We're also happy to join together with some of our favorite LGBTA bloggers in the campaign at 8 prides including Riga, Barcelona, Berlin, Cologne, Ibiza, Stockholm, Copenhagen and Benidorm. In addition, we are inviting 100+ ambassadors to represent #mygaypride at their local gay pride events around the world including more than 50 prides in 20 different countries.
Check out the full #mygaypride team here!
[table id=11 /]
[divider_1px]
How Can I Get Involved?
Join the conversation on Facebook, Twitter or Instagram – tag your photos and posts with #mygaypride to show your support and we'll feature our favorites on our social media accounts. You can even sign up to become an ambassador at your local pride.
We want people to share what pride means to them. Whether it's sharing photos during a gay pride festival or posting a message about why you are proud to be out. Pride events are important public statements for equality and LGBT visibility. We believe that coming out is one of the most important things you can do to improve LGBT acceptance and travel is a great way to accomplish that. And with marriage equality gaining momentum around the world there's no better time than now to visit a gay pride event in a new destination.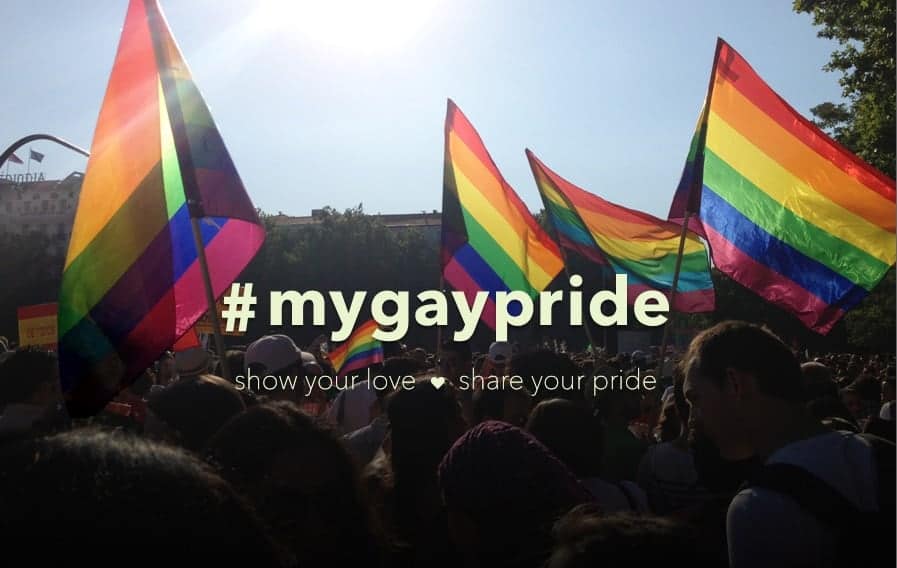 The campaign is supported by several partners including Eurail, KLM, AirBaltic, AirBerlin, ManAboutWorld and Gay Star News, the official media partner of #mygaypride. We'd also like to give a special thanks to all our cities partners including Live Riga, Visit Berlin, Barcelona Tourism, Cologne Tourism, Visit Copenhagen, Visit Stockholm and Visit Benidorm.
[divider_10px]
What pride events will you be attending this summer? Will you join us in the conversation on social media?
[divider_10px]