We're smack in middle of the summer season and you've worked hard for that summer beach body so flaunt it while there's still time! Or even if you've been eating pizza and ice cream all month, you still deserve a good gaycation….right?!  If you're like us, you've done the beach by now, you've visited the pool on numerous occasions and tanning at the park is getting old.
So let's change things up and go cruising! Not that type of cruising…. well actually, yes! That kind of cruising too, but on a cruise ship! We're excited to be boarding The Cruise by La Demence September 18th – 25th! Want to come? Here are the details….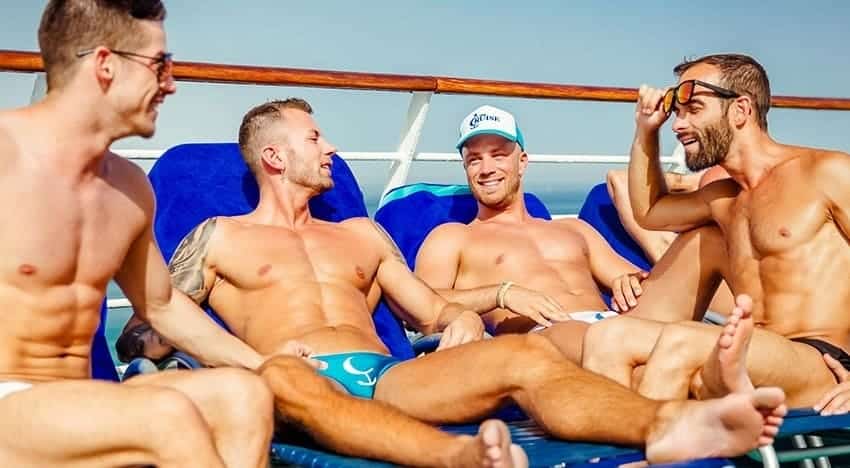 The Stops
For their seventh adventure, this European gay cruise will set off from Lisbon, head to the Portuguese island of Madeira, and end in the Spanish Canary Islands. Portugal's capital is a charming starting off point and one of our favorite cities with a vibrant gay scene worth spending a few days in before the trip. With a beautiful landscape and unique activities, Madeira has also been on our bucket list for some time now and we're excited to ride the cable car for great views of the city of Funchal. Having only visited one of the Canary Islands ourselves, we're ready to add four more of the seven to our list when visiting La Palma, La Gomera, Tenerife, Lanzarote, and ending in Gran Canaria. That's eight days and six islands!
The Fun
If we're being honest, most of the fun that happens during a cruise happens on board and the ports of call are just bonuses. During the day, you can expect fun activities like a Mister The Cruise competition, a high-heels race and singles games. On board entertainment will include drag queens, singers and theater performances or you can perform yourself at the karaoke bar. The real fun, however, will be the parties obviously. Expect sunset tea dances, night parties with La Demence DJs and even after parties for those who just keep going – you know who you are! As you know any good party has a theme and these will include superheroes, fetish, neon and a white party to name just a few.
The Ship
Each cabin has a private en-suite bathroom and of course you can upgrade to cabins with balconies and sea views. If you decide to splurge on a luxury suite, we expect to be invited over for drinks! Monarch will be your home at sea during the week with two pools, a panoramic bar, gym, Jacuzzis and a nudist sun deck (seriously!). A running track, climbing wall and mini-football court will also keep the sporty happy.

Want to Join?
Cabins are booking up fast and (as of today) The Cruise is already 86% full, so reserve yours quickly if you want to join us for this European cruise to the Canary Islands. Cabin reservations range in prices for all budgets with interiors and exteriors available. The price includes full room and board plus all the parties, shows and entertainment. Single travelers also have the option to bunk with other singles. So no excuses! Make your reservation here and we'll see you when we board in Lisbon!
PS – check out this cool video….if that doesn't make you want to go, we're not sure what will. YAAASSSSS!
Note: Our trip is being provided by The Cruise. As always, rest assured all opinions are 100% our own and we don't sacrifice our integrity for a sponsorship.